Jacob Gaumer Jr.
(1789-1863)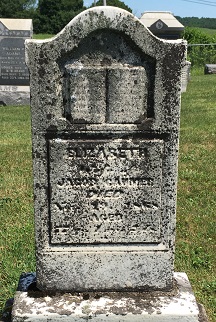 Elizabeth's grave, New Hope
Jacob Gaumer Jr. was born in 1789 in Southampton Township, Somerset County, PA, the daughter of Johann "Jacob" and Maria Catherine (Sowash) Gaumer.
When Jacob was about 17 year of age, in 1806, his parents relocated to Muskingum County, OH, and he may have gone along at that same time. Also relocating to Muskingum County in those early years were Jacobís parents as well as his sisters Sally Fox Sturtz and Susanna (Gaumer) Sturtz Baughman.
In about 1810, when he was 21 years of age, Jacob married 19-year-old Elizabeth "Betsy" Sturtz (1791-1868), a native of Wellersburg, Southampton Township. Sometimes her maiden name as been misspelled as "Stotts."
Their dozen known children were Eliza A. Gaumer, Rachel Bell, Margaret Bainter, Hannah Gaumer, Abraham Gaumer, Lyman Gaumer, Mary A. Bainter, Adam Gaumer, Solomon Gaumer, Samuel Gaumer, Malinda Werts and Riley Gaumer.
Sadly, daughter Eliza died young in about 1819 and daughter Hannah at the age of five in 1820. While the eldest of the surviving siblings, Rachel outlived them all, into her 101st year.
Initially, the newlyweds resided on a farm near Gilbert, a community near the Muskingum River about seven miles southwest of Adamsville, Salem Township, Muskingum County. Jacob was considered "a noted hunter of the day," said J. Hope Sutor's 1905 book Past and Present of the City of Zanesville and Muskingum County, Ohio.
In about 1811, Jacob and Elizabeth were charter members of the newly forming church congregation in Adamsville known as New Hope Evangelical Lutheran Church. Jacob's parents and brother Daniel and his wife also were inaugural members.
During the first week of 1812, their infant daughter Rachel was baptized in the church by Rev. Anthony Weyer. Said the 1913 book History of the New Hope Evangelical Lutheran Church of Adamsville, Ohio: "Having been baptized at the age of two months shows that, in those days of inconveniences and hardships, her parents were neither unmindful nor neglectful of their sacred duties."
Jacob's farm, 1852, north of Adamsville and Mechanicsville, Muskingum County
History of New Hope
In late 1813, the Gaumers moved from Gilbert to near their church in Adams Township north of Adamsville. In 1841, they constructed the first brick home ever built in Adams Township, having fired the brick on their farm the year before.
Jacob died in Adams on Dec. 12 or 13, 1863. He was laid to rest in New Hope Lutheran Cemetery in Adamsville. His grave marker today is blackened with age and almost illegible. [Find-a-Grave]
Elizabeth survived her husband by five years. She passed into eternity on Nov. 19, 1868. Burial also was in New Hope. A carving of an open book -- The Holy Bible? -- adorns the top of her upright grave marker. [Find-a-Grave]
On Jan. 4, 1934, Mrs. Charles H. Sturtz of 3014 East Sixth Street in Kansas City wrote to the U.S. Veterans Administration, asking for information about Jacob and his father. Her letter, preserved today in the National Archives, states the following: "Jacob Gaumer, Sr. Muskingum Co. [O]hio, d. 1820. I believe he may be the father of Jacob Gaumer, who married Betsey Sturtz, information which I would also like to have. Said Gaumer said to be a drum major in Washington's army. What was his war record & family?.... I do not know whether I am asking too much, but I need all of this information to complete the work I am doing on this family. I thank you very much."
Copyright © 2000, 2011, 2015, 2016, 2018 Mark A. Miner