Johann Heinrich Gaumer
(1754-1837)
Johann Heinrich ("John Henry") Gaumer was born on Oct. 4, 1754 in Macungie Township, Northampton County, PA, a son of Johann Dietrich and Maria "Elizabeth" (Meinert) Gaumer Sr. Evidence suggests he may have been a Revolutionary War veteran.
He was baptized at four months of age, on Feb. 6, 1755.
In 1775, at the age of 21, Johann Heinrich married Anna Margaretha (?) ( ? - ? ).
The family lived in Macungie Township and produced six known children – Catherine Gaumer, Susanna Gaumer, Heinrich "Henry" Gaumer, Jacob Gaumer, Elizabeth Gaumer and Salome Gaumer.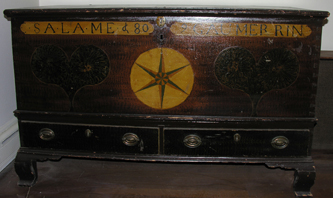 A decorated wooden chest, dated 1809 and inscribed with the daughter's name "Salame Gaumer rin," as seen today.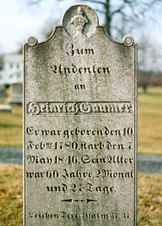 German-text inscription on Henrich Gaumer Jr.'s grave
Johann Heinrich died in 1837, and his will was probated on Sept. 6 of that year. He is believed to be the same "Henry Gaumer," fomerly of Macungie Township, whose executors were Henry Gaumer and Adam Gaumer, advertised in the Allentown (PA) German language newspaper, Der Lecha Caunty Patriot (Dec. 19, 1838).
The fate of Anna Margaretha is unknown.
~ Son Heinrich "Henry" Gaumer ~
Son Heinrich Gaumer (1780-1846) was born on Feb. 10, 1780.
He passed away in May 1846 at the age of 66.
Demonstrating that German language and customs were passed down several generations in this branch, Heinrich's grave marker is inscribed in German, using the old gothic script. The well-preserved gravestone is found at the cemetery of the Zion Lutheran Church in Alburtis, PA.
Heinrich may have been a wagon maker who once lived at Urbana, OH, and whose son was living near Greenville, OH in 1867, but this needs to be confirmed.
Copyright © 2000, 2009, 2017 Mark A. Miner