Home
Jerome B. Jennings
(1845-1923)
Jerome B. Jennings, center
Jerome B. Jennings was born in 1845 in or near Ursina, Somerset County, PA, the son of Thomas and Christina (Ream) Jennings Jr. of the family of Thomas and Barbara (Haines) Ream Sr. He was a veteran of the Civil War.
When he was age 19, on Aug. 7, 1864, he was united in holy wedlock with 24-year-old Mary Adaline Rhodes (1840-1911), who was five years older, and the daughter of Israel and Susanna (Nicola) Rhodes.
During the Civil War, Jerome served in the Union Army with the 85th Pennsylvania Volunteer Infantry. He was wounded in the Battle of Fair Oaks/Seven Pines, near Richmond.
Their known children were Emily Jennings, Arabella Jennings, Susanna J. Jennings and Elmer Ellsworth Jennings.
Five years after the war ended, n Jan. 12, 1870, Jerome was awarded a federal military pension as compensation for wartime ailments or injuries. [Invalid App. #151.687 - Cert. #105.933] From then until his death more than half a century later, he would have received monthly pension payments.
In 1870, census records show the Jenningses boarding under the roof of Mary's 56-year-old father. Three years later, they relocated to Ursina, and Jerome began the trade of shoemaking. He was profiled in a paragraph in the History of Bedford, Somerset and Fulton Counties, Pennsylvania, which said that "He at first worked for Davis & Coder, and in 1875 bought out the firm.... He has held various borough offices, including those of councilman, school director and burgess." When Mary Adaline's father died circa 1875, Jerome was named administrator of the deceased's estate.
Battle action at Seven Pines/Fair Oaks, Virginia
Ream Cemetery, Ursina
When his father in law died in 1875, Jerome served as administrator of the estate. In 1880, he served as the Ursina Borough delegate on the Republican County Committee. As burgess of Ursina, Jerome was faced with a number of important issues, concerns and improvements. In August 1888, borough authorities approved a new ordinance and published a legal notice in the Somerset Herald: "No cow or other horned cattle shall be permitted to run at large within the limits of Ursina Borough between the hours of 8 p.m. and 5½ a.m. during the months of May, June, July, August, September and October. Any owner of such animals, or having them in charge, so offending, shall pay a fine or not exceeding one dollar and costs."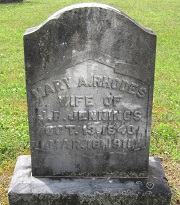 Mary's grave, Ream Cemetery
Jerome is named in the 1906 book History of Bedford and Somerset Counties, Pennsylvania, by E. Howard Blackburn, William Henry Welfley and William H. Koontz.
By 1907, Jerome was considered an invalid, and in August 1907 he and Mary gave depositions in the case of his sister Sarah (Jennings) Bookman who was attempting to obtain a Civil War pension. In her testimony, Mary recalled having attended the Bookman wedding many years before.
At the age of 70, suffering from chronic kidney disease and heart valve insufficiency, Mary died on March 18, 1911. She was interred in the Ream Cemetery, with her husband filling out and signing the death certificate.
Jerome survived his wife by a dozen years. In his final years, he was admitted to the National Military Home in Dayton, Montgomery County, OH.
Burdened with hardening of the arteries, he passed away there at the age of 79 on Feb. 21, 1923. His remains were shipped back to Ursina for burial beside his wife in Ream Cemetery, the ancient family burying ground. Later that year, when a reunion was held of his former mates with the 85th Pennsylvania Infantry, his name was included on a list of members who had died in the past year, prepared by Grand Army of the Republic post secretary John B. Bell, and published in the Canonsburg (PA) Daily Notes.
John is pictured in the book Draketown: Past & Present, posed with fellow members of the Harry Lichty Post of the Ursina American Legion.
Jerome's town lot in Ursina (circled), near the park and North Fork Creek, 1876
Copyright © 2014-2016 Mark A. Miner