Lucinda 'Jennie' (Miner)
Turner Stevenson Paolone
(1856-1936)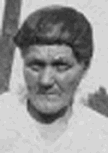 Jennie Paolone
Lucinda Jane "Jennie" (Miner) Turner Stevenson Paolone was born on July 24, 1856 near Humbert, Somerset County, PA, the daughter of Henry A. and Matilda (Rose) Miner.
She never learned to read or write, and signed her name with an "X" in official documents. In 1871, when she was 15, she and her parents and siblings moved to Connellsville, Fayette County, a booming coal and coke town where jobs were plentiful.
In 1879, at age 22, Jennie was either married to, or a significant other of, Abraham G. Turner ( ? - ? ). He was 15 to 20 years older than she was. That year, on May 13, 1879, their daughter Hannah was born in Connellsville. The Turners separated at some point in time.
At age 37, in 1892, Jennie resided in Washington County, PA. That year, on June 13, 1892, she eloped to Cumberland, Allegany County, MD to marry 47-year-old widower John Stevenson (1845- ? ), also of Washington County. The ceremony was performed by Rev. W.E. Bird of the Kingsley Methodist Episcopal Church.
The Stevensons settled in Connellsville. In October 1902, John deserted her and spent several years away. Jennie later told a judge that she was compelled to take on "washing and scrubbing" work to support herself and saved enough to buy a "small three-room house and lot" in Connellsville. She later sued for divorce but it was never finalized. John apparently came back home, and died on Sept. 15, 1910.
Frick centennial arch in Connellsville
In 1906, the City of Connellsville celebrated its centennial anniversary. Jennie and her extended family of Miner siblings no doubt would have gone to see the Centennial Arch, located at the corner of Crawford Avenue and Pittsburgh Street. The famed arch was constructed completely of coal and coke, and was donated by her brothers' employer, the H.C. Frick Coke Co., part of the United States Steel Corporation. The initials of the company -- "H.C.F.C.Co." -- were lighted at the very top, and outlined in red.
On Oct. 7, 1911, at age 45, Jennie married Italian laborer Frank Paolone (1871- ? ), of Connellsville, who was 15 years younger than she.
The marriage was rocky, and in 1915 she sued for divorce. His fate is unknown.
Connellsville's Main Street, looking east
Seen at left is a rare old postcard photograph of Connellsville's Main Street, looking eastward.
During the early 1910s, Jennie took care of her aged, widowed father. He died of gangrene at her home on July 26, 1912. The following year, she filed a claim with the federal government for reimbursement of her personal expenses in her father's final illness and burial. The Department of the Interior rejected the claim on the basis that he had left assets which, together with a Pennsylvania burial allotment, were sufficient to meet the expenses.
Jennie's letter to the feds
Jennie countered by writing a letter, a portion of which is seen here. The letter stated that outstanding debts and IOUs had wiped out the financial resources of the estate, and that she had paid these down "by working in the wash tub."
She claimed to be "a broken down old woman" who had "nursed him for over six months before death came to his relief. I had to work washing to buy medicine for him and when he did I paid all the debts against him as fast as I could earn a dollar to pay upon them." Because she could not pen a letter herself, F.B. DeRoche performed the handwriting, and she signed with an "X."
Jennie's surname on her father's medical bills and IOUs from 1912-1913 was spelled in various ways, such as Palona, Palogne and Bolone, and also as Stephenson.
When the federal census was taken in 1920, in an interesting arrangement, Hannah and her former husband Abraham Turner were living under the same roof in the home of their daughter Hannah, on 301 Connell Avenue in Connellsville. Also in the residence were Hannah's children Albert Giles, Sadie Giles, William Giles, Samuel Giles and Mabel Giles.

Jennie in a four-generation photo, circa 1920, left to right: Baby Straitiff, Sadie Straitiff, Hannah Giles and Jennie
In 1929-1930, Jennie and her siblings attended the large McDowell-Miner Reunions held at Hillcrest Park in Connellsville.
Jennie resided in her final years in the home of her grandson Samuel Giles at 301 Connell Avenue in Connellsville. She is enumerated there in the federal census of 1930, along with her sister Mary Ann Richter. Her grandchildren lovingly called her "Granny."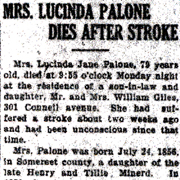 Connellsville Daily Courier
She suffered a fatal stroke in the Giles residence in late January 1936, and was unconscious for about two weeks. Her sufferings ended on Feb. 10, 1936, when she passed away, at the age of 79 years. The funeral was held in the chapel of John J.D. Sibel, and she was laid to rest at Hill Grove Cemetery. A local physician pronounced the cause of death as pneumonia and "cardiac degeneration."
Jennie's obituary in the Connellsville Daily Courier noted that she was "survived by six grandchildren and 18 great-grandchildren. The grandchildren are Mrs. Hazel Evans, Albert and William Giles, all of this city, Samuel Giles of Whitsett, Mrs. Mabel Rosenbloom of Ambridge and Mrs. Sadie Straitiff of Scottdale." The obituary also noted that her maiden name was spelled "Minerd" and that she had come to Connellsville in 1871 "and had since resided here."
~ Daughter Hannah (Turner) Giles ~
Daughter Hannah Turner (1879-1954) was born in 1879.
She married William Ethelbert Giles Sr. (1873-1952), the son of John and Elizabeth "Lydia" (Caddy) Giles of Millsboro/East Bethlehem, Washington County, PA. The wedding took place on Sept. 10, 1895.
They had seven known children -- Arthur Seman Giles, Albert Franklin Giles Sr., William Ethelbert Giles Jr., Samuel A. Giles, Mabel Rosenbloom Robinson, Sadie Straitiff and Hazel Evans. Sadly, son Arthur died at the age of two months on or about Oct. 9, 1918, with a one-sentence obituary printed in the Connellsville Weekly Courier newspaper.
Circa 1900, the Gileses resided in Swaugertown near Connellsville. William, whose father was a mine boss, is known to have worked at the Coalbrook Mine and H. C. Frick Coke Co. works at Davidson (Moyer) in Connellsville. He also as a steel mill laborer and a laborer at the Soisson Fire Brick Company. His name today is honored on the Coal Miners Memorial Website.
Hannah was a member of the Salvation Army in Connellsville. During World War I, when William was age 45, he had to register for the federal military draft, but was never called to duty. Their home was at 301 Connell Avenue.
William was wounded in a freak shooting accident in late October 1943 which the Connellsville Daily Courier called "the first serious hunting accident of the season." While on the hunt on the farm of his cousin Charles "Red" Minor with cousin Harold Ethan Rose and friend "Heavy" Stillwagon, they "were in the underbrush when a pheasant flew up. The bird had risen only about six feet when Stillwagon is said to have blazed away with the bullets striking Giles, walking only a short distance away... Just a few minutes before the accident Giles had brought down a pheasant." Pellets struck William in the left eye and temple, and he was hospitalized in Connellsville State Hospital.
In later years, following retirement, William earned income by working as a watchman in a coal yard.
The Gileses celebrated their 50th wedding anniversary on Sept. 10, 1945. The Daily Courier said they "enjoy good health." In all, they were married for 56 years before being separated by death.
William died after a lingering illness of organic heart disease at the age of 78 on March 29, 1952.
Hannah outlived him by two years and endured hardening of the arteries. She passed away at age 74 on April 26, 1954, and was laid to rest at Mount Olive Cemetery in nearby Bullskin Township. At the time of Hannah's death, she had 31 grandchildren and 19 great-grandchildren.
~ Grandson Albert Franklin Giles Sr. ~
Albert Franklin Giles Sr. (1901-1970) was born in 1901. He worked for the Salvation Army Corps in Connellsville.
He married Minnie Bell Trump (1908-1976). Circa 1954, they resided in Vanderbilt, Fayette County.
Their 12 children were Gladys McCormick, Hazel Chaney, Mabel Sanner, Mary Means, Minnie Gagean, Dorothy Hall, Albert F. Giles Jr., William Giles, Samuel Giles, Joseph Giles, James Giles and Paul Giles.
Albert died in 1970 at the age of 69. Minnie survived him by six years and passed in 1976.
Daughter Gladys Giles (1925-1973) was born in 1925. She married Francis O. McCormack Jr. (1925-1994). He was a retired steel worker for U.S. Steel, and "was a sergeant with the U.S. Army, having served in World War II," said the Daily Courier.
Son Albert Franklin Giles Jr. (1930-1994) was born in 1930. He served in the Korean War, and was a mechanic for Dunbar Township near Connellsville. He passed away in 1994 at the age of 64.
Daughter Mabel Giles ( ? - ? ) married Arthur Sanner Sr. (1930-1997), a loader for 36 years at Anchor Hocking's plant in Connellsville. Arthur died in 1997 at the age of 67.
Son Samuel Earl Giles (1935-2000) was born on Sept. 12, 1935. He married Annie Christtina Watson (1937-1981). They had a dozen children -- Amos Albert Giles, Sadie Elizabeth Buzzelli Bloom, Annie Christnia Buzzelli, Jackie David Giles, Paula Fay Brothers, Agnes Giles, Hazel Giles, Heather Giles, Jacqueline Diana Perryman, John Giles, Paul Frederick Giles and Samuel E. Giles Jr. Sadly, Annie died in 1981 at the age of only 44. Tragedy struck this family on March 6, 1989. Their son Jackie D. Giles (1964-1989) was killed "when a piece of machinery fell on him ... while dismantling machinery at the site of the former USX Homestead Works" in Munhall, near Pittsburgh, said the Daily Courier. He is one of a disturbingly large number of cousins to lose their lives in connection with the coal, coke and steel industries in our nation. Samuel passed away in 2000.
Grandson John William Giles (1958-2016) was born on March 15, 1958 in Connellsville. He served in the U.S. Army during the Vietnam War. Later, he was employed by Sony Corporation and the County of Fayette as a security guard. John married Karen Hall ( ? - ? ). They resided in Dunbar, Fayette County and had two children -- Suzanna Ainsworth and Tiffany Thomas. John died at the age of 58 in UPMC Presbyterian Hospital in Pittsburgh on Aug. 12, 2016. His remains were placed into eternal rest in Normalville Cemetery, with a distant cousin, Rev. Lee Maley -- of the family of Martha Ellen (Mayle) Mayle -- officiating at the funeral service, which included full military rites. The Connellsville Daily Courier published an obituary.
Grandson Amos Giles married Christine (?) and made their home in Dunbar, Fayette County.
Grandson Samuel Giles was wedded to Beverly. Circa 2016, they lived in Connellsville.
Granddaughter Agnes Giles made her residence in Dunbar.
Granddaughter Annie Giles married (?) Buzelli and dwelled in Dunbar.
Granddaughter Jacqueline Diana Giles was united in matrimony with Harry Perryman. Their home in 2016 was in Dunbar.
Granddaughter Paula Giles was wedded to Rich Brothers. They lived in Vanderbilt, Fayette County.
Granddaughter Hazel Giles made her home in Dunbar.
Granddaughter Heather Giles married Ralph Anderson and resided in Connellsville.
Granddaughter Sadie Giles was united in wedlock with (?) Bloom. She was deceased by 2016.
Grandson Paul Giles was deceased by 2016.
~ Grandson William Ethelbert Giles Jr. ~
William Ethelbert Giles Jr. (1907-1983) was born in 1907.
He married Mildred Swink (or "Swank") (1907-1975). They had seven children -- Mildred M. Stull, Paul E. Giles, Constance June Harr, Gloria Wilfong, Robert L. Giles, Betty Giles and Mary Elizabeth Giles.
He was a coal miner for Republic Steel Corp., and worked as a custodian for the Connellsville Area School District. He also was a deacon and trustee at Faith Bible Church. Circa 1928, they resided in Fitz Henry, having moved from Connellsville.
Sadly, just after the New Year's holiday in 1929, their five month old daughter Mary Elizabeth Giles passed away. The child's burial was in Hill Grove Cemetery.
Mildred died on Dec. 30, 1975, and was buried in Green Ridge Memorial Park. William married again, to Esther (Whoric) Welling (1915-1982).
William passed away on March 6, 1983.
Son Robert L. Giles (1934-1993) was born in 1934. He "was employed by the Connellsville Area School District for 24 years as an air conditioner and heat maintenance person," said the Daily Courier. He also was a trustee of the Connellsville Township Volunteer Fire Company and the Fraternal Order of Eagles 493. He married Harriet E. Porterfield (1934-2005), daughter of Ben and Leona (Ritenour) Porterfield of Rogers Mills, Fayette County. They had four children -- Barbara Ann Wisilosky, Bobbie Kay Thomas, David Allen Giles and Steven Lewis Giles. Harriet was a longtime seamstress with Connellsville Sportswear, working there for 32 years. She also was active with the auxiliary groups of the Eagles and fire department. She died in Uniontown Hospital on June 29, 2005, at the age of 70. Burial was in Green Ridge Memorial Park.
Daughter Mildred M. Giles (1928- ? ) was born in about 1928. She married Wallace Eugene Stull (1927-1999) and had four children -- Debra Catherine Cauffiel, Suzanne Kinzey, Candice Marie Stull and Sandra Lane Neufeld. Wallace passed away on Oct. 1, 1999.
Son Paul E. Giles (1932-1996) was born on Jan. 27, 1932. He wed Melva L. Overly. their four children were Paul E. Giles Jr., Jeffrey L. Giles, William Brian Giles and Corey Giles.
Daughter Constance June Giles (1939- ? ) was born on April 5, 1939. She married Russell Lee Harr (1935- ? ) on Feb. 23, 1958.
Daughter Gloria Giles wed Walter Wilfong.
~ Grandson Samuel A. Giles ~
Samuel A. Giles (1908-1974) was born in 1908. He resided in Connellsville and McKees Rocks near Pittsburgh, PA.
He married Elma Holt (1909-1990).
Said the Daily Courier, Samuel "was a retired engineer in the Pennsylvania Central Railroad, a member of the Free Methodist Church of Aliquippa and a member of the Brotherhood of Locomotive Engineers and Firemen." In 1954, living in Pittsburgh, he signed his mother's death certificate.
Sewickley Hospital
~ Granddaughter Mabel (Giles) Rosenbloom ~
Mabel Giles was first married to William Rosenbloom (sometimes referred to as Roseblossom, Robinson and Rose Blossom) and later to George Robinson.
She lived in Ambridge, Beaver County, PA, circa 1936 and in South Heights at Aliquippa in 1952. She was last known to be in Beaver County in November 1974.
She worked for many years in the dietician's office of Sewickley Valley Hospital near Pittsburgh. The hospital is seen here, nestled in the hills along Blackburn Road. They adopted a son, Donnie.
~ Granddaughter Sadie (Giles) Straitiff ~
Sadie Giles ( ? - ? ) resided in Fairchance, Fayette County. Circa 1954, she was married to Lafayette Straitiff.
They had four children, William P. Straitiff, Patricia Mattis, Edward Straitiff and Pearl Martin.
Son William P. Straitiff (1920- ? ) married Nevada Victor. He served during World War II with the A Company of the 506 PIR, 101st Airborne Division. Nevada also provided military service during the war in the Women's Air Corps.
Daughter Pearl Straitiff married (?) Martin.
Son Edward Straitiff married Doris McGhee. Their daughter Lafayette Michelle "White Cloud" Straitiff studied during her junior and senior years of high school at the Arkansas School of Mathematics, Sciences and the Arts, a residential high school for academically advanced students.
Daughter Patricia Straitiff married (?) Mattis.
~ Granddaughter Hazel (Giles) Evans ~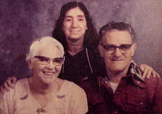 Left: Hazel Giles Evans with son Melvin and his wife Theresa (Calabrese) Evans. Right: Hazel's son Russell and his wife Betty with a grand niece
Hazel Giles (1900-1982) was born in 1900.
She married Chauncey Lorenzo Dow "Russell" Evans Sr. (1890-1959), son of Lorenzo Evans of McKees Rocks. Russell also used the names "James" and "Chance" and worked for the Baltimore & Ohio Railroad.
They resided in McKees Rocks and had eight children -- Russell Woodrow Evans, Rev. Melvin Chance Evans, Geraldine Booth, Eugene Evans, Elmer Evans, Annie Evans, Dolores Evans and Chauncey Lorenzo Dow Evans Jr.
Russell earned a living as a watchman for the Baltimore and Ohio Railroad in Pittsburgh.
Having been afflicted with Hodgkins DEisease of the colon and testicles, he passed away on Feb. 7, 1959 at the age of 68.
Hazel outlived her husband by 23 years, and died in January 1982. They are buried together at Mt. Calvary Cemetery in McKees Rocks.
Son Russell Woodrow Evans (1919-2000) was a truck driver and a veteran of World War II, serving in the U.S. Army Air Corps. In 1931, when he was 12, Russell and his brother 11-year-old Melvin, who both were excellent swimmers, rescued cousins Bruce and Anna (Christian) Miner from drowning in the Youghiogheny River at Stony Point. The news was reported in the Monessen Daily Independent. He passed away on Aug. 24, 2000, at the age of 81.
Above: banjo-playing brothers Melvin (left) and Russell Evans, 1937
Grandson Rev. Melvin Chance Evans (1920-1992) married Theresa Calabrese and had a large family of 14 children. When he was a boy, while swimming in the Youghiogheny River in Connellsville, Melvin found an axe that was thought to have been used in a 1932 triple murder considered the "bloodiest crime in Connellsville's history." The discovery generated top headlines in the Connellsville Daily Courier. At the time of World War II, he lived in Alaska, but returned to Pittsburgh to enlist in the U.S. Army. Melvin was a pipe checker, and Theresa a welder, supporting the war effort at home. He also served as a pastor of a Presbyterian church in Wilkinsburg, a suburb of Pittsburgh. He passed away in Burgettstown, Washington County, PA on Sept. 29, 1992, and she died just three days later, on Oct. 2, 1992. The obituaries were printed in the Valley Independent of Monessen. They are buried in Economy Cemetery in Ambridge, Beaver County, PA.
Chauncey Evans
Daughter Geraldine Evans (1922-2004) was born on Dec. 8, 1922. She married (?) Booth. She resided in Stowe Township, near McKees Rocks in Pittsburgh. Later in life, her home was in Beaver Falls, Beaver County, PA. She passed away at age 81 on July 2, 2004.
Son Chauncey Lorenzo Dow Evans Jr. (1924-2008) was born on Oct. 28, 1924 in Columbus, Franklin County, OH. He is seen here on his 82nd birthday. He married Ida Laverne (?) ( ? -1995) and had four children -- Betty Jane Harris, Chauncey Evans III, David Evans and Ida Grimsley. Said the Dover (DE) State News, he "enjoyed a 30-year career with the Pittsburgh and Ohio Valley Railroad, retiring in 1978 as train master. he served with the U.S. Navy during World War II." He was a 32nd Degree Mason and a member of Franklin Masonic Lodge 12 in Georgetown, DE, and was a past sachem of Nanticoke Tribe 21, Fraternal Order of the Redmen. Ida Laverne died in 1995. Her details are not yet known. Chauncey outlived her by 12-plus years. He passed away in Georgetown, Sussex County, DE at the age of 83 on Jan. 13, 2008. He was laid to rest at the Henlopen Memorial Park in Milton, DE.
Son Eugene Evans ( ? - ? )
Daughter Dolores Evans married Edgar Chestnutt ( ? - ? ), son of Darrell Chestnutt Sr. (Her sister Anna married his brother Darrell Jr. "Tex.")
Anna and Tex Chestnutt
Marri Shanks and her
aunt Anna Chesnutt
Daughter Anna Evans (1933-2015) was born in about 1933. She married Darrell "Tex" Chestnutt Jr. (1928-2000), son of Darrell Chestnutt Sr. They resided in McKees Rocks (Stowe Township) near Pittsburgh. Their three children were Diana Mainolfi, Linda Holloway and Darrell Chestnutt III. Tex passed away on April 22, 2000, at the age of 72. Anna survived him by 15 years. She died at the age of 82 on April 29, 2015. Funeral services were held in the Anthony M. Musmanno Funeral Home in McKees Rocks followed by burial in Mt. Calvary Cemetery. At her death, her photograph and death notice were printed in the Pittsburgh Post-Gazette.
For more information on this line, contact Marri (Evans) Shanks. She is seen here with her aunt Anna (Evans) Chestnutt. Marri has attended two of our national family reunions.
Copyright © 2000-2007, 2014-2016 Mark A. Miner