Home
John Gilbert 'Gib' Miner
(1847-1919)
Hebron Cemetery
John Gilbert "Gib" Miner was born on April 5, 1847 (or 1848) in Gratiot, Licking County, OH, the son of Frederick and Catherine (Miller) Miner Jr. He was a longtime butcher.
Gilbert married Harriett Emily "Emma" Loncas Wright (1848-1932), the daughter of Isaac Wright. (Another source gives her father as James Loncas.) Their nine children were Taylor Frederick "Tom" Miner, Vernon A. Minor, Roland "Rolla" A. Minor, John I. Minor, William Milton (or "Melton") Miner, James Campbell Minor, Mabel Davis Parsons and Clara Traver, and one who died young.
The Miners resided for decades in Hebron, Licking County, OH, where most if not all of their children were born. Also living in Licking County during that time was Jacob Miner, a first cousin of Gilbert's father, and several of Jacob's adult children, including James S. Minor and Emily Holmes.
Gilbert spent decades as a butcher. The federal census of 1870 shows 23-year-old Gilbert and 20-year-old Harriet living in Hebron, with Gilbert working as a laborer. The 1870s were busy bearing and rearing children, as sons Vernon, Roland and Taylor, and daughter Clara, were born during that time. When the census again was taken in 1880, they lived in Hebron, with Gilbert working as a laborer.
Trouble in 1903
In 1900, when Gilbert was 53, he and Harriet and brood of a family lived under one roof in Hebron. He is shown with no occupation that year. Other family members residing there were sons Vernon, John, William and James, and married son Roland and his wife and two young sons. That summer, they hosted a visit from Gilbert's aged father, Frederick Miner, as reported by the Newark (OH) Daily Advocate. After the visit, the father returned home to Dayton, Montgomery County, OH.
In May 1903, Gilbert and his son Vernon were contracted to shear sheep for C.V. Davis near Jacksontown, OH.
The Newark Advocate reported in a prominent May 1903 article that Gilbert suffered an injury when he mistakenly drank what he thought was whiskey but turned out to be liniment. He had been visiting Columbus, and boarded a trolley car to return home to Hebron. Apparently Edward Richards, one of the men riding in the smoking compartment of the trolley, carried two different bottles, one liniment, and the other whiskey. "Three men got on the car at Columbus and seeing the bottles decided to have a drink," said the Advocate. "It seems they got the wrong bottle and took large doses of liniment." When Gilbert entered the compartment and saw the goods, he "put the bottle to his lips and before Richards could say, 'For heaven's sake Gilbert, don't drink that,' Miner had a mouthful of the stuff. Fortunately he didn't swallow any of it, but by the time he reached Hebron he was suffering intensely. By Saturday noon his tongue had swollen to twice its normal size."
Gilbert sold the family residence on Cumberland Street in August 1913, to P.W. Longstreth of Gratiot. In turn, he purchased a property on East Main Street from seller Thomas White. He "will take possession October 1," said the Newark Weekly Advocate.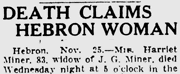 Obituary, 1932
At age 72, Gilbert died of "organic heart disease" on Dec. 1, 1919. He was buried at Hebron Cemetery. A card of thanks published in the Newark Advocate thanked Rev. Madden "for his consoling words," Rev. Jones and Rev. Carter "for their beautiful prayers" and for "the beautiful music rendered by the ladies, to those who contributed the many beautiful floral offerings and Mr. Clunis for his efficient service."
Harriet outlived her husband by 13 years. In 1920, when the federal census was taken, she was residing in Hebron with her son Vernon, who was separated and about to be divorced from his wife.
She passed away of bronchial pneumonia at age 83 on Nov. 23, 1932. She is buried with her husband.
~ Son Vernon A. Miner ~
Hebron Cemetery
Son Vernon A. Miner (1870-1955) was born in 1870.
He was a house painter and a meat cutter, residing in Hebron and Newark, and lived a controversial existence.
In March 1908, when he was age 38, Vernon was arrested under suspicion of blowing up and robbing a safe in a hardware store in Millersport. "Never in years has the village [of Hebron] been so excited as it was Monday afternoon when the bloodhounds owned by Pearl Miller ... followed the trail ... to this place," reported the Newark Advocate. The bloodhounds "went to the home of Vernon Miner who lives directly across the street from Constable Cooperrider. When in the house they went to a wash basin and a towel and signified by their actions that they were certain of their trail." When arrested, said the Advocate, Vernon "was greatly excited ... but did not offer to resist the officers. He is a single man and has lived in Hebron for a long time." After a night's stay in jail, he was released without bond. Added the Advocate, "There is absolutely no evidence against [him] other than the mute story of the dogs, but since it is a government case the action of the constable has caused considerable comment."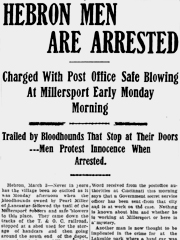 Story about Vernon, 1908
Circa September 1916, Vernon was charged with lunacy, and "examined in probate court ... by the court and Drs. H.H. Baker nd J.W. Hornby and was found to be sane and was discharged," said the Advocate.
Vernon married Emma Packard ( ? - ? ). They had no children. In February 1919, Emma sued Vernon for a "peace warrant," accusing him of "being intoxicated most of the time, acting ugly and threatening to kill her," said the Advocate. "The case was continued for 30 days and he gave bond for $200 for his good behavior during that time." They divorced by the following year.
In 1920, the census shows that he resided with his mother.
Former wife Emma passed away in 1924.
In 1942, Vernon moved into Sherman Nursing Home, where he died on April 10, 1955.
~ Son Roland "Rolla" Miner ~
Son Roland Miner (also spelled "Rollin" and "Rolla") (1872-1954) was born on March 15, 1872.
He grew up building boats on Buckeye Lake. He married Estella Foust (1881-1948) of Amanda, OH. The wedding took place in about 1897, when Roland was age 25, and Estelle 16.
They had three sons -- Carlos Lee Miner, Harold E. Miner and John "Frederick" Miner. They also had a daughter, born in 1898, who may have not lived long.
Immediately after their marriage, the Miners lived in Luray, Licking County, but soon came to reside with Roland's parents in Hebron. In July 1898, Roland and Estella and his sister Mabel Miner visited together at their home near Lakeside. Then, in July 1900, he purchased an office on West Main Street from George Davis, and made plans to "move it to a lot on Railroad street for a residence," reported the Newark (OH) Daily Advocate.
In November 1911, Roland sold his Hebron property and moved with his wife and sons to Texas, settling in the town of Cotulla, LaSalle County. There, he bought a farm and also leased 40 acres of land and began raising silver skin onions, cotton and potatoes. In June 1912, said the Newark Weekly Advocate, he shipped his father a crate of silver skin onions, which retailed for $1.00 per bushel. Added the Weekly Advocate, "Mr. Miner contemplates building on his land this summer. They are all well pleased and happy in their southern home."
In the summer of 1914, they moved to Freeport, Brazoria County, about 60 miles directly south of Houston, and along the Gulf Coast. An August 1914 notice in his old hometown newspaper, the Newark Advocate, said that he "has established a boat making and repairing shop at Freeport. A paper at that place reports that Mr. Miner's boats 'have a combination of strength, grace and attractive appearance.' Mr. Miner had much experience in boat building at Buckeye Lake before going to Texas and is making good in Texas."
The world's largest sulphur mine, Freeport,
TX, where Carlos Miner worked circa 1920
When the federal census was taken in 1920, the Miners continued to make their home in Freeport. Following his father's occupation, Roland ran a butcher shop in Freeport. Son Carlos worked as a engineer in a local sulphur mine, while son John was a station agent for Bryan (?). Seen here is a sulphur bin of the Freeport Sulphur Company in Freeport, at the time the largest sulphur mine in the world. Note the men standing at the foot of the bluff, on the other side of the railroad tracks.
The census of 1930 shows Roland changing careers again, and at age 58 laboring as a building carpenter in Freeport.
Sadly, Estelle died on Feb. 1, 1948, at the age of 67.
Roland outlived her by more than six years. He died at the age of 82 on Sept. 13, 1954. They are buried together at South Park Cemetery in Pearland, Brazoria County, TX. [Find-a-Grave]
Son Carlos Lee Minor (1898- ? ) was born in 1898. He was employed as a hoist engineer on a dredge boat for the Freeport Sulphur Company, and registered as such for the military draft during World War I. He married Josie A. (1905- ? ) in about 1926. They lived in Freeport when the 1930 census was taken. That year, Carlos was employed as a foreman on the sulphur docks. They had two known sons -- Carlos Lee Miner Jr. and James H. Miner.
Grandson Carlos Lee Minor Jr. (1925-1981) was born on Feb. 28, 1925. He died on Feb. 9, 1981, at the age of 55. He rests for eternity in Gulf Prairie Cemetery in Jones Creek, Brazoria County, TX. [Find-a-Grave]
Son John Frederick Minor (1899- ) was born in 1899. He worked as an assistant time keeper with the Freeport Sulphur Company circa 1918. He too registered for the World War I military draft. Nothing more is known.
~ Daughter Clara (Miner) Rockey Traver ~
Daughter Clara B. Miner (1875-1956) was born on July 15, 1875 in Hebron, Licking County.
She married her first husband, Charles F. Rockey (1871-1909), the son of Hiram and Susan Rockey of Lancaster, Fairfield County, OH. Their wedding ceremony was held on Aug. 12, 1894, in Licking County, by the hand of Rev. Thomas N. Madden.
Their children were J. Scott Rockey, Helen E. Warley, Mary Nelson and Gerald Rockey.
The Rockeys were farmers.
In February 1907, the Rockeys purchased a town lot in Hebron from John E. and Laura L. Black for $1,000. During the week of Thanksgiving 1907, the Rockeys and son Gerald are known to have visited at the home of Mr. and Mrs. Elhana Puffer located south of Hebron, according to a brief article in the Newark (OH) Advocate.
Tragically, Charles suffered for four years with severe anemia and spinal issues. He could not overcome the affliction, and died just a few weeks shy of his 38th birthday on Feb. 1, 1909. He was buried at Licking Cemetery, with O.M. Kramer as the informant on his official Ohio death certificate. No obituary has been found, but is being pursued. A large, tall stone marks his final resting place.
The widowed Clara and their four children lived next to her parents and brother John when the census was taken in 1910, near Hebron. By 1913, Clara had moved to Akron, Summit County, OH. Her parents visited her there for a week in July 1913, as reported in the Advocate.
After five years as a widow, Clara married again. Her second spouse was Willis M. Traver (1878-1947), son of Charles A. and Catherine (Hankey) Traver of Summit County, OH. Rev. L.N.D. Wells performed the ceremony in Akron on Dec. 17, 1914.
At the time of her second marriage, Clara was age 39, and lived in Akron, while Willis, three years younger, was employed in the "transfer business."
They later lived in Columbus, Franklin County, OH, at 92 Winner Avenue. Suffering from congestive heart failure, with hardening of the arteries and heart disease as contributors, Willis died at home just 10 days before his 68th birthday, on May 11, 1947. He was laid to rest in Copley Cemetery in Copley, Summit County, OH.
Clara died in 1956, at the age of 81. She is interred in Licking Cemetery in Hebron. [Find-a-Grave]
Son J. Scott Rockey (1895- ? ) was born on Jan. 29, 1895 in Hebron, Licking County. He migrated to Cleveland as a young man, where he found employment as a rubber worker. . At age 21, he wed 18-year-old Ethel Boosinger (1898- ? ), daughter of H.F. and Gertie (Meyers) Boosinger of Brumfield, OH. The ceremony took place on Aug. 28, 1916, in Portage County, OH.
Daughter Mary Rockey ( ? - ? ) married Robert Nelson ( ? - ? ). They had three children and eight grandchildren as of 1960.
Daughter Helen E. Rockey (1897- ? ) was born on March 22, 1897 in Hebron, Licking County. She moved to Akron, Summit County, where at the age of 18 she was employed as a "hat trimmer." On June 30, 1915, Helen wed Russell Gerald Warley (1892- ? ), the son of Cyrus and Ellen (Carr) Warley. The nuptials were performed by Rev. L.N.D. Wells. Helen was age 18, and Russell 23. At the time of marriage, Russell was a rubber worker in Akron. During World War I, Russell was required to register for the military draft. A registration officer noted that he was of medium height and build, with black eyes and dark brown hair, and that he was employed in Akron by B.F. Goodrich Co.
One of the Warleys' offspring is believed to have been Russell C. Warley (1919-1980), also buried at Licking Cemetery with his grandparents.
Minnie and Tom Minor.

Courtesy Steve Guyton
~ Son Taylor Frederick "Tom" Miner ~
Son Taylor Frederick "Tom" Miner (1877-1952) was born on Sept. 2, 1877.
As a young adult, Tom stood 5 ft. 9 in. tall, with blue eyes and brown hair, and worked as a laborer. He served in the Spanish-American War, with the 7th Ohio Infantry, Company K. He mustered into the regiment at age 20 on June 20, 1898.
He returned home after the war and lived in Hebron, where he worked as a butcher, presumably alongside his father.
At the age of 24, in Oct. 20, 1901, he married 19-year-old Minnie Blanche Stanley (1881- ? ), daughter of John and Nettie (Turner) Stanley of Milford Center, Union County, OH. Rev. Mills Harrod officiated. At the time of marriage, Minnie was a seamstress.
Their two children were Leonard Taylor Miner and Edna Skipper.
In the early years of marriage, the Minors dwelled in Milford Center. The Union County Journal reported in November 1905 that the family had "moved from Cone Howard's farm to the village last Wednesday. He occupies Mrs. Shan Davis' house." A few months later, in January 1906, they relocated again into the McClimans house "vacated by Peter Stoll," and then in May of that year went to live in Columbus. By September 1906, they had returned to Union County and made a home with Minnie's relative Howard Stanley on State Street. The Minors stayed put for about six years and then, in August 1912, the Journal-Tribune noted that they had moved again to Columbus. They were back in Milford Center by October 1913. The gossip columns of the Journal-Tribune reported in October 1913 that the family had visited with his parents in Hebron.

Obituary, 1952
The Minors were members of the Disciples of Christ Church. He was employed as a "decorator" for C.T. Phillips in Columbus, Franklin County, and they resided at 35 West Hubbard Avenue and at 784 Hamlet Street. As World War I raged in Europe in September 1918, Tom registered for the military draft.
When the 1940 census was taken, Tom and Minnie dwelled on North Eureka Street in Columbus, with his occupation shown as "paper hanger."
Tom passed away of colon cancer on April 30, 1952 at home in Columbus. He was buried in Union Cemetery in Columbus. [Find-a-Grave]
Minnie outlived her husband by a few years. She died on Oct. 11, 1955, and they rest together in Union Cemetery.
Son Leonard Taylor Minor (1905-1971) was born on Jan. 9, 1905 in Milford Center, Union County, OH. He apparently spelled his last name with the "o." He migrated with his parents to Columbus, and learned the electrical and refrigeration businesses. He was married at least three times. At the age of 23, he wedded 25-year-old Leona Sullivan (1902- ? ) on May 3, 1928, by the hand of Rev. T.L. Lowe. She was a native of Charleston, Kanawha County, WV, and the daughter of Washington D. and E. Jane (Martin) Sullivan. At the time of marriage, his home was at 784 Hamlet Street in Columbus, while hers' was 690 South Warren Avenue, also of Columbus. The United States Census for 1920 -- just two years into their marriage -- shows Leona living apart from her husband and making her home with her brother and parents in Columbus, earning a living as a restaurant waitress. The couple later divorced. Leonard in the 1930s lived in Sunbury, Delaware County, OH and earned a living as a refrigerator serviceman. He married again at the age of 32 on Dec. 29, 1937 to 21-year-old Margaret L. Barry (Sept. 12, 1916- ? ), daughter of Frank Sylvania and Emma (Probst) Barry of Columbus. The nuptials took place in Delaware, OH, with Rev. H. Schuyler Foster leading the ceremony. The Minors went on to produce two children -- Barbara Minor and Robert Minor. When the federal census enumeration was made in 1940, the Minors dwelled in Columbus, with Margaret's aged parents in the household. Leonard and Margaret divorced in the 1940s. Then in the 1960s, continuing to support himself through his work as a refrigeration serviceman, he lived at 770 Hamlet Street in Columbus. Leonard married for a third time, at the age of 63, on March 4, 1968, to 53-year-old Pauline Morton (McGlone) Buck Jones (March 1, 1914- ? ), daughter of Harry B. and Anna (Henderson) McGlone. Rev. Acie L. Butts officiated at the ceremony held in Clark County. At the time, Pauline's home was in Springfield, Clark County, OH. She had been married previously to Arthur Buck and Morris D. Jones. Leonard died in Columbus on Feb. 15, 1971, at the age of 66. His grave marker, at Columbus' Union Cemetery, is inscribed "Father." [Old Cemetery, Section 71, Lot 229 - Find-a-Grave]

Edna Skipper
Courtesy Steve Guyton
Daughter Edna Miner (1913-1988) was born on March 15, 1913 in Milford Center, Union County, OH. She grew up in Milford Center and in Columbus, Franklin County, OH, and as a teen lived at 784 Hamlet Street. She earned income as a waitress in Columbus as a 16-year-old, in 1929. The next year, when she was 17 years of age, she married 18-year-old clerk George Edmund Skipper (Dec. 4, 1910-1993), son of Ivor V. and Lucy (Bishop) Skipper of Columbus, Franklin County, OH. Their wedding took place on Dec. 4, 1930, with Rev. T.L. Lowe officiating. The Skippers produced three children -- Kay Guyton, Mary Anne Skipper and David Skipper. When the United States Census enumeration was made in 1940, the family residence was on North Wheatland Avenue in Columbus. That year, the 30-year-old George earned a living as a shipping clerk for an automotive parts manufacturing company. The Skippers continued to dwell in Columbus for the remainder of their lives. They enjoyed paying visits to relatives and friends in the Milford Center area, among them Mr. and Mrs. L.P. Brill. By 1946, George had changed jobs and accepted a position as a patrolman with the Columbus Police Department. His name was printed in newspapers in Zanesville, Massillon, Lancaster and Newark for his work apprehending criminals. He and his colleague John Beasley made national news in May 1948 when they made it a practice to help an elderly woman get up each day, sit up near a window, and then return a few hours later to carry her back to her bed. George eventually retired from the Columbus police force in the mid-1960s and received a cake and framed certificate at a department ceremony. Suffering from dementia, Edna was admitted to a care facility and, exhausted and refusing to eat, she died there at the age of 75 on Nov. 6, 1988. Her husband survived her by almost five years. At the age of 81, on Sept. 17, 1993, George passed away at Doctors Hospital-North in Columbus.
Edna and George with a certificate and cake at his
retirement party from the Columbus police force
Grandson David Skipper

(1934-living) was born in about 1934. He married MaryAnne ( ? -living). They have four children. The Skippers circa 2018 reside in Indianapolis.
Granddaughter

Kay Louise Skipper (1936-2006?) was born on July 29, 1936 at White Cross Hospital of Columbus. She resided in Columbus and married (?) Guyton

( ? - ? ). They produced two children -- Steve Guyton and Linda Guyton. At the age of 60, in about 1996, she was diagnosed with scleroderma, a hardening of the tissues. She endured the painful disease for a decade. She passed into eternity in Columbus on Nov. 29, 2006, but waited for her son to arrive from Phoeniz before letting go. Their son Steve wedded Liz on Valentine's Day 1992 and produced a son Alex Guyton.
Granddaughter Mary Anne Skipper ( ? - ? )
The Skippers, early 1950s. Front, L-R: Edna, Kay and Mary Anne. Back, L-R: George and David. Courtesy Steve Guyton
~ Daughter Mabel (Miner) Davis Parsons ~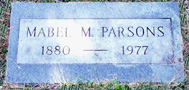 Greenlawn Cemetery, Columbus
Daughter Mabel Miner (1880-1977) was born in 1880.
She spent a lot of time in Columbus, Franklin County, as a young woman. The Newark (OH) Daily Advocate reported in October 1898 that she had recent spent a month with friends in Columbus and had just returned home to Hebron. Quite possibly she was there being wooed by her future husband.
In about 1899, Mabel married Forrest L. Davis (1878- ? ), and they made their home in Columbus. By 1902, they had two children -- Ralph Davis and a daughter who died at age four months.
In August 1902, the Newark Advocate said Mabel was living in Columbus but was visiting her parents at their home on North Street in Hebron. The federal census of 1900 shows the newlyweds living on High Street in Columbus, with Forrest laboring as a moulder.
Mabel's 1960 family history letter
Later, after a divorce, Mabel married James Parsons ( ? - ? ).
She lived in Columbus circa 1960, at which time she wrote a three-page letter to her niece by marriage, Helen (Rinck) Miner, containing important details of the Miner family history. A copy is preserved in the Minerd.com Archives.
Sometime before 1969, she moved to West Hollywood, FL. After her death in Florida at age 97 on Dec. 18, 1977, her remains were returned to Ohio for burial at Greenlawn Cemetery in Columbus.
Son Ralph Davis (1900- ? ) was born on Aug. 12, 1900. He married Lena Knorr ( ? - ? ) and had two sons, Harold Davis and Forrest Davis.
Grandson Forrest Davis (1919- ? ) was born on Dec. 8, 1919 in Columbus. On July 26, 1940, he married Patricia Rowland (1919- ? ), daughter of Thomas and Carrie (Golden) Rowland. At the time of their marriage, Forrest (age 20) and Patricia (21) both worked as sales clerks in Columbus. They had two children, Cheryl Jeanne Davis and Thomas Davis.
Daughter (?) Davis (-1902-) was born on July 14, 1902. She lived to the tender age of four months and eight days. She passed away on Nov. 22, 1902.
~ Son John I. Miner ~
Son John I. Miner (1883- ? ) was born on April 11, 1883 in Hebron, Licking County, OH.
At the age of 26, John married 18-year-old Margaret B. Condon (1892- ? ) on Dec. 18, 1909. She was nine years younger than her husband, and the daughter of Patrick and Carolyn (Fairman) Condon of Meadville, PA. Rev. L.O. Newcomer officiated. The wedding took place in Mt. Vernon, Knox County, OH, where both were living at the time.
At the time of marriage, John was a carpenter.
The census of 1910 shows them living next to John's parents and widowed sister Clara Rockey in Hebron.
Their only daughter was born in 1918.
Later, John resided in Sarasota, FL circa 1952. He is said to have had a son, born circa 1943, who lived in Daytona Beach, FL.
John later lived in Wagner, OK, during the last years of his life. According to family lore, his son died in Alaska of blood poisoning.
~ Son William Milton "Will" Miner ~
Son William Milton "Will" Miner (1885-1969) was born in 1885.
He left Ohio as a young man and moved to Kansas, where he found a job with Cities Service Oil at Caney, Montgomery County.
While in Caney, he met his future wife, Elsie Lynn (1890-1974). She was a native of Old St. Paul, KS, and the daughter of W.T. and I.M. Lynn. At the time they met, she was a local school teacher. The couple was wed on Feb. 4, 1911, when Will was age 26 and she 21.
Their children were Herbert Milton Miner, Everett Thomas Miner, Elsie Woodrow "Woody" Bare, Roberta Rinck McAlster and Muriel DeWhitt.
Because the marriage of Elsie's parents was disintegrating, the newlyweds Will and Elsie moved away quickly, to California. They settled for a time being in Taft, Kern County. There, they pitched a tent for a home, and Will secured day labor work unloading pipe and supplies. Their first three children were born in Taft, including the eldest (Herbert) in the tent. Will then obtained steady employment with Standard Oil Company, but eventually was laid off.

Obituary, 1969
In October 1917, with Elsie's health poor, Will and Elsie left California and returned to Kansas. He got another oilfield job with Connelly and Owens, which took him to Oklahoma to laborer in the Ramsey and Osage oilfields. They were in Oklahoma in 1920 at the birth of their daughter Roberta. When the Ku Klux Klan tried to recruit Will into its ranks, Elsie objected, and the Klan forced him out after he suffered a back injury. Will then went to work for Connelly and Lorauix, which sent him to Bush City, where he ran five drilling rigs at one time. After the Wall Street crash of 1929, Will returned to Caney from Oklahoma so his three eldest children could attend public high school for free.
The Great Depression ruined Will and Elsie. They lost their house, farm and automobile. They moved to Oklahoma, with Will working on the Grand Lake project near the town of Ketchum. They bounced around to Dewey, then to Couteau, and finally to Wagoner.
In Wagoner, in about 1949, they put down roots for good. Will owned and operated a plumbing business there for two decades, until the time of his death. As they aged, they moved to Ponca City, where their youngest daughter Muriel resided.
Will died in 1969 after a short illness, at the age of 84. He was laid to rest in Caney Cemetery.
Elsie's health was failing about this time, but before moving into a nursing home, she dictated a family history which later was retyped. She died in January 1974 in Ponca City, Kay County, OK.
Left: Helen and Herb Miner, 1987. Right: Helen, 2000
Son Herbert Milton Miner (1912-1999) was born on July 30, 1912 in a tent house in Taft, Kern County, CA. He married Helen Rinck ( ? - ? ). Herbert earned a living as a welder and pipefitter. Later, he became a plumber in Eudora, Douglas County, KS, as well as owner of Miner's Bargain Center and Eudora Cash Hardware. He died at the age of 87 on Aug. 25, 1999.
Grandson Terry Miner attended our 2008 national family reunion, "

Pittsburgh 250

." In doing so, Terry was the first known member of this branch to return to the southwestern Pennsylvania region since his great-great-great grandfather

Frederick Miner Sr

. left to migrate to Ohio in about 1813.
Son Everett Thomas Miner (1915- ? ) was born on Jan. 28, 1915 in Taft, Kern County, CA.
Daughter Elsie Woodrow "Woody" Miner (1916-2005) was born on Nov. 15, 1916 in Taft, Kern County, CA. She marred (?) Bare. She died in Muskogee, Muskogee County, OK on Dec. 30, 2005.
Daughter Roberta C. Miner (1919- ? ) was born in 1919 in Oklahoma. She was married twice. Her first husband was (?) Rinck, and they had a family, among them Karen Palmer. Much later in life, Roberta married (?) McAlster.
Daughter Muriel L. Miner (1925- ? ) was born in 1925 in Kansas. She wed (?) DeWhitt.
~ Son James Campbell "Jim" Minor ~
Son James Campbell "Jim" Minor (1890- ? ) was born in 1890.
He was an oil and gas driller in Hebron before moving to Cleveland, Cuyahoga County, OH, where he worked as a tool dresser.
On Dec. 9, 1914, at the age of 24, he married 17-year-old Anna Alice Antel (1897- ? ), of Cleveland, whose parents were natives of Germany. They were about seven years apart in age. The wedding took place in Cleveland.
The Minors had seven children -- Warren Kenneth Minor, Albert Virgil Minor, Michael Minor, Clyde Lawrence Minor Sr., Ella Mae "Sis" Cusack, Genevieve "Tut" Leeskamp and Gerald Gene "Pete" Minor.
In about 1919, the family migrated to Oklahoma, where they lived in Okmulgee, Okmulgee County, and he applied his skills in a new oilfield drilling job. They apparently returned to Ohio at times, and were there in 1922 for the birth of their son Clyde. But they soon returned to the southern oil patch.
They moved to the Texas oilfields in about 1927 or 1927, and then relocated again to Oklahoma City, Cleveland County, OK in the 1930-1933 timeframe. When the federal census was taken in 1930, the Minors' home was on East 29th Street South in Greeley, Oklahoma County. That year, James' occupation simply was listed as "building." A grandson once said that James "followed the oil" as a rig foreman. "He was a bootlegger, raised fighting cocks, and was a tough man to get along with. He was seldom without a gun and a leather whip."
Nothing more is known.
Son Warren Minor (1916- ? ) was born in about 1916 in Ohio.
Son Albert Minor (1919- ? ) was born in 1919 in Ohio.
Son Clyde Lawrence Miner (1922- ? ) was born in 1922 in Ohio. He married Edna Vrana ( ? - ? ) in Oklahoma City on June 4, 1949. They lived in Oklahoma City, OK, and raised a family, including a son James Francis Minor. Clyde labored in the Oklahoma oil fields before catching malaria while engaged on a pipeline in southeastern Oklahoma. Said a son, Clyde "went from being a roughneck to working on the pipeline to the production line at the Douglas plant at Tinker Air Force Base. He worked his way up to flight test engineer, and flew many test flights in the co-pilot's seat."
Daughter Ella Mae "Sis" Minor (1927-2003) was born on Sept. 9, 1927 in Texas. She married (?) Cusask and is said to have been "a wonderful women who raised 11 children." She resided in Oklahoma City, Cleveland County, OK. Sis died on Jan. 28, 2003.
Son Gerald Gene "Pete" Minor (1933-2003) was born on Feb. 11, 1933. He lived as an adult in Oklahoma City. He died there on Nov. 30, 2003, at the age of 70.
Son Albert V. Minor was a road building contractor in Oklahoma, California and Hawaii. As a civilian during World War II, he is said to have flown military missions in North Africa, and later was drafted into the military. He is said to have been in the same platoon as actor Donald O'Connor.
Copyright © 2001-2003, 2009, 2013, 2018 Mark A. Miner