Daisy (Minerd) Hiles Predilla
(1889-1963)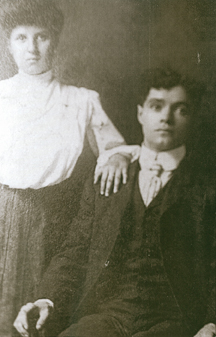 Daisy (Minerd) Hiles Predilla was born in 1889 in Dunbar, Fayette County, PA, the daughter of Charles B. and Ada Arthill (Tressler) Minerd. She lived most of her adult years as a survivor, having endured the extraordinary tragedy and pain of losing her husband (seen here) and two sons in coal and coke accidents at work or at play.
Daisy's first husband was Josiah "Sie" Hiles Sr. (1885-1917), the son of Jacob and Malinda (Hall) Hiles. He was born Jan 20, 1885 and had a twin brother, David.
Josiah's early life was filled with not only the hardships of a hardened, industrial region, but also the specter of family violence. When he was age eight, in 1893, he resided with his parents and seven siblings in a stone house at Mount Braddock, Fayette County. In March of that year, having gotten into a fight with Josiah's older brothers, their father was despondent over the "family troubles," and used a large caliber pistol to take his own life in a bedroom of their dwelling. Said the Uniontown Evening Standard, "nearly the entire population of the town turned out this morning to view the principal actor and the scene of the tragedy."
On June 1, 1905, the 16-year-old Daisy and 20-year-old Josiah were married. That year, he was employed as a laborer at the Lafayette Works at Helen, Fayette County, a town which no longer exists. Later, he worked as a machinist at the Plumer Coke Works at McClellandtown, Fayette County.
Daisy and Josiah had six children -- Josiah "Sie" Hiles Jr., Harry Rebock Hiles, Charles Hiles, Milford Hiles, John William "Moonie" Hiles and Jane Lytle.
Sons Sie, Milford and Charlie are seen at right as young boys. This photograph likely taken by their uncle, Frank Minerd, who was a camera buff and snapped many family pictures during this era, and in whose archival collection the image was found.
The first of a series of senseless tragedies struck the Hiles family in the spring of 1917. That year, Josiah was working as a laborer at the Plumer Works. He apparently was friends with his boss, E.W. Eberly, and enjoyed a friendly rivalry of physical strength, often wrestling with each other for fun. In a tragic twist of fate, Josiah was killed during a freak accident during one of his contests with Eberly. The Uniontown Morning Herald reported the gruesome story, saying that Josiah:
... met a tragic death Saturday during a friendly wrestling bout with E.W. Eberly, superintendent of the plant. Mr. Eberly, Mr. Hiles and several other employes had gone to the mine to repair a motor. During the interval while a "trip" was being made, Mr. Hiles and Mr. Eberly engaged in a friendly wrestling bout as they had done dozens of times before. Mr. Eberly finally threw Mr. Hiles, both men falling at the same time. Mr. Hiles' head, however, struck on the edge of a bench which had been nearby but thought out of danger. Death resulted from a broken neck. Mr. Hiles is survived by his widow and four children. He was one of the most popular men at the plant.
Josiah Sr. was buried in Pleasant View Cemetery in Dunbar. His grave today is not believed to be marked.
Daisy thus became a widow at the age of 28, with a family of six young children to raise, house and feed. How she made ends meet during this difficult period of life is not known.
The family made their home near the Hope Works when, 11 years later, Daisy faced another unspeakable tragedy -- her son Harry Rebock Hiles, seen here, drowned while playing on a raft at the works. The Uniontown Daily News Standard of April 6, 1928 reported on the details of the incident:
...When an improvised raft on which a half dozen youngsters were playing last evening at 5:30 o'clock was submerged in the waters of a reservoir near Hope works, in the vicinity of High House, Harry Rebock Hiles, aged 16, son of Mrs. Daisy Hiles ... was drowned. His body was recovered last night at 10 o'clock by use of dynamite by employes of the works. The boys had built the raft after school hours yesterday, and had just "set sail" when too much weight drove the structure under water. The youths were thrown in the reservoir all managing to get ashore excepting Harry. Help was summoned and despite hours of effort location of the body was impossible.
Harry's final resting place is not yet known.
Two years later, the Shadow of Death cruelly struck yet again, when Daisy lost another of her offspring due to a coal mining accident. Son Josiah "Sie" Hiles Jr. (seen here at right as a young boy) was a laborer at the Provance Mine of Powell Coal near Masontown, Fayette County. He was married to Josephine, and they had a son, Franklin Hiles.
On June 18, 1930, Sie was "instantly killed" in a mine accident, at age 24. In chronicling the story, the Uniontown Daily News Standard reported that Josiah had been:
... caught beneath a trip of mine cars in the Provance mine of the Powell Coal company, near Masontown. His body was badly mangled. He is survived by his widow ... and an infant child.
Sie Jr.'s broken remains were laid to eternal rest in the church cemetery of Fairview Church.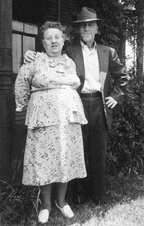 After a decade as a widow, on Nov. 8, 1927, Daisy married James Predilla (1887-1967), a native of Austria. They are seen here. James was a coal mine laborer who lived in Masontown, and he became step-father to Daisy's teenage children Jane and John, who still resided at home.
Daisy faced further heartache in 1952 when her brother Arthur Ralph 'Buck' Minerd and nephew William Minerd were killed in an automobile accident near Masontown.
Daisy passed away, relieved of her many sufferings, on May 22, 1963.
Jim outlived her by four years. He died on May 1, 1967 at Uniontown. She and James and her son Josiah Jr. are buried at the Fairview Church of the Brethren Cemetery at Masontown.
Great-granddaughter-in-law Teressa Reeves has developed a website on this branch of the family. Click for more details.
Great-great granddaughter LeAnn Hiles has been involved with important geoarchaeological research at prehistoric sites in southern Alabama. She has been praised by name by the Alabama Historical Commission. She also received the Elliott Hagler Award at the University of South Alabama for "the most deserving Geology Major planning on attending the Department's summer field school."
Copyright © 2000-2005, 2010 Mark A. Miner