Gertrude (Minerd) McClements
(1894-1969)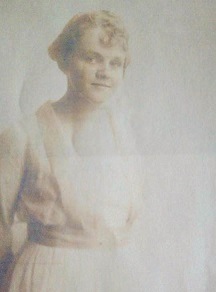 John McClements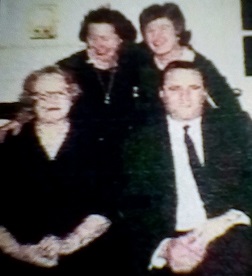 Gertrude (lower left) and her family
Gertrude (Minerd) McClements was born in November 1894 in Dunbar, Fayette County, PA, the daughter of Andrew R. and Annie (Rhodes) Minerd.
Her husband was part owner and operator of prominent florist and catering firms in Pittsburgh for many years -- considered by many as "the" florist serving the city's funeral trade.
Gertrude's parents separated when she was a teenager. She and her mother and sisters moved to Pittsburgh, residing with her grandmother at 814 Aiken Avenue. Tragedy struck in 1913, when her father was killed falling down a stairway in a Dunbar hotel.
Gertrude was a clerk with the Reliance Life Insurance Company in Pittsburgh. In 1917, she resided at 747 Chislett, and by 1921 had moved to 6324 Bartlett in Pittsburgh circa 1921.
In 1922, the 28-year-old Gertrude married 40-year-old widower John McClements (1882-1953), the son of Hugh and Margaret (Burns) McClements. Born on Sept. 24, 1883, in Bedford, North Ireland, John had emigrated to the United States as a child in 1886 and later in 1900 became naturalized as an American citizen.
John's Scottish Rite certificate
His father Hugh was a timekeeper for Reamer Brothers, confectioners, and is known to have been a member of the Sixth Presbyterian Church with a special interest in keeping a flower garden in summertime. In 1908, Hugh and the family were profiled in the book A Century and a Half of Pittsburg and Her People, authored by John W. Jordan.
John's first wife was Lillian Pearle Dunkle (1886-1913) who had died an untimely death of scarlet fever at the age of 27 on New Year's Eve 1913. During World War I, John registered for the military draft, providing important details about his life at that time. He was living with his parents at that time, at 3303 Sheridan Avenue, and employed as a "florist" with "Randolph & McClements." The registrar noted that John was of medium height and build, with grey eyes and dark hair.
Gertrude and John had two known daughters -- Ann F. McIlwain and Elizabeth Jane "Betty McKinney. John purchased a residence for the family on Roup Street in Pittsburgh's Eighth Ward in August 1928. He paid $17,000 cash for the tract, which said the Pittsburgh Press was "situated in the east side of the street, consists of a 2½ story modern brick dwelling and brick garage on lot 34x128."
John joined into a partnership with his brother Samuel McClements ( ? -1935?) and Paul S. Randolph (1850- ? ) who were original founders of the Randolph & McClements floral business. The firm was located in the city's East End and was quite large. The 1908 Pittsburg and Her People described it this way:
Railroad station in Pittsburgh's East Liberty section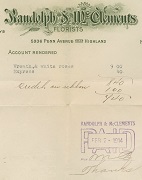 Company stationery, 1914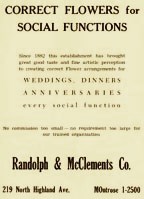 Pittsburgh city directory
[Randolph's] plant, which is one of the largest in western Pennsylvania, is situated on Stanton avenue, in the Eighteenth ward of the city. He has over one hundred and fifty thousand square feet of glass and is in every way equipment and using his plant to meet the demands of the trade. He has several stores in the city, his main place of business being at the corner of Baum and Beaty streets. He gives employment in all to eighty men and has eighteen wagons on the road.
Dissatisfied for some yet-unknown reason, John struck out on his own in 1920, and founded his own company. Taking advantage of the name recognition from his former firm, he named his new enterprise "John McClements Inc." An article in Oct. 7, 1920 issue of the trade journal The Florists' Review reported the following:
John McClements, formerly of Randolph & McClements, East Liberty, severed his connections there and last May opened a store in the heart of Pittsburgh, at 535 Wood street, under the style of McClements. His shop is unique and simple, beautifully decorated in cretonne, buff-colored paints and iceboxes that show off his display of fruits and cut flowers to the best advantage. This is the largest store in Pittsburgh that professes to handle a line of fancy fruits and gorgeous flowers. Everything that could possibly accompany a gift of flowers also is shown -- baskets, vases, bowls, books, sweets and the usual line of decorative materials. Imported crockery is quite a feature also. While the shop approaches a gift shop, it remains essentially a high-class flower store. Traveling men in the trade look on this little rendezvous, which lies amid a busy passing crowd, with much interest, for it calls forth one's imagination of its future.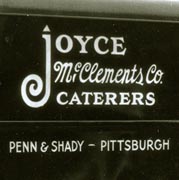 A Joyce McClements delivery truck, and its logo inscription

Matchbook covers
Circa 1928, John was known to be a partner in the firm of Joyce McClements Co., a catering services provider. In later years, Joyce McClements established a restaurant under that name on Joyce and Shady Avenues in Shadyside neighborhood of Pittsburgh. The restaurant also was known as the Kenmawr Restaurant, located in the 13-story Kenmawr Apartments in East Liberty.
When the federal census was taken in 1930, the family made their home on Roup Street in Pittsburgh, with 19-year-old Anna Evans living and working in their household as a servant. John's occupation was listed as "Florist & caterer - own business."
Matchbook covers
John's work attracted a following of customers and other influential friends who appreciated his services. After its first decade in business, Helen Ryman of the Pittsburgh Press praised the firm in her "The Charm Mart" column of Feb. 22, 1931. The column read, in part: "What with the amount of sickness these days and the number of people we know ho have been victims, to find something very nice as a lovely inexpensive remembrance for these friends, a nice flower and fruit shop like McClements is indeed a windfall. If you are not acquainted with their arrangements of fruit then you should be with this week's special -- Mexican Woven basket filled with tropical fruit, packed with all the trimmings, for $2."
The Press columnist went on to say that "Just occurred to me, too, while I was looking things over this week, that every time you want a different sort of mint for your party, or some candy that stout people can eat, or some really good relish delicacy, or a rare shade of flower, that McClements at 535 Wood Street should be the first place you come. I don't know whether you know it or not, but there is no other store of its kind in Pittsburgh and you'll be ready to believe that after a visit."
Dining room of the Joyce McClements Company, at Penn and Shady Avenues in Pittsburgh
Oliver Building
In later years, the firm re-located to the Henry W. Oliver Building -- a prominent 25-story skyscraper seen here which still stands today on Smithfield Street and is landlord to many prominent businesses. At Eastertime during the World War II years, the firm advertised such products as beautiful Easter flowers, plants and corsages to help clients celebrate the holiday.
(Interestingly, John's brother and former business partner Samuel McClements remained in business as a competitor. The Pittsburgh Press once said he "is an interesting figure. He is regarded as the high priest of the flower cult, and few fashionable weddings have taken place in Pittsburgh during the past quarter century without his supervision. the modern florist is the court of high appeal in the matter of the intricate detail which make or mar an imposing ceremony." When Samuel died in 1935, said the Press, his will contained a stipulation "that all the employes of his firm be retained in their jobs at their present salaries...")

In 1938, at Christmas, the community-minded Gertrude was placed in charge of a party for underprivileged school children sponsored by the Wilkinsburg Civic Club.
The family-owned enterprises provided the McClements family with a comfortable lifestyle over the years. They cultivated many important clients and prominent friends. In 1938, Gertrude traveled with her society friends to take in the horse races at famed Hialeah Park in Miami. Reported the Miami News:
Society is seeing to it that Hialeah Park has a grand and glorious season this year. Informality was the order of the day yesterday and everywhere were groups lunching and watching the races together. Joseph E. Widener, president of the Miami Jockey club, and his son and daughter-in-law, Mr. and Mrs. P.A.B. Widener II were greeted in their box during the afternoon by numerous friends... Mr. and Mrs. Charles B. Shaffer of Chicago were accompanied in their box by Mrs. John McClements of Pittsburgh.
Left: On the back stretch at Hialeah Park. Right: Hialeah's clubhouse terrace and grandstand, where Gertrude took in the festivities circa 1938.
The specter of tragedy and heartache rocked the family in January 1939, when Gertrude's brother in law, Loren W. Lashbrook, took his own life in the Fort Pitt Hotel in Pittsburgh. The deceased left two notes, one of them asking that John -- his brother in law -- be notified. John had the ghastly tasking of traveling to the Allegheny County morgue, where he then had to identify the corpse. When questioned by authorities, he said that the "only reason for Lashbrook's act that he knew of was a lung condition he complained about two years ago," said the Pittsburgh Press.
In the early 1950s, the couple made their residence at 1701 Parkline Drive in Brentwood/Mt. Lebanon, a fashionable suburb to the south of Pittsburgh.
John passed away at the age of 71 on Nov. 27, 1953, just after the Thanksgiving holiday. The Pittsburgh Press did not carry a feature obituary, but rather printed a perfunctory death notice. The funeral was held at H. Samson's in Oakland, followed by private interment in the McClements family plot in Homewood Cemetery. Many Pittsburgh luminaries also rest in the massive Homewood Cemetery, among them coal and coke baron Henry Clay Frick, ketchup-and-pickle maker H.J. Heinz, industrialist George and Perle Mesta (the "Hostess with the Mostest"), and Pittsburgh Pirates baseball hall of famer Harold "Pie" Traynor.
McClements graves at Homewood Cemetery. Below, carved steps mark the family plot -- Gertrude and John rest at upper left.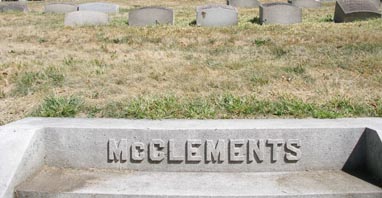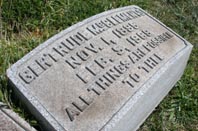 Homewood Cemetery, Pittsburgh
Gertrude outlived her husband by 16 years. The year after John's death, in 1954, she became involved in a bitter fight over the custody of her six-year-old grandson, Mark Ellis McKinney. The boy's parents Betty Jane McKinney and Robert McKinney had divorced, and the father had taken the son to his new home in Ohio for a brief visit. After weeks passed, it became apparent to the boy's mother that there was no intention of returning the child to Pittsburgh. Betty Jane and Gertrude and lawyer William F. Donatelli drove to Manchester, OH, where the man and son were thought to be. But they learned that Robert had taken the boy to Maysville, KY, where his firm was involved with an engineering project. Betty Jane, Gertrude and Donatelli drove to Maysville, only to find out that father/son had gone to visit family in Akron, OH. Upon driving to Akron, the trio discovered that the father had been there, and was gone.
Confounded, Betty Jane, Gertrude and Donatelli returned home to Pittsburgh. They received word in October 1953 from Robert's parents that he was en route to South America, but that turned out to be a ruse, when in fact he had passed through Wyoming. In fact he was headed to his sister's home in Oregon, in the town of Sandy. In January 1954, Betty Jane drove to Oregon, and with help from a private investigator, found her husband and placed the boy into court custody. Upon their triumphant return to Pittsburgh in February 1954, the story became front page news in the Pittsburgh Press.
Gertrude died on Feb. 5, 1969, at the age of 75. Her funeral requiem mass was sung at St. Bernard's Church.
They rest for eternity in the McClements family plot in Homewood Cemetery.
Ann McIlwain
~ Daughter Ann Florence (McClements) McIlwain ~
Daughter Ann Florence McClements (1922-2003) was born on Feb. 8, 1922 in Pittsburgh. She was named in honor of her maternal grandmother, Anna Florence (Rhodes) Minerd Heck.
As a young woman, she resided at 5460 Penn Avenue in Pittsburgh.
In about 1952, when she would have been 30 years of age, Ann married 29-year-old Russell McIlwain (1923-1983), the son of Raymond of Barnesboro, Cambria County, PA. A notice of their marriage license application was printed in the Pittsburgh Press.
Ann and Russell
They had three children -- Paul McIlwain, Jane McClintic and Jill Jenkins.
Russell in 1947 was granted a license as a weighmaster in the Commonwealth of Pennsylvania. Circa 1969, the McIlwaines made their home in Monroeville, east of Pittsburgh. Later, they moved to Verona, Allegheny County.
Said the Penn Trafford Star newspaper, Ann "was a disc jockey for Muzak and a former member of Plum Creek Presbyterian Church."
Russell died in Pittsburgh in August 1983.
Ann survived him by 20 years.
She died at the age of 81 on Aug. 19, 2003, at St. Margaret Seneca Place. She was laid to rest at Plum Creek Cemetery. Interestingly, showing how the family name spelling can typically evolve, Ann's Star obituary spelled her mother's maiden name as "Minor." At the time of her passing, she was survived by eight grandchildren and five great-grandchildren.
Daughter Jane McIlwain was wedded to Ronald McClintic, son of Robert Hofferd and Jean (Taylor) McClintic.
Daughter Jill McIlwain married (?) Jenkins.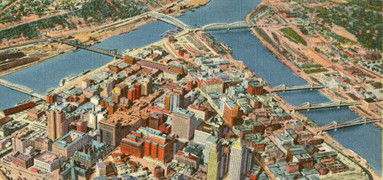 Downtown Pittsburgh, Pennsylvania
~ Daughter Elizabeth "Betty" (McClements) McKinney Pawlosky ~
Gulf Oil Building
Daughter Elizabeth Jane "Betty" McClements was born on Oct. 17, 1927.
At the age of 19, she was employed as a bookkeeper in Pittsburgh and resided at 5460 Penn Avenue.
On Feb. 1, 1947, when she was 19, Betty was united in marriage with 21-year-old civil engineering student Robert M. McKinney (1925- ? ), son of Sylvester and Thelma (Hill) McKinney. Rev. Harry M. Campbell officiated at the ceremony held in Pittsburgh.
Robert was a native of Lincoln County, WV, but at the time of marriage his home was on Fulton Street in Akron, OH.
The couple produced one son, Mark Ellis McKinney.
Sadly, the marriage ended in divorce. At the time of their divorce and her custody battle, Betty was employed with Gulf Oil Company's Tourguide Bureau. The prominent Gulf Oil Building is seen here, another landmark on the Pittsburgh skyline.
Later, Betty married Frank Pawlosky ( ? - ? ) and lived in Mt. Lebanon.
Copyright © 2001, 2010-2011, 2014, 2016 Mark A. Miner
McIlwain images courtesy Jill Jenkins