Tragically, the celebration was all too premature. Esther's birth canal became infected, and she died of complications just five days later, on March 20, 1920, at the age of 44. Her worn out remains were laid to rest in Pennsville at the Pennsville Independent Cemetery. Rev. W.H. Hetrick, of the local Lutheran Church, presided over the funeral and burial. Her husband, the informant on her death certificate, listed her parents as "Wm. D. Ogle" and "Sarah Minerd."
After a period of seven years, John married again, to Amelia T. Foreman (1874- ? ), a native West Virginian whom he had known for several years. The wedding took place on June 30, 1927. Just a few years earlier, in 1925, when the widowed John was residing in Moyer, Fayette County, he hosted a wedding supper for one of Amelia's relatives, Charles and Reva (Foreman) May, which Amelia attended. The Koosers continued to live in Moyer following their marriage.
John D. Kooser (standing, left) with his adult children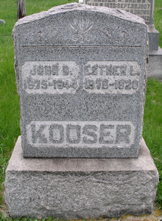 The Koosers' grave, Pennsville
When the federal census was made in 1930, John worked for a foundry. Among his near neighbors in the 1930 census were cousins Howard and Phoebe (Thorpe) Workman of the Freed/Thorpe branch of our family.
John for many years suffered from heart disease and passed away at the age of 69 on Sept. 22, 1944, and is buried with Esther in the Pennsville Baptist Cemetery.
~ Son Carl Ellsworth Kooser ~
Son Carl Ellsworth Kooser (1903-1965) was born in in 1903.
He married Mary Etta Manges (1903-1974), the daughter of John and Margaret (Friend) Manges.
They had six children -- John W. Kooser, Margaret Alberta Easter, Evelyn Yauger Riley Belovarac, William H. Kooser, Carl Ellsworth Kooser Jr. and James R. Kooser.
The Connellsville Daily Courier said that they resided in Brownfield, Fayette County, where Carl "was a member of the Hutchinson Sportsmen's Club and Union Local No. 66 of Uniontown. He was a retired grinder of the Richmond Radiator Co." They were active in the Manges family reunions over the years.
Sadly, son John died in 1935, and married daughter Margaret Alberta Easter passed away in 1948.
On April 20, 1965, Carl died at home at the age of 62. He was laid to rest at Mountain View Memorial Park in Brownfield. At the time, said the Courier, he had 13 grandchildren who survived him.
Mary outlived him by nine years. She died on Aug. 20, 1974.
Daughter Evelyn R. Kooser (1930-2010) was married three times -- to James H. Yauger, William Riley and Stephen Belovarac. She had two sons -- Larry J. Yauger and Dan R. Yauger. She resided in the area of Erie, PA, for more than 35 years. Said the Uniontown Herald-Standard, "In years past, she was an active member of the Big Brownfield United Methodist Church where she had been a member of the church choir and had served as a long-time Sunday School teacher. She had more recently been a member of the McKean United Methodist church. Evelyn had been previously employed by the former Thrift Drug and had also worked at JC Penney where she was manager of the boy's department. She was a former member of the McKean Garden Club. She enjoyed camping, watching humming birds and playing piano." Evelyn passed away at age 79 on Feb. 2, 2010. Burial was in Edinboro Cemetery.
Son James R. "Bob" Kooser (1927-2007) was born on July 30, 1927 in Little Brownfield, Fayette County. He married Bethel (Helmick) Nestor ( ? - ? ). They lived in Uniontown and Brownfield and had four children -- James R. Kooser II, Ronald D. Kooser, Gary E. Kooser and Lori B. Geisler. During World War II, Bob served in the U.S. Navy. Later, he was a steelworker at the famed Homestead Works of the U.S. Steel Corporation. Bob wedded a second time to Elizabeth Smith ( ? -living). He passed away at home on New Year's Eve 2007. He was interred in Mountain View Memorial Park in Brownfield following graveside military rites.
Grandson Ronald D. Kooser (1952-2018) was born on Aug. 16, 1952 in Uniontown. He wedded Carolyn Hunt ( ? -living). The couple established a home in Great Valley, NY, where Ronald was employed for 20 years as a supervisor with Fitzpatrick & Weller in Ellicottville, NY. They were the parents of two sons, Mark Kooser and Timothy Kooser. In his spare time, Ronald enjoyed the outdoors, especially camping, fishing and hunting. Sadly, they endured the death of their son Mark. Ronald died at the age of 66 at ECMC in Buffalo on Aug. 28, 2018. An obituary in the Salamanca Press noted that burial was in Green Cemetery.
~ Son Charles H. Kooser ~
Son Charles H. Kooser lived in Hopwood, Fayette County. He married Flossie Guseman. They resided in Chalk Hill, Fayette County. The Koosers had at least one daughter, Juanita Flo Martin Cowles.
Grand daughter Juanita Flo Kooser (1940-2008) was born on Sept. 30, 1940 in Chalk Hill. She married Robert Martin of Connellsville in 1962 and had four children -- Michael Martin, Susanne DeBoever, Natalie Martin and Robert Martin. They relocated to Southern California, making their home in La Mirada. Juanita was employed by General Telephone Company until retirement. After her marriage ended, Juanita later wed Robert Cowles in 1995. A newspaper said they spent their summers in Markleysburg. Juanita passed away in Markleysburg at the age of 67 on Oct. 7, 2008. She was laid to rest in Mt. View Cemetery in Brownfield, Fayette County.
~ Son Frank Kooser ~
Son Frank Kooser made his home in Connellsville.
~ Son Edward Kooser ~
Son Edward Kooser lived in Connellsville.
~ Daughter Irene May (Kooser) Marthethe ~
Daughter Irene May Kooser wed David Martethe. Circa 1965, they lived in Miami, Dade County, FL.
~ Daughter Isabel (Kooser) Balsley Davidson ~
Daughter Isabel Kooser was married twice. Her first husband was (?) Balsley.
Her second spouse was Paul Davidson. In 1965, she and Paul lived in Toledo, OH.
~ Son William DePew Bow Kooser ~
Son William DePew Bow Kooser (1918-1999) was born in 1918.
He married Grace Elizabeth Roberts Miller (1922-1987), the daughter of Hazel (Roberts) Miller and stepdaughter of Thisel Miller. He "was a lifelong resident of Connellsville and prior to his retirement he worked as a millwright for the Connellsville Mining Supply Co.," said the Daily Courier. "He was a member of the Connellsville American Legion and the Connellsville Moose Lodge."
The Koosers had nine children -- William T. Kooser, Dale R. Kooser, Franklin A. Kooser, Donald Kooser, Hazel Oldland, Barbara Pericho, Deborah Hough, Kimberly Welsh and Marcia Shroyer. Grace died in 1987. William outlived her by 12 years, and passed away at the age of 81 on May 24, 1999. At the time, he was survived by 18 grandchildren and 20 great-grandchildren. He was laid to rest at Green Ridge Memorial Park in Pennsville, near Connellsville.
Son William T. Kooser (1940-2008) was married to Valerie J. Gallentine and had four children -- Cheryl Garlick, William G. Kooser, Thomas D. Kooser and Steven E. Kooser. Said the Connellsville Daily Courier, "He had formerly worked at the former Modulus Corp. in Mt. Pleasant for 20 years and then worked as a truck driver for Allegheny-Bedford Express. He then retired as a bus driver for Colborn Bus in Mill Run. Bill [was] a member of the Bullskin Township Lions Club, the Bullskin Township Volunteer Fire Department and a member of the former Connellsville Jaycees." He passed away at age 68 on May 31, 2008, with burial at Green Ridge Memorial Park.
Grand daughter Hazel Kooser married (?) Oldland. Their son William K. Oldland is an entomologist with the U.S. Forest Service, State and Private Forestry, in Morgantown, WV.
The fates of the other Kooser children are not yet known.
An annual Kooser Reunion is held in Fayette County. The 2009 event was on July 25, 2009, at Shady Grove Park on Morgan Station Road, Lemont Furnace, near Uniontown.
Copyright © 2006-2010, 2012 Mark A. Miner