Home
John Adam Sturtz Jr.
(1817-1897)
John Adam Sturtz Jr. was born on June 12, 1817 in Somerset County, PA, the son of John "Adam" and Maria "Catherine" (Gaumer) Sturtz Sr.
On June 1, 1838, at the age of 20, John Adam married Susanna Troutman ( ? -1870). The ceremony took place in Somerset County by the hand of justice of the peace Jacob Martz. John Adam's parents were witnesses as was Solomon Leidig. The groom's brother Solomon Sturtz was in Ohio at the time and did not attend.
John Adam was a farmer, carpenter and flour miller for nearly 20 years in Southampton Township, Somerset County before becoming pioneer settlers of Iowa.
Their nine children were Solomon Sturtz, Michael Sturtz, Rebecca Ann Earnest, Sarah C. Sturtz, Adam Sturtz, Mary Ellen Sturtz, Jacob Sturtz, Charles W. Sturtz and Franklin M. "Frank" Sturtz. Susanna was assisted during several of these births by an apparent sister, Louise Troutman. John Adam kept a family Bible in which he noted the birthdates of his children.
In 1850, United States Census records show the family living on a farm in Southampton Township, with John's aged parents residing under their roof.
Later, in about 1857, when John Adam was age 40, he and Susanna as well as John Adam's brother Solomon -- who had been in Ohio -- migrated to Butler County, Iowa. Susanna's sister Louise Troutman remained behind. They traveled with two good teams of horses and wagons. He later said: "I moved from Penn. by team and had nothing but what we needed on the road."
In Iowa, John Adam bought a 160-acre tract, with an accompanying mortgage of $200. Paying $350, they built an ordinary frame house, with John Adam doing most of the work himself. Their farm shared a corner with Solomon's farm, and their houses were about a half mile apart. For his initial purchase, John Adam paid $6.50 per acre. He called it "wild land" before cultivation. Circa 1863, 80 of the acres were cultivated and 80 were "unbroke and unfenced."
Tragically, their two eldest sons joined the Union Army during the Civil War, and both contracted deadly illnesses which claimed their lives.
In 1863, they purchased a farm of 160 acres, which they kept for five years until 1868. They owned 10 acres of timber property. They had perhaps four horses, some cattle and some hogs. Family friend J.V. Boggs occasionally helped with threshing, and nephew Benjamin Sturtz once called it "good land." But in about 1860, John Adam began to suffer from dyspepsia (indigestion), rheumatism and eventually from curvature of the spine. He also spent a lot of money on liquor and frequently chewed tobacco. As such, he physically was unable to work his land, nor to rent it to others, and depended largely on income generated by his sons. With wheat prices depressed, his fortunes sunk rapidly.
Family friend E. Leydig wrote the following observation:
Michael Sturtz was his father's main stay upon the farm, that after said Michael had enlisted his father was unable to take care of the farm work as he should have done, especially through sickness, which prevented him a good share of the time from doing any manual laborer, and also being unable to pay for hired help, having also a family of small children to support, all these causes combined forced him a few years after the mortgage his farm, which he eventually lost.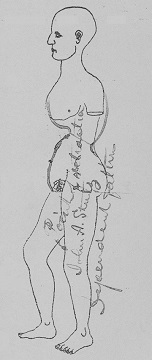 Surgeon's sketch of John Adam's distorted spine
and stomach tissues
To make ends meet after their sons' deaths, John Adam borrowed $400 from Jonathan Butler during the years 1863-1865; owed James Hazlett $325 for groceries, dry goods and provisions; and took out a $400 mortgage from a Mr. Wilder. All of the daughters were expected to work in the fields. In 1865, he and his son in law John Earnest bought a threshing machine. On the day that they made the purchase, John Adam was drinking, and Earnest took the bottle away, saying "That must stop." John Adam actively worked in the threshing business, but the venture apparently did not produce the desired financial results. By 1868, John Adam had taken on even more land, with his holdings now expanded to 320 acres, on which he owed $1,000. The drinking apparently did not end, and sometimes it was to excess.
Susan never recovered from the deaths of her sons, and she and her husband "both broke down under the loss." Mice got into the box where they had stored their sons' letters and chewed them to pieces. She passed away in Coldwater Township, Butler County on Aug. 22, 1870. Local men Henry Ilgenfritz and William Morrison built her coffin. Jacob Sturtz is known to have attended her funeral. The medical bills over the four or five months of her illness mounted.
Burdened under such heavy debt, he hired expensive laborers to assist with the farm in his sons' absence, but in about 1871 "eventually lost everything he had," said his brother Solomon Sturtz, "said loss being the direct consequence of said Michael Sturtz leaving the father and the homestead where his labor was so much needed...." He sold the land for $2,800, and moved away to Missouri. After staying there for five years, he returned to Greene, Butler County.
In 1878, John Adam filed a claim for a military pension, citing the hardship resulting from the multiple deaths of his sons. [Father App. #236.278 - Cert #288.086 (for Solomon) and App. #236.278 (for Michael)] The request was denied, When John Adam turned age 65, in 1882, a group of 29 citizens of Butler County signed a petition supporting his claim for a pension, saying he was "in destitute circumstances."
In May 1880, the 63-year-old John Adam was examined by a military surgeon in connection with the sons' pension. Dr. J.M. Ball observed that the patient had "general curvature of spine -- General debility, emaciation and great retraction of all the the tissues in the region of stomach.... Is the strongest marked case of the kind I have ever seen -- and is malignant and of corse incurable. Is a stranger to me but has the appearance of an honest unsophisticated old gentleman. For manual labor he is worthless. His disability is total."
John Adam married again, to the aunt of J.H. Pauley. Her precise identity is not known. He resided in the 1880s in Rockford, Floyd County, IA and by 1890 was in Cedar Rapids, making his home at 264 Seventh Avenue. In 1889, he filed a legal claim against the Bureau of Pensions in Washington, DC to force their hand. Again the application was rejected. John Adam's attorney appealed the ruling, calling it an "outrage." In the end, he was awarded $12 per month in pension payments.
His final fate is not yet known, but he died between April 4 and Aug. 18, 1897.
He is named in a short reference in the 1912 book by John W. Jordan and James Hadden, entitled Genealogical and Personal History of Fayette County, Pennsylvania, Vol. III.
Son Solomon Sturtz (1838-1864) was born on Oct. 7, 1838 in Southampton Township. His presumed aunt Louise Troutman assisted in the birth. He grew up on his parents' farm in Southampton Township. Later, he relocated with his parents and siblings to Coldwater Township, Butler County, IA. He never married. When the Civil War broke out, Solomon and his brothers enlisted in the Union Army at Clarksville, IA on Aug. 20, 1862. They assigned to the 32nd Iowa Infantry. Solomon sent home a portion of his pay to help support his parents. In March and April of 1863, he and his brother Michael were detached from the regiment so they could help the 1st Missouri Artillery. However, tragically, after returning to the regiment, he contracted chronic diarrhea in about May 1864. He was treated at Vicksburg, MS but unable to rally, he succumbed on June 6, 1864. His death is listed in the 1883 book History of Butler and Bremer Counties, Iowa (Springfield, IL: Union Publishing Company). His remains were placed at rest in the Vicksburg National Cemetery. [Find-a-Grave]
Son Michael Sturtz (1841-1863) was born on Sept. 27, 1841 in Somerset County. As with his older brother, his presumed aunt Louise Troutman assisted in the birth. He never married. He was considered stout and healthy and worked every day. At times he also assisted neighbors with farm work, including John M. Hart. When the Civil War broke out, Michael and his brothers Adam and Solomon joined the Union Army at Camp Franklin, Dubuque, IA and were assigned to the 32nd Iowa Infantry, Company G. He immediately received one month's pay and a $25 bounty and sent home $30 or $35 in care of his friend William A. Keister. In March and April of 1863, he and his brother Solomon were detached from the regiment so they could help the 1st Missouri Artillery. In June 1863, while at Cape Girardeau, MO, he had friend Keister carry home another $85 for benefit of the family. On Oct. 16, 1863, having taken ill with remittent lung fever, Michael left the regiment and was sent to the Army general hospital at Little Rock, AR. There, he died on Nov. 3, 1863, at the age of 21. His friend Keister saw the body a few moments after death occurred. The book History of Butler and Bremer Counties, Iowa, states that "Of these [enlistments], Adam Solomon and Michael Sturtz, F.M. and Elias G. Miller, and William T. Hall never returned, finding graves in southern soil." His death is listed in the 1883 book History of Butler and Bremer Counties, Iowa (Springfield, IL: Union Publishing Company). [Find-a-Grave]

Main Street in Greene, Iowa, early 1900s
Daughter Rebecca Sturtz (1844-1928) was born on Feb. 15, 1844 in Southampton Township. When she was age 13, she and her parents and siblings moved to Iowa, settling on a farm in Greene, Butler County. In 1864, she married a neighbor, John Earnest (1843-1910?), or "Earnist," who had grown up about two miles from her house. They were farmers. In 1865, John and his father in law bought a threshing machine. On the day that they made the purchase, the father in law was drinking, and John took the bottle away, saying "That must stop." They actively worked together in the threshing business, but the venture apparently did not produce the desired financial results. The Earnests continued to make their residence in Greene, Butler County, IA, as shown by the 1880 federal census. Their four known children were Susan C. Earnest, Elizabeth Earnest, Samuel F. Earnest and John Henry Earnest, with three others dying young. In 1880, Rebecca's 16-year-old brother Frank Sturtz lived under their roof and worked as a hired hand. Sadly, John died in about 1910. Rebecca survived as a widow for another 18 years. At the age of 87, on Christmas morning 1928, Rebecca passed away at home. An obituary in the Greene Recorder erroneously gave her father's name as "Sollie" (Solomon) and stated that her place of birth was "Johnston, Pa." probably a reference to the largest city near her birthplace, Johnstown, Cambria County, PA. Following funeral services held in the local Presbyterian Church, officiated by Rev. William J. Grossheim, interment was in Rose Hill Cemetery. A week later, on Jan. 2, 1929, "Aunt Jane" of the family published a clarification and eulogy in the Recorder:
She was a daughter of John and Susan Sturtz. She came here in the fifties with her parents. She bravely done her part: was obedient to her parents and faithful to her task, and in the war of the rebellion, when all the young and able bodied men were taken from their homes to wipe out that awful stain between the North and the south and left the old men and little boys to carry on the farm work, she was one of us girls that banded together to bind the wheat and oats and do the farm work, and keep the home fires burning until the boys came home.
Now she has folded her tired hands,
And closde her eyes in sleep,
And crossed the silent river,
Never more to weep.
She bravely bore her burdens,
And labored night and day,
To keep a home for her loved ones,
but now she has gone away.
But God in His infinite mercy,
Who doeth all things well,
Has called her from this world of care,
It is well, it is well.
Now farewell mother, sister and friend,
Silently take your rest.
'Till in heaven you awaken,
Among the pure and blessed.
Granddaughter Elizabeth Earnest ( ? - ? ) was born in (?). On Feb. 19, 1888, he was united in holy matrimony with John Skillen Sr. (March 9, 1860-1931), son of Gawn M. and Mary Jane (Livingston) Skillen of Genesee County, NY. As a boy of eight, John had migrated with his parents from New York to Independence (MO?) and stayed there for three years before moving again to Greene. Their seven children were John H. Skillen Jr., James G. Skillen, Cora B. Skillen, Ruth M. Skillen, Maggie M. Skillen, Martin R. Skillen and Ralph E. Skillen. John Sr. died on Feb. 16, 1931 at the age of 70. Rev. G.A. Hess of Charles City led the funeral services held at the Christian Church, followed by burial in Rose Hill Cemetery. An obituary was printed in the Greene Recorder. Son Ralph served in World War I and married Lillian Smith on July 5, 1924. They were the parents of Kathleen Skillen, Joan Skiillen, Audrey Skillen, Harriet Skillen, Sandra Kay Skillen and Paulette Rae Skillen. The Skillens moved to Minneapolis in August 1941 and returned to Greene in 1945.
Grandson John Henry Earnest (1877-1937) was born on Dec. 29, 1877. He never married and lived at home with his widowed mother for many years. In the 1930s, he was employed at the Fred Gable farm near Charles City, IA and dwelled on the premesis. He passed away on Oct. 3, 1937 at the age of 59. Funeral services were held in a local funeral home followed by burial in Rose Hill Cemetery, officiated by Rev. F.A. Munneke. An obituary in the Greene Recorder noted that "Death was due to pleurisy which developed into pneumonia. He was ill only four days having taken ill the Tuesday preceding his death. He is survived by an only sister, Mrs. John Skllen, sr., of Greene, an uncle, Frank Sturtz, also a host of other relatives and friends."
Bird's-eye view of Greene, Iowa
Daughter Sarah Catherine Sturtz (1846- ? ) was born on Nov. 26, 1846 in Southampton Township. In 1866, when she would have been age 20, she is believed to have married Jacob Moss (1845- ? ), son of Elder Philip Moss and a native of Indiana. They settled in Section 11 near Greene, Butler County, IA and had four children -- Clarence Moss, Franklin Moss, Owen Moss and Bertha Moss. This family is summarized in the 1883 book History of Butler and Bremer Counties, Iowa (Springfield, IL: Union Publishing Company). More will be added here when discovered.
Grandson Owen Moss is believed to have married and, in 1904, made his home in Fairfield, WA.
Son Adam "Ad" Sturtz (1849-1929) was born on Sept. 26, (or Oct. 8) 1849 in Southampton Township, Somerset County. He is not to be confused with a first cousin of the same name (1849-1864), the son of Solomon and Elizabeth Sturtz, who gave his life during the Civil War. On Christmas Eve 1868, in a ceremony in Coldwater Township, our Adam married 16-year-old Martha Jane Rife (1852-1918), daughter of Sarah (Lyons) Rife and a native of Henry County, IN who had migrated to Iowa as a teenager in 1864. The couple remained together for 50 years. In 1880, census records show they had no children but dwelled in Greene, Butler County, IA. In 1882, when Adam was age 33, his father said that he "was always sickly and is yet." Yet Adam lived into his 82nd year. Circa 1909, Martha Jane's aged mother, considered "one of the early settlers of Butler county," died in their home, as noted by the Greene Recorder. Adam was community minded and, with help from George Gerhard, helped clear away debris from the Greene city park in April 1917. Commenting on the work, the Recorder said that their "persistant efforts" had "been the means by which the city park is being nicely cleaned up. The gravel has been removed and it is now infine shape for grass seed. The tulip bed in the center will soon be a spot of beauty." Then in October 1918, the Recorder noted that he was "looking after the janitor work at both banks in Greene and the way he is cleaning windows and brushing around shows he is going to have things look tidy. As each bank has a president and full set of officers, Ad is not likely to want to change jobs the first week at any rate, but will be content with second or third trick." Adam and Martha celebrated their golden wedding anniversary in 1918. Sadly, Martha endured two strokes in 1918 and then a final illness set in which sealed her doom. She died on Nov. 16, 1918. An obituary in the Recorder said that she was survived by Adam and by her brother Jack J. Rife of Canada and that her niece Mrs. Tent Shafer of Waterloo, IA, was with her at the end. Adam survived her by 11 years. He suffered two black eyes in April 1922, when while walking on a Greene sidewalk was knocked over by two boys running, and while brought home, was unconscious for about a half hour. He was admitted to the Butler County Home where he died on June 24, 1929, at the age of 79. Rev. J.E. Small officiated at the funeral held at the Brethren Church. They rest for eternity in the Rose Hill Cemetery in Greene.
Daughter Mary Ellen Sturtz (1853- ? ) was born on March 7, 1853 in Southampton Township. At the age of 17, unmarried, she dwelled at home with her parents. Could she have married Fred Cuffel?
Son Jacob Sturtz (1855- ? ) was born on Feb. 1, 1855 in Southampton Township. He was age two when the family migrated to Iowa.
Son Charles W. Sturtz (1858- ? ) was born on Jan. 30, 1858, the first of the family to be born in Coldwater, Butler County, IA. As an adult, in 1928, he resided in Illinois.
Son Franklin F.M. "Frank" Sturtz (1862-1939) was born in April 1861 or on March 17, 1862 in Coldwater, Butler County, IA. Age eight when his mother died, he was taken into the home of his married elder sister Rebecca Earnest. Little is known of his life. He resided in Greene in 1928 when named in the obituary of his sister Rebecca Earnest. He died on Nov. 7, 1939, and is buried in Rose Hill Cemetery in Greene, Butler County.
~ More ~
We are grateful for records provided by Gilbert R. Gaumer of Glendale, MO (compiled 1973-1980), Paul K. Gaumer and Mary L. Shirer in the preparation of this biography.
The Gaumer and Hoyman clans are profiled in the 486-page book Some Notes, Quotes, and Quips of the Hoyman Clan and Related Lines, authored by David LeRoy Baldwin and published by Gateway Press in 1993.
Copyright © 2000, 2011, 2015-2018 Mark A. Miner
Contributing their knowledge to this biography have been the late Gilbert R. Gaumer, Barbara (Moss) Wardsworth and Keith Sturts.