Walter S. Younkin was born on June 10, 1833 in Milford Township, Somerset County, PA, the son of Dr. Jonas and Martha (Pringey) Younkin.
When Walter was age 16, in 1849, his father struck an agreement with John R. King to let the son work for King, which may have involved writing, and that King was to provide the boy's boarding, washing, and mending in."
A year later, at age 17, circa 1850, he and his family relocated to Henry County, IL. Finding that locale appealing, he and his brother Alexander remained even as the rest of the group moved again into southeast Iowa. The agreement between Walter's father and John R. King is described in Wilmer Mackey Sanner's 1968 book, The Sanner Tamily in the United States.
Walter was joined in wedlock with Eva M. Troyer ( ? - ? ). They were wed in Cambridge, Henry County, IL on May 5, 1856.
They made their home in Annawan, Henry County and had two known offspring, Warren "Eugene" Younkin and Howard Venvelsy "Velzie" Younkin.
Walter joined the Union Army during the Civil War on Aug. 12, 1862 and was assigned to the 112th Illinois Infantry, Company A. He attained the rank of sergeant and was mustered out of his regiment on June 20, 1865. His name has been misspelled in official military records as "Yomkins."
On Nov. 19, 1868, Walter died an untimely death at age 35 in Annawan. Burial was in the nearby Fairview Cemetery.
Because their children were rendered fatherless without any means of financial support, the federal government in June 1872 awarded them a military pension. [Minor App. #204.127 - Cert. #181.288]
The federal census of 1870 shows Eva, with her last name spelled "Yuncan," heading a household in Annawan.
Eva went on to marry William G. Gillespie ( ? - ? ) on Dec. 7, 1871, in Cambridge. They produced two daughters of their own, Hattie Gillespie and Kittie Gillespie. Sadly, their marriage ended in divorce.
Many decades after Walter's death, his grave was among those marked on Decoration Day, otherwise known today as Memorial Day. The Moline (IL) Dispatch listed his name among the Fairview Cemetery veterans graves to be honored in May 1929.
~ Son Warren "Eugene" Younkin ~
Son Warren "Eugene" Younkin (1858- ? ) was born on March 25, 1858 in Annawan, Henry County, IL. As a boy, he watched as his home community prepared for the Civil War and then age age 10 endured the death of his army veteran father.
He and his single mother relocated to Nebraska in 1880, when he was age 22, and eked out a living as farmers near Dorchester, Saline Coiunty.
He was joined in holy wedlock with Margaret M. "Maggie" Stephens (1866- 1960?), daughter of Edwin and Mary (McDermand) Stephens.
They produced three offspring -- Lillie G. Kemper, Clifford E. Younkin and Chloe Riedel.
They spent most of the rest of their lives in Dorchester. Margaret is mentioned in a profile of her brother H.L. Stephens in The Centennial History of Oregon, 1811-1912, by Joseph Gaston, and at that time, they resided in Saline County, NE. At the age of 80, he lived in Dorchester, NE and was pictured in the Aug. 5, 1938 edition of the Younkin Family News Bulletin.
The Younkins worried in 1944 when two of their grandsons served in the U.S. Armed Forces. They grieved in April 1947 at the untimely death of their 52-year-old, married daughter Chloe Riedel.
The Younkins finally left Dorchester in the spring of 1950 and moved into the home of their son Clifford at 2901 Q Street in Lincoln, NE. At his 93rd birthday on Easter Sunday 1951, Eugene was pictured in the Lincoln Journal Star. Then again when he reached age 101, he was pictured in the Journal Star, saying he could no longer dance a jig and that e would like to grow his hair longer but that it would cause itching. He also claimed that he paid no attention to the United States/Soviet Union space race.
Margaret is believed to have died in about 1960.
Daughter Lillie G. Younkin ( ? - ? ) was born in (?). She wedded William Kemper ( ? - ? ). The couple produced at least one son, Willard Kemper. In 1947, she lived in Julesburg, Sedgwick County, CO. In 1950, her son Willard was united in matrimony with LaVon Fairley, daughter of Ira Fairley of North Platte, NE. At the time of marriage, LaVon was employed as a teacher with the University of Nebraska Extension Department and had spent a year teaching in the Panama Canal Zone.
Son Clifford E. Younkin (1890-1969) was born in 1890. He married Dora Ward ( ? - ? ). They were the parents of Delores Nedjl, Donald E. Younkin, Robert C. Younkin and Kenneth S. Younkin. They made their home in Dorchester, NE in the 1930s and '40s. He was pictured in the Younkin Family News Bulletin (Dec. 20, 1938). By 1951, he had moved into the city of Lincoln, NE, with an address of 2901 Q Street. During World War II, their sons Donald Eugene Younkin and Robert Clifford Younkin served in the U.S. Armed Forces and were pictured in the April 20, 1944 edition of the Lincoln Star. Clifford was swept away by the Grim Reaper in 1969.
Daughter Chloe Younkin (1894?-1947) was born in about 1894 in Dorchester, Saline County, NE. She moved to Lincoln, NE in about 1919, whereshe was employed with Security Mutual Life Insurance Company. In about August 1926, when she was 31 years of age, Chloe was united in marriage with 32-year-old Charles G. Riedel ( ? - ? ). News of their marriage license was published in the Lincoln (NE) Star. Their two sons were Paul Riedel and Ronald Riedel. Their home in 1930 was at 340 Elmwood Avenue in Lincoln. They were members of the Redeemed Lutheran Church. Circa the mid-1940s, their address was 840 Elmwood Street in Lincoln. Sadness blanketed this family on April 9, 1947, when Chloe died at the age of 52. An obituary was published in the Nebraska State Journal of Lincoln.
~ Son Howard Venvelsy Younkin ~
Howard V. and Clara Belle Younkin
Son Howard Venvelsy "Velzie" Younkin (1862-1958) was born in May 1862 in Annawan, Henry County, IL.
On Nov. 14, 1888, when Howard was age 26, on Nov. 14, 1888, he was united in matrimony with 19-year-old Clara Belle Earl (March 29, 1869-1953), daughter of Willard and Mary Earl and a native of Monroe, IL.
They became the parents of Lois Earl Younkin, Ray A. Younkin and Jay A. Younkin.
When the federal census enumeration was made in 1900, the family made its home on a farm in Pleasant Hill Precinct of Saline County, NE. Then during the decade between 1900 and 1910, they relocated to a farm in Dorchester Precinct, Saline County, where they appear on the 1910 federal census.
They remained in Dorchester for the balance of their lives and were members of the local Methodist church. The couple was socially minded and in November 1942 hosted a cornhusking bee at their home for some 23 friends, relatives and employees of the Ideal Market business.
The Younkins celebrated their golden wedding anniversary on Nov. 14, 1938.
Clara Belle passed away in a hospital at the age of 84 in Friend, NE on July 24, 1953. An obituary in the Lincoln Journal Star noted that she had been a "resident of the Dorchester vicinity for 74 years" and that she was survived by nine grandchildren and 13 great-grandchildren.
Howard outlived his longtime bride by five years. He succumbed at the age of 96 on or about Oct. 1, 1958. A death notice published in the Journal Star reported that funeral services were to be held in the Dorchester Methodist Church, conducted by Rev. Sandsted, with interment taking place in the Crete Riverside Cemetery.
Howard and Clara Belle (seated, center) with their entire family on their golden wedding anniversary.
Daughter Lois Earl Younkin (1889-1987) was born in August 1889. She married (?) Hommon and lived in Lincoln.
Son Ray A. Younkin (1891-1945) was born in August 1891.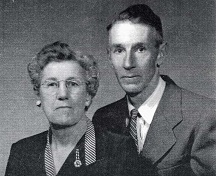 Jay and Esther Younkin
Son Jay A. Younkin (1897-1990) was born on Jan. 3, 1897 in Dorchester,Saline County, NE. On Jan. 3, 1922, at the age of 24, Jay married Esther Scott (Dec. 24, 1896-1984) in nuptials held at Dorchester. She was the daughter of Frank Augusta and Esther Ann (Box) Scott. The couple produced four known children -- Margaret Schnell, Ruth Virginia Reim, Dean Allen Younkin and Wallace Younkin. Their home was in Dorchester for decades. As they aged, they moved to Western, Saline County. When the Younkins celebrated their 50th wedding anniversary in 1972, an open house was held for them at Western United Methodist Church. Sadly, Esther passed away in Crete, NE at the age of 87 on Feb. 6, 1984. Jay celebrated his 90th birthday in January 1987 and his photograph was printed in the Lincoln Journal Star. The family organized a card shower and family dinner. At the time, he had eight grandchildren and a dozen grandchildren. He passed away in Lincoln at age 93 on May 23, 1990. Burial was beside his wife in Dorchester Cemetery.
Granddaughter Margaret Younkin ( ? - ? ) wedded Karl Schnell ( ? - ? ). In 1971-1986, their home was in Gretna, NE.
Granddaughter Ruth Virginia Younkin ( ? - ? ) was born in (?). On March 12, 1950, she was united in holy matrimony with Fred Reim ( ? - ? ), son of Herman Reim of Ashland, NE. Rev. Robert L. Embree officiated at the ceremony held at the Dorchester Methodist Church. News of the wedding was published in the Lincoln (NE) Journal Star. On their honeymoon, the Reims traveled to New Orleans and other southern sites. They made their first home on a farm in Memphis, Saunders County, NE. By 1971, they had relocated to Ashland, NE.
Grandson Deane Allen Younkin ( ? - ? ) was born in (?). On June 15, 1958, he was joined in wedlock with Betty Lee Damke ( ? - ? ), daughter of Clyde Damke of Western, NE. At the time, Deane worked in Lincoln, and Betty Lee was employed as a teacher near Western. They made their residence in 1971 in Lincoln, NE.
Grandson Wallace Younkin ( ? - ? ) dwelled in Wichita, KS in 1971-1986.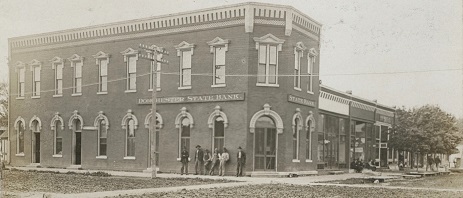 State bank corner in Dorchester, Nebraska, early 1900s