Experiencing the Era
Between 1930 and 1957
Selected Special Memories Not to Be Forgotten
Memoir by Odger 'Wayne' Miner, March 5, 2000
Based on an Interview with His Son Eric Wayne Miner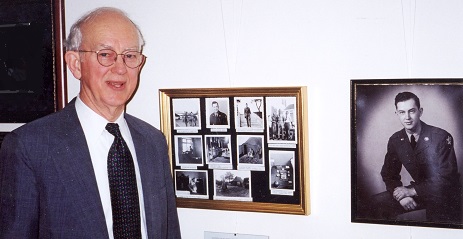 Odger "Wayne" Miner with his Army photos exhibited at church on his 70th birthday, March 19, 2000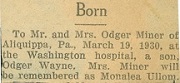 [Editor's note: A few weeks before his 70th birthday on March 19, 2000, Odger "Wayne" Miner was interviewed by his son Eric Wayne Miner about the early years of his life. Eric was gathering the material to read aloud at a worship service at the family church, Memorial Park Presbyterian Church in Allison Park, PA, on the very same day as the milestone birthday. At the time, the church was honoring all of its military veterans with a special display of photos and special recognition.
While Wayne was not one to seek the spotlight, he did not object to the surprise of having his son share the memoir at the church service. "In any event," as he would have said, it's instructive as to the life of a boy and young man growing up in the Pittsburgh region during the years of the Great Depression and World War II and coming of age as a GI in the U.S. Army during the Korean War. Portions of this essay were re-read aloud by Eric during Wayne's memorial service at Memorial Park Church in August 2012.]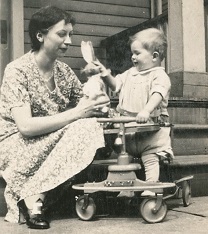 With his parents at Easter 1931, Aliquippa, PA
A new house in Hopewell, 1936
Wayne was born on March 19, 1930 in Washington, Pennsylvania, and raised in Aliquippa and Hopewell Township, Pa. His father worked daily during the Great Depression at Peoples Natural Gas, and was even able to build a new house in 1936. Wayne remembers the following: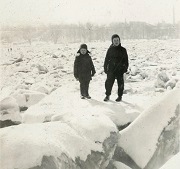 With younger brother Richard "Dean" on Ohio River ice, 1936
Walking with my family on the great frozen Ohio River in February 1936 followed by touring the raging river's swollen banks during the great historic flood of record on March 17-19, 1936.
Saturday afternoons walking with friends from home toward Constitution Boulevard in a valley where we talked with destitute unshaven hungry men without jobs who had left their families and homes seeking work in the shadow of Jones & Laughlin Steel Corporation. Their shelter consisted of frame and cardboard shacks where they bedded down on dirty mattresses and blankets and they cooked in tin cans over open fires.
Watching hoards of WPA [Works Progress Administration] men at work along the narrow highways and in the CCC [Civilian Conservation Camp] in Raccoon Creek State Park and on other construction.
Attending grades 1 thru 4 in Hopewell's three adjacent one room school buildings heated by old smoke belching coal furnaces, with amenities like hand operated outdoor water pumps and two outhouses in the back.
One of the one-room schools in Hopewell Township, near Aliquippa, PA
~ The 1940s ~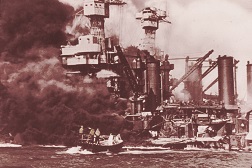 Attack on Pearl Harbor
December 7, 1941, crowded with my family around our Conrad floor model radio where we listened to news reports of the bombing of Pearl Harbor and to President Roosevelt announce our declaration of war.
Delivering the Pittsburgh Press and Sun-Telegraph daily and Sunday to our neighbor's homes in which from the windows little flags were draped with blue stars to represent family members serving their country in the military and gold stars where death had taken their loved ones.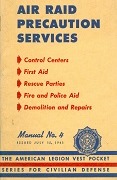 Air raid guidebook
Air raid drills at night, piles of aluminum pans to recycle into fighting planes, victory gardens, war bonds and stamps, rationing of food, gasoline, clothing, 35 mph speed limits on even the best highway, special Civil Air Patrol training and model building of American and enemy planes for identification purposes, my father working his regular daytime job at Peoples Natural Gas and building airplane parts in a machine shop at night and weekends. At last the joy of VE and VJ days.
Shoveling coal into and removing furnace ashes from our house and experiencing the resulting airborne dirt along with a very cold house when the unattended fire went out; black snow from J&L swirling on the porch; milk deliveries in glass bottles; burning trash out of doors; listening to the adventures of Tom Mix, The Shadow, Let's Pretend, The Aldridge Family, and Amos and Andy on the radio. Watching double feature cowboy movies in large theaters with free comic books.
~ From 1950 to 1957 ~
Summer months of working the swingshift at the Jones and Laughlin Steel Corp. Aliquippa Works tin mill working my way through college.
The ominous threat of the Korean War to my directionless college life.

Sprawling Jones & Laughlin Steel plant where Wayne worked in summers
Basic training photo, 1951
On May 31,1951 enlisting in the Regular Army for three years which began a series of experiences which would shape my life forever in a very positive way.
Wayne's snapshot of the
Golden Gate Bridge, 1952
Army travels in the USA included assignments: to Fort Meade, Maryland for induction in June 1951; to Fort Knox, Kentucky for basic training in June and July; to Vint Hill Farms, Virginia for testing in August; to The Presidio of Monterey (California) Army Language School from September 1951 to September 1952, to study Russian, along with visits to San Francisco (where upon experiencing the San Francisco-Golden Gate Bridge and reading the plaque which told the world that the steel was fabricated in Ambridge, Pennsylvania, I set my sights on a civil engineering career), Los Angeles (close relatives), and several cities in between including Carmel by the Sea, Pebble Beach and whale watching in Monterey Bay on the weekends.
Army training continued in Fort Devens, Massachusetts from October1952 to April 1953, during which time in New York City I had the opportunity to experience the Easter Parade on the Boardwalk and see Mary Martin in South Pacific on stage, visit Boston on weekends and experience winter in northern Massachusetts.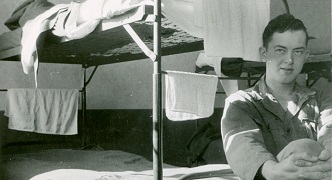 Above, in his Army barracks. Below, stationed in West Germany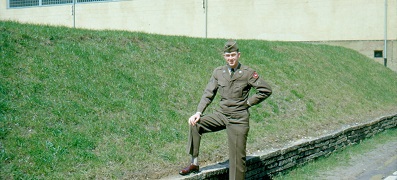 Army duty assignment was by troopship to Germany arriving in early May 1953. Military tours took me for short intervals to numerous kasernes [barracks] during the winter and the open field living in tents in summer with locations at Heilbronn, Coburg (sleeping in pup-tents in the shadow of the castle where Martin Luther resided), Bamberg and other locations in Germany along the Iron Curtain.
On my free time I visited London, Paris, Strasbourg, Copenhagen, Florence, Rome, Pisa and Venice and cities in Germany: Kassel, Munich, Frankfurt and Heidelberg and other small cities and villages in Germany. The signs of World War II destruction were still evident.
This overseas army duty was like an all expense paid year long vacation after which I was happy to return by troopship to the States in April 1954. Permanently discharged in early May 1954, I returned home to Hopewell Township to pursue an engineering degree at the University of Pittsburgh and to cultivate new friends.
Above: atop the Arc de Triomphe, Paris. Below: arriving home in Pittsburgh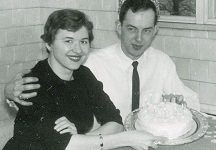 Dating years with Connie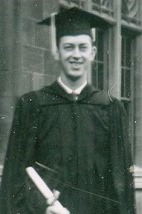 University of
Pittsburgh, 1958
In mid May 1954, while attending local dances in McDaniel's Hall in New Brighton and dances in Freedom, I met a young lady whose mother had a Russian background and made very tasty treats and so we became friends partially so that I could try to maintain my language skills and enjoy the treats but mostly to cultivate a long time relationship with a lovely young lady.
By now you must have guessed that it was Constance Jagerski, who after three years of courtship shortened her name to Connie Miner in our wedding ceremony on July 6, 1957.
I lost most of my Russian language skills but gained a wonderful partner and friend for life and began a new life full and enriched with three wonderful and successful sons now happily married one of which is in the Army.
The author (1930-2012) was the son of Odger and Monalea (Ullom) Miner of Washington and Aliquippa, PA.
Copyright © 2000 Odger Wayne Miner. Published March 19, 2016.