Home

Susan (Barnhouse) Stoner
(1854-1936)

Susan Stoner

Susannah (Barnhouse) Stoner was born in 1854 in Fayette County, PA, the daughter of Harrison and Catherine (Minerd) Barnhouse.

She and her husband were pioneer settlers of eastern Kansas, and became prominent fruit growers of Colorado.
Susan was raised in and around East Liberty (Dickerson Run), Fayette County.
On April 18, 1872, when she was 17 or 18 years of age, she was joined in the bonds of wedlock with Jesse Anderson Stoner (Jan. 1851-1929), by the hand of the Rev. T.P. Patterson. Jesse was born in East Liberty, the son of John and Martha Stoner.
The Stoners together bore a brood of eight known children. The five living to adulthood were William Boyd Stoner, Laura Whitehead, Jesse Frank Stoner, Mattie Rousselo Duffield and Jessie Young. Three others died young, prior to 1900 -- Harry and twins Pearl and Earl.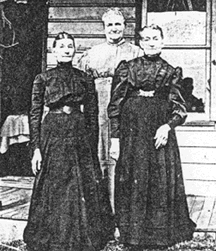 Susan (left) with sisters Esther, Clara

In about 1878, Jesse and Susan made the major life decision to move west to Kansas. They first lived near Susan's sister and brother in law, Clara and Boyd W. Huston, in Ochletree, Johnson County. They later migrated to Mount Ida; Ottawa, Franklin County (circa 1899); and Paola, Miami County.

The United States Census for 1880 shows the family in Spring Hill, Johnson County. At that time, Jesse earned a living as a blacksmith.

By 1900, the family was in Ottawa, Franklin County, KS. Jesse had changed occupations and now worked as a real estate agent.

In 1899, Susan's sister and brother in law, Esther and Christian Freed, took a "long trip" from Pennsylvania to visit the Stoners in Ottawa. Upon returning, Christian wrote a lengthy report of the trip, published in the Connellsville (PA) Courier. Among other things, he wrote: "We arrived in Ottawa in time to see the windup of the Franklin County Fair and were surprised to see such a gathering of people, and such a large collection of fine stock and agricultural products. The farmers came in in their fine surrys and buggies, instead of wagons, which certainly is an indication that the Kansas farmers are prosperous."

The Stoners pulled up stakes during the decade between 1900-1910 and relocated to Kansas City, KS. There, Jesse resumed his work in a blacksmith shop. He joined the Masons and retained his membership there the rest of his life.

A year later, in 1910, when his son William was married in Ottawa, the local newspaper referred to Jesse as "Capt. J.A. Stoner, who was engaged in real estate business here about ten years ago."

In 1911, the Stoners relocated to Colorado, settling in Palisade, Mesa County. They acquired a six-acre peach orchard, raising the Elberta variety. Jesse disclosed to a Grand Junction news reporter in July 1929 that the orchard "makes him a substantial meal-ticket. He owns several thouand dollars of other property and his property all told is worth perhaps $25,000. On his place are peach trees 33 years old that have never missed a crop. Some of these trees measure as much as 42 inches in circumference."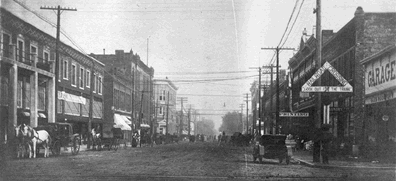 Ottawa's busy Second Street circa 1909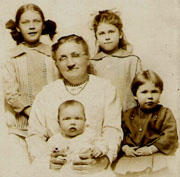 Susan and grandchildren
Courtesy Phillip and Dawn Schenewerk

Susan had a photograph portrait taken with four of her granddaughters circa 1914 -- clockwise, from upper left: Elaine Stoner, Frances Stoner, Pauline Stoner and baby Carol Louise Stoner (born Aug. 14, 1913). The girls in the back were the daughters of Jesse Frank Stoner, and the ones in front were the daughters of William Boyd Stoner.

Despite the distance, Susan remained in contact with her Pennsylvania kin over the years. In 1906, the Connellsville Weekly Courier back in Pennsylvania reported that she was "in Vanderbilt for an extended visit with friends and relatives." In August 1923, the Stoners entertained a visit from her sister and brother-in-law Esther and Christian Freed from Connellsville, PA and sister Clara Huston of Lenexa, KS. During the time together, a number of the group went fishing. Reported the Daily Sentinel, Christian Freed was "a cousin of Mr. Stoner's, and has always lived in the east, this being his first trip west, and he is much pleased with the country."

Jesse developed a reputation as "one of the most prominent and well known citizens of the upper valley" and was said by the Palisade Daily Sentinel to be:
...one of the finest and cleanest of men in his life and dealing and he worked hard in the interest of his family and the entire community. He took great pride in his peach orchard and through his tireless efforts his orchard became the finest in upper valley. He was a great booster for all ranchers and for all on the ranches in the upper valley. He was a very fine mechanic and all expert field worker, and he helped all those who knew from his great store of knowledge gained by experience of working.
When the federal census enumeration was made in 1920, the couple continued to dwell in East Palisade. All of their adult children had left the household by that time. Age 68, Jesse was listed as having the occupation of "farmer - fruit farm" and well known for his peaches. He is known to have authored a poem, "What Mesa County Needs," printed in the Grand Junction Daily Sentinel edition of July 4, 1928.

Jesse took some good advice in April 1922 when he plowed under a field of alfalfa ground and planted peach trees. After a 29-month period, said a local newspaper, the trees had grown to between six and eight feet tall and were producing a bountiful crop. It proved to be "as thrifty an orchard as can be found anywhere," reported the Daily Sentinel.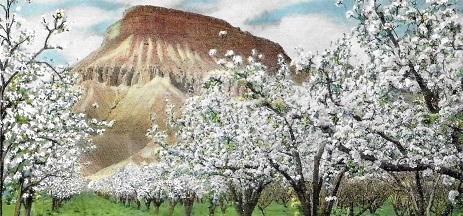 Peach orchard blossoms in Palisade, CO, near Mt. Garfield


During their years together in Palisade, Susan was "an active social worker," said the Daily Sentinel, and "was also prominently connected with the M.E. church there in which she did a great deal of outstanding work."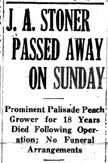 Obituary, 1929

Jesse escaped more serious harm when attacked by a cow in December 1922. He was crossing a vacant lot near their church when the bovine went on the attack, pushing Jesse to the ground, tearing his clothes and breaking one of his legs. The Daily Sentinel noted that he would have been "gilled" if help had not arrived in time and that the animal had always been "perfectly gentle."

The couple marked their golden wedding anniversary in 1922. Their Sunday School friends held a special gathering in the basement of the church for 145 family and friends. Volunteers made the space "very homelike with rugs, rocking chairs, tables, and beautiful plants," said the Daily Sentinel. "After the guests had arrived Rev. Coulter after a few remarks to the bride and groom pronounced them man and wife. The bride was beautifully gowned in white and carried a bouquet of roses and ferns. Aftr they had received the hearty congratulations of their friends, all were seated and a deliciious two course luncheon was served. A friend presented the bride with a cake with the dates 1872-1922 in white icing over the chocolate... Mrs. Toothacre acted as toastmaster of the evening and called on Mr. Stoner to give an account of his first wedding day. He responded very well but thinking Mrs. Stoner might supply more of the details she was called to do so which she did very gracefully."

They moved into the town of Palisade in March 1925, taking occupancy of a house on Vineland Street owned by Dr. McCartney.

Jesse and Susan and children attended a Stoner family reunion on Aug. 5, 1928, at the home of Mr. and Mrs. James Bell at North 7th Street in Grand Junction. The guest of honor was Jesse's sisteer Bertha Stoner of Medford, OR.

Obituary, 1936

Jesse died on Dec. 16, 1929 at St. Mary's Hospital in Palisade, following surgery for a long-term stomach problem. An obituary in the Daily Sentinel said he had been a prominent Palisade peach grower for 18 years. It added that he was survivied by brothers Charles C. Stoner and Frank B. Stoner of Palisade and sisters Anna E. Harper of Palisade, Carrie Watson of Lakeview, OR and Bertha McGuire of Pawhuska, OK.

Funeral services were held in the Palisade Methodist-Episcopal Church, officiated by Rev. H.M. Templin and Rev. Harry Hammann. The Daily Sentinel reported that the "many friends of the deceased gathered to mourn for one who had won their love in his 18 years of residence in the upper valley and had given his best efforts for every move that added to their interests and successes. Beautiful and bounteous floral offerings were brought to pay final tribute to the man whose interest was with his community and his friends."


Susan outlived him by seven years. Her daughter Mattie Rousello joined her in the Vineland Street residence in October 1930. In 1932, she made news in the gossip columns of the Daily Sentinel when receiving a new radio as a gift from her son Frank, purchased in Kansas City. She is known to have enjoyed Christmas dinner in 1934 in the home of her daughter Laura Whitehead.

She was felled by a stroke and passed away at the age of 82 on Jan. 19, 1936 on Vineland Street in Palisade. Officiating at her funeral were Rev. Jack Stewart and Rev. H.E. Mammann, with an obituary printed in the Daily Sentinel. They are buried together at the Independent Order of Odd Fellows Cemetery.



~ Son William Boyd Stoner ~

Son William Boyd Stoner (1874- 1959) was born in July 1874 in Vanderbilt near Connellsville, Fayette County, PA.

William at age 26 was a bachelor and lived at home. He earned a living as a laborer in a factory.

After relocating in 1902 to Kansas City, KS, still unmarried, he worked as a house carpenter.

On Nov. 3, 1910, when he was 31 years of age, Jesse entered into marriage with Teresa L. Wheeler (April 19, 1887- 1975), daughter of Alvah and Carrie Augusta (McAdow) Wheeler of Parker, KS. The nuptials were held in the parsonage of the First Methodist Church of Ottawa, by the hand of Dr. John Maclean. In announcing the union, the Ottawa Evening Herald said that it was a "quiet wedding" and that the bride "wore a dark blue tailor-made suit and carried a boquet of white carnations." The bride was 14 years younger than the groom. Their union endured just shy of 49 years.

They became the parents of Pauline Augusta Newbold and Carol Louise Schenewerk.

The newlyweds' first home was in Kansas City, Wyandotte County, KS.

For two decades, until retirement in 1938, he earned a living as a carman with the Union Pacific Railroad.

The federal census enumeration of 1920 shows the Stoners in Kansas City on North 18th Street. They dwelled next door to his brother Jesse and family. At that time, William was employed as a railroad carpenter. Then in 1922 they are believed to have spent part or most of their time occupying the farm of William's parents in Palisade, CO.

They belonged to the London Heights Methodist Church, and he held a membership in the Modern Woodmen of America.

William suffered a stroke in about 1945 and although surviving another 14 years, never fully recovered. Their final home together was at 1512 Walker in Kansas City.

Death took him away at age 86 on Aug. 6, 1959. His remains were lowered into the sacred soil of Mount Hope Cemetery. An obituary was published in the Kansas City Star. He was survived by one grandchild and two great-grandchildren.

Teresa survived for another 16 years and at the end maintained a home with her daughter Pauline at 12701 East 48th Terrace in Independence, KS. She died at age 87 on Feb. 2, 1975, in a local nursing home.

Daughter Pauline Augusta Stoner (1911-1977) was born on Oct. 11, 1911 in Kansas City, KS. She wed Marion Francis Newbold (Sept. 14, 1907-1979), a native of Minden, NE. The couple did not reproduce. The Newbolds and her aged parents resided together in 1959 at 1512 Walker in Kansas City. Pauline was gathered away by the angel of death on Nov. 8, 1977. Burial was in Brooking Cemetery in Raytown, Jackson County, MO. Marion outlived his wife by two years. He passed in Oct. 1979 at the age of 72.

Daughter Carol Louise Stoner (1913- 1992) was born on Aug. 14, 1913. She was joined in the bonds of holy wedlock with Clarence G. Schenewerk (1904-1982). The couple had one known son, William Schenewerk. Sadly, Clarence died in 1982. Carol lived for another decade as a widow. She passed into eternity on July 20, 1992. Interment was in Flag Spring Cemetery, California, Moniteau County, MO.
Grandson William Schenewerk entered into marriage with Shirley Ruth Stark (Nov. 23, 1936-2018). The couple's union endured for an extraordinary 62 years. Their offspring were Rev. Steven Schenewerk, Rev. Phillip Allen Schenewerk, Nathan Schenewerk and Heather Schenewerk. The Schenewerks lived in Tucson, AZ in 2006. Sadly, Shirley died on March 13, 2018. A memorial service was held at the Friendly Village Clubhouse. The Arizona Daily Star printed an obituary.


Great-grandson Rev. Steven Schenewerk entered into marriage with Cindy. He was in Winston, OR in 2006.

Great-grandson Rev. Phillip Allen Schenewerk ( ? -2006) was born in (?). On March 18, 1983, he married Dawn Sallaz ( ? -living). The two daughters born in this family were Rachel Schenewerk and Rebecca Schenewerk. They also had a foster daughter, Nicola Rivera. As a young man, Phillip served in the U.S. Navy from1985 to 1989 as a hospital corpsman. In June 1989, Phillip was ordained as a minister of the Southern Baptist Church. He went on to serve congregations in California, Missouri and Washington. He also was employed with the Thurston County Sheriff's Department as a chaplain and held a term as president of the Rochester Lions Club. Dawn in 2004 graciously has shared content for this biography. Circa 2006, Phillip served as chaplain at the Lewis County Jail in Centralia, WA. The family was plunged into mourning when he died at age 46 on May 31, 2006. His memorial service was held at the Alder Street Baptist Church. In an obituary in the Centralia Chronicle, the family asked that any memorial donations be made to the family church, the American Diabetes Association or the C.A.R.E. Center of Centralia.

Great-grandson Nathan Schenewerk made his home in 2006 in Kansas City, MO.

Great-granddaughter Heather Schenewerk lived in Blue Springs, MO.

~ Daughter Laura (Stoner) Whitehead ~
Daughter Laura Stoner (1876- ? ) was born on Feb. 9, 1876 in Connellsville, Fayette County, PA. She migrated to Kansas in girlhood.
At the age of 23, on Dec. 20, 1899, she was joined in matrimony with James Thomas "J.T." Whitehead ( ? -1959). The pair's nuptials were held in Ottawa, KS.
Their only known child was Loyette Stock.
Laura made her residence in Rantoul, Franklin County, KS in 1910.
They eventually moved to Colorado and made a home in Colorado Springs.
In about 1927, the Whitehads migrated to Palisade, CO. They stayed for good.
James died on June 1, 1959.
In August 1961, the widowed Laura hosted a visit from her sister Mattie and husband Luther Duffield from Kansas City, as reported on the pages of the Ottawa (KS) Herald.
Her final time was spent as a resident of Palisade Nursing Home. Death swept Laura away in Sept. 1965. Her funeral service, led by Rev. Don Gorham, was conducted in the Palisade Baptist Church. Interment followed in the IOOF Cemetery in Palisade. On obituary appearing in the Grand Junction (CO) Daily Sentinel said she had been a Palisade resident for 38 years.
Daughter Loyette Whitehead (1902-1988) was born on Feb. 21, 1902. She appears to have been named for a beloved aunt, Loyette (O'Donnell) Stoner. She was a 1922 graduate of Wellsville (KS) High School. On Feb. 28, 1926, in El Paso County, CO, Loyette entered into marriage with John G. Stock (1899-1951). The three known offspring produced by this couple were Barbara Bradley, James Stock and Martin E. Stock. Sadly, John passed away in 1951 at the age of 52. The widowed Loyette dwelled in Colorado Springs for decades, with an address in 1968 of 309 South Tejon Street. She died in Colorado Springs on Oct. 11, 1988. Her remains were interred in the city's Evergreen Cemetery.
Granddaughter Barbara Stock ( ? -2002) was born in (?). As a young girl, she was active in horse-raising and considered an equestrienne of national reputation. In 1950, she was named the "Girl of the West" at the Pikes Peak or Bust Rodeo. In 1953, she graduated from Colorado College. Barbara was united in matrimony with Wesley "Wes" Bradley ( ? -1996), a 1951 alumnus of the college. Circa 1959-1968, the Bradleys dwelled in Colorado Springs. Wesley was the owner of BRADCO. Said the Colorado College Bulletin, Barbara "was an active member of the Junior League of Colorado Springs, and served on numerous boards and committees. Sadly, Wesley passed into eternity on May 23, 1996. In 1997, she received the Assistance League of Colorado Springs's Silver Bell Award for her community service." Death swept her away on July 11, 2002.
Grandson James Stock ( ? - ? ) resided in Fullerton, CA in 1959-1968.
Grandson Martin E. Stock (1939-1968) was born in 1939 in Colorado Springs. He was a student at Colorado State College. Sadness blanketed the family when he died in Pueblo, CO on April 9, 1968. Rev. Phil Green led the funeral service, with an obituary appearing in the Colorado Springs Gazette-Telegraph. His cremains were laid to rest in his parents' plot in Colorado Springs's Evergreen Cemetery.

~ Son Jesse Frank Stoner ~
Son Jesse Frank Stoner (1879-1961) was born on Feb. 4, 1879 in Ocheltree, KS.
Circa 1900, his occupation was as a clerk in a real estate office in Ottawa, KS, likely working for his father.
Jesse entered into marriage with Loyette O'Donnell ( ? -1918).
During their few years together, the pair bore two daughters, among them Elaine Bates and Frances Gamba.
Jesse is known to have traveled to Wellsville, KS in January 1916 to attend the funeral of relative I.N. Stoner, a fact noted in the gossip columns of the Wellsville Globe.
Grief cascaded over the young family when Loyette died in 1918. Jesse did not remarry.
Widowed in 1920, U.S. Census records show that the family was located on North 18th Street in Kansas City, Wyandotte County, KS. He earned a living as a salesman for a furnace company, likely the Kansas City Furnace Company.
Jesse appears to have spent the balance of his career with Kansas City Furnace.
At some point Jesse may have dwelled in Colorado. At the age of 72, he relocated to Ottawa, KS and stayed for good. He held a membership in the Kansas City Methodist Church and the local lodge of the Masons.
As Jesse's health failed, he was admitted to a nursing home in Crestview, near Ottawa. There he surrendered to death at age 82 on or about March 3, 1961. An obituary was published in the Ottawa Herald. Burial of the remains was in Mt. Hope Cemetery in Kansas City.
Daughter Elaine Stoner (1907- ? ) was born in about 1907 in Kansas. She was joined in wedlock with (?) Bates ( ? - ? ) Circa 1961, the Bateses were in Glenwood Springs, CO.
Daughter Frances Stoner (1909-1971) was born in 1909 in Kansas. Circa 1926, she was united in matrimony with Humbert John Peter Gamba (April 10, 1902-2000). Two children borne by this couple were Loyette Lucille Gamba and Jerome Francis Gamba. They first resided in Osage City, KS. Then in 1936, they moved to Glenwood Springs, CO. There, they owned a bath resort known as Iron Mountain Hot Springs, which include guest houses and a bathhouse. The facility later became known as Gamba Mineral Springs. Frances died in 1971. Her remains lie in repose in Rosebud Cemetery in Glenwood Springs. Humbert outlived his bride by three decades. He passed away on Sept. 28, 2000. Their grave marker erroneously gives the year of his death as 2001.
Grandson Jerome Francis Gamba (1931-2017) was born on Dec. 15, 1931 in Osage City, KS. At the age of five, in 1936, he moved with his family to Colorado, and grew up on the Iron Mountain Hot Springs property owned by his father. He grew up helping to operate and maintain the facility, later re-named Gamba Mineral Springs. He also helped wrangle horses and work as an Elk Mountains trail guide for his aunt, Pearl "Tommy" Thompson. He was a 1950 graduate of Glenwood Springs High School. He joined the U.S. Coast Guard in 1951, during the Korean War, and served as a boatswain mate on the U.S.S. Ramsden. Once his military service was completed, he went on to study at the Colorado School of Mines, funded by the G.I. Bill, and in 1958 received a bachelor of science degree in geological engineering. On May 26, 1957, in nuptials held in Denver, he was united in matrimony with Kathryn Louise "Kay" Heisler (Sept. 30, 1932-2019), a native of Merrill, IA and the daughter of William and Thelma Heisler. They met at a Strawberry Days Dance in Glenwood Springs. Their union lasted for an extraordinary six decades. They became the parents of four -- Mark Gamba, Terri Garcia, Michael Gamba and Steve Gamba. Said the Glenwood Springs Post-Independent, "As a geological engineer, Jerry worked for Ideal Cement Company from 1957 to 1965, living all over the US — from Myrtle Beach, South Carolina, to San Luis Obispo, California. In 1965, he moved his family back to Glenwood Springs and started Eldorado Engineering, a civil engineering and land surveying company. In 1976, he sold Eldorado Engineering and opted to work as a lone engineering and land surveying consultant." He and his son Michael founded a surveying and engineering firm, Gamba & Associates in 1989, and the two worked together until Jerome's retirement in 2001. Jerome served from 1977 to 1981 as a Glenwood Springs City Councilman and for years as a Boy Scout Trooop 276 scoutmaster. He relished making and sharing his own wine and helped found a local community event, the Italian Picnic. Their retirement winters were spent in Kino Bay, Mexico. As his health failed, he became a patient in Grand River Hospital in Rifle, CO. He died there at age 85 on July 10, 2017. His funeral mass was sung at St. Stephen Catholic Church, led by Rev. Fr. Bert Chilson. Kathryn lived for two more years. The angel of death cut her away at age 86 on Aug. 6, 2019.

Great-grandson Mark Gamba married Kendra. They dwelled in 2019 in Milwaukee, OR.

Great-granddaughter Terri Gamba wed Skip Garcia. The couple moved to Tucson, AZ.

Great-grandson Michael Gamba was joined in matrimony with Karin. Circa 2019, they were in Glenwood Springs.

Great-grandson Steve Gamba was united in wedlock with Kimberly. The pair put down roots in Silt, CO.

~ Daughter Mattie (Stoner) Rousselo Duffield ~
Daughter Mattie Stoner (1885-1972) was born in July 1885 in Kansas.
She first was united in wedlock with Irvin C. Rousselo (1884-1924), occasionally mis-spelled "Russell" -- "Russelo" -- Roussell" -- and "Roeselo." He was the son of Justine A. and Melley N. Rousselo of Kansas City.
One known daughter born to this marriage was Delene Kirk.
The Rousselo residence was in Kansas City. Irvin made a living in 1920 as a car repairer for Wade Land Company.
Sadly, Irvin died in Oct. 24, 1924. Word of his demise was telegraphed to Mattie's parents. His father-in-law is known to have traveled from Colorado to attend the funeral.
From 1935 to 1940, the widowed Mattie shared a home in Oxford, Johnson County, KS with her widowed first cousin cousin Jesse S. Huston and his son Boyd. Age 54 in 1940, she had no occupation.
Her home in 1941 was in Wellsville, Franklin County, KS. That year, she tied the knot with Kansas City resident Luther Irvine Duffield (Nov. 14, 1889-1967), said to have been the son of George Washington and Matilda Ann (Binley) Duffield. News of their marriage license was printed in the Kansas City Times.
The couple lived in Wellsville circa 1961. That year, in August, they traveled with Luther's sister Letha Duffield to Colorado to visit relatives including Mattie's sister Laura Whitehead in Palisade, CO. Said the Ottawa Herald, "They returned bringing ripe peaches and report the Colorado peach crop good this year."
They were together for 26 years until cleaved apart by Luther's passing at age 77, in Wellsville, in Feb. 1967.
Mattie survived for another five years. At age 87, she succumbed to the spectre of death in the home of her daughter on Oct. 2, 1972. She rests for all time in Wellsville Cemetery.
Daughter Delene Rousello (1910-1974) was born in about 1910. As a girl she attended the Franklin School in Kansas City. Delene was only age 14 when her father died. She was joined in wedlock with King Phillip Kirk (1895-1969). The Kirks dwelled in Kansas City, KS and were the parents of five sons -- Earl P. Kirk, Paul E. Kirk, Richard Kirk, Robert Irvin Kirk and Benton Bradley. Delene was active in the community as a member of the Sherman Chapter of the Order of Eastern Star, Jayhawk Auxiliary of the Shrine, the Delaware Temple Lodge of the League of Scottish Rite Women and an honorary membeer of the Shrine Wheelettes. She also belonged to Maple Hill Presbyterian Church Sadly, King died in 1969. Burial of the remains was in Kansas City's Chapel Hill Memorial Gardens. Delene's address in 1972 was 230 North Early in the Kansas City neighborhood of Argentine. Delene died in St. Margaret Hospital at the age of 65 on May 18, 1974.
Grandson Earl P. Kirk ( ? - ? ) lived in 1974 at 2735 North 38th Street in Kansas City.
Grandson Paul E. Kirk ( ? - ? ) made his home in 1974 at 10310 West 73rd Terrace in Shawnee, KS. By 2003, he was in Lee's Summit, MO.
Grandson Robert Irvin Kirk (1933-2003) was born on March 20, 1933 in Kansas City, KS. During the Korean War era, from 1953 to 1955, he served with the U.S. Army in Company A of the 24th Signal Battalion. Robert was twice married. His first bride was Loretta Vogle ( ? - ? ). Together, they bore four children -- Gary Kirk, David Kirk, Daniel "Danny" Kirk and Lynne Eaton. He spent a three-decade working career as a machinist for the Union Pacific Railroad in Kansas City. Robert and Loretta eventually divorced. He made his home with his widowed mother in Kansas City in 1974. On Nov. 30, 1985, he wed a second time to Mary Sahner ( ? - ? ) in nuptials held in DeSoto. After retirement, the couple moved in 1997 to Vassar, KS. He held a membership in Kansas City's Maple Hill Presbyterian Church. As his health failed, he was admitted to Stormont-Vail Hospital in Topeka, where he surrendered to the spirit of death at age 69 on Jan. 10, 2003. Interment was in Resurrection Cemetery in Lenexa, KS. In an obituary in the Kansas City Star, the family asked that any memorial donations be made to the American Diabetes Association.
Great-grandson Gary Kirk lived in Lawrence, KS in 2003.

Great-grandson David Kirk made his home in Overland Park, KS.

Great-grandson Daniel "Danny" Kirk resided circa 2003 in Overland Park, KS.

Great-granddaughter Lynne Kirk wed (?) Eaton. The couple put down roots in Overland Park, KS.

Grandson Benton Bradley ( ? - ? ) migrated east. He is known to have been in Groton, CT in 1974 and in Rhode Island in the early 2000s.
Grandson Richard L. Kirk (1937-2002) was born on the Fourth of July 1937 in Kansas City, KS. He served in the U.S. Army and went on to a career as a railroad conductor. Richard was married and the father of three -- Gail Kirk, Cindy Zimmerman and Robert Kirk. As of 1974, his address was 6918 Blue Jacket in Shawnee, KS. At some point he relocated to Scottsdale, AZ. Sadly, at the age of 65, Richard died at home on Nov. 30, 2002. He was pictured in his Kansas City Star obituary. The remains were placed into eternal repose in Chapel Hills Memorial Gardens.

Great-granddaughter Gail Kirk ( ? - ? )

Great-granddaughter Cindy Kirk ( ? - ? ) wed Paul Zimmerman ( ? - ? ). The pair's offspring included Joseph Zimmerman, Kevin Zimmerman and Michelle Zimmerman.

Great-grandson Robert Kirk ( ? - ? )

~ Daughter Jessie (Stoner) Young ~
Daughter Jessie Stoner (1888- ? ) was born in Aug. 1888 in Kansas.
She wed (?) Young ( ? - ? ).
She dwelled in Kansas City, KS in 1961 when named in the Ottawa Herald obituary of her brother Jesse.
Her address in 1961-1962 was 4405 Euclid, Kansas City.
Copyright © 2000, 2002-2004, 2007, 2022 Mark A. Miner
Photo of Susanna Stoner and granddaughters courtesy of the collection of Phillip and Dawn Schenewerk.