William H. Birch
(1873- ? )
William H. Birch was born on Dec. 5, 1873 or in May 1873, probably in Greene County, PA, the son of Samuel and Susan (Miner) Birch.
The federal census of 1900 shows the unmarried 27-year-old William boarding in the household of William g. and Lydia Crumrine in Morris Township, Washington County, PA, where he was a farm laborer and servant. By 1904, he was working as a teamster and living in Waynesburg, county seat of Greene County.
On May 4, 1904, at Morrisville, Greene County, the 31-year-old William married 21-year-old Minnie M. Greene (1883- ? ) of Prosperity, Washington County. Rev. Thomas C. Colhour officiated. Interestingly, Minnie did not know the names of her parents when asked for her marriage license, and William is believed to have fibbed about his age, likely to appear being younger as he was marrying a much younger woman. Apparently unable to read or write, he signed his name with an "X" on the marriage license application.
They resided for a time in Greene County, and had at least three children -- Charles W. Birch, Hazel Kinzey and Madalyn Longnecker.
In 1910, the Birches lived on Jeannette Street in Washington, Washington County, PA. That year, he labored as an independent teamster.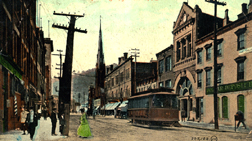 By 1925, they are known to have moved to Johnstown, Cambria County, PA, and also living there was William's older half-brother Samuel. A view of Johnstown's Franklin Street, looking south, is seen here in a rare old postcard photograph.
William died sometime during the decade of the 1920s. The specific facts have not yet come to light.
As a widow, Minnie and her daughter Madalyn moved to Buffington, Indiana County, PA, where they boarded with the family of widower Henry Misner and his three sons. The federal census of 1930 shows Minnie as a servant in the household, and 11-year-old Madalyn as a "boarder." The home was on Strongstown Road.
~ Son Charles Birch ~
Son Charles Birch lived on Fairfield Avenue in Johnstown, near his half-first cousins.
He never married, and died in May 1974.
~ Daughter Madalyn (Birch) Longnecker ~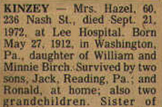 Daughter Madalyn Birch married Alton Longnecker and lived in York, PA.
Madalyn passed away on Aug. 16, 1988.
~ Daughter Hazel (Birch) Kinzey ~
Daughter Hazel Birch married Lester Kinzey and resided in the Johnstown area, where she worked at the Glosser Brothers Store.
They had two sons, Jack Kinzey and Ronald Kinzey.
She died at the age of 60 on Sept. 21, 1972, and is buried in Benshoff Hill Cemetery.
Copyright © 2001-2002, 2008, 2014 Mark A. Miner