Alora Ellen (Bush) Johnson
(1853- ? )
Alora Ellen (Bush) Johnson was born in 1853 in Indiana, the daughter of Christopher and Elizabeth (Miner) Bush.
On March 25, 1876, at the age of 23, Alora married 24-year-old Benjamin S. Johnson (1852- ? ). They had seven children -- Bernard Johnson, Ethel Johnson, Elizabeth Johnson, Verna Lott, Martha Hunter, Nell B. Hinkley and Myrtle Greenway.
In 1876, Benjamin bought a town lot in Greenfield, where they resided for many years. They bought a town lot from Alora's mother in May 1890.
In the early 1900s, the Johnsons left Indiana and migrated to San Benito, Cameron County, TX. They resided there at 474 North Reagan Avenue. Daughters Martha Hunter, Nell Hinkley and Ethel Johnson also lived in San Benito, while daughter Myrtle lived in Weslaco, TX.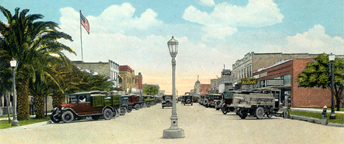 The streetscape of San Benito, Texas in the early 1900s
Alora's widowed sister Mary Anderson moved in with them in about 1926, and died at their home in 1938. Their brother, Civil War veteran Henry Bush, came to stay for a short while and died there in 1933. One of their cousins, Kate (Warner) Roberts, also lived in San Benito circa 1933.
The Johnsons' fates are unknown.
Daughter Verna remained behind in Indiana when her parents moved to Texas. She married Fred Lott and lived in Windfall, Tipton County, IN. When she died in 1950, her body was brought to Greenfield for burial in the lot of her Bush family aunts, uncles and grandparents at Park Cemetery.
Copyright © 2000, 2004, 2007, 2009 Mark A. Miner