Mary (Freed) Oswald
(1882-1978)
Mary Agnes (Freed) Oswald was born on Aug. 30, 1882, in Vanderbilt, Fayette County, PA, the daughter of Christian Stoner and Esther (Barnhouse) Freed.
Not much is known of the years of her long life.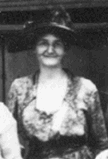 When Mary was 38, she and her parents are known to have attended the 1920 Minerd Reunion at Ohiopyle, Fayette County, PA. In a group photo taken that day, she is shown wearing a pretty print dress, and a broad-brimmed hat, seen here.
Click here to see a photograph of the entire 1920 reunion group, standing on the steps of the Ferncliff Hotel.
Later in life, but at a date and age unknown, Mary married William G. Oswald (1873-1950). The Connellsville Daily Courier referred to him as a "former Connellsville businessman ... remembered as a band leader here."
The Oswalds had no children, but resided in Warren, Trumbull County, OH, where they were members of the Lutheran Church. Willliam was a member of the Odd Fellows Lodge of Connellsville and St. Paul's Lutheran church of Warren.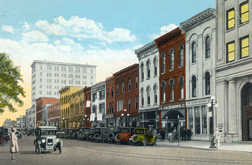 At left is a rare old photographic postcard view of Warren's busy Market Street, circa 1929.
Mary is known to have traveled to give care for some of her adult nieces when giving birth to their children.
William died at the age of 77 on Sept. 10, 1950, at Uniontown Hospital. Following the funeral led by Dr. Lorne H. Belden, he was laid to rest in the Dickerson Run Union Cemetery.
After William's death, Mary moved to Florida, settling in Winter Haven.
Mary died on March 19, 1978 in Bartow, FL, at the age of 95. She may be buried in Florida, but this has yet to be determined.
Copyright © 2001-2002, 2006, 2008 Mark A. Miner