Malinda (Gaumer) Werts
(1829-1911)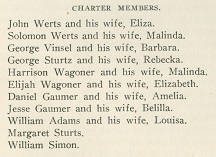 St. Paul's Church, Coshocton County
Malinda (Gaumer) Werts was born on Sept. 26, 1829 in Ohio, the daughter of Jacob and Elizabeth (Sturtz) Gaumer Jr. Her birth year erroneously has been given in some places as 1834.
She married Solomon Huff Werts (1815-1892), a native of Lovettsville, Loudoun County, VA. His parents are believed to have been George Peter and Susannah (Huff) Werts. Solomon's birth year may have been 1826 -- sources differ.
They dwelled near Plainfield in Linton Township, Coshocton County over the decades and are shown there in the federal censuses of 1860 - 1870 - 1880.
Their six children were Susanna Simon, Elizabeth Barcroft, Crawford Werts, Jacob Howard Werts, George R. Werts and John "Calvin" Werts. Sadly, sons Crawford and George are believed to have succumbed to death in childhood.
In 1856, along with Malinda's cousins Daniel Gaumer and Jesse Gaumer and their wives, helped to found the St. Paul Church of Cochocton County. This church was said to have been "virtually a child" of Daniel's home congregation, New Hope Evangelical Lutheran Church of Adamsville, Muskingum County. All of the charter members except one were raised and members of New Hope, and Rev. Samuel Kaemmerer was pastor of both. Malinda's uncle or cousin Daniel Gaumer is believed to have donated land for the building, as it was known locally as the "Gaumer Church." They are recognized for this in the 1913 book History of the New Hope Evangelical Lutheran Church of Adamsville, Ohio.
Sadly, Solomon passed away in Coshocton County at the age of 66 on Aug. 5, 1892. Burial was in cemetery of St. Paul's Evangelical Lutheran Church. [Find-a-Grave] Etched on his prominent grave marker is this epitaph:
We miss thee from thy place, dear Father.
We miss thee from thy place.
A shadow o'er our life is cast,
We miss the sunshine of thy face.
We miss thy kind and willing hand,
Thy fond and earnest care.
Our home is dark without thee --
We miss thee everywhere.
Malinda survived her husband by almost two decades. When the United States Census was enumerated in 1900 and again in 1910, she made her home in Linton Township with her married son John and his wife Dora and daughter.
When Malinda's sister Rachel Bell celebrated her 100th birthday, Malinda was unable to attend due to illness. Reported the Coshocton Tribune, "Mrs. Werts and Mrs. Bell are the only surviving members of a family of eleven children. Mrs. Bell was the oldest of the family and Mrs. Werts, who is 83, is next to the youngest. Mrs. Werts has been for the past several days critically ill at her home on route 4, where she lives in the old Werts homestead with her son, J.C. Werts."
At the age of 82, afflicted with dropsy, diabetes and old age, she died on Nov. 9, 1911. Burial was in St. Paul Cemetery. J.C. Werts signed her official Ohio certificate of death.
Malinda's death was front-page news in the Coshocton Morning Tribune. The article noted that "diabetes and complications of old age were the cause of death" and that she had been confined to her bed for about a year. "Although expected her death is a great shock to those near and dear to her and will cause much sorrow among a large circle of friends.... From childhood she was a devoted member of the Lutheran church and always remained steadfast in its faith. She was kind and generous and beloved by all who knew her."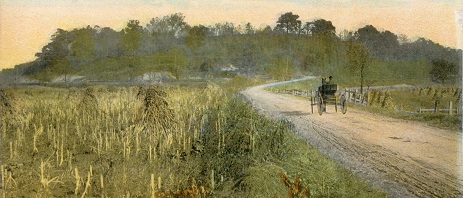 Johnson's Hill near Coshocton, Ohio
~ Daughter Susanna (Wertz) Simon ~
Daughter Susanna Wertz (1849-1936) was born on Oct. 6, 1849.
She married William S. Simon (March 28, 1844-1912), son of William and Sarah Simon.
They produced two known children -- Melvin H. Simon and Cora S. Vinsel. Sadly, son Melvin died at age five in 1877.
Their home in 1870-1910 was on a farm next door to Susanna's brother John in Linton Township, Coshocton County, along the Otsego-Coshocton Road. In 1910, their orphaned niece Helena B. Werts was in the household. William also operated a feed store in Coshocton.
Stricken with cancer of the spleen, William suffered for a year and passed away at age 68 on Oct. 30, 1912.
Susanna survived him by 24 years. In June 1934, she hosted a reunion of the Werts and Simon families at her home along Route 4 between Otsego and Coshocton.
Suffering from hardening of the arteries and organic heart disease, she died in Franklin Township, Coshocton County at the age of 87 on Nov. 6, 1936, with interment in St. Paul Lutheran Church Cemetery. [Find-a-Grave] Son in law George "Thurman" Vinsel signed her death certificate. Among those who traveled to attend the funeral were her niece and nephew, Helena "Lena" Shearer and Virgil R. Wertz.
Daughter Cora S. Simon (1874-1927) was born in 1874. She married George "Thurman" Vinsel (1870-1938). They dwelled in Franklin Township, Coshocton County, OH. George was considered by the New Philadelphia Daily Times to be "well known in agricultural, grange and farm bureau work." While in her mid-50s, she contracted liver cancer and died on Mother's Day, May 9, 1927. Her remains were placed into repose in the St. Paul Lutheran Church Cemetery. Thurman lived as a widower for 11 years and shared a home with his mother-in-law. He died in 1938.
~ Daughter Elizabeth A. (Werts) Barcroft ~
Daughter Elizabeth A. Werts (1851-1902) was born in about 1851 in Ohio.
On Sept. 8, 1869, when she was 18 years of age, she wedded Lewis B. Barcroft (Sept. 30, 1847-1938). The wedding was held in Coshocton County by the hand of A.N. Bartholomew.
Their children are believed to have been W. Emmett Barcroft and Burnett W. Barcroft, Velma "Olive" Wagoner and Audrey Barcroft.
In 1911, their home was in Coshocton, where he was agrocery and baker operator.
They were among about 100 who attended the Amore-Weertz family reunion in May 1924 at the home of W.H. Amore in Roscoe, OH.
Lewis died at home on Feb. 21, 1938. Burial was in South Lawn Cemetery.
Son Burnett W. Barcroft (1878-1941) was born on Feb. 14, 1878. He married Nettie Royer ( ? - ? ). She had been married previously and brought two children to the union, Margaret Wilson and James Royer. They dwelled in Plainfield. Said the Coshocton Tribune in 1941, he was "associated for many years with his father in the operation of a grocery store on Walnut st. For the past year he had operated a grocery in Plainfield." Suffering from heart disease and a toxic goiter over 10 years, Burnett died at home at the age of 63 on June 24, 1941. Rev. J.O. White led the funeral service, with burial in South Lawn Cemetery.
Son W. Emmett Barcroft ( ? - ? ) was born in (?). He was a lifelong farmer. On Aug. 6, 1932, in nuptials held in Wheeling, WV, he was joined in wedlock with Belle (Hall) Howard (May 29, 1879-1947), daughter of Luke and Mary (Bassett) Hall. Rev. Paul Nesper of the Wheeling Lutheran Church officiated. Belle was the daughter of Mary Hall of 675 Elm Street in Coshocton. At the time, she was an employee of the Coshocton Glove Company. The newlyweds' first home was at 320 South Eight Street in Coshocton. The couple lived in Newcomerstown, OH in 1941. Sadness enveloped the family when the 68-year-old Belle suffered a heart attack and succumbed four days later on Aug. 15, 1947. Emmett outlived his wife and dwelled in Coshocton in 1950.
Daughter Velma "Olive" Barcroft (1875-1950) was born on Aug. 17, 1875 in Franklin Township, Coshocton County. At the age of about 18, in 1893, she was united in matrimony with William A. Wagoner ( ? -1937). The couple produced two sons -- William R. Wagoner and Lloyd Wagoner. Their home for many years was in Coshocton. Sadly, William died in 1937. Olive outlived him by a baker's dozen years. Her address was 358 McClain Avenue in 1950. She became afflicted with cancer of the cervix and died at home at the age of 74 on Jan. 21, 1950. Burial was in South Lawn Cemetery, with Rev. John A. Root officiating.
Grandson Lloyd Wagoner dwelled

in Pleasant Gap, PA in 1950.
Daughter Audrey Barcroft ( ? - ? ) does not appear to have married. She resided in the early 1940s and early 1950s in Coshocton.
~ Son Jacob "Howard" Werts ~
Son Jacob "Howard" Werts (1858-1902) was born on July 5, 1858 in Coshocton County.
In 1888, at the age of about 30, he married Sophia Bates (April 1860- ? ), a native of Coshocton County. They were farmers, residing in Franklin Township.
Their are believed to have been the parents of Helena B. "Lena" Shearer, Virgil Roe Wertz, a baby who died in infancy on April 3, 1897 and another who died young.
At the age of 45, he was stricken with typhoid fever and died on Dec. 4, 1902. In an obituary, the Democratic Standard said he "was a man of upright walk in life, and he enjoyed the confidence and esteem of all who knew him. He is survived by a wife, one son and one daughter, who have the sympathy of their many friends in their affliction." His remains were placed into repose in the family church cemetery at St. Paul, with Rev. Parker officiating.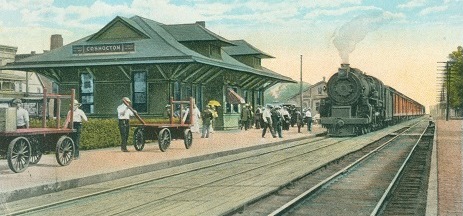 Pennsylvania Railroad station in Coshocton
After Howard's death, Sophia was named as guardian of the children. A petition was made to sell the family farm of 143 acres to generate funds to pay debts.
Adding deeper heartbreak, Sophia died in 1906. Her brother-in-law, John Calvin Werts, was administrator of her estate. Her passing left her children as orphans.
Daughter Helena "Lena" Werts (1888-1946) was born on Dec. 3, 1888 in Coshocton County. Orphaned at the age of about 17 or 18, she went to live with her nearby aunt and uncle, Susanna and William Simon. As a young woman circa 1913, she was employed in the Citizens Telephone office in Coshocton. By 1926, she married Fred S. Shearer ( ? - ? ). They bore one daughter, Margaret "Peggy" Shearer. They established a home in New Philadelphia, Tuscarawas County, OH. Lena and Peggy, in company with Lena's brother and family, attended the Wertz and Simon family reunion in July 1934 at the home of their Aunt Susanna Simon and her son-in-law G.T. Vinsel in Coshocton. The Shearers' address in 1939-1946 was 361 Sixth Street Northwest. Lena and her brother Virgil are known to have traveled to New Philadelphia, OH in December 1939 to attend the funeral of their Aunt Susanna Simon. She was a member of the Daughters of Union Veterans (DUV) and was organist with the Mary Todd Lincoln Tent No. 80. Lena was stricken with hemorrhaging and died at the age of 57 on May 12, 1946. Burial was in Evergreen Memorial Park.
Son Virgil Roe Wertz (1892- ? ) was born in March 1892 and as an adult abandoned the "Werts" surname spelling. He suffered in boyhood with chronic appendicitis. In November 1912, the conditioned worsened when he was working in the local Elks Club. Dr. Baldwin of Columbus was summoned and in turn recommended surgery in Grant Hospital in Columbus. Virgil made the trip in company with his uncles John Calvin Werts and L.B. Bancroft. He underwent a second surgery in late 1912 or early 1913. After recovering, Virgil attended an agricultural college in Madison, WI. In July 1917, Virgil was joined in holy wedlock with Marguerite E. Montfort ( ? - ? ) of Lebanon, OH. The nuptials were held in Lebanon. They produced one daughter, Jane Werts. Virgil attended the University of Wisconsin to study agriculture. He became a college educator and in 1926 was on the staff of South Dakota State Agricultural College. At that time, they made their residence in Brooking, SD. In the summers, they traveled by Essex sedan back to Ohio for visits with his sister, and they "camped enroute," said the New Philadelphia Daily Times. By 1930, he became an assistant professor at Ohio State University, and they relocated to Columbus, with an address in 1930 of 1383 Mulford Road. Virgil was considered an "agricultural expert and farm economist" by the news media and frequently spoke at a wide range of community meetings and groups. One of his topics circa 1944 was "War Time Problems of the Farmer and Post War Planning for Agriculture." Two years later, when he presented at a joint meeting of the Ohio Vegetable and Potato Growers Association and the Vegetable Growers Association of America in February 1946, his topic was the "important questions of whether the United States will have farm surpluses again, will the farm prices fall to prewar levels and what will happen to foreign trade," reported the Cincinnati Enquirer.
~ Son John "Calvin" Werts ~
Son John "Calvin" Werts (1864-1948) was born on Oct. 14, 1864 in Coshocton County and may have been a twin with his brother George. At the age of 16, he lived on the family farm in Linton Townshp, Coshocton County, and he spent his entire life farming in the community.
Three days after Christmas 1892, the 29-year-old John was united in marriage with 21-year-old Eudora Elmira "Dora" or "Myra" Sprague (July 1871-1939). She was the daughter of Thomas and Philancy (Waters) Sprague and a native of Otsego, Muskingum County, OH.
They were the parents of one daughter, Opal Lucille Alexander.
Reported the Coshocton Tribune, "At one time Mr. Werts was manager of a basket factory in Coshocton and later was associated with the Wright jewelry store." For many years, they were members of St. Paul Lutheran Church and the Franklin Grange. Dora was an expert quilter and in November 1897 captured a top prize at the Coshocton's Business Men's inaugural street fair.
The 1900-1910 federal censuses show the Wertses living on their own farm in Linton Township along Otsego-Coshocton Road, about eight miles from the city of Coshocton. In 1900, John's widowed mother Malinda and farm laborer Gilbert Lawrence lived under their roof. They dwelled next door to John's elder sister and brother-in-law, Susan and William S. Simon.
John made news in April 1901 when he lost a wallet containing $180. Noted the Coshocton Daily Age, he "came here Saturday to make some purchases. He entered a Main street store and making a purchase found he did not have enough money in his coin purse to pay for it. He reached down into his coat pocket and drew out a wallet containing $190. Taking from this a $10 bill he settled with the clerk, put the change in his purse and placed the wallet in his coat pocket. Thinking it was safe he started for home, and not until Sunday morning did he discover his loss. The money could not be found around the house, and examining his coat again he found the bottom of the pocket open. It had been sewed shut in the usual manner, but the threads had broken and the pocket was open at both ends. Mr. Werts came to the city, and finding the clerks employed at the store questioned them regarding the wallet, but none had seen it. Mr. Werts does not know whether the wallet dropped from his pocket as he was walking along the street or when he was on his way home. He does know that he is out $180 unless some honest person found it and will claim the reward he offers by returning it."
Another misfortune beset John in July 1901 when he was hurt in a barn owned by C.L. Cassingham on North Fourth Street in Coshocton. Said the Democratic Standard, "Mr. Werts pushed an inner door, against which a heavy prop had been placed, partially open. The door slammed shut suddenly and a wire nail, that protruded through the door, struck Mr. Werts fairly in the eye, doing the member terrible injury, and probably destroying the sight."
Oil was discovered on John's farm in September 1916. A group of investors led by Dr. J.G. Shirer from Newark, OH formed a business to drill the land. One of the wells produced about five barrels of oil, reported the Tribune. Efforts were made to "connect the new field with the Buckeye Pipe Line which passed through Otsego. Another company has been formed and efforts are now being made to lease a tract of land south of the Werts land and north of Wills Creek and if the company succeed in securing a sufficient amoutn of territory test wells will be put down soon."
Dora died from heart problems on Dec. 10, 1939.
At the age of 84, John contracted an incurable case of bronchial pneumonia and influenza. He passed away five days later on Dec. 16, 1948. Mrs. Rollin Alexander of Coshocton signed the official Ohio certificate of death. Burial was in St. Paul Lutheran Cemetery, with his former pastor, Rev. H.C. TerVehn of Mansfield, and current pastor, Rev. John Root, officiating at the funeral service. An obituary was printed in the Tribune.
Daughter Opal Lucille Werts (1898-1963) was born on May 25, 1898 in Linton Township. On May 25, 1921, she wedded Rollin Alexander ( ? - ? ). Their children were Bonnie Geese and Marna Dell Hazlett and a son who died young. Circa 1948, they made a home along Route 4 near Coshocton. They moved in about 1950 to Newcomerstown, where Rollin earned a living as a machine operator at a Coshocton General Electric plant. Opal was pictured in the Tribune in February 1955 when she shared a chocolate cake recipe found an in old cook book. "Mrs. Alexander was taught how to cook by her mother and she still prepares her meals in the old fashioned way," the story noted. Rollin was a member of the West Lafayette American Legion. The Alexanders were members of St. Paul's Lutheran Church and the Franklin Grange. Opal belonged to the Home Study Club and the City Garden Club. She enjoyed crocheting and decorating ceramics, and restoring and selling antique furniture. In the early 1960s, their address was 201 West Russell Avenue in West Lafayette near Coshocton. Opal was burdened with an illness which she endured for six years until death swept her away at the age of 65 on Aug. 11, 1963. Rev. Paul Olinger conducted the funeral service, with itnerment in St. Paul's Lutheran Cemetery.
Granddaughter Marna Dell Alexander served during the Korean War as an airman third class with the U.S. Air Force and was stationed at Westover, MA after receiving basic training at Lackland Air Force Base. She wedded fellow airman second class James L. Hazlett ( ? - ? ), son of Elmer Hazlett of Portage, PA. Rev. Olan W. Aughbaugh, pastor of Marna's home church, officiated at the wedding in December 1953. They produced at least two known offspring, Robin Lee Hazlett and Debra Jean Hazlett. Their residence in 1955 was in Chicopee, MA and in 1963 in West Lafayette and in 1956 in Groveport, OH.
Copyright © 2000, 2011, 2015, 2016, 2018 Mark A. Miner