Solomon Gaumer
(1825-1907)
Solomon Gaumer was born in about 1825, the son of Jacob and Elizabeth (Sturtz) Gaumer Jr.
On Jan. 10, 1847, the 21-year-old Solomon was joined in matrimony with 19-year-old Catherine Bainter (Feb. 13, 1827-1915), daughter of Henry and Mary (Shroyer) Bainter of Monroe Township, Muskingum County.
Among their known children were Mary Elizabeth Vensel, Charles N. Gaumer and Samuel Gaumer. Sadly, son Samuel is believed to have died young during the 1860s.

Map believed to show Solomon's 102-acre farm, orchard and freshwater spring, 1876
Atlas of Muskingum County, Ohio
When the federal census enumeration was made in 1850 and 1860, they lived next door to his parents in Adams Township, Muskingum County. They remained in Adams Township after the deaths of his father and mother during the decade of the 1860s.
The 1870 U.S. Census of Adams Township shows the couple, now in their 50s, with 14-year-old servant Carles [sic] Scot in the household.
Reported the Adamsville Register:
[She] was an active, hard-working woman, cheerfully laboring for the welfare of her family and ever ready to extend the hand of charity to those around her. She was a good neighbor and had the confidence and good will of those associated with her in the community in which she lived. Mrs. Gaumer became a member of New Hope Lutheran church in early life and continued a worshiper at that place until the end of her long life. She was a firm believer in the teachings of the bible and found comfort in the precious promises it contains. Her daily walk showed her sincerity in her religious professions and gave her prominence among the worshipers of her church.
Solomon died on Jan. 28, 1907, with burial in New Hope Lutheran Cemetery in Adamsville. [Find-a-Grave]
Catherine survived her spouse by eight years. In early March 1911, she was badly inured in a fall. Reported the Coshocton (OH) Tribune: Last Tuesday, Mrs. Gaumer's wish to visit her relatives in this city was complied with by her son-in-law, John Vensel, who drove to Coshocton from Adamsville, bringing her with him. When they reached the home of the son on S. Sixth st., Mrs. Gaumer left the buggy and started to enter the home. Her enfeebled condition, in addition to long and chilly drive, made the aged lady's steps unsteady and when she started up some steps leading to the front door of the home she lost her balance and fell backward. Unfortunately, Mrs. Gaumer struck her head with terrible force, rendering her unconscious. Her injuries have also left her partially paralyzed and she is unable to retain the food she eats. During the past several days Mrs. Gaumer's condition has given cause for grave alarm but her many friends hope that she may yet recover."
In fact Catherine lived for another nearly four years after her injury. She moved into the home of her married daughter. She was afflicted with hardening of the arteries and suffered a stroke of paralysis. Four days after the stroke, she joined her husband in death on Jan. 7, 1915 at the age of 87. Rev. Ira R. Ladd led the funeral services. The Register noted that death was due to "a complication of diseases due to old age. Her affliction has extended through several years during which time she has been not only a great sufferer but also a great charge to those who patiently cared for her... She was the last survivor of a family of sixteen children."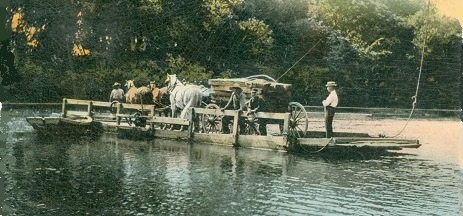 Ferry across Symmes Creek near Adamsville
~ Daughter Mary Elizabeth (Gaumer) Vensel ~
Daughter Mary Elizabeth Gaumer (1850-1932) was born two days before Christmas 1850.
On Sept. 14, 1871, when she was 20 years of age, she 21-year-old married John W. Vensel (1850-1930).
The Vensels produced two children, Charles E. Vensel and Rose Myrtle Wohlheter Kime Amore.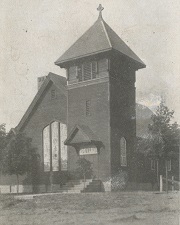 Zion Evangelical Lutheran
Church, Adamsville
In about 1888, they moved to Adams Township, four miles north of Adamsville, where they spent the balance of their lives. They belonged to the Zion Evangelical Lutheran Church, an offshoot of the New Hope Lutheran Church, also of Adamsville. The Zion building was dedicated on June 29, 1913.
John passed into eternity in 1930.
Widowed at age 81, Mary suffered from vertigo. She was felled by a stroke and died at home on June 16, 1932. C.E. Vensel of Otsego, OH signed the death certificate. Funeral services were held at the New Hope Lutheran Church in Adamsville, led by Rev. Dale Recker, followed by interment in the church cemetery. [Find-a-Grave]
Son Charles E. Vensel ( ? - ? ) dwelled in Otsego, Muskingum County in 1932. That year, he served as a member of the Muskingum County Election Board.
Daughter Rose Myrtle Vensel (1885-1979) was born in 1885. On March 19, 1908, in nuptials held in Coshocton, she wedded Albert Wohlheter (1878-1933). Their home was in Adams Township. Sadly, he died on Jan. 5, 1933. Her second husband was widower Leroy Spencer "Roy" Kime (Oct. 5, 1878-1947), whom she married in West Virginia. He was the son of George T. and Hannah (Spencer) Kime. Leroy's first wife Eliza (George) Kime had died in 1933, and he brought a daughter to his union with our Rose, Ethel Mae Kreis. They were farmers. Later, upon retirement, they made their residence at 532 South Seventh Street in Coshocton. They were members of Emmanuel Lutheran Church. He succumbed in Coshocton Memorial Hospital at the age of 68 on on April 7, 1947. Interment was in Zion Lutheran Church Cemetery in Adamsville. Her third spouse was Isaiah H. "Zade" Amore ( ? - ? ), to whom she was united in wedlock in Clark County, IN on Christmas Eve 1949.
Stepdaughter Ethel Mae Kime (1912-1989) was born on Sept. 2, 1912 in Muskingum County. On Sept. 2, 1931, she married William Ronald Kreis (Oct. 7, 1909-1983), son of William and Iona Belle (Trottman) Kreis. They were the parents of these known children -- Carl Leroy Kreis, Darrell Eugene Kreis, William Dale Kreis, Donna Ruth Kreis, Mary Sayles and Doris Limon. Their home for many years was in Cleveland, where William was employed as a steelworker with Republic Steel Corporation. He retired in 1974. Later, they dwelled at 2870 Vista View in Nashport, OH. Sadly, William died on March 31, 1983 in Cleveland Clinic. Ethel Mae survived him by nearly six years. She passed away on Jan. 4, 1989. Burial was in New Hope Lutheran Cemetery, with Rev. Diana Gugel officiating, and an obituary appearing in the Zanesville Times Recorder. At death, she was survived by 17 grandchildren and 10 great-grandchildren.
~ Son Charles N. Gaumer ~
Son Charles N. Gaumer (1854-1935) was born on Feb. 19, 1854 in Adams Township, Muskingum County. He grew up learning the trade of cabinet making.
On March 13, 1879, in a ceremony held in Otsego, the 25-year-old Charles was united in matrimony with 24-year-old Rachel Buker (Sept. 1853- ? ), daughter of Lafayette and Sarah Buker of Monroe Township, Muskingum County. They did not bear any children.
The 1880 federal census shows the couple living with her parents in Monroe. Within a short time, the newlyweds moved to San Francisco. They remained for almost two decades. In 1900, census records show the couple boarding in the home of artificial limb maker John Donovan and his wife Nellie, with Charles employed as a street sweeper.
The marriage was troubled, and Rachel alleged that he was guilty of neglect of duty, extreme cruelty and habitual drunkenness. They separated in 1903, with Rachel suing for divorce in her home region of Coshocton County. Judge Nicholas of the Court of Common Pleas heard the arguments in the case in July 1908 and granted the divorce, which Charles chose not to contest. The story was reported in the Coshocton Daily Age.
After a period of a month, on Aug. 31, 1908, he wedded 34-year-old Sarah Elizabeth "Lizzie" Nelson (Sept. 16, 1873- ? ), a nurse who was the daughter of James and Catharine (McVicker) Nelson of Muskingum County. Stokely S. Fisher officiated at the wedding.
In 1910, they lived with Sarah Elizabeth's widowed mother at 834 South Sixth Street in Coshocton. He labored in 1910 as a house carpenter.
Evidence suggests that in 1917, at the age of 53, he wedded a third time to Susan K. "Susie" Emerson (1860- ? ), a native of West Virginia. They did not reproduce.
The Gaumers relocated to the city of Denver, CO around the time of marriage. The 1920 federal census shows Charles and Susan residing on Arapahoe Street, with him earning a living as a laborer in a packing house. That, 55-year-old William M. Love, a laborer in a milling company, was a lodger in the household.
The 1930 census lists the couple dwelling on Galapago Street, with Charles working making cabinets in a furniture repair business.
By 1932, at the death of his sister, he was named in the Coshocton Tribune obituary and still residing in Denver.
Evidence suggests that he died in Denver in May 1935 at the age of about 80 or 81. Interment was in Fairmount Cemetery in Denver. His grave is unmarked. [Find-a-Grave]
Susan outlived her spouse by eight years. She passed into eternity in March 1943 and rests beside Charles in Fairmount Cemetery.
Copyright © 2000, 2011, 2015, 2016-2018 Mark A. Miner