Anna M. (Lowe) Beckett
(1881-1961)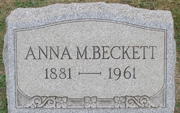 Sylvan Heights Cemetery

Anna M. (Lowe) Beckett was born on Nov. 21, 1881, presumably in Hopwood, Fayette County, PA, the daughter of Thomas "Jefferson" and Harriet Louise (Minerd) Lowe.
Anna was united in the bonds of matrimony with Alonzo "Lon" Beckett (1878-1935), the son of Andrew J. and Rachel (Braden) Beckett of Uniontown, Fayette County.
They did not reproduce.
As a teenager, Alonzo served in the U.S. Army during the Spanish-American War. The Uniontown Morning Herald once said, "Although under age at the time of the Spanish-American War, Mr. Beckett volunteered and served in the Philippines throughout the duration of the war as a member of Company C, 10th Pennsylvania Infantry." Other cousins who saw military service in the 10th Pennsylvania were Howard Campbell Miner of Fayette County and John Henry Turley of Uniontown.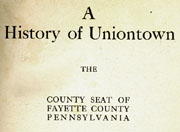 Book naming Alonzo

The Becketts resided at 12 Shady Lane in Uniontown. Said the Morning Herald, "He spent his entire life as a resident of this city where he was active in real estate. Besides constructing several buildings in the East End, including a garage in Main street, he also built the Beckett and Redstone apartment buildings in Shady Lane."

Alonzo's carpentry and construction work is noted in its own paragraph the 1913 book, A History of Uniontown, authored by James Hadden. The book states: Alonzo Beckett built a two-story brick garage in 1911 next west of the Jemima Hall lot. He also built a modern frame residence opposite Baker alley in 1905, and sold it to Charles W. Hart, who, after occupying it a while, sold it to Peter Jacoby."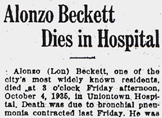 Uniontown Morning Herald

In 1927, after the death of Anna's father, her widowed mother came to live in their home.

Alonzo came down with a fatal case of bronchial pneumonia added to existing heart disease, passive congestion and a lesion on an aorta in the fall of 1935. "He was removed to the [Uniontown] hospital," said the Morning Herald, "when his condition became suddenly alarming."

He passed away there, at age 57, on Oct. 4, 1935. His remains were laid to rest at Sylvan Heights Cemetery in Uniontown, with the funeeral services led by Rev. James C. Clark, pastor of the Second Presbyterian Church.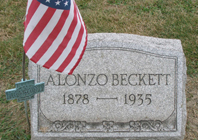 Sylvan Heights Cemetery

Anna survived her husband by more than a quarter of a century, and continued to reside in their longtime home at 12 Shady Lane in Uniontown.

She was stricken by a massive heart attack and passed away suddenly at age 79 on Sept. 5, 1961. Her mortal remains were laid to rest at Sylvan Heights Cemetery in Uniontown between her husband and parents. Her obituary in the Morning Herald noted little more than that her husband had died in 1935, and that she was "survived by several cousins, nieces and nephews." Funeral director J. Harry Johnston of Uniontown was the informant for her official Pennsylvania certificate of death.



Copyright © 2006, 2009, 2014, 2022 Mark A. Miner