Clarence Warren 'Bobby' Lytle
(1887-1929)

Bobby Lytle

Clarence Warren "Bobby" Lytle was born on Feb. 14, 1887 – St. Valentine's Day – in McLuney, Perry County, OH, the son of John Thomas and Elizabeth "Lizzie" (Miner) Lytle. The family lived near Lizzie's parents, Thomas and Maletha (Ogburn) Miner.
Bobby had an older brother and sister, George and Edna. His sister Bess was born a year later.
When Bobby was a young boy, the family moved to Cambria County, PA, where John found work in the coal mines there. The Lytles resided in Ehrenfeld in 1891, when brother Fred was born, and in Bakers in 1896 with the birth of Wilse, the youngest.
On March 30, 1898, 15-year-old brother George died from typhoid fever. He had just recently begun working in the mines with his father.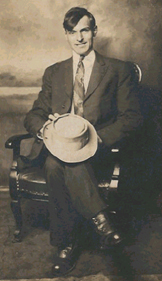 Bobby as a young man
In about 1899, the Lytles made their permanent home in the small borough of Lilly on Railroad Street, so named because it ran alongside the railroad track of the busy Pennsylvania Railroad.
In 1904, Edna had a daughter, Pearl, and in 1906, Bess had a son, John "Pete." Edna and Bess were both young and unwed, so John and Lizzie raised them as their own.
Like most young men of the town, Bobby and his brothers went to work in the coal mines.
For a time, it is thought that Bobby resided in Pittsburgh.
On March 7, 1916, Bobby's father died of tuberculosis at the age of 57.
On March 14, 1918, Bobby married Margaret Ethel Smith (1895-1975), the daughter of David and Parantha (Brocious) Smith in Gallitzin, Cambria County. Margaret was a native of Ringgold, PA, and had resided in nearby Cresson.
They produced a family of six children: Marjorie E. Link, Edna Ziegler, George D. Lytle, Hallam J. Lytle, Bernice Caulk and Jeanne Kennedy.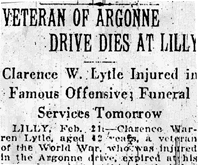 Obituary, 1929

On July 21, 1918, just four months after his marriage, Bobby enlisted to fight in World War I. He served with Company A, 31st Infantry, 79th Division. He was injured on Nov. 5 and was hospitalized. He is said to have been hit with shrapnel in the left that left it permanently stiff, and to have lost a lung possibly due to poison gassing. He may also have suffered after drinking river or creek water poisoned by the German enemy.

In 1920 he was recuperating at the US Army General Hospital in Carlisle, Cumberland County, PA, while his wife and infant daughter Marjorie were living next door to his mother.

His injury left his one leg stiff, and he thereafter walked with difficulty. He could no longer work in the mines, so he opened a repair shop, where he did such things as upholster chairs.

Bobby's brother Fred was living in Lilly with his six children and serving as chief of police of Cresson. Wilse and Enda, both unmarried, also resided in Lilly. Bess was living near Pittsburgh with her husband and five children.
Lillydale Cemetery

Bobby died of pneumonia and heart disease on Feb. 19, 1929 at the young age of 42. His six children all were under the age of 10 at the time of their loss. They always believed his untimely death was due to his wartime experiences.

Bobby was a very kind man, and was fondly remembered by his niece Ferne, who was 14 years old when he died.

Margaret later resided in Cresson. She outlived her husband by 46 years.

In the early 1970s, the Lytles held a family reunion. Margaret and all six of her adult children attended, as did Margaret's bachelor brother in law, Wilse Gilmore Lytle. A group photograph was taken that day.

Margaret died on April 20, 1975.

Bobby and Margaret are buried together in Lillydale Cemetery in Lilly.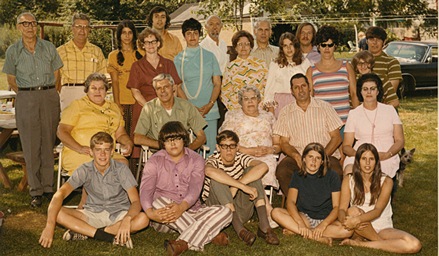 Lytle reunion, early 1970s. Seated, middle row, l-r: Marjorie (in yellow), George, Margaret, Hallam and Edna. Standing behind George: Jeanne (in red), Bernice (in light blue, long necklace) and Howard Caulk (white shirt with beard). Bobby's bachelor brother Wilse Lytle stands at left, back row.

~ Daughter Marjorie E. (Lytle) Link ~
Daughter Marjorie E. Lytle (1919-1997) was born on Jan. 3, 1919 in Lilly.
She wed George "Blaine" Link (April 24, 1914-2001). The couple appears not to have reproduced.
During World War II, Blaine served in the U.S. Navy.
Marjorie belonged to the Franklin Street United Methodist Church and the Parkhill (PA)P post of the American Legion.
In the 1990s, she lived in Parkhill, PA.
She succumbed to the spectre of death at age 78 on Feb. 17, 1997. An obituary appeared in the Johnstown Tribune-Democrat. Rev. Daniel Orris led the funeral service. Her remains are in eternal repose in Forest Lawn Memorial Park in Cambria County.
Blaine survived for another four years. He passed away at age 87 on July 25, 2001.

~ Daughter Edna (Lytle) Ziegler ~
Daughter Edna Lytle (1921-2006) was born on Jan. 4, 1921 in Cresson, PA.
She was twice-wed. Her first spouse was Patrick E. Wilt ( ? -1956).
Two children born to this union were Shauna E. Mihalic and Patrick A. Wilt.
Circa 1953, Edna relocated to Lorain, OH, and stayed for good, an era spanning 53 years.
Sadly, Patrick died in 1956.
For three decades, she was employed by O'Neil's Store, assigned to several clothing departments. She retired in 1986.
After five years of mourning, Edna on Nov. 4, 1958 was united in holy matrimony with Lee W. Ziegler (Nov. 29, 1917-2005), a native of Rochester, OH and the son of William H. and Elva M. (Haning) Ziegler.
Lee was a veteran of the U.S. Army, serving during World War II. He is known to have been involved in the Normandy invasion and maneuvers in northern France and the Rhineland. For his service, he was awarded three bronze stars and the European African-Middle Eastern Theater Ribbon.
Edna and Lee together operated a Dairy Isle on 21st Street for a decade, from 1961 to 1971. He also earned a living as a security officer for the FAA. She is said to have "enjoyed crossword puzzles, cooking, gardening, shopping and animals, especially birds."
She again was rendered a widow at Lee's passing on June 18, 2005, at age 87, as a patient in New Life Hospice Center at St. Joseph. His nephew Rev. Merele Ziegler led the funeral service.
Edna remained in Lorain in her final years. Death swept her away in New Life Hospice, at the age of 85, on Nov. 9, 2006. Interment of the remains was in Ridge Hill Memorial Park Cemetery in Amherst Township, OH.
Daughter Carroll A. Wilt (1944-2006) was born on Feb. 22, 1944. She married (?) Albright ( ? - ? ). Circa 2005, she made a home in San Diego. She passed away on Feb. 23, 2006.
Daughter Shauna E. Wilt (1949-2021) was born on Nov. 22, 1949 in Altoona, PA. She moved to Lorain, OH with her parents when she was a girl. She graduated in 1968 from Lorain High School. Shauna was joined in wedlock with (?) Mihalic. Their two sons were Anthony Mihalic and Ryan Mihalic. She lived in Lorain for many years and then in Amherst, OH in 2005-2021. Shauna was a family caregiver and, for the last two decades of her mother's life, provided devoted care. She also loved to tackle outdoor choors such as weeding, tending her garden, working in the yard or washing her automobile. Shauna was gathered away by the angel of death at age 72 on Dec. 23, 2021. Her obituary was published in the Lorain Morning Journal.
Grandson Anthony Mihalic resided in Lorain in 2021.
Grandson Ryan Mihalic was united in wedlock with Jackie. They have dwelled in Lorain.
Son Patrick A. Wilt (1948-2010) was born on Aug. 27, 1948 in Altoona, PA. He relocated with his family at age five to Lorain, OH. He was a 1966 graduate of Lorain High School. During the Vietnam War, from 1968 to 1970, he served in the U.S. Army during the Korean War. He secured employment in 1972 with U.S. Steel/Republic Steel, remaining for 38 years. Then circa 1974, he entered into marriage with Vickie Konya ( ? - ? ), and their union endured for 36 years. The three children born into this family were Jeremy Wilt, Jarod Wilt and Jenny Pororelc. They put down roots in Lorain. In his free time, Patrick liked to fish and ride his Harley Davidson motorcycle. Grief cascaded over the family when Patrick died suddenly at the age of 61 on Aug. 11, 2010.
Grandson Jeremy Wilt wed Amanda. They have dwelled in Lorain.
Grandson Jarod Wilt has made his home in Lorain.
Granddaughter Jenny Wilt married Chris Pororelc. Their residence has been in Lorain.

~ Son George D. Lytle ~
Son George D. Lytle ( ? - ? )
Nothing more is known.
~ Son Hallam J. Lytle ~
Son Hallam J. Lytle ( ? - ? )
Hallam served in the U.S. Army during World War II.


~ Daughter Bernice (Lytle) Caulk ~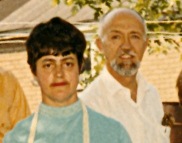 Bernice and Howard Caulk

Daughter Bernice Lytle ( ? - ? ) was born in (?).

She was joined in marriage with Howard M. Caulk (1915-2007).

They made their home in Cambridge and Silver Spring, MD and bore one son, Parris Caulk.

Howard was employed at the Naval Research Laboratory and later by the National Air and Space Administration (NASA) at its Goddard Space Flight Center. His specialty was in the Solar Physics Division. He is said to have been sworn into the position with Goddard "via radio while working on rocket firings in Fort Churchill, Canada."

Howard passed away at the age of 92 on Dec. 26, 2007.

Son Parris Caulk ( ? - ? ) was employed by Celera Geomics in Rockville, MD. He is listed as a co-author on the seminal work decoding human DNA, "The Sequence of the Human Genome," published in Science Magazine (Feb. 15, 2001). Today he is vice president of Informatics Management Consultants, LLC in Gaithersburg, MD.



~ Daughter Jeanne (Lytle) Kennedy ~

Daughter Jeanne Lytle ( ? - ? )

She was joined in wedlock with (?) Kennedy ( ? - ? ).

Nothing more is known.

Copyright © 2004, 2022 Craig Adams and Mark A. Miner