Sarah "Birdie" (Miner) Pickard
(1865-1954)
Sarah "Birdie" (Miner) Pickard was born on Jan. 11, 1866 in Lee County, IA, the daughter of Nathaniel and Susan (Abbott) Miner.
She grew up in and around the family farm near West Point, Pleasant Ridge Twp., Lee County.
Birdie married Isaac "Ike" Pickard (1866?-1945?). Nothing about him is known, other than his mother's maiden name may have been "Derbyshire."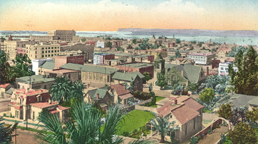 Picturesque San Diego, California
In 1908, when Birdie was about age 43, the Pickards resided at Fort Madison, Lee County. By 1945, when she would have been age 80, they had moved to San Diego, CA.
Isaac may have died in San Diego on June 16, 1945, but this needs to be confirmed.
Birdie died in San Diego on April 6, 1954.
Copyright © 2000, 2007, 2011 Mark A. Miner