Andrew R. Minerd
(1869-1913)

Andrew R. Minerd
Andrew R. Minerd was born on Oct. 14, 1869 at Broadford, Fayette County, PA, the youngest of 8 children of Andrew and Sarah (Devan) Minerd. A blacksmith like his father, he suffered a tragic death in a fall down a flight of stairs. The portrait seen here is strongly believed, but not fully proven, to be him.
On July 4, 1889, at the age of 20, Andrew married 16-year-old Anna Florence "Annie" Rhodes (1873-1925) at the home of her parents, David and Mary (Deems) Rhodes of Dunbar, Fayette County. The Connellsville Keystone Courier reported that he had "celebrated the Fourth by taking unto himself a wife in the person of Annie Rhodes."
Anna was a native of Point Marion, Fayette County or Centerville, Washington County, PA.
The Minerds produced three daughters – Birdie Ethel Thomas (born 1890), Olive L. Lashbrook (born 1892) and Gertrude McClements (born 1894). A fourth may have been Lewella Minerd, who died at age 16 of whooping cough, in 1903.
In about 1903, the family moved to Uniontown, Fayette County, where he worked as a blacksmith. Andrew was active with the Dunbar Lodge of the Knights of Pythias, serving in the position of "inside guard."
It's thought that Andrew and Anna separated about 1907, when she and the girls moved to Pittsburgh to live under the roof of her mother at 814 Aiken Avenue.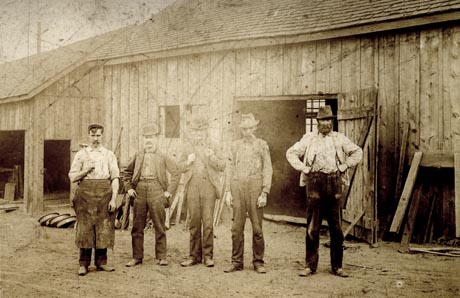 Photo labeled "Andrew Minerd, Charles Bryner, Mr. [John] Hogan, Charles McWilliams, Mr. [Ed] Wheeler - all from Dunbar, Fayette County," presumably standing left to right. All clues point to the man on the left as our Andrew. Note the sledgehammer slung over his shoulder, the blacksmith apron and metal wheels lying about in the yard of this workshop.
When the federal census was taken in 1910, Andrew resided as a boarder in the home of Zachariah and Margaret Atkinson on South Grant Street in Uniontown. The census-taker recorded that Andrew was age 40, had been married for 19 years, and worked at a blacksmith shop.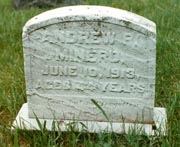 Hopwood Cemetery
Tragedy struck the family on June 9, 1913, when Andrew "fell down the steps of a local hotel [that] evening and died later at the Uniontown hospital," said the Uniontown Daily News Standard. An examining physician determined that the cause of death was a fractured skull.
The funeral was held at the home of sister Mary Belle Beggs at Hopwood. He was buried beside his parents at the Hopwood Cemetery.
In March 1915, Anna announced the marriage of her daughter Birdie to George Thomas, with the news published in the Pittsburgh Press.
Just two years after Andrew's death, on Sept. 29, 1915, Anna married again, to 34-year-old Alexander H. Heck (1881- ? ), by the hand of Rev. H.H. Marlin in Pittsburgh. Alexander was nine years younger than she, and may have had children from a previous marriage. He was an auditor in the accounting department of the Pittsburgh and Lake Erie Railroad, earning about $165 per month. They resided at the Norfolk Apartments on North Highland Avenue in Pittsburgh.
Pittsburgh & Lake Erie logo
The Heck marriage was rocky from the start, and only lasted about a month. Complaining frequently about his responsibilities in the marriage, Alexander secretly packed his suitcase and upon being discovered, told Anna he was going away for two weeks. Leaving home on Oct. 29, 1915, he never returned. He went back to his mother's home on Graham Street and refused to pay Anna any support. He later paid her about $3 a week after she forced his hand via a court order. Anna remained in their apartment until the end of March 1916.
Supported largely by her mother, Anna later moved to 701 Filbert Street in Pittsburgh's East End, and then to 6303 Bartlett Street in the Squirrel Hill community near Pittsburgh. In February 1922, still residing with her mother, she sued for divorce, with son in law Loren W. Lashbrook and friend Johanna E. Mead providing testimony on her behalf. The marriage was dissolved on Feb. 28, 1922, in the Court of Common Pleas of Allegheny County.
Suffering from hardening of the arteries for eight years, Anna was felled by a cerebral hemorrhage and died at home on July 22, 1925. She was age 52 and was interred in St. Peter's Cemetery.
[Circa 1928, when his daughter Clara Helen Heck wed Willard J. Hess, Alexander made his home in Dormont, in the heights above Pittsburgh's South Side. In October 1951, employed by the now New York Central Railroad, Alexander retired, with the news reported in the October 1951 edition of the company publication, Headlight.]
Copyright © 2000-2003, 2010, 2014 Mark A. Miner