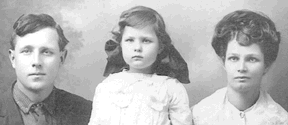 Frank, Margaret and daughter Mildred

Frank Minerd was born on Jan. 8, 1887 at Hawkeye, Westmoreland County, PA, son of Charles B. and Ada Arthill (Tressler) Minerd.
On Oct. 27, 1909, when both groom and bride were the age of 22, Frank was united in marriage with Margaret Malinda Kilgore (Feb. 16, 1887-1969), daughter of John Shultz and Magdalena May "Lena" (Klink) Kilgore.
The Minerds together produced a brood of four children, all born in different coal mining towns within Fayette County, PA -- Bertha May Minerd (at Isabella), Mildred Zona Minerd (Hopwood), Mary Ellen Minerd (McClellandtown) and Victor Everett Minerd (Vances Mills).
Mary Ellen, died 1917

Only Mildred and Victor survived to become adults, while the other two daughters -- Bertha May (1911) and Mary Ellen (May 19, 1917) died in childhood and are buried at Percy Cemetery near Uniontown, Fayette County, PA. Mary Ellen lived to the age of two years, seven months before succumbing to acute pulmonary tuberculosis

Frank was a coal miner and followed the mines during a time that work was scarce and there was much labor unrest. In an August 1912 letter from his sister Bertha Pringle, she wrote: "Frank I hope you will get a job you like... you be sure and let us know where you move to. Come out when ever you can."

Frank registered for the World War I military draft in 1918, at Leckrone, Fayette County, and stated his occupation as a miner for the Parshall Coal Company.

In the 1920s the Minerds lived at Tent City near Uniontown, where thugs were said to "throw sticks of dynamite to stir things up" and police regularly patrolled to keep the peace. Frank once had his photo taken among a group of co-workers at the Royal Mine at Meadowbrook seen here.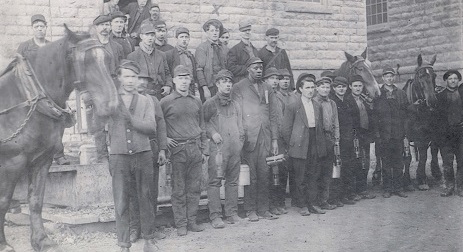 Frank and co-workers at the Royal Mine, marked with an "X" above his head
Frank's occupation in 1930, as shown in the United States Census, was as a laborer performing odd jobs. At that time, they lived on Meadowbrook Road in South Union Township. His daughter once said he was one of the more responsible of his many brothers and sisters and that he was "the one everybody went to when they had a problem."
Then in 1940, with the family residing on Liberty Street, Frank was back at work in the mines as a coal hauler.
The couple's final address together was at 54 Euclid Avenue in Uniontown. Margaret held a membership in the Free Methodist Church of Uniontown.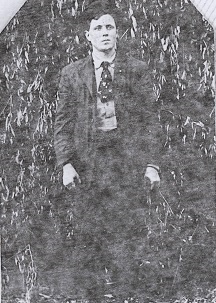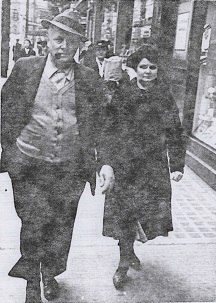 Above: Frank Minerd as a young man, and in older years with Margaret. Below: portraits of the couple.
Courtesy Barbara (Holly) Minerd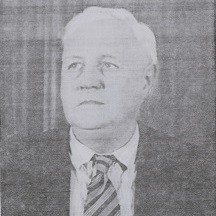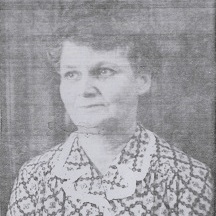 Suffering from stomach cancer and heart disease, Frank was admitted to Uniontown Hospital. There, sadly, he died on May 5, 1965 at the age of 78.
Margaret outlived her husband by four years and remained in their Euclid Avenue residence. During that time, she endured hardening of the arteries and "azotemia," a buildup of waste in the bloodstream. At the age of 82, having suffered a heart attack, she died in Uniontown Hospital on St. Patrick's Day 1969. Her obituary in the Uniontown Morning Herald said that her funeral rites were conducte by Rev. Harry E. Stevick and Rev. E.W. Cowsert.
Both sleep for all time at the Percy Cemetery near Uniontown.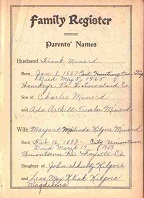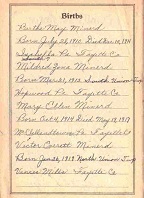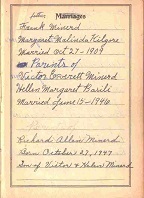 Pages from Margaret Minerd's Bible.
Courtesy Mildrec Z. Minerd

Mildred Z. Minerd
Courtesy Barbara
(Holly) Minerd

~ Daughter Mildred Zona Minerd ~
Daughter Mildred Zona Minerd (1912-2007) was born on March 21, 1912 at Hopwood. At birth, her midwife wanted to call her "Arizona," and when the mother objected, a compromise name was agreed upon for the middle name.
She never married and spent her entire life in Uniontown.
She supported herself over the years as a housekeeper, including serving a favorite client, Rev. Harold L. and Edna Davis, founder and director of the Harbor of Light Chapel & Radio Ministry airing on WMBS-AM. In a tribute booklet to the Davises, Mildred wrote that she had begun working for the pair in November 1941, and that it "was a pleasure working for them. They did not seem like employers, but they were real friends. For 30 years I was with them day after day [and] shared many pleasures and many sorrows." She was pictured in the April-May 1945 edition of their publication, The Harbor of Light.
She made a home with her parents circa 1950 and worked during the early 1970s at Colorama Religious Supplies.
Mildred was "a devout and faithful member of the Free Methodist community all her life, and considered the members of the Uniontown Free Methodist Church, Uniontown ... her church family," said the Uniontown Herald Standard. "It was here that Aunt Millie taught Sunday School and held many offices for over 40 years. She touched the lives of so many people during those years."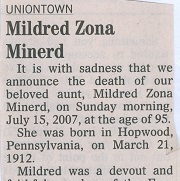 Uniontown Herald Standard

A favorite scripture was Psalm 91 -- which begins "Whoever dwells in the shelter of the Most High will rest in the shadow of the Almighty. I will say of the Lord, "He is my refuge and my fortress, my God, in whom I trust."

She attended the national Minerd-Minard-Miner-Minor Reunions over the years with her nephew Richard and his wife Barbara. At the 1994 reunion, she was forced to seek shelter in the mud under a picnic table when a small tornado touched down at the grove near Kingwood, Somerset County.

Millie was honored by her church on Feb. 23, 1992, said the Pittsburgh Conference Herald in which she was pictured, for having attained "53 years of perfect attendance, taught the Young Teen Class for 40 yrs., served as Class Leader and Teward, held many WMI offices, and taught an Adult Sunday School class until a recent illness caused her to retire. She was presented a lovely corsage, gifts, plaque, and notes from former pastors and former students which told of her love to them and was a guest of honor at a Covered Dish Dinner following the combined service."

Millie's final years were spent in the fog and confusion of Alzheimer's.

She died at the age of 95 on July 15, 2007. Rev. James B. Jobes led the funeral service, with interment in the sacred soil of Percy Cemetery at Mt. Braddock. In an obituary, the family asked that any memorial contributions be made to the Free Methodist Church of Uniontown or to St. Jude's Children's Research Hospital.

Victor Minerd
Courtesy Barb Minerd

~ Son Victor Everett Minerd ~
Son Victor Everett Minerd (1919-1972) was born in 1919.
In young manhood, he stood 5 feet, 10 inches tall and weighed 125 lbs. During World War II, he joined the U.S. Army and was assigned to the Heaquarters Company Combat Command, 7th Armored Division. He was deployed to Scotland in March 1944 and took part in the Rhineland and Ardennes campaigns, serving as a truck driver. For his service he was awarded a good conduct medal, European African Middle Eastern victory medal and a service medal with three bronze stars. He received his honorable discharge at Indiantown Gap on Jan. 24, 1946.
On June 15, 1946, Victor married Helen Margaret Basili (1919-2012), daughter of Carlo and Maria (Novelli) Basili. Rev. E. Mosceloni presided.
They together bore one son, Richard Allen Minerd.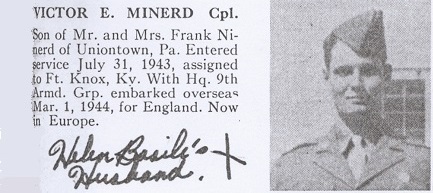 Victor's profile in a book about Uniontown soldiers of World War II


Victor was a coal and steel laborer during his career. He worked at the Meadowbrook Mine near Connellsville circa 1937. Later, he was a welder at the famed Homestead Works of United States Steel Corporation. He was a member of the United Mine Workers of America, the Lafayette post of the American Legion and the local post of the Veterans of Foreign Wars.

Circa 1972, their address was 171 McKinley Drive, Uniontown.

Sadly, having been afflicted with heart disease, Victor died at work of a stroke on Feb. 4, 1972, at the age of 53. He was laid to rest in Sylvan Heights Cemetery in Uniontown.

Helen outlived her husband by four decades. She was employed at the Berkowitz Shirt Factory of Uniontown. She attended several of our national family reunions over the years with her son and daughter in law. Later in life, she was active with Senior Life.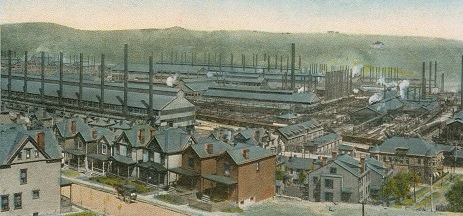 Victor's workplace, the Homestead Works
At the age of 92, on May 19, 2012, surrounded by her family, Helen died at home. Following a funeral held in the Saint Theresa de Lisieux Catholic Church in Uniontown, she joined her husband in eternal repose in Sylvan Heights.
Son Richard Allen Minerd (1947- living) was born in 1947. He was a 1965 graduate of North Union Township High School. He studied drafting in young manhood at Fayette County Area Technical-Vocational School and was employed as a welder by E. W. Bowman Inc. On July 5, 1969, he entered into marriage with Barbara Christine Holly (1947-living), daughter of Charles Edward and Bertha Margaret (Novak) Holly of Hopwood. The wedding ceremony was held in St. Mary's Roman Catholic Church in Uniontown, officiated by Rev. William Charnoki. Barbara was pictured in an announcement of the happy event in the Uniontown newspaper Barbara was a 1964 alumna of North Union High, worked in the office of Romeo & Sons Inc., a local food supplier to commercial venues such as restaurants, schools and businesses. She also was a student of cosmetology at the vo-tech school. They became the parents of three children -- Jenny Minerd, Mark Richard Minerd and Cory Adam Minerd. The Minerds lived in Uniontown and then in Haydentown. Sadly, their daughter Jenny was stillborn in Uniontown Hospital in February 1970, with an obituary appearing in the Connellsville Daily Courier. Rick received a United States patent in 1986 for his invention, a hunting device called a "combination tree seat and animal drag. Rick and Barb have attended many national Minerd-Minard-Miner-Minor Reunions over the years, with her holding a seat on the reunion planning committee. She was pictured in a Connellsville Daily Courier article in June 2013 in a story about that year's gathering.
Grandson Mark Richard Minerd (1973-living) was born in 1973 in Uniontown. He was christened in the Saints Cyril and Methodius Roman Catholic Church in Fairchance. On Feb. 1, 2002, Mark married Christine Renee "Chrissy" Chernok (1974-living), daughter of Melvin and Paula Chernok District justice Randy Abraham of Fairchance officiated. They are the parents of Ashley Minerd.
Grandson Cory Adam Minerd (1975-living) was born in 1975 in Uniontown. He received his christening in the Saints Cyril and Methodius Roman Catholic Church in Fairchance
Copyright © 2000, 2002, 2006, 2012, 2022-2023 Mark A. Miner