Henry Minerd was born on Oct. 7, 1813 (or 1814) near Scio, Harrison County, OH , the son of John and Mary Magdalena (Kohl) Minard Sr.
He was a pioneer settler of western Ohio and eastern Indiana, and at his death, an Indiana newspaper said he was "one of the best known and most highly respected citizens of this part of Allen county..." The newspaper added that "No better or purer man ever lived in this section than 'Uncle Henry Miner,' and no word of reproach was ever uttered against his character. He lived as he passed away. In life to do good, to please and assist, especially in hours of sickness and distress, [to] all man kind. In death to please his Maker and gain that reward for which he sought and labored all these years."
Henry grew up on the family farm near Scio. On May 3, 1838, in Harrison County, Henry married his first wife, Catherine Bowers (1819-1881). The ceremony was performed by justice of the peace David Bowers, apparently one of Catherine's relatives. The Minerds had one child, Mary Ann Von Stronder, in addition to a foster daughter, Isabella "Bell" (Edwards) Kever, "who was received into his home as his own child."

Minerd deed to Frances Sampson, 1838
The same year he was married, Henry purchased a town lot in Franklin, Harrison County, for the whopping sum of $55. Around that time, he must have gotten the itch to move west to wilderness areas of western Ohio being sold for development purposes by the federal government. Thus the year after purchasing the lot in Franklin, he and Catherine sold it to Frances Sampson.
Henry was a farmer. The year after their marriage, on Nov. 2, 1839, Henry purchased a farm near the western border of Ohio in Dixon, Van Wert County. He and Catherine then made preparations for travel to their new home. Assuming their trip was anything like other Minerds ' who came west to the county line later, using "a good team of horses and a substantial wagon," they traveled across the state, a "very tedious and slow" journey.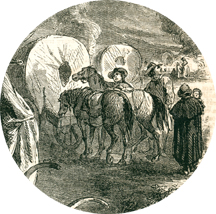 Ohio pioneers
Soon after the purchase, said the Monroeville (IN) Weekly Breeze:
He came to this country in the pioneer days and carved his way through the forest and settled on a tract of land ... and which farm he retained the ownership [of] up to the time of his death and upon which he lived and toiled until age caused him to abandon farm life, thus by his effort and toil he not only witnessed his own farm, but the whole country for miles and miles around emerge from the wild Indian forest to the beautiful farms, cities and homes of civilization.
Upon arriving in Van Wert County, Henry joined the local Evangelical Lutheran Church on April 6, 1839. His name appears in 1840 on a list of voters in an election poll-book of Willshire Township, Van Wert County, as published in the 1882 book, History of Van Wert and Mercer Counties, Ohio.
Henry's farm was in located Tully Township, Van Wert County, and within one mile of the small town of Dixon, OH. He is thought to have helped build the Lutheran Church at Flat Rock, Allen County. He and Philip Schlemmer are said to have "hewed from a walnut log the first coffin, dug the first grave and laid to rest the first person that died in this section of the country," said the Monroeville (IN) Breeze many decades later.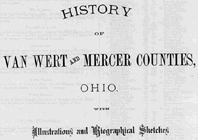 Book naming Henry
Henry also purchased an 80-acre farm across the state line in nearby Monroe Township, Allen County, IN, on Nov. 2, 1839. This tract, purchased at the US Land Office in Fort Wayne, was in the southwest corner of Section 15, Township 29, Range 15 East. It was less than a mile away from where his brother John Minerd Jr. would settle the following year. It also was next to the farm of Catherine's relatives John Bower (purchased the same day) and close to the farm of Jacob Bower (marked in the records as being of Harrison County, Ohio, with the tract purchased just a few weeks later).
On Nov. 10, 1840, Henry received a certificate of ownership of his Monroe Township farm from the General Land Office, signed by President Martin Van Buren. To see a copy of his record, on the website of the U.S. Bureau of Land Management, click here. That same year, he voted for William Henry Harrison for president and for the rest of his life supported the Whig and Republican tickets. Almost a half century later, he cast his ballot for Harrison's grandson, Benjamin Harrison, as chief executive of the nation.
It's thought that Catherine's other relatives may have also settled in Tully Township. The Bowers siblings, including Henry and Catherine, all signed a "quit claim" relinquishing their interests in two Tully tracts in April 1849, and agreeing that Levi Bower should have full title to one of the properties, and that Sarah Ann Bower should have title to the other. Others signing the document, all of whom were in Van Wert at the time, were William and Sarah Bower, Jacob and Eleanor "Ellen" Bower, John and Margaret Bower, Jesse and Elizabeth Foster, and Abraham and Lydia Ann Anthony.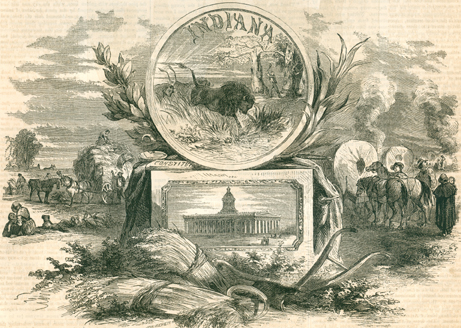 A tribute to Indiana pioneers as published in Ballou's Pictorial, Nov. 8, 1856
Henry served as a focal point for other family migration. In 1840, his brother John moved to the area, purchasing a farm on the Indiana-Ohio state line just few hundred yards from Henry's farm. Another brother, Burget Miner, moved to the town of Van Wert in about 1856, where he worked as a carpenter, building houses.
When the federal census was taken in 1850, the Minerds lived next to Henry's brother, John, and also to Jonas and Margaretta Shaffer. Living in the house also were 11-year-old daughter Mary Ann and eight-year-old foster daughter Isabelle Edwards.
In 1856, when Henry's father wrote a will, he directed that Henry receive $80 in cash payments within nine years of the father's death. The father did not die until 1867, and it is not known if Henry or his heirs were alive to receive the inheritance.
The 1870 federal census enumeration of Indiana shows Henry, Catherine, 31-year-old daughter Mary Ann and 13-year old Henry Black residing in the household. The identity of Mr. Black is not otherwise known.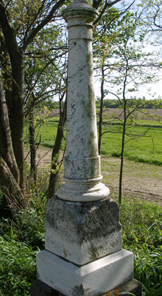 Catherine's grave
Over the years, Henry worked hard to develop and cultivate his farm. The Van Wert Times Democrat once called it "large and well improved..." His last years with Catherine were quiet, although she was mentioned in a June 4, 1874 issue of the Monroeville (IN) Democrat, in a list of unclaimed letters remaining in the Monroeville Post Office.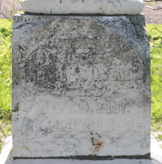 Flat Rock Cemetery
When the census again was taken in 1880, Henry and Catherine were counted as Indiana residents of Allen County. James R. Sites (or "Siles," a 26-year-old farm hand, boarded in their home. That year, marked the census-taker, Henry could not write, and suffered from a "hernia" which left him "maimed, crippled, bedridden or otherwise disabled."
On Sept. 11, 1881, after 44 years of marriage, Catherine passed away. She was age 61 years, three months and six days in age (although her grave marker erroneously gives the age as 51 years). The cause of death is unknown. The Van Wert Times reported only that "... the wife of Mr. Henry Miner died after an illness of two days; aged 62 years." The local Monroeville (IN) Breeze published a similarly brief notice of her death.
Catherine's remains were laid to rest in the back row of the Flat Rock Cemetery. Also resting for eternity in Flat Rock are Henry and Catherine's foster daughter and husband, Isabelle and Jacob Kever, and also their nephew by marriage, Elihu Tilbury.
A tall, upright and impressive monument was erected at the gravesite. Photographed in May 2009, the writing on the face of the marker is illegible when in shadow (seen here), but likely may be read in direct sunlight.
The inscription has been recorded and published in two different booklets on file today at the Allen County Public Library in Fort Wayne, IN. They include Madison-Monroe Township Cemeteries and A Collection of Cemetery Inscriptions of Allen Co., Indiana, collected by the Mary Penrose Wayne Chapter of the National Society of the Daughters of the American Revolution in Fort Wayne, and compiled by Alberta Minor Flint.
CATHERINE
WIFE OF HENRY MINERD
DIED SEPT. 11, 1881
AGED 51Y, 3M, 8D

The normal regimen of farm work was interrupted in April 1883 when Henry was selected to serve as a juror in a murder case. Commodore Wood was put on trial for the murder of Charles Shellner at Huntertown, IN and heard in Allen County Criminal Court. Reported the Fort Wayne Daily News, "The prisoner is accompanied by his mother. Both are quite composed. The case does not excite the interest that usually attends murder trials."
Widowed for two years, the 70-year-old Henry then married Sarah J. Robinson of Monroeville on April 3, 1884. The nuptials were held at the bride's home. Said the local newspaper, "As they both are well advanced in years, the BREEZE hopes their remaining days may be long and happy." Sarah ibrought several grown children into the marriage, among them Dr. S.R. Robinson and Mrs. George Heller.
Henry was a subscriber to the Monroeville Breeze and apparently found funny ways to show his interest in renewing his subscription. The July 2, 1885 edition reported: "If we were ever frightened in our life it was yesterday morning, when Mr. Henry Miner, one of the best natured old gentlemen in this whole country, came rushing into our office with both fists clenched in a threatening attitude and threw down $1.25 upon our table." When he paid his renewal in April 1887, the Breeze said he had "let his smiling face beam into our sanctum, long enough to subscribe and pay for the BREEZE, for another year. He is one of the jovial class of farmers and such that no one can be displeased with his presence. Call again friend Miner your visits are always acceptable."
In September 1885, Henry and Sarah traveled to White Pigeon, MI to spend some time visiting with her son Dr. S.R. Robinson. Sarah's daughter Mrs. Heller made her residence in Monroe Center, IN.
They apparently dwelled in Pea Ridge near Monroeville but were together for only three years. Sarah became seriously ill in May 1886. Her son S.R. and daughter Mrs. Heller traveled from their respective homes to visit at her deathbed.
Sadly, she died on or about June 10, 1886. The Breeze published a moving obituary, stating that the morning had brought the "sad news" and that it came "to the ear of her many friends and relatives, although not in any way surprising, for her sickness has been long and painful, her children and friends for the past two weeks having hour after hour sat at her bedside watching for the moment when the pale horse and his rider would appear and bear away to that home unknown, the spirit of one whom was dearly loved and put an end to her suffering. Having lived in this township for a number of years she leaves, besides several children, a large circle of near relatives and friends to mourn their loss." Her obituary in the "Dixon" section of the Van Wert newspaper was terse: "Mr. Henry Miner has buried his second wife."
Following funeral services conducted by Rev. Douglas at the Lutheran Church, her remains were placed into eternal repose in the Masonic Cemetery. The Breeze observed that her funeral "was the largest held in this place for years. She was a lady who had many warm friends."
Not desiring to be alone again, Henry began to court his third wife, Jane Rice (1834-1904), the widow of Samuel Rice. Jane was some 21 years younger than Henry and made her home in Decatur, Dekalb County. His 26-mile round trips caught the attention of his friends and the editor of the Breeze. The gossip column in the paper's Sept. 29, 1887 edition said that "Uncle Henry Miner, it is said makes frequent visits to Decatur of late. There seems to be an unusual attraction over there that causes him to wear a more pleasing smile than ever." In another article printed about a month and a half later, the Breeze punned that "Uncle Henry has, in his old days become a great lover of Rice, you know, and he has a fancy for a certain article found in that thriving city [of Decatur]."
The wedding took place in Decatur on Thanksgiving Day Nov. 21, 1887, by the hand of Rev. Hotte. Punning again, the Breeze said that Henry had "reapt his harvest of Rice, and now enjoys the pleasure of calling her Mine--r." Te James Bros. placed a congratulatory message in the Breeze. The newlyweds made their home on Henry's farm.
Jane was the mother of nine grown children, among them James Rice, Samuel Rice, William Rice, Ellen Rice, Samantha Rice and Rachel Carrier. The daughter Rachel married farmer Presley Carrier of Monroe Township at the Miner household in March 1888. One of the daughters married George Quidor of Dixon, and one wed John Carson of Monroe, IN. Sons Samuel and William resided in South Dakota in 1904.
Henry's daughter Mary Ann Von Stronder apparently did not like this new wife, as will be told later in this story.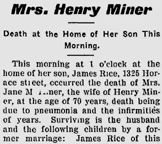 Fort Wayne News, 1904
Henry's years between 1887 and his death are except for a few instances where his name occasionally was published in the newspapers of Fort Wayne. In April 1883, he made news in the Fort Wayne Weekly Sentinel when he was selected as a juror which heard the case of the murder of Charles Shelner at Huntertown, allegedly committed by Commodore Wood. In late October 1897, the Sentinel reported that "a big family reunion was held at the country home of Henry Miner ... this week." And in late March 1899, he and his third wife "were the guests of Mr. and Mrs. George Quidore and C.M. Rico and family [and] returned home today," said the Sentinel.
A letter by Henry's step-daughter Rachel Carrier, published in the Monroeville Weekly Breeze, gives more insights into their later years.
[Henry and his wife] lived exemplary lives, always ready to share each others sorrows. She being the youngest of the two cared for him in his declining years until infirmity of old age laid hands on both, that one could not wait on the other, when they abandoned their home and went to reside with James Rice and wife of Ft. Wayne on Dec. 7, 1904. In the same year Mrs. Miner, my mother was stricken with paralysis which caused her death, she being 70 years old.
After mother died, Grandpa Miner, as we always called him, he being my step-father came to the conclusion that he wanted to make his home with us and as he was considered as one of our family as he and mother lived very happy together for 17 years we accepted him in our home and did all we could to make life pleasant for him for a year and a half when he suggested that he wanted to go and spend the remainder of his days with his daughter, Mrs. O. Van Stronder of Van Wert, thinking it would be right and let her realize that he was a great care on account of his affections. So we insisted then on his going and took him to his daughters home where he remained until the Good Shepherd called him to that home where sickness, death and sorrow shall never enter, but where all is joy and all is one.
By 1891, the nearby village of Dixon, on the state line, was called "thriving and enterprising." A boosterism publication called the General Business Review of Van Wert County, Ohio for 1891 said that "Years ago [Dixon] was surrounded by a dense growth of forest and timber land, and by the clearing out of the trees and selling the lumber many have acquired fortunes at this place. There is here found a most excellent quality of clay for the manufacture of brick and tile which is becoming known and being brought into great demand."
The April 2, 1891 edition of the Breeze named Henry and his brother John "among the old settlers who come to this section between the years of 40 and 50 and settled down to achieve their fortunes in the then wilderness, and are still battling with life's strifes and turmoils." Another of the settlers, George Eagy, was said to have lived "in a house built of rails, similar in structure to that of a rail pen, with a brush roof and a blanket for a door to keep the wolves out that were constantly howling around."
Not content to let life and old age get the better of him, Henry had his home repainted in April 1893, when he was 80 years of age. The Breeze clucked that "Henry is determined to be up with the style." In November 1895, he allowed Casselman & Son to sink a drove well on his farm. A Breeze story in October 1894 said that for "one of his age Uncle Henry is quite spry and none more jovial."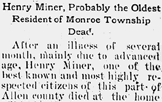 Weekly Breeze, 1906
The census of 1900 shows Henry, Jane and stepdaughter Samantha (age 39) residing in Monroe Township. The census-taker recorded Henry's age as 10 years younger than it actually was, and his occupation as "land lord."
Henry began to lose his hearing, suffered from "dropsy of the abdomen" and his health declined during the first few years of the 20th century. The Fort Wayne News reported in May 1900 that he was "critically ill at present. His ailment is due to old age." By 1903, his condition had declined so much that his son in law W.O. Von Stronder sued to have Henry declared insane.
With their health in mutual decline, Henry and Jane decided to leave the farm and move into Fort Wayne and so leased their acreage in December 1903 to John Isenberger. Their new home was under the roof of one of Jane's son James Rice at 1325 Horace Street. The Breeze said that "It is deeply regretted by all that the community is to loose one who has been here so long and who is in fact the father of Monroe township and this section of Allen county, but as the forest disappeared and a new country grew old so has Uncle Henry Miner advanced from youth to the advanced age past the 90 ties, and this is why he has been led to abanded [sic] the pursuits of farming which was always his delight and the spot of ground he dearly loved, the old home."
Jane suffered a stroke and contracted pneumonia and died in the home of her son James Rice in Fort Wayne on April 2, 1904, at the age of 70. The funeral was held in Monroeville. The Fort Wayne Journal Gazette noted that she "was a most estimable woman, who enjoyed the friendship of many people."

Letter to the editor, 1906
Bringing a long, honorable life to a close, Henry survived Jane by less than two years. He succumbed of dropsy at age 92 on Feb. 8, 1906, at the Von Stronder home in Van Wert's First Ward. The newspaper said "He died as a christian dies, trusting in the Lord." The Weekly Breeze reported that:
The body was brought to Dixon Sunday morning at 10:30 over the interurbin line and taken to the Flatrock Lutheran church one mile south of Dixon, where services were conducted in the presence of the largest assembly of people that has ever been witnessed in that section on a similar occasion indicating plainly that the departed was held in the highest esteem by all who ever knew him.
At the close of the services the remains were interred in the quiet city of the dead near the church, which cemetery the deceased, if the writers memory serves us right, was one of the founders and in which the first death in Monroe township was buried incased in a coffin hewn from a walnut log by the hands of the subject of this sketch.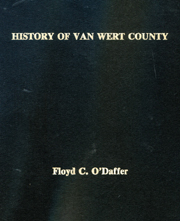 Book naming Henry twice
The funeral was preached by Rev. Rauch, with a reading of Henry's obituary that had been published in the Van Wert newspaper, and with music by the Dixon choir. Today, there is no grave marker for Henry at the Flat Rock Cemetery, though foster daughter Bell rests there, as do many of Henry's first set of in-laws, the Bowers family.
For one reason or another, at the funeral, Henry's two wives were mentioned in the obituary reading, but not the third. This incensed Rachel (Mrs. Press) Carrier, the daughter of the third wife. She fired off a hot letter to the editor of the Weekly Breeze, defending her late mother's honor:
I would like to make mention of a circumstance that occurred at the Flat Rock Church at the funeral of Henry Miner, Sunday. As we are the most popular people of our community, deem it a disgrace to our community that the way the Van Stronder family wrote up the obituary which was read of the deceased. They never made mention of my mother, Mrs. Henry Miner, his last wife... It looked as though she wasn't worthy of being spoken of...
I can also say there is people living near Monroeville, Grandma Bell, Mrs. Sam Isenbergers mother, an only aunt of my mothers that is living; John Fry, John Goiley, brotherinlaws [sic] of hers and others have known her from child-hood up and will say mother has been always considered a lady in every respect... I consider it right and just for the living to speak for the dead when it is necessary.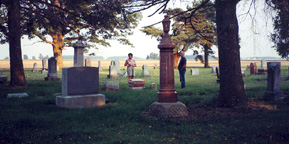 Karen Wagonrod & Eugene Podraza at Flat Rock
The reaction of Mrs. Von Stronder, Henry's daughter, to this allegation is unknown. Judging from a study of the Weekly Breeze published in the following weeks, she chose not to respond, at least in print.
In 1990, Henry was mentioned twice in the book by Floyd O'Daffer, History of Van Wert County.
Henry's grave apparently is not marked today. A search of Flat Rock Cemetery in August 2002, by cousins Karen Wagonrod and Eugene Podraza (seen here), and again in May 2009 by cousins Bill and Gloria Carey and Mark Miner, proved fruitless.
Copyright © 2001-2002, 2007, 2009, 2016 Mark A. Miner