Home

Jennie (Minerd)
Herrington Worrick
(1876-1930)

Jennie Herrington Worrick
Jennie (Minerd) Herrington Worrick was born on March 29, 1876 at Mt. Braddock near Uniontown, Fayette County, PA, the daughter of William and Sara Elizabeth (Whoolery) Minerd. She was a survivor and must have been a very strong woman.
On Sept. 21, 1897, at the age of 21, Jennie was united in wedlock with her first husband, 17-year-old Albert H. Herrington (1879-1899), son of Caroline Herrington of Lemont Furnace near Uniontown and bartender Charles Herrington of Confluence in nearby Somerset County, PA. (His middle initial also has been given as "A.") He stood 5 feet, 6¾ inches tall and had dark eyes, dark brown hair and a dark complexion. At the time of marriage, Albert was employed as a lamp cleaner at the Oliver coke plant near Uniontown.
The newlyweds made their home on Middle Street in Uniontown. A month and a half after the wedding, Jennie bore a son, Charles L. Herrington, on Nov. 9, 1897.
A little more than a year after their marriage, on Dec. 19, 1898, during the Spanish-American War/Philippine Insurrection, Albert and 13 other Uniontown men enlisted in the Army. He was 18 years and 10 months of age, claimed to be single and disclosed his next of kin as Osborne Herrington of Lemont Furnace. When undergoing a physical examination, recruiting officials observed that he was "well built," weighed 137 lbs., and had good vision and hearing. They also noted scars and pock marks on his neck, stomach and left shoulder blade. When asked why he was enlisting, he answered "Patriotism," and if he drank intoxicating liquors, he responded "Occasionally."
He was assigned to the 20th U.S. Infantry, Company M, commanded by 2nd Lt. Lyman Welch. The men were transported to San Francisco to be shipped to Manila via Hawaii. They traveled aboard the Scandia, a steamship of 4,243 tons which the Navy had purchased from Russia the previous August. The ship was used as a transport on the San Francisco to Manila leg and as a hospital ship on its return voyage. It later was renamed the Warren.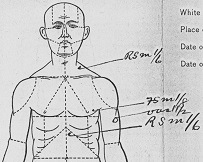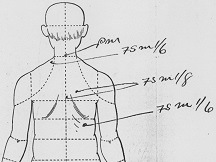 Sketches of Albert's scars at enlistment, Dec. 1898. Below: bound for Manila, transport ships leave San Francisco laden with troops.

During his brief military stint, Albert was considered "honest and faithful" in his service. Tragically, on the night of Feb. 5, 1899, while on their last night in port in Honolulu, Albert was critically injured in the abdomen in a collision with a horse and buggy. It's not known whether he was out late carousing, or simply the victim of an unfortunate accident. He was carried aboard the Scandia.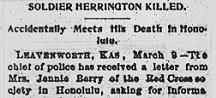 Uniontown Daily News Standard
Major W.O. Owen served as chief surgeon and chief medical officer aboard the ship, leading a team of 14 medical officers and four Red Cross nurses. One or more physicians on duty that night tried to treat Albert's extensive injuries, but there was no hope. He died shortly afterward.
Not knowing his next of kin, the Army allowed the Red Cross to contact the chief of police at Fort Leavenworth, KS, to try to establish where to find his family. The Uniontown Daily News Standard printed the story five days after the accident, on Feb. 10, 1899. Army officials also gathered up his personal effects, among them a poncho, blanket, overcoat, two cakes of soap, a soldier's handbook, blacking box, leather belt, cotton shirt, tooth brush, pair of socks, two spools of thread, a pair of leggings and shoes, and a forage cap.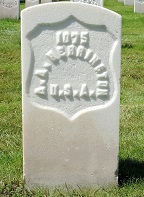 San Francisco National
Cemetery - by Carol Farrant
Albert's broken remains and possessions were taken off the ship and transferred to the surgeon in charge of the Buena Vista Hospital in Honolulu. Burial took place right away at Nuuanu Cemetery in Honolulu. Jennie could have requested the the body be sent home courtesy of the Red Cross, but she chose not to. About two years later, on New Year's Day 1901, his corpse was removed and shipped to California for reburial at the San Francisco National Cemetery, in Section ES, Site 1075, where his grave may be found today. His name is inscribed "A.A. Herrington" on his standard issue military marker.
Widowed at the tender age of 23, Jennie and young son then went home to live with her parents in the coal mining patch town of Brownfield, Fayette County.
After two years as a single woman, on Nov. 28, 1901, the 25-year-old Jennie married her second husband, 29-year-old John B. Worrick (1872-1910), a coal miner and the son of John and Abigail "Abbie" (Burd) Worrick. They united themselves in wedlock.
The Worricks produced one son, James William Worrick Sr. The family lived at the coal mining patch town of Brownfield.
Heartache rocked Jennie again in the fall of 1906, when the family lived in Smithfield, Georges Township, Fayette County. Son Charles, age nine years and 16 days, contracted a deadly case of typhoid fever. He succumbed to the illness on Nov. 25, 1906, and was laid to rest in the Hopwood Cemetery.
Following available mining jobs, Jennie and John moved to Grays Landing, Greene County, PA. The Grim Reaper of Death struck once again during the afternoon hours of Jan. 17, 1910. Working as a driver in the Donald No. 1 Mine, John was instantly killed in an accident. The 1910 book, Report of the Department of Mines, states that John "was found dead under his trip of loaded cars. It is supposed that he fell off the front of [the] trip." His official Pennsylvania death certificate reads: "Neck broke accidentally by being run over by pit wagon."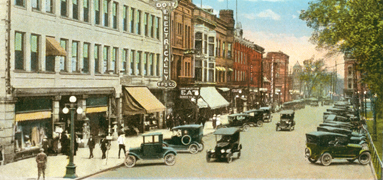 Warren's Park Avenue, looking south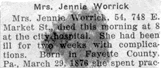 Obituary, 1930
Widowed for the second time in 13 years, Jennie remained in Uniontown. It's known that her nieces Grace and Myra Minerd of Smithfield spent entire days visiting at her home.
Jennie decided to relocate to Warren, Trumbull County, OH in about 1926, to be nearer to her brother, James "William" Minerd. "Since that time," said a Warren newspaper, "[she] has become the center of an admiring group of friends."
Four years later, on March 15, 1930, "following a major operation," Jennie died at Warren. She was age 54. She was buried beside her second husband at the Hopwood Cemetery near Uniontown.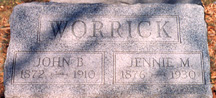 Hopwood Cemetery
For many years, our research efforts failed to determine the burial site of Jennie's first husband. His military records from the National Archives showed no record that his body was ever returned to Pennsylvania. A letter from the National Memorial Cemetery of the Pacific in Honolulu reported that the Nuuanu Cemetery had no record of his burial or disinterment. Research by the curator of the Uniontown Library's Pennsylvania Room showed that he was not listed in burials in and around the area. However, in 2004, a cousin discovered the website of the National Cemetery Administration, providing a searchable "nationwide gravesite locator" for US soldiers. Using that database, Albert's name was found, and the mystery of his final resting place was finally solved.
~ Son James William Worrick Sr. ~
Son James William Worrick Sr. (1902-1965) was born on Oct. 22, 1902 in Smithfield, Fayette County.
On Aug. 10, 1927, at the age of 24, he was married to 23-year-old Kathleen "Pearl" Keck (1903-1980), daughter of William C. and Augusta Keck of Brownsville, Fayette County. In reporting on the wedding, the Connellsville Daily Courier said that the nuptials were held at the Hopewell Presbyterian Church near Brownsville, officiated by Rev. R.C. Van Eman. "The bride wore a grown of white crepe, a picture hat of matching color, and carried sweetheart roses and lilies of the valley. Miss Ruth Ryan of Clairton, as maid of honor, appeared in peach crepe and a picture hat. Her flowers were pink tea roses." The bride's brother Carl O. Keck was best man.
Their two known children were James William "Jimmy" Worrick Jr. and Sandra Marlene Barks.
At the time of their marriage, James was employed by the Monongahela Railway, and Pearl as a stenographer in the Fayette Real Estate Company of Uniontown. The couple made their first residence in South Brownsville, in 1930, at the address of 124 Angle Street. In 1930, they relocated to Warren, Trumbull County, OH, with their residence at 748 Market Street. He was the informant on his mother's Ohio death certificate.
But during the grip of the Great Depression of the 1930s, the family relocated back to southwestern Pennsylvania. James secured employment as a coal miner, and they lived in the company town of Crucible in Rices Landing, Cumberland Township, Greene County, PA. They enjoyed camping at Lake Lynn near Morgantown, WV, and Pearl belonged to the "Tri C" card club. At some point James became an engineer with the Monongahela Railway Company and belonged to the Brotherhood of Locomotive Engineers Division 795, an organization of which he was secretary-treasurer for 15 years. He also was a member of the First Presbyterian Church, the Masons of Brownsville and Syria Shrine of Pittsburgh.
Circa 1960-1961, the Worricks made their home at 143 Prospect Street on the south side of Brownsville. Toward the end of 1960, they took a six week vacation in Honolulu, HI to visit their married daughter, son in law and grandchildren. On their way back home, they made stops to see Pearl's family in Arcadia and Riverside, CA and Santa Fe, NM.
James died on Oct. 10, 1965 at the age of 63. Rev. John W. Foester led the funeral service, with the Masons conducting a burial service. He rests in LaFayette Memorial Park in Brier Hill, Fayette County.
Pearl survived him by 15 years and made her home during that time in Brownsville. She was a member of the Fort Burd Presbyterian Church, the Order of Eastern Star of Brownsville and Amaranth Lodge. She joined him in eternity on Aug. 30, 1980.
Son James William "Jimmy" Worrick Jr. (1931- ? ) was born in about 1931. At the age of 10, he broke his right arm when bicycling near Crucible, a mishap reported in the gossip columns of the Uniontown Morning Herald. He married Anita (?) and had two daughters, Debbie Worrick and Kathy Grace Worrick. Circa 1961, the Worricks resided in Santa Fe, NM and in 1965 in Los Angeles. He may be the same James W. Worrick who was named district agent in the Santa Fe district office of Prudential Insurance in 1953 and who died on May 21, 1998, possibly in Canada.
Daughter Sandra Marlene Worrick (1936-2011) was born on May 13, 1936 in Brownsville, Fayette County. After graduation from high school, she moved to Melbourne, FL and met her future husband, Thomas Franklin Barks Sr. ( ? -living) of Olathe, CO. Their three children were Kathleen Krubeck, Thomas Franklin Barks Jr. and William Jacob "B.J." Barks. Thomas spent 23 years in the U.S. Air Force during the Vietnam War era. The couple made their home in Honolulu in 1960-1961 and in Aurora, CO in 1965. In 1966, Thomas received a U.S. Air Force Commendation Medal in Vietnam from Col. L.R. Chase for "meritorious service as an air policeman at Lowery Air Force Base, CO, cited for "sustaining professional skill, knowledge and leadership." They were transferred to Victorville, CA, and from there to Bitburg, Germany and finally in 1974 to Cheyenne, WY. Said the Wyoming Tribune-Eagle of Cheyenne, the Barkses "lived in the country and she enjoyed their rural and outdoor lifestyle. Together they raised cattle, chickens and gardened. She loved to cook, bake, can and make preserves and passing those recipes down to her children and grandchildren. On holidays and family special occasions, she was known for her wonderful family feasts." Sandra was employed for 25 yeas as a bookkeeper with Commercial Flooring in Cheyenne. After retirement, she and Thomas traveled extensively to "Alaska, Ireland and Lake La Ronge, Canada, where she caught a record lake trout. They also traveled around the United States including the Grand Canyon, Glacier, Zion, Sequoia and Yosemite National Parks. She loved taking pictures of the places they visited on their travels. She cross stitched beautiful pictures, enjoyed knitting, and was an avid reader. She also enjoyed attending UW Cowboy football games. She loved to watch the Pittsburgh Steelers, Denver Nuggets and Pro Bull Riding." At the age of 75, Sandra passed away in Cheyenne on Sept. 23, 2011. Pastor Robert Garrard led the funeral service followed by interment in Cheyenne Memorial Gardens.
Granddaughter Kathleen Barks married Stephen Krubeck and lives in Casper, WY.
Grandson Thomas Franklin Barks Jr. was united in wedlock with Sherrill Elizabeth "Sherrie" Clark (1956-2004), daughter of Raymond and Barbara Clark of Detroit. Sherrill was a 1979 graduate of the University of Wyoming. The couple produced two sons -- Thomas Barks and Lucas Barks. They initially resided in Wyoming, where their sons were born, and then in 1987 relocated to Maine, making their home in Brunswick and later in Gorham. Reported a newspaper, "She was a Neurodiagnostic Technician, most recently associated with Maine Neurology in Scarborough. She loved her family, her gardens and the bright and vibrant colors she brought into her home." Tragically, Sherrill contracted cancer and died on Oct. 26, 2004. An obituary was printed in the Boston Globe.
Grandson William Jacob "B.J." Barks (1961- ? ) was born in about 1961. On his second birthday, a notice was published in his mother's hometown newspaper, the Uniontown Evening Standard. He makes his home in Saratoga, WY.
Copyright © 2000, 2003-2004, 2006, 2016 Mark A. Miner