William Osborne Minerd
(1866-1906)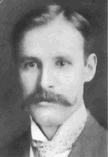 William O. Minerd
William Osborne Minerd was born on Nov. 15, 1866 at Bridgeport, near Mount Pleasant, Westmoreland County, PA, the son of Eli and Mary Ann (Baer) Minerd.
Sadly, he is one of many of our cousins to have been killed in railroad or trolley accidents over the years.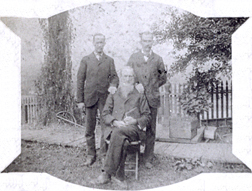 William (left) with his father and brother Isaac
He once was photographed standing with his brother Rev. Isaac Herschel Minerd (right) and and aged father Eli (seated).
William never married, and was employed for years as a flagman for the Baltimore and Ohio Railroad.
He was a member of the Connellsville local of the Brotherhood of Railroad Trainmen, an early union. Circa 1899, his dues were 25 cents every pay period.
He made his residence in Bridgeport near Mount Pleasant, and worked in Connellsville, which was the bustling hub of the coal and coke industry for many years. The ample supply of high grade coal products converted into coking fuel resulted in a steady stream of rail shipments to the steel mills of Pittsburgh, some 50 miles to the northwest.
On Jan. 3, 1906, the Grim Reaper struck when the 40-year-old William was killed in a grisly accident while at work in the busy yards of the B&O in Connellsville.
The Connellsville Daily Courier carried the following account:
BRAKEMAN IS KILLED.
William O. Minerd Met With Fatal Accident
in the Local Yards at an Early Hour This Morning.
William Osborne Minerd of Bridgeport, but for the past seventeen years a Baltimore & Ohio flagman, was killed in the [Connellsville] yards at an early hour this morning. Chas. Rhomes, a yard employe came across lying along the tracks this morning. He was then in a dying condition and all that he could say to Rhomes was that he slipped. He was too weak to give an account of the accident. The hospital ambulance was hastily summoned, and he was removed to the hospital, but his injuries were fatal and he died shortly after arriving there. He was terribly cut and bruised. The unfortunate man is a son of Eli Minerd of Bridgeport. He was born in that town 37 years ago and began railroading at an early age, having worked on all the different branches of the road....
Further investigation, said the Greensburg Daily Tribune, showed William slipped on a tie while making a coupling, "and fell under the train, the wheels of four cars passing over him at the hip." William's elderly father had to travel to Connellsville and to endure the horrific task of identifying the mangled corpse. Compounding the horror was that the deceased recently had let his life insurance lapse, meaning no compensation was available for the loss.
He is buried beside his parents at the Alverton Cemetery near Mt. Pleasant.
Click to see the full list of Minerd-Minard-Miner-Minor cousins who have lost their lives in railroad and streetcar accidents.

The B&O's busy yards at Connellsville, with the Youghiogheny River at right
Copyright © 2000, 2004, 2006, 2010, 2015, 2022 Mark A. Miner