Elizabeth (Minor) Johnston
(1838-1928)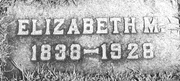 Elizabeth (Minor) Johnston was born near Brownsville, OH on Feb. 2, 1838, the daughter of Jacob and Mary (Ferguson) Miner.
She joined the Methodist Protestant Church in Brownsville as a girl and retained her Methodist affiliation the rest of her life, "supporting it with her means and prayers."
On Nov. 15, 1876, Elizabeth married her brother in law Seth Reed Johnston (1827-1923), who was the widower of her sister Isabel.
Inheriting 4 step-children, Elizabeth went on with Seth to have 1 daughter of their own, Ada Soliday. She was said to be "a loving and affectionate mother...." They resided in Glenford, Perry County, OH, where Seth kept a well-known general store.
Like her husband, Elizabeth was known as a "highly respected resident" of the county. The Somerset Press said she "was a kind and obliging neighbor and her friends were many."
They suffered the painful, untimely deaths of many loved ones over the years. Between 1901 and 1910, son James and his adult children Brandt and Vera all died of various ailments.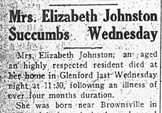 In 1919, she and Seth and the extended Johnston clan gathered at the home of stepson-in-law Alva Cooperrider for a reunion.
At age 95, the oldest citizen of Hopewell Township, Seth died at home in March 7, 1923. After his death, an inventory was taken of his store in Glenford. Numbering 838 separate items, the inventory provides a fascinating glimpse at the goods needed by citizens of Perry County in the era after the end of World War I.
Five years later, on Feb. 8, 1928, Elizabeth passed away, at age 91, of bronchio-pneumonia. They are buried together at the Highland Cemetery near Glenford.
At her death, the Somerset Press said that Elizabeth was survived by "a number of distant relatives."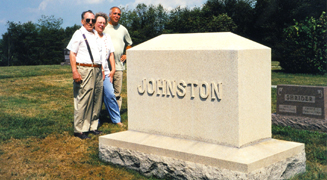 Family researchers at the Johnstons' grave, circa 1996 -- Kermit Boring, Barbara (Boring) Bauer and Eugene Podraza
Copyright © 2000, 2011 Mark A. Miner