Roy Elton Shaffer
(1906-2003)
Husband of Ruth Virginia Minerd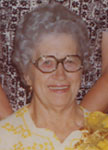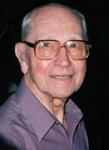 Virginia and Roy Shaffer

Roy Elton Shaffer was born on Aug. 12, 1906 in New Salem, Armstrong County, PA, the third to last of 10 children of Joseph Harvey and Mary Etta (Doverspike) Shaffer Jr. His parents were both natives of Pierce, PA.
Roy's siblings were Emma Shaffer, Clyde Shaffer, Miles Shaffer, Ralph Shaffer, Elmer Shaffer, Charles Shaffer, Joseph Guy Shaffer, Luella Shaffer and Lawrence Shaffer.
Roy attended a one-room school house in New Salem, all the way up to the eighth grade. He worked in a painting and papering business with his father before moving into deep mining of coal. Over the course of his years working in the mines, most were spent with the Allegheny River Mining Company in 15 different mines, one of which was the Walker Mine.
Two of Roy's brothers also labored in the mines -- Guy (who was killed by a fall of slate in the Campbell Mine near Putneyville on Aug. 20, 1926) and Lawrence. Ironically, Roy's future father in law conducted the funeral of Guy, at the Evangelical Church at Mudlick.


Brother Joseph and wife Mable

Roy did not serve in the military.

On June 13, 1925, Roy was married at age 19 to Virginia Ruth Minerd in Pierce, PA. Her father, the Rev. William Mullen Minerd ("Praying Billy") officiated. At first, Roy and Ruth rented a house in Salem. Here, the first two of their nine children were born -- Robert (1925) and Norman Jean (1928). Roy and Ruth were members of the New Salem Evangelical Church, where Ruth's father once was the preacher.

From Salem, Roy used to drive down to the McWilliams Mine in McWilliams, Armstrong County to work. They moved to Eagle Valley, where Jay Fred (1930) and Janet Louse (1932) were next born. In 1937, Roy was promoted to assistant mine foreman.

The next move was to South Bethlehem where Grace Marie was born (1937). Homer Roy was born in Walkchaulk (1939) and both Jerry (1941) and Bill (1944) were born in Putneyville, all in Armstrong County. In 1944, Roy and Ruth purchased their first home finally in Distant, Armstrong County, and where the last of their children, Dick, was born in 1946. Roy served as superintendent of the mines from 1955 to 1972, when he retired.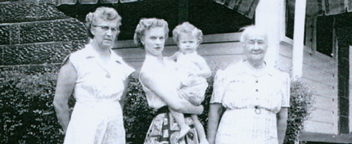 Four generations -- Ruth, daughter Norma Jean, granddaughter Karen Jean and mother Pearl Minerd
Sadly, Ruth passed away on Nov. 4, 1977 and is buried in the Oakland Cemetery in Distant. Roy continued to reside in their home until 2002.
Roy's first car was a 1921 Model T Ford. He told his grandchildren that the gas tank was under the front seat. He was able to customize the car to ensure that the engine received gasoline when the car went down, and then back up, a steep hill. Roy and Ruth enjoyed bowling. He was quite the gardener and sometimes the garden was larger than the lawn in the back yard! He also loved to hunt, especially for pheasant. Roy was a lifetime member of Elks Lodge #203 in Kittanning, PA. He was quite the whistler!
On Sept. 20, 1983, Roy married Jean Mathers ( ? -? ), who had three grown daughters, Bonnie, Dorothy and Elizabeth. They were members of the First Baptist Church of New Bethlehem. Jean passed away on May 6, 2000, after nearly 17 years of marriage.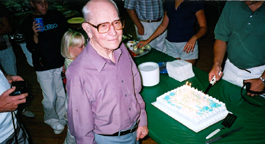 Roy's birthday cake - 2000 Rev. W.M. Minerd Reunion
Roy enjoyed his connections with the Minerd family. He continued to attend the annual reunions of the W.M. Minerd family, held every year in the Armstrong County and Somerset County areas.
Roy moved to the Jefferson Suites retirement village in Brookville, PA on Oct. 19, 2002. Less than one year later, on Sept. 20, 2003, he passed away at Brookville Hospital. He was laid to rest in the Oakland Cemetery.
Write grandson and granddaughter-in-law, Fred and Donna K. Minich: "One thing about Grandpa was his zest for life, a twinkle in his eye, great energy and a sharp mind. And these aren't our words, they are the words of Grandpa's friend of 11 months, Ruth Heath!"


Copyright © 2004-2005, 2007 Donna K. Minich and Mark A. Miner