Ivona Jane 'Iva' (Van Horn)
Brantner Nixon Jones
(1866-1949)

Iva Jones

Ivona Jane "Iva" (Van Horn) Brantner Nixon Jones was born on Nov. 12, 1866 near Monroeville, Allen County, IN, the daughter of Andrew Jackson and Mary Ann (Dealy) Van Horn.
On Oct. 10, 1885 in or near Lima, Allen County, OH, Iva married George Lewis Brandtner (1866-1921), also spelled "Brantner." He was the son of Samuel and Margaret (Caldwell) Brantner, and is believed to have been raised by an uncle and aunt, Joseph and Nancy Brantner, in Lockbourne near Columbus, Franklin County, OH.
Iva and George moved to Columbus shortly after marriage.
There, they raised their four children, born between 1887 and 1905 -- Frederick Martin Brantner, Roy Charles Brantner, Margaret Jane "Madge" Maish, Robert Richard Brantner and Bertha Brantner.
They resided at 602 River Street in Columbus, and are listed in various city directories over the years. Later, they lived at 179 Schultz Avenue. George worked as a blacksmith, and later in life as a carpenter.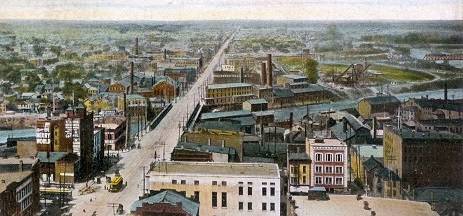 Skyline of Columbus, 1909

George passed away of heart disease in Lockbourne, Franklin County, on July 18, 1921. He was laid to rest at Fernwood Cemetery in Lockbourne.

Widowed, Iva resided at 23 East Fourth Avenue in Columbus. She was a member of the Chicago Avenue Church of Christ, and a member of the Iola Council of the Order of Pocahontas.

After nearly three years of being alone, she married Alonzo Nixon ( ? - ? ) on Jan. 12, 1924. She was age 57 at the time, and he was 65.

By 1941, when she was age 70, she was living at her old home at 179 Schultz Avenue in Columbus. That year, on Oct. 20, she married 69-year-old neighbor Dayton L. "Ben" Jones ( ? - ? ), a painter. Ben was the son of Austin P. and Angeline (Dunbar) Jones of Ross County, OH.

As she aged, Iva suffered from hardening of the arteries. She went to live with son Roy in rural Creola, near McArthur, Vinton County, OH.

Sadly, she passed away of a stroke on Feb. 9, 1949, at the age of 83. She was buried beside her first husband in Fernwood Cemetery in Lockbourne. At the time of her death, she had 10 grandchildren and eight great-grandchildren.

Ben outlived her by four years, and passed away in 1953. He is buried in Iva's plot in Lockbourne.



~ Son Frederick Martin Brantner ~

Son Frederick Martin "Fred" Brantner (1886- 1953) was born on March 9, 1886 or 1888 in Lima, OH.

Frederick was an electrical contractor in Columbus. Later, by 1939, he moved to eastern Pennsylvania and put down roots in the town of Media, PA. There, he was employed as a division engineer.

He was joined in wedlock with Blanch (?).

They produced a son, William G. Brantner.

The couple's residence in the early 1950s was in Cochranville, Chester County, PA.

Son

Son William G. Brantner (1909-1966) was born on April 12, 1909. Circa 1939, living in Media, PA, he married Rhea G. Geisinger ( ? -1999). News of their marriage license was printed in the Everett (PA) Press. The two sons they bore together were William G. Brantner and Robert Lewis Brantner. William earned a living with Ford & Kendig Company, maker of pipe fittings in Glen Riddle, PA. The Brantner residence in the mid-1960s was at 4910 Shepherd Street, Brookhaven, PA. Sadly, William died at home at the age of 56 on Feb. 17, 1966. His obituary was carried in the Delaware County (PA) Daily Times. Interment was in Glenwood Memorial Gardens in Broomall, PA. Rhea outlived her spouse by more than three decades, remaining in Brookhaven. Death spirited her away on Feb. 21, 1999. The Wilmington (DE) News Journal published an obituary, in which the family asked that any memorial donations be made to the Jehovah's Witness Kingdom Hall of Media, PA.


~ Son Roy Brantner ~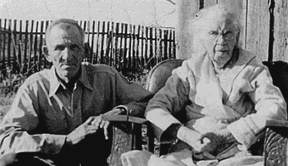 Roy with his mother, circa 1947
Son Roy Brantner (1889-1977) was a veteran of World War I.
In peacetime, he worked as a box maker in a factory in Columbus, and later as a foreman for a railroad in Columbus.
By 1949, he was in Creola, Vinton County, OH.
He was married three times -- to Catharine Hutchison (1910-1998), Florence O. (1889- ? ) and Mary Toole (1896- ? ).
In all, he was the father of two children, Harold Brantner and Alice Barnhart.
Roy died in McArthur, Vinton County, OH, on Sept. 18, 1977, and is buried in nearby Elk Cemetery.
Son Harold Brantner
Daughter Alice Brantner wed (?) Barnhart.
~ Daughter Madge (Brantner) Maish ~
Daughter Madge Brantner (1892-1964) was born in 1892.
She entered into marriage with Roy F. Maish (1885-1962) in about 1907.
They lived in Columbus, where she worked as a practical nurse at Ohio State University Hospital.
Their children were Louis Brantner Maish and Margaret E. Way.
Roy died on Oct. 2, 1962, and was laid to rest in Columbus' famed Green Lawn Cemetery.
Madge passed away on Aug. 31, 1964.
Son Louis Brantner Maish (1912-1966) married Frances Louise Seeger. He was President of Contract Sweepers Company in Columbus.
Daughter Margaret Maish married Robert Charles Way, a veteran of World War II.
~ Son Robert Brantner ~
Son Robert Brantner (1904-1945) was born in 1904.
He earned a living as a truck driver and lived in Columbus.
He wed Bertha Marie Klein (1898-1986).
They had three children -- Charles Lewis Brantner (later renamed Bernard Harold Brantner), Clara Jane Orris Maddy and Anna Louise Schumacher.
Sadly, Robert died at age 41 in a vehicle accident in Circleville on Feb. 26, 1945, and also is buried at Green Lawn Cemetery in Columbus.
Daughter Clara Jean Brantner married Daniel Frederick Orris (1923-1974). Daniel died on Jan. 2, 1974, and was buried in Wesley Chapel in Hilliard, OH. (Note -- the chapel was built in 1847 in part by distant cousin Francis Miner, whose brother Daniel Minor Jr. was a trustee of the chapel.) She later wed (?) Maddy.
Copyright © 2004, 2010, 2012, 2022 Mark A. Miner