Franklin B. "Frank" Younkin was born on July 20, 1838, in Turkeyfoot Township, the son of Charles and Jane (Johnson) Younkin. He was a veteran of the Civil War.
As an adult, he stood five feet, 10 inches tall, with a fair complexion, hazel eyes and dark hair.
Frank married Harriet Frances Sherbondy (1847-1934), daughter of John Wesley and Christiana Sherbondy. They were wed on March 3, 1864, when Frank was age 26 and Harriet 17.
They had six children -- Ellie Mae Younkin, Della C. Flannigan, Martha Jane "Mattie" Detwiler, Nora Catherine "Kate" Sherrick, Nellie B. Wiley and William Henry Younkin. Sadly, their only son is thought to have died as a boy.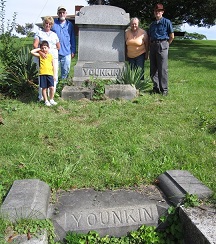 Cousins visiting the Younkin grave at
Hill Grove Cemetery, Connellsville
During the Civil War, Frank served in the U.S. Army with the 6th Pennsylvania Heavy Artillery, Company K. He enlisted on Sept. 4, 1864, just six months after his marriage. He was discharged in June 1865, having served for nine months, six days. More about his military service will be reported here when learned.
After the war, in about 1873, the Younkins settled in or near Pennsville in Bullskin Township, north of Connellsville, PA. Said the Connellsville Weekly Courier, "In his early days Mr. Younkin was a cattle driver... He was widely and favorably known in that community." He was a member of the Grand Army of the Republic, William F. Kurtz Post, and of the Mystic Chain lodge of Moyer, near Connellsville.
Frank was considered "one of the most widely known and highly respected residents of Pennsville," reported the Weekly Courier. On the Fourth of July 1911, Frank was injured and nearly blinded when lighting firecrackers with one of his grandsons. Said the Courier:
The little fellow was about to light the cracker when his grandfather asked to be allowed to light it for him. The cracker was about four inches in length and was lying on the railing of the porch of the Younkin home. Both Mr. Younkin and his grandson stepped back from the porch and just as the former looked around to see if the cracker had ignited it went off. Younkin's eye was not burned by the cracker but the paper from the cracker coming in contact with the eye caused a hemorrhage. For a time he suffered intense pain and it was feared that he had lost the sight of both eyes.
Connellsville Weekly Courier
In August 1912, flash flooding in Pennsville caused great damage to many local farmers, and Frank "suffered heavy loss to fences," said the Weekly Courier.
Frank died on May 10, 1918, "following an illness of several months," reported the Weekly Courier. Rev. H.S. Myers of Scottdale preached the funeral sermon, with burial in Hill Grove Cemetery. His friends from his GAR post and Mystic Chain lodge also participated in the services.
Harriet survived Frank by 16 years. She sold their farm in 1922, to a farmer from Alverton, Westmoreland County. She moved to Uniontown, where she was living as of 1930. She passed in 1934 at the age of 86.
In August 2013, some 80 years after Harriet's death, Younkin researchers cleared weeds from the face of the their prominent, upright marker in Hill Grove.
~ Daughter Ellie Mae Younkin ~
Daughter Ellie Mae Younkin (1873- ? ) was born on May 12, 1873. Nothing more is known.
~ Daughter Della C. (Younkin) Flanigan ~
Daughter Della C. Younkin (1876-1938) was born on April 15, 1876.
She married Marshall D. Flannigan (or "Flannigan") ( ? - ? ). They first resided in California, Washington County, PA and had these children -- Susan Davis, Carolyn Woodman Winkler, Frank Andrew Flannigan, Irish Flanigan, D.R. "Mike" Flanigan and Martha Grace "Marty" Hines.
By 1918, they had relocated to Beaver, the historic county seat of Beaver County, PA.
Heartache shook the family in the spring of 1935. Their son Frank, who was divorced, was a laborer who resided at 239 Dravo Avenue in Beaver. He was stricken with coronary heart muscle problems ("angina pectoris") and died just 13 days shy of his 36th birthday on April 4, 1935. Interment was in the Beaver Cemetery.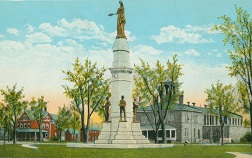 Soldiers monument, Beaver's McIntosh Park
Della was stricken by a heart attack at the age of 62 and died on or about June 27, 1938, in Beaver, with burial in Beaver Cemetery. Her obituary was published in the Aug. 5, 1938 edition of the Younkin Family News Bulletin. At the time of her passing, said the YFNB, her daughter Mrs. Henry Woodman lived in New York, and her daughters Susan and Martha Grace resided at home.
Marshall's fate is unknown.
Daughter Martha G. "Marty" Flanigan (1906-1993) was born on Oct. 5, 1906 in California. She married Jack W. Hines ( ? -1976) and had one son, J. Kit Hines. They settled in Rochester and New Brighton, Beaver County. Marty was a teacher for more than four decades in the Conway and Freedom School Districts of Beaver County. She also was superintendent of the Sunday School of the Calvary United Presbyterian Church of Beaver Falls for 25 years, an elder of the congregation for six years, and a president of the church's Women's Circle. She also was a member of the New Brighton Women's Club, Order of the Eastern Star and board of directors of Beaver County Children and Youth Services. Marty died at the age of 87, in Aliquippa Hospital, on Dec. 7, 1993. Burial was in Sylvania Hills Memorial Park.
Daughter Susan Flanigan married (?) Davis.
Daughter Carolyn Flanigan wed (?) Winkler.
Son D.R. "Mike" Flanigan (1919-1996) was born in 1919 in Beaver. He married Nancy Glover. Their three children were Michael G. Flanigan, Sally J. Flanigan and Marshall D. Flanigan. He lived in Fort Myers, FL. He died there on July 12, 1996. His remains were returned to Beaver for burial in Beaver Cemetery.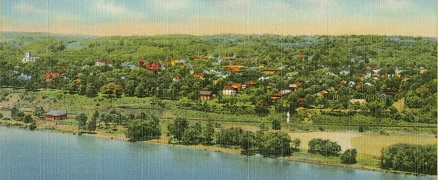 Tranquil, leafy Beaver, on a gentle bluff above the Ohio River
~ Daughter Martha Jane "Mattie" (Younkin) Detwiler ~
Daughter Martha Jane "Mattie" Younkin (1879-1961) was born on Valentine's Day 1879.
She married Charles Detwiler (1873-1962) and lived in Connellsville.
Their five children were Beulah Detwiler, Lola Higbee, Frank Detwiler, Eva Helen Scallon and Charles Detwiler Jr.
She died in 1961 in Bullskin Township, Fayette County.
Charles passed the following year. They rest in peace in Mt. Olive Cemetery, near Pleasant Valley Country Club in Bullskin Township.
~ Daughter Nora Catherine (Younkin) Sherrick ~
Daughter Nora Catherine "Kate" Younkin (1882-1971) was born on March 25, 1882.
She married Richard "Dick" Sherrick (1880-1963). He was the son of John D. and Emma (Noel) Sherrick of Pennsville.
They had one known son, John F. Sherrick.
Circa 1916, they lived in Uniontown. Their address was 119 Evans Street in Uniontown. They were members of the Trinity United Presbyterian Church and spent 35 years as a volunteer firefighter with the Uniontown Fire Department.
In the 1920s, Dick served for several as steward of the Fayette County Home. He then was hired by the Pittsburgh No. Eight Coal Corporation to be superintendent of its mines. He later got into a salary dispute with the coal firm, with the company arguing he had mis-managed funds. After litigation ensued, he won a judgment from Fayette County Court of Common Pleas for the sum of nearly $2,200.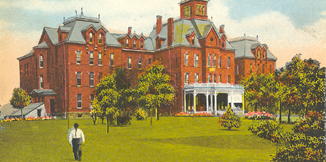 Fayette County Poor Home, where Dick was steward in the 1920s and again in the mid-1930s
In January 1934, with the nation's economy in the grip of the Great Depression, he was re-appointed steward of the Home by the Fayette County Board of Poor Directors. He resigned again from the post in April 1937. He later was hired by Galiardi Coal and Coke Company to be superintendent of its coke division, and he retired from this position in 1957.
Dick died in Uniontown Hospital on June 1, 1963. He was interred in the Alverton Mennonite Cemetery.
As a widow, Kate remained in their longtime home at 37½ Morgantown Street. As she aged into her senior years, she went to live in the Spear Nursing Home in Markleysburg, Fayette County. She died there at the age of 89 on Nov. 16, 1971. Burial was in the Alverton Cemetery near Pennsville.
Son John Franklin Sherrick (1903-1969) was born in 1903. he married Louise (?) and had one son, Richard "Dick" Sherrick II. They resided in Lebanon, Lebanon County, PA in 1963. He died in Lebanon on July 29, 1969. Their son Dick made his home in Phoenix circa 1971.
~ Daughter Nellie Beatrice (Younkin) Wiley ~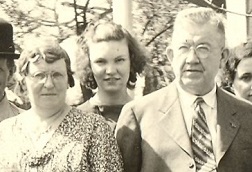 Nellie, Isabel and Edward Wiley at a
Younkin reunion planning meeting, 1930s
Daughter Nellie Beatrice (Younkin) Wiley (1884-1977) was born on Aug. 17, 1884 in Pennsville.
At the age of 34, she married 41-year-old Edward Gregg Wiley (1877-1955), the son of Malinda M. Wiley, on June 25, 1918. There was a difference in their respective ages of seven years. The wedding took place at the home of her married sister Nora Kate Sherrick, with Rev. Wilbur Nelson of the First Baptist Church officiating. "Owing to the recent death of the bride's father," reported the Connellsville Daily Courier earlier that day, "only the members of the two families will attend."
They had one known daughter, Anna "Isabel" Wiley.
Immediately after their marriage established their home in California, Washington County, PA. Based there, Edward spent his career with a coal company, progressing from a supply clerk (1920) to bookkeeper (1930) to a purchasing agent (1940).
Nellie was an officer of the Younkin National Home-Coming Reunion and served as assistant secretary of its association circa 1934-1935. She had an active mind as to the history of the Younkins and was an active genealogy researcher. One of her favorite contacts during this work was her cousin Charles Arthur Younkin, nicknamed "Charleroi Charley," the son of her first cousin William "Dayton" Younkin. See one of her letters about Charley dated Nov. 20, 1935 and sent to reunion president Otto Roosevelt "Pete" Younkin, in which she addressed him as "Cousin - but how?" In the late summer of 1937, Nellie traveled to the Somerset County courthouse and dug into numerous old Younkin estate files. Click to see her letter dated Aug. 31, 1937, outlining her findings in Somerset.

Nellie's name printed atop the Younkin Family Association letterhead, 1930s
Edward passed away on March 29, 1955 in California, at age 78.
She outlived her husband by more than two decades. Nellie died in August 1977, at the age of 93.
Daughter Isabel Wiley studied at California State Teachers College and Indiana University of Pennsylvania.
Copyright © 2013 Mark A. Miner
Research for this biography graciously shared by the late Olive (Rowan) Duff and the late Donna (Younkin) Logan