J. Harvey Younkin
(1860-1932)
J. Harvey Younkin was born on June 16, 1860 in Springfield Township, Fayette County, PA, the son of Jacob M. and Sarah Jane (Christner) Younkin. He had a fascinating but disturbing life, and while musically talented, often had scrapes with the law, and had difficulty in his interpersonal relationships with women.
As someone who enjoyed exaggeration, Harvey liked people to think that he actually was born on the Fourth of July, as was reported in at least one newspaper article.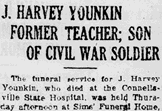 Obituary, 1932

When Harvey was less than a year old, his father was killed in battle during the Civil War.

Within a year, on Nov. 23, 1862, Harvey's widowed mother married again to Daniel K. Grim (1836-1923), another Civil War veteran. The Grims went on to have at least five more children -- Phoebe Ann Grim, Ellen Grim, George Grim, Henry Grim and Lucy Grim.

It's possible that Harvey was raised with his mother and stepfather. Yet within a few years, Harvey's mother died, leaving him an orphan. It's not known who raised Harvey after his parents died, although it's likely that it was his mother's Christner relatives. At age nine, he resided in Pennsville, near Connellsville.

On Sept. 14, 1869, at the age of nine, Harvey entered the Soldiers Orphans School at Jumonville in the mountains above Uniontown, Fayette County. James Laughery Paul's 1876 book, Pennsylvania's Soldiers' Orphan Schools, lists Harvey as a student. He resided and was educated there for seven years, until he reached the age of 16.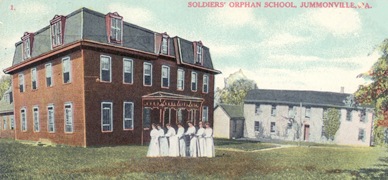 Jumonville school for orphans of Civil War veterans, where Harvey lived for seven years, until his 16th birthday.
At some point in his life, perhaps in childhood, Harvey's legs became handicapped. Later in life, a newspaper said, this condition "required him to walk with a crutch and a cane..."
Harvey must have had natural musical talent, because, said the Courier: "For several years he was a school teacher at Morgan, Dry Hill and other places near Connellsville. Later he was an organ and piano salesman."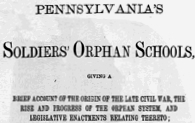 Book naming Harvey

By 1890, when Harvey was age 30, he was jailed for theft while employed as a school teacher at Gibson, Fayette County. According to the July 11, 1890 Courier:

On Saturday he hired a horse and buggy from liveryman Henry and drove to [Normalville], intending to return on Sunday. On Wednesday, Younkin had not returned, and the liveryman, becoming alarmed, sent Constable Campbell to hunt him. He was brought here yesterday. The buggy he had hired was smashed to pieces and the horse worn out. Younkin said he had intended returning the rig when it had been repaired. The school teacher borrowed a watch from the man with whom he had boarded at Gibson, and sold it to a Springfield township farmer for $8. He had also taken his landlord's wife's ring, and presented it to his sweetheart in [Normalville]. Younkin denied the charge of theft, saying he meant to return all the articles.

The end result of the incident is unknown. By 1893, Harvey was residing at White Rock, near Uniontown, and in August of that year spent a few days visiting with the family of his cousin, Susanna (Minerd) Rose in Normalville. During this period, Harvey apparently continued to travel, sell his services, and occasionally teach and perform.

In the fall of 1894, he is believed to have circulated through Somerset and outlying counties, stretching the truth to help his sales and romantic intentions. He "arranged to elope with a married woman from Somerset county," said the Johnstown Democrat, "but when the time came the woman discovered that he had no money and was contemplating having a good time at her expense, she called the game off and returned home."

Rev. James A. Younkins, a distant cousin and former pastor of the Methodist Episcopal Church of Somerset, became outraged when Harvey claimed that the two were siblings. The pastor sent a letter to local newspapers, including the Somerset Herald, published Sept. 26, 1894, stating the following:

I have been reliably informed that a man by the name of Younkins, traveling through parts of Cambria and Somerset counties, as a dealer in musical instruments, etc., has been representing himself as a brother of mine. The claim is entirely and absolutely false and in this respect, if in no other, the man is a consummate fraud. In justice to my many friends and myself, I make this statement.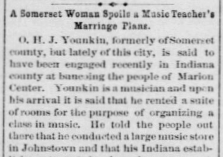 Somerset Herald, March 27, 1895

The following March 1895, the Johnstown Democrat reported that Harvey had moved to Roxbury, near Johnstown, Cambria County, and then relocated to Johnstown's South Side, where he boarded for several weeks on Franklin Street. He created a stir when he went to nearby Marion Center, Indiana County, where he began "bancoing" the residents.

In a story first printed by the Democrat, and reproduced in the Somerset Herald, "Younkin is a musician and upon is arrival it is said that he rented a suite of rooms for the purpose of organizing a class in music. He told the people out there that he conducted a large music store in Johnstown and that his Indiana establishment was to be a branch arrangement. His stay at Marion Center was of brief duration, however, and when he departed it is said he left a number of bills unpaid.

He returned to the Connellsville area, and over the Christmas holidays in 1895, said a newspaper, he "gave a concert at Jas W. Johnson's." A September 1896 issue of the Courier reported that he "was instructing the Poplar Run people how to sing the past week," and a related article in the Uniontown Genius of Liberty noted that he was "having quite a number meeting and practicing singing... We can't get too much good singing."

Harvey seemed to court controversy. In late November 1905, while employed with the Weimer Music Company, he claimed to Connellsville police officers that he was nearly mugged by a black man and two white men while on his way home from work. In a top-headline, front-page story, the Connellsville Courier reported the incident:

When he reached the turn on the steep grade above the hospital the negro jumped out of a dark place and demanded him to hold up his hands. Two white men were with him. Mr. Younkin had a large sum of money on his person and was about to comply with the demand when several pedestrians were heard coming down the hill. The footpads became frightened and before they could secure Mr. Younkin's valuables they were scared off.

Harvey identified his assailant to law enforcement, whom the Courier said was "a big burly fellow with an evil countenance" who had been "loafing about the county," who had "no visible means of support and was arrested at the coke ovens several times."
Connellsville Weekly Courier

In 1906, Harvey was giving private musical lessons, but once again let his emotions get the better of his judgment. In March of that year, he was boarding in Smithfield, Fayette County, at the home of B.F. Breakiron, where he was teaching piano to the Breakirons' 15-year-old daughter Alice. The Connellsville Weekly Courier said that he "seemed to be infatuated with Miss Breakiron to the extent that he undertook to dominate her actions and social relations with her young lady and gentlemen friends here until his actions had becoming annoying to the young lady."

Continuing the story, said the Weekly Courier:

Tuesday he fell into a rage with her, because of a difference of opinion between them in reference to a piece of music that she had been practicing. He commenced abusing her by vile and blasphemous epithets, threatened to kill her, and proceeded to execute the threat by attempting to brain her with a chair. He was only prevented from doing so by the girl's mother, who came in at the opportune moment and grabbed the chair as it was descending, warding off the blow which deflected the chair till it struck the wall, knocking off a patch of plaster. Mrs. Breakiron then, with her daughter and daughter-in-law, ran into an adjoining room and locked themselves in. Younkin raved around for some time after when he left the house. It is said that he took the 4.27 train for Connellsville. Mr. Breakiron and his two sons were away at work and it is well for Younkin that they were not present.

Whether the Breakirons pursued legal action is unknown. A decade after the Smithfield incident, Harvey was in Connellsville, repairing pianos at a used furniture store. He offered to sell pianos from storage for $25 apiece.

At age 71, in about 1931, Harvey was admitted to the Connellsville State Hospital, where he underwent "treatment for some time." It's quite possible he was terminally ill, and he was discharged and went to live "at the home of Mr. and Mrs. Walter Venersky, 214 South Prospect street, Connellsville," said the Uniontown Morning Herald. He died there a short time later, on Jan. 7, 1932.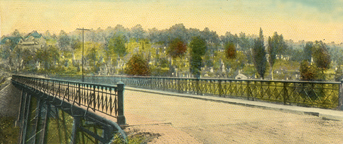 Harvey's final resting place, Chestnut Hill Cemetery in Connellsville, beyond the bridge

The funeral was held at the J.E. Sims Funeral Home, with the service overseen by Rev. E.H. Stevens of the First Baptist Church of Connellsville. The remains then were laid to rest in either the Chestnut Hill Cemetery or Hill Grove Cemetery in Connellsville. (Two versions of his obituary list separate burial sites.)
Harvey is mentioned in a Grimm-Grim family history manuscript compiled by the late Luther J. Grimm, a longtime funeral director of Mount Pleasant, Westmoreland County, PA. The document is on file at the Uniontown (PA) Public Library.


Copyright © 2002-2003, 2005, 2012, 2022 Mark A. Miner