Reunions of Other Branches
The branches of our Minerd-Miner-Minor family are vast in number. Many hold their own reunions year after year. Here's key information about some of the known events:
Armstrong-Barnum Reunion
Edmond and Yukon, OK - Descendants of Edward and Laura (Brown) Barnum. Contact Keith Barnum for details.
Gary Reunion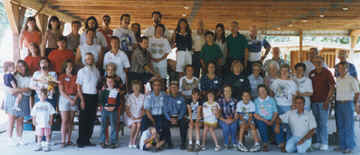 The Gary Reunion, Rockwood, PA
Typically held in July at the Rockwood (PA) Picnic Grove. Descendants of Jacob and Minnie (Miner) Gary. Bring a wrapped gift for the annual white elephant sale. Lots of fun and prizes for all.
Harbaugh Reunion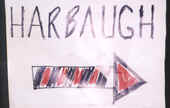 Held at Wharton Township Park near Farmington, PA. Descendants of Leonard and Martha (Minerd) Harbaugh.
Annual Lewis Reunion
Descendants of Henry and Eliza (Swink) Miner. Contact Thomas Lewis.
McKnight Reunion


The McKnight Reunion 1999 - Canonsburg, PA
Last held on June 19, 2004, at Cooper's Rock State Park near Morgantown, WV. Hosted by descendants of William and Mahala (Minerd) McKnight and of Henry and Barbara (Minerd) McKnight.
Rev. W.M. Minerd Reunion


Rev. Minerd Reunion - 2000 - New Bethlehem, PA
Held each August. Descendants of Rev. William and Pearl (Johnson) Minerd.
This reunion has been held for more than 50 years.
Thorpe-Mitchell Reunion
Held at Bradys Run Park in Beaver County, PA in June 2005. Contact Jean (Thorpe) Horne for more details.


Younkin Reunion - 1994 - Kingwood, PA
Held annually at the Kingwood Picnic Grove, Kingwood, PA. Click for highlights of the 2004, 2003 and 2002 reunions. Click to see the 1st reunion in 1934 and the Younkin website. Photo by Kay Lynn (Younkin) Wilson.
Copyright © 2000-2005, 2007 Mark A. Miner