Online Museum of Creativity
Item: Photography Studio and Portrait
Creator: Joseph Lindsey Jones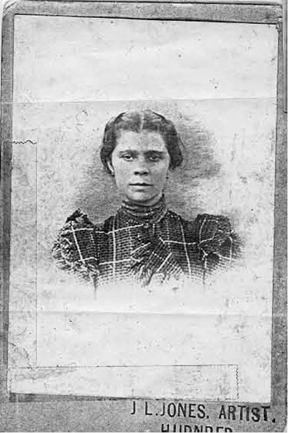 Cora May (Taylor) Jones, daughter of James Ambler and Ida Ellen (Farabee) Taylor and granddaughter of Spencer and Nancy (Minor) Farabee of Greene County, PA, appears in a portrait taken by her husband, Joseph Lindsey Jones, made in his photography studio in Hundred, Wetzel County, WV. The portrait is imprinted in the lower right hand corner reading: "J.L. Jones, Artist. Hundred." This image was taken likely in the late 1890s about the time they were married. Sadly, Cora May died in 1914 of typhoid fever, at the age of 34, leaving behind her husband and four children.
It is not known how long Joseph maintained his studio, but this is believed to be a very rare imprint and archival record of his artistry. Joseph also was a carpenter during his career.
Several branches of the Minerd-Minard-Miner-Minor family resided in the Hundred area over the years. Click here for old colorized postcards of Hundred from the early 1900s.
Click for next artifact
Return to index page
Copyright © 2007 Mark A. Miner