Home

Friendship Hill - New Geneva, Fayette County, PA
Home of Albert Gallatin, U.S. Treasury Secretary Under Presidents Jefferson and Madison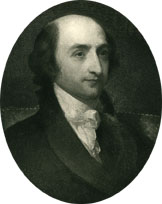 Albert Gallatin
Albert Gallatin served as Secretary of the United States Treasury in the cabinets of President Thomas Jefferson and James Madison from 1801 to 1814. During that time, he helped with the financing of the Louisiana Purchase and the Lewis and Clark Expedition. He also was responsible for U.S. wartime finance management during the War of 1812 and helped charter the Second Bank of the United States.
Born in Geneva, Switzerland, he came to America in the 1780s, and established his home in 1784 New Geneva, Fayette County, PA. He named his home "Friendship Hill," which today is part of the Friendship Hill National Historic Site. He made it his primary residence until 1821, even when serving abroad as U.S. Minister to France.
The Gallatin River, descending from Yellowstone National Park, is named after him. Gallatin Avenue in Uniontown, the seat of Fayette County, also is named in his memory.
Jacob and Maria (Nein) Minerd Sr., fore-parents of us all, settled in Fayette County just seven years after Gallatin, and made their home about 40 miles away from Friendship Hill. While they likely never met Gallatin, the Minerds certainly would have known of his accomplishments and reputation. Gallatin later served as U.S. Minister to Great Britain, and helped found New York University. He died in 1849 in what is now Queens, NY, and is buried at Trinity Churchyard in New York City.
For further reading: "Touching History: Tours Explore Nooks and Crannies of Old Albert Gallatin Homestead" - Pittsburgh Post-Gazette, Aug. 30, 2014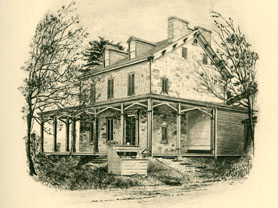 Sketch of the front of Friendship Hill published in 1883 in the book Albert Gallatin by John Austin Stevens, and printed by Houghton, Mifflin & Co.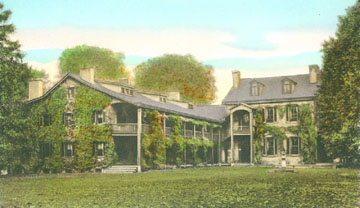 Rear view of the Friendship Hill mansion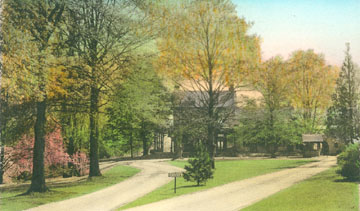 Front view of the entrance to the Friendship Hill mansion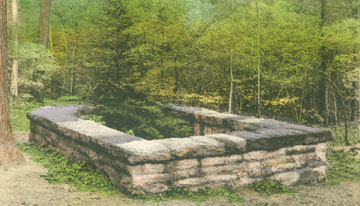 Friendship Hill grave of Sophia Allegre, Gallatin's first wife, who tragically died in their first year of marriage, in 1789.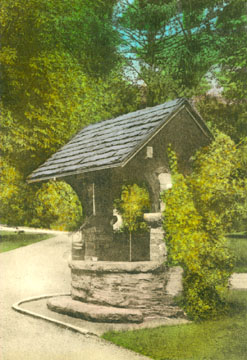 Wishing well in the front of the mansion
Sketches of Gallatin and Friendship Hill originally published in Albert Gallatin by John Austin Stevens, and printed by Houghton, Mifflin & Co. (1883).
Copyright © 2008, 2014 Mark A. Miner