Gettysburg National
Military Park Cleanup
First Cleanup Completed May 17, 2003
Reunion Group 'Adopts' Two Monuments
Honoring the 107th Pennsylvania Infantry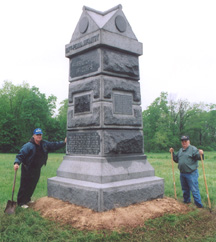 Editor's note -- This page is dedicated in the memory of the late Arthur D. Miller, a Korean War veteran and dedicated volunteer with the activities of the Minerd- Miner- Minor Reunion. Art was a member of our inaugural cleanup team at Gettysburg on May 17, 2003. He and his brother Jim (at left) rest after completing their task of placing earth and planting grass seed around the base of the monument to the 107th Pennsylvania Infantry. Art also has been a key member of our Lynn Point Cemetery cleanup team.
Sadly, just a month and a half after his work at Gettysburg, and about a month after marching in the 2003 Memorial Day Parade in his hometown of Waynesboro, PA, Art was felled by a fatal heart attack. He passed away on July 3, 2003. We extend our deepest sympathy to his wife and family, and to his brother Sid, our reunion vice president and photographer.
* * * *
As part of our ongoing commitment to honor Civil War cousin-soldiers, our reunion committee has "Adopted-A-Position" at the Gettysburg National Military Park. Specifically, we have signed a contract to adopt two separate monuments marking the battle-positions of the 107th Pennsylvania Infantry, which lost 165 killed and wounded during the fighting. Our first effort of 2003 was held on Saturday, May 17. This effort only required a few hours and was relatively light work. The cleanup detail involved our cousins Sid Miller of Mont Also, PA, and his brothers Art Miller and Jim Miller. Seen below, Art (right) and Jim walk away from the site of Gen. Meade's restored headquarters, in a steady rain, picking up trash and litter along the pedestrian path.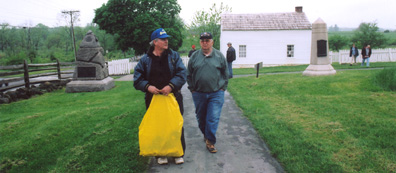 Copyright © 2002-2003 Mark A. Miner