Home

In Memory - Melda Bittinger
(1926-2001)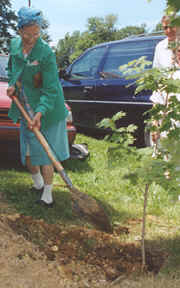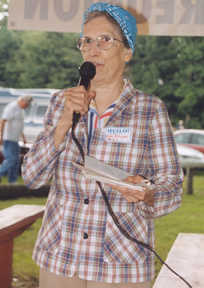 At left, Melda (Miner) Bittinger helps plant our family tree in July 2000 at the Kingwood Picnic Grove. At right, she shares memories about how our reunion was founded in 1986.
Melda (Miner) Bittinger, 74, of Grantsville, MD, died Jan. 30, 2001, at Sacred Heart Hospital, Cumberland. Born on Nov. 26, 1926, in Somerset County, PA, she was a daughter of the late Victor C. and Delphia May (Platter) Miner. She was also preceded in death by her husband, Paul S. Bittinger on Sept. 28, 1966. She was the granddaughter of the late John A. and Susie (Pletcher) Miner and was always proud that her great-grandfather, Ephraim Minerd, had served in the Civil War.
Melda was a homemaker and a member of Laughlin Church of the Brethren. She was founding Treasurer of the Minerd-Miner-Minor Reunion, serving from 1986 to 2001.
She is survived by five sons, Paul Bittinger, Lawrence, KS, William and Dwane Bittinger, both of Huntsville, TX, Jay and Eric Bittinger, both of Grantsville; one daughter, Lois Radcliff, Belpre, Ohio; three brothers, Elmer Miner, Elgin, IL, Reed and John Miner, both of Grantsville; one sister, Anna Jean Heston, Hancock; 14 grandchildren; and 6 great-grandchildren. Friends were received at the Newman Funeral Homes, P.A., Grantsville. Services were conducted in the funeral home with Pastor Ross Glotfelty officiating. Interment was in Grantsville Cemetery.
Copyright © 2001 Mark A. Miner