Eternal Sleep
Lawrence Minerd At Rest in His Casket
~ 1935 ~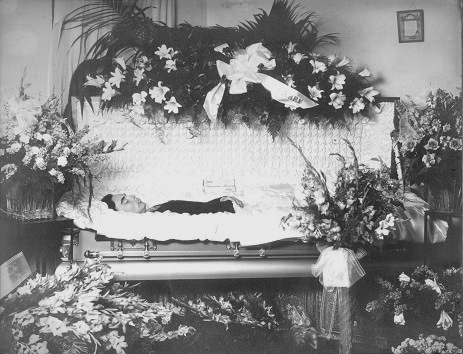 Lawrence Minerd, a truck for the Hess Modern Market of Warren, Ohio, and son of James William and Lilly (Fordyce) Minerd, drowned on the Fourth of July while swimming in Mosquito Creek. Reported the Western Reserve Democrat, the tragedy occurred:
...near the Youngstown road bridge.... Witnesses said Minerd swam across the creek shortly after 8 p.m. and was about half way back across the 25 yard stretch when he apparently was overtaken by cramps. He sank in midstream and his body was removed from the water an hour later by the Warren fire department. He had crossed to the east side of the stream and had shouted to companions just before he plunged into the water on the fatal trip. "Wait 'til I rest a minute and I'll come over," he told them.
His body was brought for interment to Hopwood near Uniontown, PA. He rests beside his brother Arthur, who had met a similarly tragic death six years before when struck and killed by an automobile while he was bicycling.
Copyright © 2016 Mark A. Miner