Thomas Springer McKnight Sr.
(1898-1976)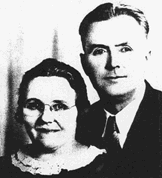 Tom and Margaret
Thomas Springer McKnight was born on Jan. 17, 1898 in Jefferson Township, Fayette County, PA, the son of Henry and Martha (Nutt) McKnight.
Thomas married Margaret Mae McCune (1894-1973). The bride was five years older than the groom.
The McKnights had four children -- Beatrice Rebecca Newhouse, Thomas Springer McKnight Jr., Mary Elizabeth Kinsell and David McKnight.
He was of medium height and build, with dark eyes and dark hair. In September 1918, when he was required at the age of 20 to register for the military draft during World War I, he disclosed that he was employed by Mrs. W.L. Wood as a machinist in Fayette City, Fayette County. He also told the registration officer that Margaret was his next of kin and that they boarded in Fayette City with Fred Johnson.
Tom, Margaret & Mary
The family resided lived in Brownsville (1917), Fayette City (1918), Grindstone (1922, 1938) and Adah, Fayette County (1970s).
The young family is seen at right, with daughter Beatrice sitting on Thomas' lap, circa 1920.
When the federal census was enumerated in 1920, Thomas, Maggie and Beatrice made their residence together on Linn Road in Redstone Township, Fayette County. His occupation was listed as "machinist - coal mine."
Three more children were born during the decade of the 1920s. The census of 1930 shows the family living along Braznell Road near Grindstone, Fayette County. The census-taker wrote that Thomas worked that year as a "mechanic - railroad shop," likely the Monongahela Railway Company of South Brownsville.
Tom was a longtime machinist with the company, and was a charter member of the International Association of Machinists.
During the Depression, employment for Thomas was scarce as railroading commerce declined everywhere. In an August 1932 letter from his mother to a relative, she wrote: "Tom was over last evening. He onely has 3 nights [of work] a week."
Above, busy railroad junction in Brownsville. Below, Tom (red circle, right) and his son David (red, left) with fellow Monongahela Railway employees in October 1944. Cousin William Gribble, son of Thomas Ira Gribble, is circled in yellow.
Tom at work, 1944
During the height of World War II activity, in October 1944, Tom worked at the Monongahela Railway along with his 18-year-old son David. They are pictured in a group photograph taken on Oct. 5, 1944. A distant cousin, William E. Gribble of the family of Thomas Ira McKnight, also worked there at the time.
Tom's obituary, 1976
The Monongahela Railway was in business to provide short coal-hauling transport between sites in Pennsylvania and West Virginia. It had a combined ownership, a joint venture between the Pennsylvania Railroad, Pittsburgh and Lake Erie Railroad, and the Baltimore and Ohio Railroad. South Brownsville served as the point of connection between the co-owners and was where the company was headquartered. Later, the Penn Central Transportation took possession of the New York Central and Pennsy and operated independently for many years.
Margaret is known to have been a volunteer with the American Red Cross chapter in nearby Republic, Fayette County. In November 1941, on the eve of World War II, she attended a Red Cross dinner conference in Uniontown.
Margaret passed away on March 1, 1973, at the age of 79.
Thomas outlived her by three years. He died at home of a heart attack on March 20, 1976, at the age of 78. His newspaper obituary said he was survived by 14 grandchildren and 16 great-grandchildren.
He and Margaret are buried together at Lafayette Memorial Park, Brier Hill, Fayette County.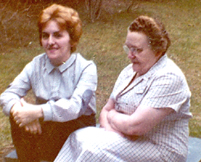 Thomas and Maggie, left; and Maggie with daughter Beatrice Newhouse
~ Daughter Beatrice Rebecca (McKnight) Newhouse ~
Daughter Beatrice Rebecca McKnight (1917-2002) was born in 1917 in Brownsville.
She married Roy James Newhouse ( ? -1998) on May 25, 1937, when she was age 20.
They had one daughter, Janet L. Smith.
The Newhouses lived in Grindstone, Fayette County, and moved to Waynesburg, Greene County, where they were members of the First Church of the Nazarene.
Roy passed away on Nov. 24, 1998.
Beatrice followed him in death at the age of 85 on May 18, 2002, at Rolling Meadows Nursing Home in Waynesburg. She was laid to rest in Lafayette Memorial Park near Uniontown, Fayette County. At her death, she was survived by three grandchildren and seven great-grandchildren.
~ Daughter Mary Elizabeth (McKnight) Kinsell ~
Daughter Mary Elizabeth McKnight (1922-2000) was born in 1922 at Grindstone.
She married Earl G. Kinsell ( ? - ? ) and lived in Waynesburg and Clarksville.
They had one son, David E. Kinsell.
Following Earl's death, Mary made her home at Reesman's Mobile Park in Morgan Township, Greene County. She suffered from heart problems, and died at the age of 78 on July 15, 2000.
Obituary, 1976
~ Son Thomas Springer McKnight Jr. ~
Son Thomas Springer McKnight Jr. (1920-1976) was born on Feb. 19, 1920 in Grindstone.
He married Una Wyatt (1920-1977), the daughter of Olive Wyatt and a native of Brownsville.
They had six children -- Thomas S. McKnight, Joel H. McKnight, Joyce Joseph, Mary Lee Campbell, Sharon K. Barr and Nancy Ann Pfendler.
The McKnights made their home in Grindstone, where Thomas was a carpenter.
Sadly, Thomas died at age 56 on July 21, 1976 in Presbyterian University Hospital in Pittsburgh.
Una only outlived her husband by about one year. She died at age 56, on July 10, 1977, in the Edwin Shaw Hospital in Akron, OH. Her remains were returned to Fayette City for burial in the Little Redstone Methodist Cemetery, where many generations of McKnights rest for eternity.
Tom III
Son Thomas Springer McKnight III (1951-2018) was born on Feb. 2, 1951 in Brownsville. In about 1972, at the age of 21, he was united in holy matrimony with Carl Masterann ( ? -living). Their union lasted for 46 years until cleaved apart by death. The couple bore two daughters, Natalie McKnight and Ann McKnight. They lived in Blainesburg, a community near West Brownsville, Washington County, PA. For nearly four decades, Thomas owned McKnight Medical in Charleroi, Washington County. He liked to read, collect classic cars and attend car shows, fish, golf, split wood and using a John Deere tractor to cut grass. In about 2010, they relocated to Perryopolis, Fayette County. Sadly, the day after Christmas 2018, Thomas passed away at the age of 67. Burial was in LaFayette Memorial Park, with Rev. Jeff Marton officiating.
Granddaughter Natalie McKnight resides in Perryopolis.
Granddaughter Ann McKnight lives in Brownsville.
Son Joel H. McKnight resided in Grindstone.
Daughter Joyce McKnight wed (?) Joseph and made her home in Cuyahoga Falls near Cleveland, OH.
Daughter Mary Lee McKnight married (?) Campbell and lived in Cuyahoga Falls, OH.
Daughter Sharon K. McKnight married (?) and resided in Harmarville, near Pittsburgh.
Daughter Nancy Ann McKnight wed (?) Pfendler and her home circa 1976 was in Warren, Trumbull County, OH.
~ Son David McKnight ~
David McKnight
Son David McKnight (1926-1995) was born in 1926.
David at work, 1944
Circa 1944, when David was age 18, he was employed with his father at the Monongahela Railway shop in South Brownsville.
He married Marjorie Shelor ( ? - ? ).
They had six children -- David L. McKnight, Avis McKnight, Kevin S. McKnight, Judith Miller, Wesley P. McKnight and Eliza Jane McKnight. Sadly, Eliza Jane died in 1967 at the tender age of one.
The family resided for many years in Adah, Fayette County. The children attended Brownsville schools.
During the mid-1970s, son Kevin joined the U.S. Air Force and underwent basic training at Lackland Air Force Base.
David passed away at the age of 68 on March 6, 1995, in Brownsville General Hospital.
Copyright © 2000, 2002, 2005, 2008, 2010, 2015, 2018 Mark A. Miner