Home
Jeremiah Minard
(1841-1881?)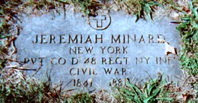 Fairmont Cemetery, Newark, NJ
Jeremiah Minard was born in about 1841 in Preston County, VA (later WV), the son of Burket and Susan (Hartzell) Minerd. He is one of just two cousins in the extended family to serve in the Confederate army during the Civil War, was arrested and confined to Union prisoner of war camps as a spy, and later switched sides after taking an oath of allegiance to the United States. Evidence strongly suggests that he then joined a Union regiment and if so was wounded in battle and later drew a federal pension for his service.
At age nine, Jeremiah was listed with his parents and siblings in the 1850 federal census of Preston County, WV (then part of Virginia). By 1860, the family had split apart, with his parents residing in separate households, and his siblings scattered in other homes. Jeremiah's own whereabouts in 1860 have not yet been found, but are being researched.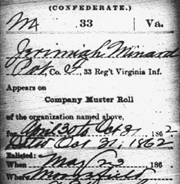 Jeremiah's muster roll record
from the National Archives
However, as Jeremiah grew into adulthood, he became acutely aware of the growing tension and divided loyalties in his home state of Virginia over the looming specter of civil war. When the War Between the States finally broke out, in April 1861, he was 20 years old and an able-bodied man capable of serving in the military.
He stood 5 feet, 7½ inches tall, with grey eyes and brown hair.
Jeremiah enlisted in the Confederate army as part of a Preston County regiment. From there, on May 23, 1861, he was assigned to the 33rd Virginia Infantry at Moorefield, Hardy County, about 77 miles to the southeast of Preston County. He was assigned as a private in Company F and agreed to served a term of one year. Another of his cousins from Preston County, Presley Martin, also joined the Confederate military -- the only two known "rebels" in an extended family of more than 115 Union soldiers.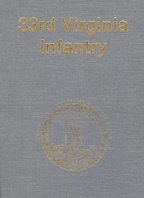 Book naming Jeremiah
The 33rd Virginia was part of the famous "Stonewall Brigade," a group of six regiments under the command of Thomas J. "Stonewall" Jackson. Jeremiah's Company F was known as the "Independent Greys" or the "Hardy County Greys."
In Jeremiah's military service papers, on microfilm today at the National Archives in Washington, DC, his first name is spelled "Gery," "Jerimiah" and "Jeremiah."
On July 21, 1861, less than two months after enlisting, Jeremiah and the 33rd Virginia fought at Manassas, Virginia, losing 183 men killed and wounded. It saw no further action that year.
Jeremiah received a furlough on Feb. 15, 1862. That same month, likely upon his return to the regiment, his enlistment period was extended for the duration of the war.
He fought at Kernstown, near Winchester, VA on March 23, 1862, where another 53 men of the regiment were killed, wounded or capture. In June 1862, the 33rd Virginia fought at Gaines' Mill and in the Battle of Malvern Hill on July 1. At Cedar Mountain on Aug. 9, 1862, the 33rd Virginia again saw battle action. Toward the end of August, the regiment went back into bloody fighting at Second Manassas, where 104 men were killed or wounded, including Col. John Neff.
After Second Manassas, Jeremiah made the decision to desert. At that time, only 200 men remained out of the original 1,000 in the 33rd Virginia due to heavy losses. On Sept. 2, 1862, he was reported absent without official leave (AWOL) and later was declared a deserter.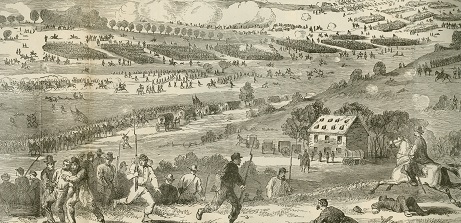 Sprawling terror of 2nd Manassas, where approximately 18,300 Union and Confederate soldiers were killed or wounded, and after which Jeremiah deserted
Jeremiah made his way to Hardy County, WV, in the eastern panhandle near Maryland, before being captured a month following his desertion. His arrest made news in the Wheeling Intelligencer. Under the headline of "A Spy and a Deserter," on Oct. 18, 1862, the Intelligencer reported that:
Wheeling Intelligencer, Oct. 18, 1862,
labeling Jeremiah as a spy
On Thursday evening two men named Jeremiah Minard and Leander D. Lowry, were brought in from New Creek and committed to the Atheneum. The evidence against Minard goes to show that he is a spy. He was first arrested by Adam Since, a citizen. At the time he had upon his person clothing which Since recognized as belonging to his son and which were lost when the rebel burners destroyed Mr. Sine's house by fire. He represented that he was an Ordinance Sergeant in the rebel army. After the battle of Manassas he deserted, and making his way to Gordonsville took the cars for Stanton and made his way over the hills to Moorefield. He said he was on his way to New Creek when arrested. Minard was taken to New Creek. On Monday last he escaped from the guard house but on Tuesday he was arrested by Jeremiah Roberts, a Union scout. Roberts made Minard believe that he was one of Imboden's men when Minard freely confessed that he was a spy and had been to New Creek. He described the condition of things there and said if he had had an opportunity he would have blown up the magazine of the fort.
Research shows that Confederate prisoners were only held a few days in Wheeling's Atheneum (also spelled "Athenaeum" and nicknamed the "Lincoln Bastille"), a converted warehouse and theater. From Wheeling, Jeremiah was transported to Camp Chase, a POW camp near Columbus, Ohio. More than 2,260 POWs died at Camp Chase, many suffering and dying from lack of nutrition as well as pneumonia, smallpox and typhoid fever.
Within a few days, on Oct. 21, 1862, Jeremiah was moved again within Ohio to Johnson's Island, a POW camp three miles north of Sandusky along Lake Erie. He was present and accounted for in the prison records as of Nov. 25, 1862. One of these rolls gave his first name as "J.W."

Mountains near New Creek (Keyser), WV where Jeremiah was captured
Jeremiah remained incarcerated at Johnson's Island for more than a year. While he would have been familiar with severe winter weather from his growing-up years in the mountains of West Virginia and Maryland, many of his fellow POWs from the Deep South had never seen snowy gales and were un-equipped for temperatures at times reaching 25 degrees below zero.
In his article "Plain Living at Johnson's Island," published in The Century in March 1891, former prisoner H. Carpenter wrote tongue in cheek that the "sleeping arrangements consisted of bunks in tiers of three, each furnished with the usual army bedtick stuffed with straw, and far superior to the earth and ditch which had been our beds for months previous to our capture. The crowded condition of the prison necessitated that two men should occupy each bunk, which had the redeeming feature in winter that the occupants were sheltered by two blankets instead of one."
The daily ration of food, Carpenter wrote, "consisted of a loaf of bread and a small piece of fresh meat... insufficient to satisfy the cravings of hunger, and left us each day with a little less life and strength with which to fight the battle of the day to follow." He added that:
The prolonged confinement had told severely on us, and the men could not but yield to its depressing influence. There was little to vary the dreary monotony that made each day the repetition of the day before and the type of the day to follow. This alone would have been sufficient, but when scant food and cold were thrown into the scale it is little wonder that both mind and body should yield under the constant strain.... It was generally known among us that some mitigation of our condition would be afforded such as took the oath of allegiance, and as this meant increased food and better clothing some few availed themselves of the offer.
Above: shivering Johnson's Island POWs sleeping two to a bunk, covered by only a thin blanket. Below: view of the prison from a lithograph after a wartime sketch by Edward Gould, a soldier in the 128th Ohio. In the foreground is Lake Erie and the U.S. guard steamer Michigan. The long paths inside the enclosure lead from the prison blocks to water pumps.
After more than a year as a prisoner at Johnson's Island, and at the instigation of Secretary of War Edwin Stanton, Jeremiah was offered the opportunity to escape the harsh treatment, but the condition was that he swear an oath of allegiance to the United States.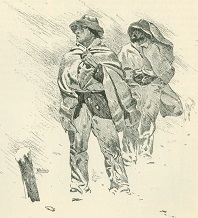 Freezing POWs at Johnson's Island
Author Robert C. Doyle, writing in The Enemy in Our Hands, has stated that switching sides during the war was "not common" but "occurred regularly on a small scale" for prisoners who feared for the future of the Confederacy.
He cites one example occurring at Johnson's Island, where a POW took an oath of allegiance, although he was beaten and shunned by other POWs. Union General Benjamin Butler called such soldiers "repentant rebels" - "whitewashed" - and "galvanized."
Jeremiah accepted the offer, and on Oct. 28, 1863, records show that he indeed took the oath. He was released and set free. His fate after that is unknown.
Research is underway to dig deeper to see if he is the same "Jeremiah Minard" who, just two days after the oath of allegiance was sworn, joined a New York regiment in the Union Army. (more below)
Information about Jeremiah's imprisonment at and discharge from Johnson's Island is maintained at the Center for Historic and Military Archaeology at Heidelberg University. Today the university hosts a website for friends and descendants of the POWs.
In 1987, Jeremiah was named in the book 33rd Virginia Infantry, authored by Lowell Reidenbaugh and published by H..E. Howard, Inc. The volume confirms the date that Jeremiah deserted, but provides nothing more about his service.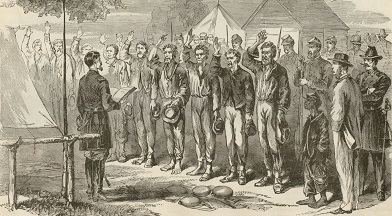 Confederate POWs pledging allegiance to the USA. Published in Famous Leaders and Battle Scenes of the Civil War, by E.F. Mullen
~ Did Jeremiah Re-Enter the War -- with a Union Regiment -
and Draw a Federal Pension for a Battle Wound? ~
A man named "Jeremiah Minard," of the same age and approximate birthplace of our Jeremiah, served in the Civil War with the 48th New York Infantry. He enlisted at Albany, New York on Oct. 30, 1863 -- just two days after our Jeremiah was released from Johnson's Island. A coincidence? Or not?
It is possible that the two men are the same, and that our Jeremiah quickly migrated from Ohio to New York to join the Union Army. But this is still conjecture, based on sketchy evidence that needs more complete confirmation. If he did enlist in the service of the United States, questions remain about whether he did this individually -- "going rogue" in the parlance of the 21st century -- or as a concerted effort which may have involved other former POWs from Johnson's Island?
New York Jeremiah claimed to have been born in 1841, the same year as ours'. Two sources show he was a native of West Virginia, and another source says he was born in Maryland, which is intriguing as our Jeremiah grew up in a West Virginia town only three miles from the Maryland state line, as the crow flies.
Jeremiah's term with the 48th New York originally was to be three years. At the time of his enlistment, the 48th New York was in camp at Beaufort, South Carolina, following the battle of Fort Wagner. Thus he quickly would have been transported from Albany to Beaufort, a distance of almost 1,000 miles. "There tents were pitched in a wood about three miles from the landing, and the regiment was once more in camp," said Abraham John Palmer's 1885 book, The History of the Forty-Eighth Regiment New York State Volunteers. (See full-text via Google Books.) "Many of the wounded officers and men from Fort Wagner who had recovered now returned to the regiment, and one hundred and fifty recruits from the North were added." Nothing more about his joining the regiment has been recorded.

Wounded prisoners arriving at Fortress Monroe and being transported to the post hospital in horse-drawn ambulances - originally published in Famous Leaders and Battle Scenes, from a sketch by Schell.
At Olustee, FL, on Feb. 20, 1864, he was wounded by a gunshot in the left ankle. Three or four months later, he was wounded again, receiving a sabre cut of his right shoulder at Chester Heights, VA on May 7 (or June), 1864. Then at Petersburg, VA on Aug. 11, 186, his right hand was injured when his musket exploded, resulting in the amputation of his thumb and serious wound to the forefinger. (This battle also has been referred to in Palmer's History as "Strawberry Plains.") After his third wound, he stayed with the army and was sent to the U.S. Army General Hospital at Fortress Monroe, VA. He then was transferred to the U.S. Army General Hospital in Newark, New Jersey, remaining there until September 1864.
While convalescing in Newark, on Aug. 30, 1864, he married 26-year-old Susan Hunt (1837-1882), daughter of Joseph Hunt. Susan was four years older than her husband and a native Pennsylvanian. Whether they had known each other longer than just a short while is lost to history. On their New Jersey marriage license, he gave his middle initial as "W."
From Newark, he was sent to Fort Wood in New York, and rejoined his regiment in October 1864. He was transferred to North Carolina, and there received an honorable discharge at New Bern on June 6, 1865 following the end of the war.
~ Rapid Decline in Postwar Years ~
Jeremiah returned to his wife in Newark, and took up a career as a machinist.
In about 1869, suffering from his wartime wounds, Jeremiah was awarded a pension from the federal government as compensation, totaling $4 per month. He drew these payments for the rest of his life. Interestingly, an authority no less than the New York Times noted that many former Confederates who had switched sides were receiving money from the federal government. In 1894, the Times reported that "It is a fact not generally known that a large number of ex-Confederate soldiers and sailors who deserted, or who, while prisoners of war, took the oath of allegiance to the United States, enlisted in the Union Army, and, receiving disabilities while in the line of duty as Federal soldiers, are now drawing pensions.... Several regiments were also enlisted from among the Confederate prisoners at Sandusky, Columbus, Camp Chase, Johnson's Island, Fort Delaware, and other military prisons."
When the federal census was taken in 1870, "Jeremiah Minerd" -- the only man in America by that name -- made his home in Newark, Essex County, NJ. At the time, he was age 29 (the same age as our man) and married to 33-year-old Susan. Jeremiah listed his birthplace as Maryland and his occupation as working in a saw mill.
Jeremiah's mental health declined precipitously in the years after returning home, and he was diagnosed with epilepsy. On May 20, 1872, at the age of 32, he was admitted to the New Jersey Home for Disabled Soldiers. One surgeon working for the Home wrote that Jeremiah "Has lost nearly the whole of the right hand since the war." He apparently was in and out of the Home during the 1870s, often treated as an outpatient. But he was taken to the County Insane Asylum on May 19, 1879.
Only a brief mention of Jeremiah's death was published in the Newark Morning Register, July 18, 1881
The 1880 census has two records for Jeremiah. The first shows him, Susan and their adopted two-year-old daughter Nettie (1878- ? ) residing in a home on the north side of East Kinney Street in Newark. Tragically, it states that the 39-year-old Jeremiah was an "engineer" who had "lost his right hand, became insane" and was "in Essex County insane retreat, is like a child." The record again states that Jeremiah was born in Maryland and that his adopted daughter was a native of Pennsylvania. The other 1880 census record lists him as a resident of the Essex County Asylum for the Insane on Camden Street. In this record, he was marked as a "carpenter," born in West Virginia, with his father a native of Pennsylvania and his mother of Virginia -- facts that more closely match our Jeremiah's.
Tragically, but blessedly, perhaps, Jeremiah's miseries ended with his passing, at age 37, on July 16, 1881. The cause of death was ascribed to apoplexy following epilepsy. His tired remains were placed at eternal rest in Newark's Fairmount Cemetery, in the Civil War section. Research by cousin Eugene Podraza shows that the death was not recorded in Essex County, nor is there an estate file or last will and testament. The only notice of his passing was a one-line mention in the Newark Morning Register, on July 18, 1881.
Entrance to Newark's Fairmont Cemetery
[In 2014, an effort was made to examine Jeremiah's old hometown newspaper, the Preston County Journal, in the event it might have carried a notice of his death. The microfilm was found in the West Virginia Regional History Collection at West Virginia University, but it was mounted backward, and could not be fixed during the visit.]
Susan only outlived her husband by a year-and-a-half. She made her home at 45 Hermon, a short street of only six blocks, stretching between Chestnut and Thomas Streets, and intersecting with South Street, to the southeast of Lincoln Park.
At age 45, afflicted with peritonitis, Susan died on Dec. 5, 1882, after suffering for two weeks. She too was laid to rest in Fairmount Cemetery. (Her New Jersey death certificate provides her age as 47.) Click for a history of the cemetery.
Copyright © 2008-2011, 2013, 2014 Mark A. Miner
Jeremiah Minard grave photograph by Eugene Podraza. Wheeling Intelligencer clip courtesy of Chronicling America, sponsored jointly by the National Endowment for the Humanities and the Library of Congress. 2nd Manassas sketch from Famous Leaders and Battle Scenes of the Civil War. Johnson's Island sketches from "Plain Living at Johnson's Island. Described By a Confederate Officer," in The Century, March 1891.