Jessie (Miner) Schultz
(1915-1993)
Jessie Elizabeth (Miner) Schultz was born on Jan. 25, 1915 in Washington, Washington County, PA, the daughter of Harry O. and Armena (Cain) Miner.
When Jessie was four years old, in the summer of 1919, her father died after a sudden stroke at a Sunday School picnic in Washington Park. Her uncle and aunt, William A. and Osta (Cain) Miner, offered to take Jessie with them to raise in California, but Jessie's mother was adamant that she would keep all her seven children together, and refused.
Thus Jessie had only a few memories of her father, but she passed them down in her family, and inspired what became the national family research and reunion effort, and the creation of this website.
On May 24, 1933, when she was age 18, Jessie married 19-year-old Jack E. Schultz (1914-1977), the son of Peter F. and Ina Mae (Kline) Schultz.
They had five children -- Douglas Schultz, Patricia Crawfis, Deanna Meloy, Jack Schultz and Karen Eustis Andrews.
Jack worked for Jessop Steel Company in Washington for many years, and was a member of Jessop Local 1141 of the United Steelworkers of America. He loved books and was a serious Civil War buff. He also adored music, and was a Pittsburgh Opera season-ticket holder for many years.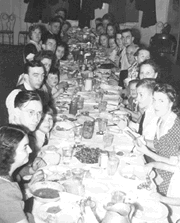 Jessie loved family get-togethers, and kept family stories treasured in her heart. She recalled one reunion at Washington Park where her uncle Will Miner said the family was "Pennsylvania Dutch," and that the clan's name was once spelled "Minerd" with a "d." She and Jack are seen here in the left-hand row, immediate foreground, at a reunion-dinner at Washington Park in the fall of 1941, just before America was plunged into World War II.
Said the Washington Observer-Reporter, Jessie "was a clerk at Thompson's Hardware and later worked at the Fashion Hosiery store, both in Washington. She was a long-time member of the Christian Missionary Alliance Church in Washington and the Willing Workers Class of the church."
Jack died of a heart attack at home on May 6, 1977. He was buried in the Miner family plot at Washington Cemetery.
In 1986, Jessie and grandson Steve Schultz were pictured in an Observer-Reporter feature headlined "Volunteers Gather to Fight Grime." Said the story:
Byron's Broom Brigade, a volunteer city cleanup crew inspired by a letter from Mrs. Jessie Schultz to the Observer-Reporter, met on the courthouse steps ... to attack the problems of dirt and garbage on Washington's Main Street. Mrs. Schultz ... had been reading about the city officials' efforts to enlist volunteers to make the city a more attractive place to live and work. She wrote to [the newspaper] to say that senior citizens could show the younger generation a thing or two about neatness. Mrs. Schultz and her grandson Steve were among 28 people who cleaned a two-block area of Main Street Saturday ... filling 26 garbage bags with debris collected from the street and sidewalks....

At the age of 75, and after 13 years as a widow, Jessie remarried, to Kenneth W.W. Ward, on St. Patrick's Day, 1990, in Washington.
On July 28, 1993, Jessie passed away in Canonsburg General Hospital, after a battle with a brain tumor. She was buried beside her first husband Jack at the Washington Cemetery.
Kenneth died in Smethport, McKean County, PA on Dec. 20, 2002.
Daughter Deanna Schultz married Rev. Richard C. Meloy, and they have three daughters. Dick first pastored in Ohio, and then founded the Grace Bible Church and Christian School in West Middletown, Washington County. While in West Middletown, they hosted the 1977 reunion of the Armena Miner Marshall family. The Meloys moved in 1978 to the northern panhandle of Florida, where their new home church became Faith Baptist Church in Pensacola. Now retired, the Meloys are full-time representatives of the Caribbean Radio Lighthouse, a missionary organization broadcasting the good news of God's word to the islands of the Eastern Caribbean. The Lighthouse initiative is part of Baptist International Missions, Inc. In 2008, the Meloys attended the Pittsburgh 250 family reunion, and Dick returned thanks prior to our group meal together. An enlarged version of this postcard view of the Meloys was our "Photo of the Month" in September 2008.
Seen at left, grandson Douglas Schultz Jr. poses with a trophy, eight-point buck he brought down while bow-hunting in in November 2002 in Washington, PA.
Granddaughter Pamela Schultz married Charles Nagy. Pam joined Mellon Bank in 1978. In 2007, after the bank's retail operations were merged into Citizens Bank of Pennsylvania, she was promoted to senior vice president of sales and service market administration manager for Western Pennsylvania. She was pictured in the business sections of the Pittsburgh Post-Gazette and Pittsburgh Tribune-Review for her accomplishments. (See our "Photo of the Month" for February 2011.) In 2008, Pam's daughter Natalie Nagy gave a presentation at the National Social Science Association conference in Las Vegas on the topic of "An Examination of Female Language Use in Problem Solving Scenarios: Interruptions and Personalization."
Jessie's love of family has led to what has become the national Minerd-Miner-Minor research and reunion, and to the creation of this website. At Christmas 1971, during a visit by 10-year-old grand-nephew Mark A. Miner, Jessie and her mother showed him old family photographs and told stories, opening up new worlds in the boy's imagination. Several years later, at a Miner reunion in Washington Park, Jessie and her sister Anna told the boy even more about the clan's history. They gave him an old photo album, on the condition that he "go find out about these people someday." Inspired to begin digging, Mark continued asking Jessie, Anna and their brother Ed questions for many years, delving deeper into the lives and personalities of old-time relatives he feared would be forgotten. Their willingness to freely share has greatly influenced the desire to build this website, and to the objective of widely disseminating information to the family at large.
Jessie is mentioned several times in a lavishly illustrated, 2011 book about her grand-uncle who served in the Civil War -- entitled Well At This Time: the Civil War Diaries and Army Convalescence Saga of Farmboy Ephraim Miner. The book, which she inspired, and which was authored by the founder of this website, her grand-nephew, is seen at right. [More]
First reunion of the Jack and Jessie Schultz clan, Washington Park, August 2011. Photo by Charles C. Wilson.
This page is in loving tribute to Jessie by an ever-grateful grand-nephew.
Copyright © 2001-2005, 2007-2008, 2011 Mark A. Miner