The photo seen here shows Ollie as an adorable young girl. She loved to wear large ribbons in her hair.
Ollie suffered throughout her life with high blood pressure. This was due, some said, to the fact that her mother nursed her older sister the entire time leading up to Ollie's birth.
In the summer of 1919, Ollie's father died unexpectedly of a stroke, when she was only 17 years of age. Despite the obvious pressure to go to work, she remained in school, and worked part time as a teacher and a bookeeper. In 1921, she became the first member of her family to graduate from high school.
On July 14, 1921, at the age of 19, Ollie married John Leonard Plants (1900-1983). A family Bible notation records that their wedding ceremony took place at 8:30 o'clock in the evening.
John was born on Jan. 14, 1900, the son of Leonard Abraham and Mary (McClelland) Plants of Dallas, Marshall County, WV. Prior to marriage, John was a student, and had resided as a boarder with Ollie's great-uncle and aunt, Stephen W. and Mime Johnston, in Claysville, Washington County.
They had seven children – John Lewis Plants, Robert Lloyd Plants, Donald Leroy Plants, Edward Lawrence Plants, Richard Allan Plants, Margaret "Jean" Alkula Vandigriff and Barbara Snyder.
Sadly, their firstborn, John Lewis Plants, died at age three months, 12 days in Washington Hospital on Aug. 6, 1922, and was buried in the Miner family plot in Washington Cemetery.
Ollie and John lived in Claysville, then in West Virginia and in Martins Ferry, OH, before settling in a farm on Center Road near Austinburg, Ashtabula County, OH. They worked as "farmers on a sharecropping basis and industrial workers," said the Rocky Mountain Annual Conference Journal.
During World War II, Ollie and John saw three sons go off to serve in the U.S. Armed Forces. One of them -- Donald, seen here with his parents -- was taken prisoner in Germany and spent significant time in a Nazi prison camp. One can only imagine the anxiety that the family underwent during that difficult time in our nation's history.
In mid-January 1946, after suffering for several years from hypertension and chronic inflammation of the kidneys, Ollie suffered a massive stroke. A day later, she died, on Jan. 16, 1946, at the age of just 44. At the time, sons Bob and Ed were in the Armed Forces in the South Pacific, and Don was stationed in the Army in Georgia, while the youngest daughters were in their teenage years. The sons in the military were unable to get home for the funeral.
Ollie was laid to rest in Saybrook Cemetery, about half a mile south of Route 20 along Ohio Route 45 west of Ashtabula. Her official Ohio death certificate erroneously reads that she was interred in Edgewood Cemetery in Ashtabula.
Three years after Ollie's death, John married Hazel (Luke) Ream (1907-2002). Their wedding took place in May 1949.
She had been married once before, to Lawrence (?) Ream. Hazel brought at least one son to the marriage, Graham Luke Reams. Tragically, Graham, a sergeant in the U.S. Army, was killed in action on Sept. 22, 1951, during the Korean War. His remains were returned stateside for burial in the Saybrook Cemetery.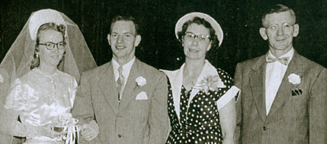 Above: the 1954 wedding of Richard and Winifred Plants, with John and Hazel, at right. Below: pre-wedding dish washing at Evangelical United Brethren Church in Newark, OH, L-R: Jean Alkula, Armena Marshall, Jeanne Plants, Hazel Plants and Barbara Plants.
They spent their remaining years in Ohio and Florida.
John died in April 1983. He is mentioned in Louis Thomas Farabee's undated book, Genealogy of the Farabees in America.
Hazel survived him by nearly two decades. She passed away on Nov. 20, 2002, in Largo, at the age of 95.
Jeanne and Bob
~ Son Robert Lloyd Plants ~
Son Robert Lloyd Plants (1923-2013) was born on March 21, 1923 in Washington. As a boy he moved to Ohio with his parents and siblings.
At the age of 28, Bob married 20-year-old Jeanne A. Goode (1931-2004) on Nov. 21, 1951, at Prospect Presbyterian Church. Jeanne was a native of Saginaw, MI, and the daughter of Edgar and Edna (Dey) Goode.
They resided in Ashtabula, and had six children -- David L. Plants, James A. Plants, Martha "Marti" Bogdon, Kenneth Lloyd Plants, Dorothy L. Ziemer and Nancy Piltz.
Bob enjoyed photography, and had a knack for the art. He opened his own studio in 1953. Eventually he became a tool and die maker for the plastic manufacturer Rockwell International. He also was a freelance photographer for the Cleveland Plain Dealer.

Cleveland Plain Dealer, 1985
In 1985, he was named Ashtabula County Apiary (Bee) Inspector, a position which he held for 11 years. He was featured in numerous newspaper stories over the years, including a 1999 issue of the Star-Beacon. Bob graciously contributed honey products as door prizes at the Minerd-Miner-Minor Reunion.
Jeanne "was employed by the former Childs Motors and Play & Learn of Ashtabula for several years," said the Star Beacon. She "was a life member of the Harbor United Methodist Church, Contact Tele Ministries, PTA, United Methodist Women's group, Ashtabula Co. and Trumbull Co. Bee Association. Jeanne enjoyed gardening, flowers, cats, birds, traveling especially her trip to Europe and rail trip to Colorado, and being a kind hearted Christian to others."
Jeanne passed away at the age of 73 on Nov. 8, 2004, with burial at Greenlawn Memory Gardens in North Kingsville, OH.
Bob outlived his wife by eight and a half years. He moved into a home in New Castle, Lawrence County, PA and celebrated his 90th birthday on March 21, 2013. He slipped away peacefully into eternity on May 13, 2013, surrounded by his family. Interment was in Greenlawn Memory Gardens in Ashtabula, with a memorial service held at the city's First United Methodist Church.
Son Kenneth Lloyd Plants (1958-2015) was born on Feb. 25, 1958 in Ashtabula. His first wife was Janet Richards (1952-2005), daughter of Robert M. and Sarah Jane Richards Sr. The marriage produced children Joseph R. Plants and Jessica A. Plants. Janet was a graduate of Morrisville State College, a U.S. Air Force veteran and a dietician for the Richland County (SC) District One. The couple later divorced, with Janet making her home in Columbia, SC until her death from lupus at age 52 on Feb. 9, 2005. Kenneth wed for a second time to Ann (Foster) Braddock who had three children of her own to a previous marriage -- Rev. Zachery W. Braddock, Ian S. Braddock and J. Alexander Braddock. They lived in Blythewood, SC. Ken was a longtime flight medic with the U.S. Air Force Reserve 315th Aeromedical Evacuation Squadron Wing and served in Operations Desert Storm and Enduring Freedom. He also was deployed in Haiti during the 1990s. He was a member of the Veterans of Foreign Wars and was a licensed aircraft pilot. He was employed by the U.S. Department of Defense at Fort Jackson as a paramedic for more than a quarter of a century, a volunteer fireman with the Richland County Fire Department, and taught at the South Carolina Fire Academy. He was also a member of Windsor United Methodist Church. Stricken with cancer, he died in Blythewood, SC on May 12, 2015.
~ Son Rev. Donald Leroy Plants ~
Son Rev. Donald Leroy Plants (1925-2006) was born on July 15, 1925.
He married Jeanette Caldwell (Aug. 27, 1927-2007), daughter of Lionel Eugene and Lois (Hardin) Caldwell.
Their children were Donald E. Plants, Marshall Caldwell Plants and Anita Marie Manley Sealock.
While serving in World War II, Donald's hearing was damaged by gunfire. As an "amphibious engineer," he was involved in the D-Day landing at Omaha Beach and the Battle of the Bulge, and was captured as a Nazi prisoner of war (POW).
After the war, he entered the ministry.
Near tragedy befell the family in March 1968. While their children Marshall and Anita were riding in a sports car on U.S. Route 27, near the border of Chattanooga and Floyd Counties, a fuel truck carrrying gasoline collided with their vehicle. The collision caused an explosion, and "smoke from the flames was visible for several miles and officers were forced to close the highway to traffic," reported the Rome (GA) News-Tribune. Both children survived the crash but were severely burned, with Anita pulled from the wreckage by a bystander. Doctors told the family that the children would not live through the night. But they pulled through and have lived long and productive lives.
Donald and Jeanette started the Lakeside Assembly of God Church in Centre, AL. According to the Cherokee County Herald, "Their first service was held Easter Sunday 1976 with only the Plants family. Attendance increased from the family to eight and then on to a record attendance of 42 persons." Other of his activities were reported over the years in the Anniston (AL) Star.
Jeanette served as vice president, and daughter Anita as secretary, of the Christian Women's Fellowship of Centre circa 1984. Active in the "Clowns for Christ" ministry in Centre, she was pictured on the cover of the Gadsden Times' "Mountain Lakes Magazine," in 1998. Donald was profiled and pictured in a July 9, 2001 article, "Veteran's Survived More than War," published in the PolkOnline.com website. He was a guest speaker at our 1998 reunion.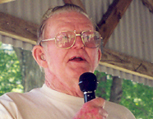 Donald at our 1998 reunion honoring military veterans, and Jeanette pictured in Mountain Lakes Magazine
Donald died in Centre on April 15, 2006, at the age of 80.
Jeanette only survived her husband by 10 months. She too passed into eternity on Feb. 6, 2007. They rest in Weiss Lake Memorial Gardens in Cherokee County, AL.
Son Donald E. Plants (1946- ? ) was born in about 1946 and grew up in Rome. He studied political science at Jacksonville State University and educational administration at the University of Alabama at Birmingham. He married Norma and has a family of three children -- Amy "Cathryn" Davis, Andrea Haas and Alan Plants.
Son Marshall Caldwell Plants is married to Kaye. They make their home in Rome, GA. Marshall is a talented pianist and singer. Over the years, he has sung the National Anthem at Rome Braves minor league baseball games.
Daughter Anita "Marie" Plants has been married to (?) Manley and Matthew (?) Sealock. Now retired, she was a longtime third grade teacher at Elm Street in the Rome City Schools. Matthew has spent his career in maintenance at NWGR Hospital, Ashland Park Apartments, Elm Street Elementary School and Shorter University.
Ed
~ Son Edward Lawrence Plants ~
Son Edward Lawrence Plants (1927-1985) was born in 1927.
Edward married Betty and had three children -- Lydia, Lawrence and Leonard.
Ed taught and/or coached sports at schools in Bowling Green, Liberty Twp., Richfield and Akron, OH; and JFK Middle School in Clearwater, FL (1953-85). He is said to be one of a group of teachers who opened the JFK school for the 1963-1964 year. He is honored on a plaque at Memphis St. Jude's Research Hospital in Memphis, TN, for his decade of work promoting Math-A-Thon.
Ed passed away in 1985 in Florida. He was laid to rest at the Bay Pines National Cemetery in Bay Pines, FL, located between St. Petersburg and Seminole.
Dick
~ Son Rev. Richard Allan Plants ~
Son Rev. Richard Allan Plants (1929-1991) was born in 1929.
He was married twice. His first bride was Winifred Brookover ( ? -1954), wed in 1952. They had one son, Mark Alan Plants. Sadly, Winifred passed away after just two years of marriage, in 1954.
After two years of grieving, Richard married Joyce Whittemore in 1956. They had two children of their own -- Rev. Edward John Plants and Bonnie Lynn Horton.
As a collegian at Taylor University in Upland, IN, Dick was a cross-country runner, set school records that lasted for 26 years and in 1978 was named to its athletic hall of fame. His plaque, seen below, hangs in the school gymnasium. He later was ordained as a Methodist minister in the former Northeast Ohio Annual Conference and went on to serve these churches: Marengo/Fulton and Canal Fulton, OH (1955-1964), DelNorte/Bowen Charge and Glenwood Springs, CO (1964-1972), Newcastle, WY (1972-1978), and Highlands and Hotchkiss/Crawford, CO (1983-1990). Said the Rocky Mountain Annual Conference Journal, during their tenure at Gillette, "Dick and Joyce led the newly developing congregation from an initial 27 members to 244 members with their own new facility and a fully supported congregation." He also enjoyed hunting, fishing, golf, reading, travel and rock hunting.
Dick Plants' Hall of Fame plaque, and grave marker in Newark, OH
After suffering from cancer, and taking a disability leave of absence in 1990, Dick passed away in Loveland, CO on July 11, 1991, at the age of 62. His remains were cremated and returned to Ohio for burial at Cedar Hill Cemetery in Newark, Licking County. Obituaries were published in a variety of newspapers in communities where he had lived or pastored, including the Casper (WY) Star-Tribune, Rocky Mountain News, Denver Post, Loveland Reporter Herald, Rapid City (SC) Journal, Gillette (WY) News-Record and Ashtabula Star Beacon, as well as the Rocky Mountain Annual Conference Journal.
Son Mark Alan Plants, an English-Spanish translator, has his own family history website and attended our 2008 "Pittsburgh 250" family reunion.
Jim and Jean
~ Daughter Margaret "Jean" (Plants) Alkula ~
Daughter Margaret "Jean" Plants married Venlear James "Jim" Alkula (1927-1991).
The Alkulas resided in Ohio and later in Largo, FL.
Their children are Sandra Baldauf Boda, Jacqueline Alkula, G. Joseph Alkula, Charles James Alkula and Dale Thomas Alkula.

Sandra Boda and her
2012 NAHB award
Jim passed away on May 25, 1991, at the age of 64.
Jean later married Thomas Vandigriff.
In 1986, daughter Sandra (Alkula) Boda published a number of family stories in a booklet entitled The Plants Family: Grand-children and Great Grand-children of John, Ollie and Hazel Plants. At one time, she was Executive Assistant of Steve Dale Motorsports. Since 2001, she has served as Executive Officer of the Home Builders Association of Mid West Georgia and has been pictured in a Professional Grade newsletter article for her work as 2005-2006 president of the Home Builder's Association of the Georgia Executive Officer Council. She also was pictured and featured in the Atlanta Journal-Constitution (Nov. 24, 2005) when she was named president of the Council. In August 2012, at the Leadership Conference of the prestigious National Association of Home Builders, she was one of only four executives, from a total of some 800 associations, to receive the Small Office Honor Award. This is presented in recognition of an executive officer of a small association who has been judged to be an exceptionally effective manager in spite of limited resources. At the time she was hired, the HBA of Midwest Georgia was floundering and in need of direction. She has grown the organization from 350 members to 750 members at its high point and has doubled the number of counties it covers. Members of the HBA of Midwest Georgia receive benefits including continuing education classes, networking events, a robust government affairs program, a golf tournament, newsletters and community outreach projects.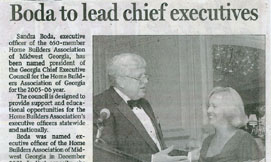 Atlanta Journal-Constitution story about Sandra (Alkula) Boda and the Home Builders Association of the Georgia Executive Officer Council
Son Rev. Dr. Charles James Alkula (seen here) has been a US Navy chaplain who served at the Naval Hospital of Camp Lejeune. In 2004, he was transferred to Newquay, Cornwall, England for a three-year tour of duty, and in 2007 became the parish pastor in Sidney, Nebraska. He received his doctorate of ministry degree from the global on-line program at Drew University, and his thesis was "Out of Many, One: An Understanding of Religious Diversity and the Formation of a Community of Faith in the Sea Services." In 2005, Charles was pictured in an article in the Cornish (UK) Guardian newspaper, "Day World Saw Terror Attack on the US," leading a memorial service at RAF St. Hawgan in England.
Son Dale Thomas Alkula, nicknamed "Aardvark," is a music teacher in the city schools of Columbus, Franklin County, OH. In his work, he has developed a junior-high rock band at Dominion Middle School and has performed in downtown Columbus as part of the Ohio Youth Arts Month Noontime Concert series. Said a feature story in the Columbus Dispatch, "His classroom looks more like a teenager's basement, plastered with posters of Jimi Hendrix and Kanye West. He has played in dozens of rock bands but now focuses on the Proxies and Guilty Bystanders, which he manages and with which he performs."
Article featuring middle school teacher Dale Alkula from the Columbus (OH) Dispatch
~ Daughter Barbara Grace (Plants) Snyder ~
Barbara Snyder
Daughter Barbara Grace Plants (1935-2011) was born in 1935, the youngest member of her family.
She was married to Finley Snyder ( ? - ? ) for a brief time. They did not reproduce.
She "was a gentle soul" and "loved making people happy," said a newspaper.
Barbara resided in Steubenville, Jefferson County, OH, where she "was an avid bowler, winning numerous awards in the Steubenville, Ohio Women's Bowling Association," said the Chattanoogan newspaper of Tennessee. She also enjoyed puzzles as well as feeding birds and taking in the fauna and flora of nature.
Later, she relocated to Florida, and after the death of a beloved friend, moved to Chattanooga, Hamilton County, TN. She died there at the age of 76 on March 2, 2011.
Copyright © 2000-2013, 2018 Mark A. Miner