Ralph Miner was born on April 21, 1910 near Mill Run, Fayette County, PA, the son of William Henry 'Squire' and Sara Jane (Basinger) Minerd. He was a longtime employee at Fallingwater®, the house over a waterfall designed by Frank Lloyd Wright that is considered America's "most famous modern house."
On April 16, 1933, Ralph married Mary "Leola" Skinner (1912-2002), the daughter of George and Bess (Tissue) Skinner.
They had four children – Ralph David "R.D." Miner, Mary Marlene Hiltabidel, Donna Marie Miner and Francis "Kerwin" Miner.
Ralph and his elder brother Frank began working for the family of Pittsburgh department store owner Edgar J. Kaufmann Sr. in the 1930s, later becoming full time. This work primarily involved maintenance projects at the Kaufmanns' weekend retreat, Fallingwater, located at Bear Run, Fayette County.
Seen at right, a quiet road on the Kaufmann property that Ralph would have known well.
On Aug. 29 1955, a meeting took place at Fallingwater that had a far-reaching impact. New owner Edgar Jr., who had inherited the house just four months earlier, was living full-time in New York City, where he was art editor for the Encyclopedia Britannica. He was primarily using Fallingwater as a weekend and vacation retreat, and needed to make sure his beloved house would be properly managed in his absence.
Now the sole owner of Fallingwater, Edgar Jr. summoned three of his key employees to a meeting to agree on responsibilities for ongoing care, maintenance and preservation. The team included Ralph as well as George B. Green and Jesse Hall. Edgar Jr.'s secretary, Ethel Clinton Appel, also attended.
At the meeting, Ralph was named Manager of Maintenance. He was responsible for windows and screens, the old pool, greenhouse maintenance, the Kaufmann crypt, and other buildings and interior roads on the property.
The magnificent country house over a waterfall
Mrs. Appel agreed to travel from her Pittsburgh office to Fallingwater every two weeks, talk to the key managers about projects and priorities, and send detailed reports to her boss in New York. Much this report is drawn from Mrs. Appel's firsthand reports from 1955 to 1959, found today in the Edgar J. Kaufmann Jr. papers at Fallingwater.
In 1956, he and Leola moved into a renovated house on the Fallingwater property. They remained there until his retirement in 1973.
Ralph's work can be summarized in several key themes:
Desire to Be of Service
Leola was interviewed in 1997 for a Fallingwater oral history project, and her comments were on display at the 2004 "Fallingwater Home Coming" exhibit. She said her husband "really tied himself down" to the house "because he felt responsible." He was not comfortable taking vacations or attending family outings or church activities for fear that he might be needed for an emergency project.
One of the Appel reports (Oct. 11, 1955) gives insight: "Ralph was busy working on the pool for this week-end and plans to look after the driveways, paint around the new steps, and have everything in apple-pie order for your guests… We do want everything just so …. Your happiness is uppermost."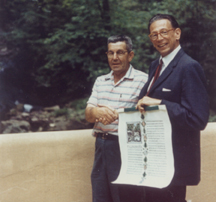 Friendship with Edgar Kaufmann Jr.
Ralph relished his personal friendship with his boss, Edgar Jr. They are seen here on the terrace of the house, with the Bear Run stream in the background. Their warmth for each other is clear in many comments found in the Appel reports:
"Mr. Kaufmann personally went through the woods with Ralph and pointed out various things he would like done." (Aug. 19, 1958);

Ralph was "very pleased that Mr. Kaufmann had been so attentive during his illness." (March 16, 1959);

"Ralph could hardly wait to tell me how much he enjoyed cutting brush with Mr. Kaufmann. He thoroughly enjoyed it and was convinced Mr. Kaufmann knew how to work in the woods." (July 14, 1959).
Care of Precious Artwork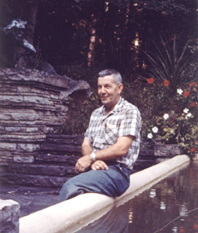 The Kaufmanns were collectors of rare, priceless artwork that they displayed throughout their Fallingwater home. Ralph had responsibility for helping to care for these one-of-a-kind masterpieces.
Seen here, Ralph rests on the edge of the guest house pool, with the Statue of Iris visible in the upper left hand corner.
In December 1955, he helped build special crates for "standing figures by Henry Moore" that were shipped to "Miss Chaflin at Vassar."
In November 1957, ornate bronze doors by Italian artist Alberto Giacommetti were delivered to be hung at the crypt. Ralph was in charge of the work. The following month, Mrs. Appel reported: "I was very pleased with the crypt doors. The men will have all that work completed this week."
Another of the Kaufmann artworks, "Mother and Babe" by Jacques Lipchitz, was on display in August 1956 when a freak storm of high winds and water caused great damage to the house. The statue was swept away by the swollen, raging Bear Run waters. In her report, Mrs. Appel reported: "No trace of the statue (mother and babe) has been found, nor the man on the horse (other than one of the horses legs broken off). Ralph intends making a thorough search tomorrow and will 'phone me if he finds the former statue." (Aug. 20, 1956).
Cleanup After Damaging Flood of 1956
In June 1956, Ralph oversaw the erection of scaffolding around Fallingwater to begin a massive painting effort. When the flash flood struck in August, the scaffolding was caught in the wind and "shook the whole house," according to Donald Hoffmann's 1978 book, Frank Lloyd Wright's Fallingwater: The House and Its History.
Ralph and his men faced a huge task of cleanup and repair. Mrs. Appel reported: "[Ralph] was planning to finish Jesse Hall's house this week … but with the terrible flood damage, I am sure he has found it necessary to cast aside his plans and help cleaning up…. It was truly heart-breaking to helplessly stand by and see what was happening. I can't describe what happened at our place."
Demolition of "The Hangover"
Seen here, "The Hangover" was a beloved, rustic cabin built by the Kaufmanns in 1921. They used it as their residence when visiting Bear Run on weekends and vacations in the years before Fallingwater was built. By the 1950s, it had fallen into disrepair. In 1957, at Ralph's urging, Edgar Jr. consented to its removal.
The Appel report of March 26, 1957 states that Ralph's men "were working on demolition of the Hangover … another 2 days and it will be all down. Everything has been carefully stored in the barn and Ralph has so recorded it in his book."
Click here to see even more images of the Bear Run site of Fallingwater in the years before it was built.
As Tour Leader
By 1956, public demand to see the house was high. Toker's book states that Ralph was given the responsibility for leading house tours. He conducted "45 minute tours, but banned photography when it dragged out the visits to three times that length." Ralph collected small fees and prepared reports for his boss listing tourists' names. When some visitors abused their privileges, Edgar Jr. made a new rule that there was to be "no one inside the house on Thursdays or Friday, … and no little peeks or squints inside." During 1957, more than 300 visitors went through the dwelling. In June-Sept. 1958, Edgar Jr. decreed that the house was to be entirely "closed to visitors."
Work at the House
Over the years, Ralph and his crews were involved with many interior and exterior repairs and renovations to Fallingwater itself. Without going into great detail, some of these efforts included painting, heating, lighting, waterproofing, utilities, removing brush and roof repair. In one notable example, he and Earl Friend repaired a small dam and frozen water line in the dead of winter. They waded into the stream "through the ice to their waist" and slipped and fell several times before finding and fixing the problem.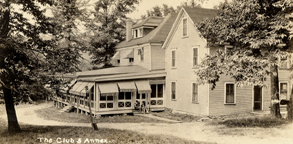 Ralph and Leola resided in part of this building from 1956 to 1963, formerly the club and annex of the Kaufmann summer camp
A Generous Gift to the Community
After reviewing Ralph's proposed Fallingwater maintenance budget for 1959, owner Edgar Kaufmann Jr. felt the amount was too high. He asked Ralph to trim back the cost of supplies "without too much affecting the excellent results that you have been able to achieve, and that are the source of much pleasure and favorable comment." Edgar proposed that any funds saved would be donated "to any church or school you name … and of course give it in your name, or have you transmit the check." That year, according to family notes, "Each church in Mill Run received $750." The arrangement continued until at least 1961.
The Remaining Years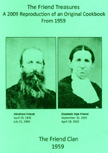 Ralph and Leola suffered through the kidney disease and eventual passing of their daughter Marlene at age 30. She died in Pittsburgh on Oct. 1, 1966, following surgery.
In 1959, some of Leola's recipes were included in a Friend family cookbook that was reprinted in 2009 by Patty Show. As well, the recipes of distant cousin Ivanore (Darr) Minerd, wife of Dr. Harold "Daniel" Minerd, are contained in the slim volume. The cover of the reprinted booklet is seen here, entitled The Friend Treasures, featuring portraits of Abraham and Elizabeth (Sipe) Friend.
Ralph passed away on March 4, 1983, in Meyersdale Hospital in Somerset County, PA. He was laid to rest at the Indian Creek Baptist Church Cemetery in Mill Run.
Leola outlived her husband by nearly two decades. In the late 1980s, she entertained the founder of this website as a visitor in her home. During those conversations, she provided extensive knowledge and valuable context about the extensive family connections in Mill Run. She died on Aug. 21, 2002, and is buried beside her husband.
Son Ralph David "R.D." Miner Sr. (1933-2010) was born in 1933. He married Wilma "Jean" Cullen (1937-2006) in June 1954. They moved to Bowie, Prince Georges County, MD in 1965. Sadly, their twin daughters died young, Roberta in 1983 at the age of 13 and Marlene in 1986 at age 15. Jean and her sister "founded C&M Answering Service in 1970 and successfully ran the business for 30 years until they retired in 2000," said the Bowie Blade. She also "became an advocate for the disabled and worked endlessly with United Cerebral Palsy. She served on its board of directors, did fund raising and testified to the state legislature in support of services to the physically and mentally challenged citizens of Maryland." She later served as president of the Bowie Civitan Club, which raised funds for disabled individuals, and was named "Lieutenant Governor of the Year" for the Chesapeake District in 1994. R.D. and Jean celebrated their 50th wedding anniversary in 2004. Jean passed away on Feb. 5, 2006. R.D. outlived her by four and a half years, and endured the death of their son Ralph David Jr. on Feb. 14, 2008, at the age of 50. R.D. died in Bowie, at the age of 77, on Sept. 14, 2010.
Daughter Donna Miner was instrumental in helping Fallingwater mount a special exhibit in 2004, entitled "A Fallingwater Home Coming." The exhibit was part of our family's 2004 national reunion.
Son Francis "Kerwin" Miner married Sylvia "Denise" Kessler, the daughter of Warren and Virginia Ruth (Friend) Kessler. They have one son. Denise is public tour manager at Fallingwater, and was instrumental in helping coordinate our 2004 national family reunion. She appears in an interview in the nationally distributed DVD presentation, Frank Lloyd Wright's Fallingwater, a special two-disk collection; and also in Saving Fallingwater, a video broadcast on PBS in 2010, and produced by Ken Love (seen here, available in the Fallingwater gift shop). Kerwin and Denise are listed in the 1975 paperback book, Brooks Family History.
Copyright © 2004, 2006, 2009, 2010, 2012 Mark A. Miner