Thomas Albert Minor
(1851- ? )
Thomas Albert Minor was born in October 1851 (or 1854) in Sego, Perry County, OH, the son of Frederick and Catherine (Miller) Miner Jr.
Thomas married Eveline "Effie" Emick (1852-1918) in about 1875, when he was age 24 and she 23. Eveline was the daughter of Michel and Setta (Neff) Emick of Pennsylvania.
They had three children -- among them Guy Frederick Minor and Destia "Desta" Freese Trunick. The third apparently died young.
The Minors made their home in the village of Ontario, Springfield Township, Richland County, OH, where Thomas was employed for decades as a railroad section foreman. The federal census of 1900 shows the family residing in Springfield, with their two living children under their roof. Their home circa 1910, as recorded by the census-taker, was Shelly Road in Ontario.
In 1902, living in Ontario, Thomas traveled to Hebron to attend the funeral of his sister Della Avery Stream, and was mentioned in the Newark (OH) Advocate.
At some point, the family relocated to Galion, Crawford County, OH, with their home at 136 South East Street.
In her 50s, Eveline's mind began to slip away in senility, and she also suffered from organic heart disease. She died of their effects at the age of 56 on June 23, 1918, in their Galion home. Her remains were shipped to Ontario for burial. The widowed Thomas provided information for her Ohio death certificate.
Thomas' fate eludes us for now. He apparently is not buried with his wife. He could have gone to Kentucky and Texas with his married daughter Destia and died there, but the trail has gone cold.
~ Son Guy Frederick Minor ~
Son Guy F. Minor (1880-1909) was born on March 5, 1880 in Hebron, Licking County.
Circa 1900, he lived at home with his parents in Ontario, Richland County, and worked as a laborer on the railroad. He apparently never married.
Sadly, suffering from an incurable case of pulmonary tuberculosis, Guy died on March 27, 1909, just 22 days after his 29th birthday. Ohio death records show that he was a railroad employee at the time of his demise. In an obituary, the Mansfield News reported that he had endured "a long illness" and had been a "patient suffer for many months. His family has the sympathy of the entire community."
He was laid to rest in the Ontario United Presbyterian Cemetery. Providing key details on his official death certificate was his brother in law Albert L. Freese of Crestline, OH.
~ Daughter Destia "Desta" (Minor) Freese Trunick ~
Daughter Destia ("Desta" or "Destie") Minor (1883-1955) was born on March 20, 1883 in Licking County, OH. She moved with her parents and brother at a young age to Ontario, Richland County.
She was married twice. Her first husband was Albert L. Freese (1879-1916), son of John J. and Margaret (Frumpler) Freeze (also spelled "Freeze" or "Freece") of Cookton, Richland County. The couple was wed on March 27, 1901 in Richland County, when Destia was age 18 and Albert 22. Fred E. Baker of Ontario officiated.
They had one known son, Guy Albert Freese, and perhaps more children.
The family made its home in 1910 in Crestline, Jackson Township, Crawford County. Their home was on North Pierce Street. Albert worked locally as a machinist in a railroad shop. The U.S. census-taker recorded that Albert's brother Samuel F. Freeze lived under their roof that year.
Tragedy rocked the family in the summer of 1916. Albert, working as a flagman on the Pennsylvania Railroad, was struck and killed by a moving engine. His skull was fractured at the base, and he died within an hour, at the age of 37. The accident occurred on July 27, 1916 in Wooster, Wayne County, OH. He was laid to rest in Richland County's Greenlawn Cemetery, in East Crestline. [Find-a-Grave]
Later, Destia married a second time, to Thomas Edward Trunick (1880-1953?), an Ohio native. The census of 1920 shows the couple living in Kentucky, boarding in the home of Elizabeth Crowe on East Central Avenue in Ashland, Boyd County. Thomas worked that year as an oil producer.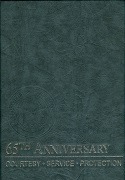 Texas DPS book
When the federal census enumeration was made in 1930, they lived on Main Avenue in Brownwood, Brown County, TX, where Thomas worked as an oilfield driller. Unmarried son Guy also resided in their home.
Heartache again rocked Destia's world in 1935, when son Guy (1904-1935), employed at age 31 as a state highway patrolman, was struck and killed by a moving bus, while he was part of a motorcade escort. The incident occurred on July 11, 1935 in or near Fort Worth, Tarrant County, TX. Records of the Texas Department of Public Safety show that he began his career with the department in 1930 and was stationed at Fort Worth. His remains were returned to Ohio to rest beside his father for eternity at Greenlawn Cemetery in East Crestline, Richland County. He was the sixth officer in the state's public safety agency to give his life in the line of duty -- today there are more than 70 whose names grace a memorial at the Training Academy in Austin. Guy's photograph, and a record of his senseless death, are published in the department's book, 65th Anniversary: Courtesy- Service- Protection, seen here.
Thomas is believed to have died in Cameron County, TX on April 23, 1953, at the age of 73.
Destia passed away two years later, in 1955. Her remains are at rest in the Ontario Community Cemetery in Richland County, OH.
Copyright © 2001, 2007, 2009, 2013 Mark A. Miner