Bertha (Minerd) Van Dyke
(1875-1950)
Bertha May (Minerd) Van Dyke was born on Oct. 28, 1875, at Pennsville, near Connellsville, Fayette County, PA, the daughter of John V.S. and Elizabeth (Livingston) Minerd.
Prior to marriage, it's believed that Bertha resided with her sister and brother in law, Lizzie and James Kelly in Dunbar, where she assisted with cooking and housekeeping.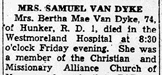 On Feb. 23, 1898, Bertha married Samuel Aaron Uriah Van Dyke (1875-1964), the son of Samuel A. and Carolina (Eiseman) Van Dyke of New Stanton, Westmoreland County. The ceremony was performed by F.W.E. Peschan at his residence in nearby Greensburg. They were both 22 at the time, and just five days apart in age.
They went on to have seven children -- Vernon Cornelius "Dutch" Van Dyke, Grace Margaret Van Dyke, Anna Belle Breegle, Caroline "Bessie" Daugherty, Robert E. Lee Van Dyke, Emma Elizabeth Van Dyke and Catherine Jane Fultz.
Sadly, daughter Grace died in 1902 at the age of 10 months, and daughter Elizabeth died in 1915 as she neared her third birthday. Today their graves can be found at the Stone Church Cemetery near Hunker, with small markers featuring engraved lambs. Grace's marker is seen at right, circa 1994.
Samuel worked as a blacksmith for many years in the coal mines of Westmoreland County, PA. In 1903, when daughter Anna Belle was born, they were in the coal town of Udell. By 1905, when daughter Bessie was born, they had moved to the mining town of Rainey (Hecla). Son Robert was born in the town of Strickler in 1906.
In 1909, the Strickler mine shut down. At about the same time, the bank which held the Van Dykes' savings closed as well. A friend named Haller, who owned a lumber yard, offered to build a new house for the Van Dykes in Foxtown, Hempfield Twp., Westmoreland County. Samuel declined because he did not want to accept charity. Haller then offered to build it and let Samuel pay it back as the bank became more solvent. Samuel agreed, the house was built, and with occasional payouts from the bank, he was able to repay the debt.
The federal census of 1910 shows that Samuel worked that year as a blacksmith for a coal company. The record shows them with 4 children living, and 1 child deceased, and with Bertha's widowed mother residing in their household. Their next-door neighbors were Bertha's sister and brother in law, Emma and Isaac Trout.
The family remained permanently in Foxtown, where Samuel continued his work as a blacksmith. Over the years, the Van Dykes provided lodging for several nephews who were in the area seeking employment, including Frank Minerd and Harry Minerd.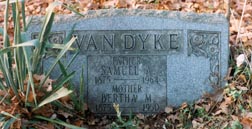 Said the Connellsville Daily Courier, Bertha was "a member of the Christian and Missionary Alliance Church of Youngwood and the GAR of Greensburg."
In August 1930, Bertha and her sister Emma Trout and niece Anna Belle Hower attended the annual Minerd Reunion, held at Shady Grove Park in Uniontown. They gave their names to distant cousin Laura Jane (Minerd) Williams, who later wrote a lengthy account of the event for her local newspaper back home, the Huntingdon (PA) Daily News.
Sadly, at age 75, Bertha died on June At the time of her passing, she and Samuel had produced five children, 23 grandchildren, 13 great-grandchildren. That number today has grown to become much, much larger.
Samuel outlived his wife by 14 years. He passed away on Dec. 18, 1964, and was laid to rest beside her in the Stone Church Cemetery near Hunker.
~ Son Vernon Van Dyke ~
Son Vernon Van Dyke (1899-1986) married Pearl Rebecca Felgar. He was named in part after his grandfather Minerd. They had a family of 5 children -- Berry Jane, Clara May, Vernon Victor, Samuel Allen and Naomi Pauline.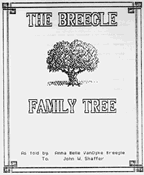 ~ Daughter Anna Belle (Van Dyke) Breegle ~
Daughter Anna Belle Van Dyke (1903-1998) married John Wilkinson Breegle, and they had a family of seven children. Said the Tribune Review, she "was a charter member of the Christian Missionary Alliance Church of Youngwood (now in New Stanton)."
They later moved to Niles, OH, where she occasionally would visit her elderly grand-uncle, George H. Minerd. In 1988, when she was in her 85th year, Anna Belle published a booklet, The Breegle Family Tree, which has been an important source of information. In the preface, she wrote:
I have written this book because I am certain that next to faith and belief in our Lord and Savior Jesus Christ, family is the most important thing that we have in this world. It is my prayer that the family John and I began will continue to be a family, in fellowship and love until the Lord returns.
~ Daughter Bessie (Van Dyke) Daugherty ~
Daughter Bessie Van Dyke (1905-1999) married John L. Daugherty. They had seven children. Like her sister Anna Belle, she was a charter member of the CM&A Church of New Stanton. John worked for DME in Youngwood.
~ Son Robert E. Lee Van Dyke ~
Son Robert E. Lee Van Dyke (1906-1991) married Sarah Lauffer. They had three children. The Tribune Review said he "was employed by Robertshaw Controls [and] was a member of Christ United Methodist Church, Youngwood."
The Robertshaw plant in Youngwood is seen at left in a rare old postcard photograph.
Copyright © 2000, 2003-2006 Mark A. Miner