Cyril 'Edgar' Ream (1896-1978) and
Nora Pearl Harbaugh (1897-1945)


Edgar and Nora Ream
Cyril "Edgar" Ream was born on June 29, 1896 in Lower Turkeyfoot Twp., Confluence, Somerset County, PA. Edgar, as he was known, was the first of the 16 children born to Joseph and Sarah Ellen (Harbaugh) Ream.
Edgar had worked in the timber industry with his father while a young man.
On Jan. 13, 1917, he married a second cousin, Nora Pearl Harbaugh (1897-1945), born on June 18, 1896, the daughter of Marshall and Annie M. (Shroyer) Harbaugh, and granddaughter of Joseph and Jane (Williams) Harbaugh. Edgar was age 21, and Nora 20, at the time of their wedding, held in Cumberland, MD, and officiated by a Methodist Church minister.
Later, Edgar worked as a coal miner, provided occasional labor for Lower Turkeyfoot Township and owned a farm several miles down the road from where he was raised on the Jersey Hollow Road.
He also served as a School Director of Lower Turkeyfoot Township, Somerset County (1938-50), including in the office of Treasurer, with meetings held at the Dodds Hotel in Confluence. In 1938-1939, his fellow school directors included Truman Steyer, C.L. Groff, Daniel Firestone and William H. Reckner. Edgar, Steyer and Reckner remained on the board more than a decade later, joined by G.B. Whipkey and Kenneth Glover.
The Reams had eight children -- Raymond E. Ream, Eugene Arthur Ream, Alvin Glen Ream, Verna E. Clouse, Esther Fern Clarkson, Robert Gene Ream, Donald Clifford Ream and Dane Elmer Ream.
Edgar was active in the International Order of Odd Fellows lodge in Confluence. In April 1938, he was installed as secretary of the lodge. His brother in law Donald Conn and brother Charles Ream also were officers in the lodge.
The Reams at a picnic in Trent, PA, circa 1940
The family worried when sons Eugene and Alvin Ream enlisted in World War II, with Alvin joining the Army in November 1942. Tragically, the family received word in early 1945 that Alvin had lost his life in action, with his remains temporarily interred in Europe.
Heartbroken over her son's loss, and having suffered from hypertension for a decade, Nora suffered a stroke in mid-August 1945. The entire left side of her body was paralyzed, including her face. She was treated in Price Hospital in Confluence and lingered for five weeks until merciful death on Sept. 18, 1945, at the young age of 49. Her remains were lowered into eternal repose in Somerset County Memorial Park.
Casper's replacement grave marker,
which Edgar helped to install
After some years as a widower, Edgar married Florence (Mitchell) Cramer (1898-1995), daughter of Frank and Lillie (Hileman) Mitchell of Confluence. Florence had been married once before to Samuel D. Cramer ( ? - ? ) and brought two adult sons to the marriage, Donald M. Cramer and Richard F. Cramer.
He sold the farm and he and Florence bought a home at Harnedsville, Somerset County. They were members of the Trinity Lutheran Church.
Edgar enjoyed the annual Harbaugh Reunions. He is pictured in the group photographs taken at the 1926, 1929 and 1936 affairs. As well, he is recorded to have attended in 1952 (when he was elected Vice President) and 1971 (when he was named to a "one-person committee" to erect a new grave marker for his great-great grandfather, and the family's ancient ancestor, Casper Harbaugh, at New Centerville, Somerset County). A photograph of the new stone is seen here, standing in front of the original stone which had been laid in the ground.
He also is known to have traveled to Delaware in the 1960s or early '70s to attend the reunion of his Laughery cousins, held on the homestead near Farmington, Kent County, where Edgar's uncle and aunt, David L. and Martha (Harbaugh) Laughery, settled circa 1920. He brought a gift -- a framed photograph of his grandmother Mary Magdalene (Whipkey) Harbaugh, on her 94th birthday, surrounded by her adult son and daughters. That photograph continues to be displayed today at Laughery reunions in Delaware.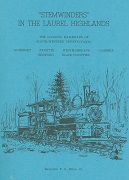 Stemwinders, naming Edgar
Edgar once assisted author Benjamin F.G. Kline Jr., in gathering information and photographs for a booklet called "Stemwinders" in the Laurel Highlands, published in 1973 by the Lycoming Printing Company. The book documents "all of those enterprising men associated with the Railroad Era of the Lumbering Industry in Pennsylvania." In the foreword of the book, published in 1973, Kline acknowledged this contribution, saying "Since a chance meeting in 1965, Edgar Ream has constantly sought the material that helped to unravel the tangled skein of affairs surrounding Confluence."
Edgar died of a heart attack at the age of 82 on March 3, 1978. He is buried at Somerset Memorial Park Cemetery, near Somerset.
Florence outlived Edgar by 17 years, with her home remaining in Confluence. Toward the end, she was admitted into the Goodwill Mennonite Home in Grantsville, MD, where she passed at the age of 97 on June 6, 1995. Interment was in the Union Cemetery in Meyersdale following a funeral service officiated by Rev. John Palko. The Somerset Daily American printed an obituary.
In 1947, Nora's record of the names and birthdates of their children was published in the book Harbaugh History, authored by Cora Bell (Harbaugh) Cooprider and her son Joseph L. Cooprider of Evansville, IN.
Edgar is named in a list of Lower Turkeyfoot Township workers in the book Draketown Past & Present.
Edgar (standing, left) and his brothers and sisters
~ Son Raymond E. Ream ~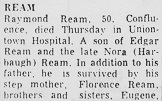 Somerset Daily American, 1968
Son Raymond E. Ream (1918-1968) was born on May 2, 1918.
He dwelled in Confluence and is believed to have been a school bus driver.
He never married.
When he was age 50, Robert died in Uniontown Hospital on Dec. 13, 1968. His remains were returned to Somerset County for burial in Somerset County Memorial Park, with Rev. Carl Bowsere and Rev. Arthur Gotjen leading the funeral service. An obituary appeared in the Somerset Daily American.
~ Son Eugene Arthur Ream ~
Son Eugene Arthur Ream (1919-2006) was born on Aug. 24, 1919.
After high school graduation, he attended Stevens Trade School. Eugene served in the U.S. Armed Forces during World War II as an aircraft mechanic with the Army Air Corps.
At the age of 30, on Aug. 31, 1949, Eugene married 28-year-old beautician Wilma Lillian Burnworth (1921-2006), the daughter of Charles O. and Nellie C. (Butler) Burnworth of Confluence.
They resided in Pleasant Gap, near State College, Centre County, PA. Their children were Alan "Glenn" Ream, Christa Johnson, Mark Ream, Susan Ream and Charles Ream. In the late 1960s, the family made its home in Lancaster, PA.
Eugene received the "Furthest Traveled Award" at the Harbaugh Reunions in 1986, 1987 and 1995 (130 miles) and the "Oldest Man Present Award" each year from 1991 to 1995, and in 1996 and 1999. He also is known to have brought his family to Delaware for the annual reunion of his father's cousins, the Laugherys, in the late 1960s.
Said the Centre Daily Times, he "was a salesman for Agway for 35 years, retiring in 1984. He previously worked for the Farm Bureau in Greensburg. He was a member of the Pleasant Gap United Methodist Church, Friendly Citizens of Pleasant Gap, and the Pleasant Gap VFW." Wilma belonged to the Friendly Citizens Group of Pleasant Gap.
Eugene passed away at age 86 on April 6, 2006 at Centre Crest Nursing Home. After a funeral service in State College, preached by Rev. Gregory P. Harbaugh, his body was brought back to his home region for burial in Somerset County Memorial Park.
Wilma only lived for another six months after her husband's death. She died on Oct. 15, 2006 at the Oaks at Pleasant Gap. Rev. Harbaugh officiated at her funeral as well, and she rests in Johnson Chapel Cemetery in Somerset County.
Son Alan "Glenn" Ream ( ? - ? ) married Kelly. They lived in Cypress, TX.
Daughter Christa Ream married Benjamin Johnson. In 2006, their home was in Pennsylvania Furnace, Centre County, PA.
Son Mark E. Ream was wedded to Leslie. They dwelled in Stevensville, MD in 2006.
Daughter Susan Ream was united in wedlock with Dallas Tisdell and in 2006 made their residence in Royersford, Montgomery County, PA.
Son Charles A. Ream lived in 2006 in Claymont, DE and in Media, PA.

Alvin Glen Ream
~ Son Alvin "Glenn" Ream ~
Son Alvin "Glenn" Ream (1922-1945) was born on Jan. 5, 1922 in the Jersey Settlement section on the outskirts of Confluence, Somerset County.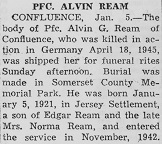 Somerset Daily American, 1949
As a 10th grader in the Confluence High School, in 1938, Glenntook part in an agricultural practice program to pursue a Keystone Farmer degree with an aim toward a future in farming. His project involved raising and caring for 300 chicks, and he was pictured with his livestock in the 1938-1938 Annual School Report in Somerset County. Said the Report:
The boy who carries a project must keep a complete set of records in a project book. The main items are labor, expense, and receipts. Inventories are made once a year and a financial statement made out showing the actual profit made on the project. At the close of every project year, which is November 1st, all record books are evaluated and sent in to the State Project Contest at Harrisburg.
About a year after the outbreak of World War II, Glenn made the decision to join in the U.S. Army, and enlisted in November 1942. He served for almost two-and-a-half years. At some point he was shipped overseas, and his photo seen here is inscribed "Paris - 1945" in the lower left hand corner of the portrait.
Tragically, Glennwas killed in action in Germany on April 18, 1945, as the war was winding down, and just 20 days before the German surrender. It was not until January 1949 that his remains were shipped home for burial at Somerset Memorial Park.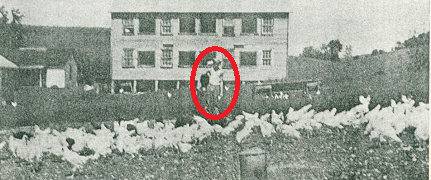 Glenn and his 300 chicks pictured in 1939.
~ Daughter Verna ( Ream) Clouse ~
Daughter Verna E. Ream (1923- ? ) was born on Oct. 24, 1923.
She married Dan (or "Dane") Clouse ( ? - ? ).
In 1978, their home was in Alexandria, VA and in 2006 in Beverly Hills, FL.
~ Daughter Esther Fern ( Ream) Clarkson ~
Daughter Esther Fern Ream (1927-1975) was born on Jan. 12, 1927 near Confluence.
She married George Clarkson ( ? - ? ). They had two children -- Luis Clarkson and Laura Clarkson.
They resided in Wheeling near Chicago, IL in 1968, where Esther was employed as a registered nurse.
Stricken with cancer, Esther died at the age of 47 on Jan. 8, 1975. Funeral services were held in the Cumberland Baptist Church in Mount Prospect, IL, led by Rev. Robert E. Hails. Interment was in Ridgewood Cemetery in Des Plaines, IL. The Wheeling (IL) Herald published an obituary.
~ Son Robert Gene Ream ~
Somerset Daily American, 1992
Son Robert Ream (1929-1992) was born on Jan. 11, 1929 near Confluence.
He served in the US Army during the Korean War. He later worked for the DHIA as a "tester."
Robert apparently married and had a daughter, Kathleen Lynn Jacobs.
In 1988, he lived in Somerset. Robert died at home at the age of 63 on Sept. 23, 1992. Burial was in Somerset County Memorial Park.
Daughter Kathleen Lynn Ream married (?) Jacobs. In 1992, she lived in Friedens, Somerset County.
~ Son Donald Clifford Ream ~
Son Donald Clifford Ream (1932-1988) was on Aug,. 6, 1932.
In about 1952, when he would have been age 20, he married 27-year-old Hilda M. Holliday (1925-1984), daughter of Edgar and Dolly (Zimmerman) Holliday.
Somerset Daily American, 1988
The couple produced two sons -- Dennis R. Ream and Douglas A. Ream.
Donald was employed by Agway in Somerset. Later, they relocated to Fogelsville, Lehigh County, PA, where he worked for Mack Truck in Allentown.
Donald passed away at the age of 56 in Lehigh Valley Hospital Center on St. Patrick's Day. His death ended their marital union of 35 years.
As a widow, Hilda maintained her home in Fogelsville, PA. Her companion during those years was William Ledbetter. She passed away at the age of 58 in January 1994. An obituary was printed in the Somerset Daily American.
Son Dennis R. Ream dwelled in Fogelsville.
Son Douglas A. Ream resided in Lenhartsville, PA.
~ Son Elmer Dane Ream ~
Son Elmer "Dane" Ream (1936-2007) was born on April 7, 1936 in Confluence.
During the Korean War, Dane served for four years in the U.S. Air Force.
At about the age of 23, in 1959, he married Antoinette Stemcosky ( ? - ? ). They dwelled in Orefield, Lehigh County, PA, where Dane was employed as a postal worker. They attended the Living Stone Fellowship Church in New Tripoli, PA.
The Reams produced four children -- Kenneth P. Ream, Michael D. Ream, Mark C. Ream and Michele D. Morris.
Sadly, Dane died at Lehigh Valley Hospital at the age of 71 on Sept. 12, 2007. His decease terminated their marriage of 48 years. His obituary was printed in the Allentown Morning Call. Rev. Timothy L. Helms officiated at the burial held in the Fort Indiantown Gap National Cemetery.
Son Kenneth P. Ream lived in New Tripoli, PA in 2007.
Son Michael D. Ream married Kimberly and dwelled in Orefield, PA.
Son Mark C. Ream was wedded to Cleo (?) and resided in Fort Lauderdale, FL.
Daughter Michele D. Ream was united in matrimony with (?) Morris and made their home in Corinth, TX.
Copyright © 2001-2002, 2006, 2008-2010, 2016 Doris (Sands) Hawker and Mark A. Miner