Home
Elizabeth 'Betsy' (Younkin) Hare
(1823-1900)
Elizabeth "Betsy" (Younkin) Hare was born on July 20, 1823 near Kingwood, Somerset County, PA, the daughter of John J. and Mary "Polly" (Hartzell) Younkin.
She married George Hare (1819-1894). They did not reproduce, but adopted a daughter, Barbara.
They first lived near Ursina, about four miles from the home of her brother Jacob J. Younkin. Later, she wrote, "I and my husband moved away, a distance of about 25 miles, but continued to visit ... as relatives usually do." In November 1878, they relocated from Fayette County to Harnedsville, Somerset County. In reporting on their move, the Somerset Herald said "They are highly respected by all who know them, and we extend to them a hearty welcome in our midst." They later made their home in Addison, Somerset County.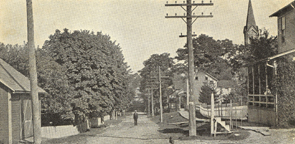 West Main Street in Addison, early 1900s
George made news again in the Herald on Aug. 22, 1883. While "preparing a piece of ground for the plow, [he] came upon what he supposed to be a botler, but upon examination found an arch of solid masonry, underneath which he found ashes and pieces of earthen ware in good preservation. The oldest inhabitants of this section of the county have no recollection of any ware of that kind having been manufactured in the vicinity of Harnedsville. The question is, who did it?"
In September 1894, Betsy's health began to fail, and she wrote a will. In the document, she said that she was "weak in body but of sound mind, memory and understanding (Praise be to God for it), considering the certainty of death, and the uncertainty of the time thereof... I commend my soul into the hands of almighty God, my creator...." She bequeathed her estate to their daughter, she wrote, "because I consider her my only legal Heir, we adopted her when a small child, raised her and treated her as our own child. She has been to me and my Husband as our own child and to her we have always been a Father & Mother."
George died at the age of 75 on Oct. 15, 1894. He rests in Ursina Cemetery. No obituary has been found in the Meyersdale (PA) Commercial in Somerset County.
Betsy joined him in death in 1900 at age 76.
Barbara's fate is not yet known.
Copyright © 2013 Mark A. Miner
This page is dedicated in the memory of cousin-researchers who graciously shared their findings: the late Donna (Younkin) Logan and the late Olive (Rowan) Duff.