Samuel "Freeman" Younkin was born on April 1, 1844 in Somerset County, the son of George and Nancy (Johnson) Younken. He was a veteran of the Civil War, held as a prisoner in the Confederate Army's notorious Andersonville Prison. Later, as was his older brother Jeremiah, he was a pioneer of Iowa.
When Freeman was a boy, in the 1850s, he and his parents migrated to Greene County, in the southwestern-most corner of Pennsylvania. They lived in Wind Ridge, Richhill Township, just a few miles from the Virginia state line (later West Virginia). The federal census of 1860 shows 16-year-old Freeman residing in his parents' home near Ryerson Station, and next door to his married older brother Charles.
When the war broke out, Freeman ventured across the state border into (West) Virginia and joined the United States Army. He was assigned to the 12th West Virginia Volunteer Infantry, Company A. Under the command of Col. John B. Klunk, the 12th West Virginia took part in the Second Battle of Winchester, VA, on June 13-15, 1863, in a futile attempt to keep the enemy from invading Pennsylvania. One of Freeman's fellow soldiers in the 12th, Alexander White, was killed in the Winchester battle, and is the subject of First Fight, First Blood, authored by the founder of this website.
After Klunk's resignation, Col. William Curtis took command and went on to other battles in the war and distinguished itself for bravery. It saw action in 1864 in Virginia at New Market, Winchester (again), Kernstown, Opequon, and Cedar Creek. The 12th was mustered out of service in June 1865. It counted 180 men dead during its three years of service. Fewer than one-third of the dead had been killed in action: 59 died in battle, 131 died of disease. Some of the 12th 's survivors formed the "Twelfth West Virginia Infantry Association" and published their own history in 1892.
Above: emaciated Union prisoners at Andersonville. Below: "crawling to the swamp for water" and "driven to madness," Harper's Weekly, 1865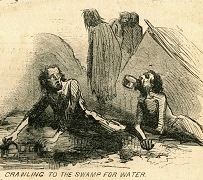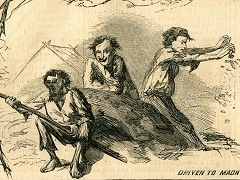 At the Battle of New Market on May 15, 1864, Freeman was captured by the Confederates. He was shipped to South Carolina, where he and his mates Clark Gamble, James Newton Miller and William Stine were placed with thousands of other POWs in the outdoor Andersonville Prison. Devoid of proper nutrition, sanitation and medical care, the prisoners at Andersonville suffered from starvation, illness and in many cases death.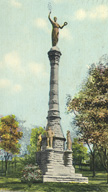 Greene County
soldier monument
Writing many years afterward, Freeman's mate Miller said:
After finding the boys of my company -- Freeman Younkin, Wm. Stine and Clark Gamble -- we proceeded to locate our home, near the southeast corner of the prison, and to pitch our tent, made from the blankets of which we each fortunately possessed one. Two blankets made the tent, of the A, or dog, pattern; one was spread on the ground and the fourth was used as a covering. We drew our rations, and worn and weary lay down to sleep on the sands of Andersonville. Awaking early next morning we saw a few feet from our tent the body of a prisoner who had died during the night, entirely stripped of clothing, taken off no doubt by other prisoners. He was a young lad, and it was a pleasant thought that came to me that perhaps I, too, should lie down there and die like a dog, and loved ones at home would never know my fate. But this was for a moment only, and after that I never lost heart, and of course grew indifferent to suffering and death.
Shortly after they were captured, Freeman gave Miller a blank diary book. Miller decided to use it, and in his words "recorded briefly the prominent events of each day...." Miller eventually used the diary as a basis for writing a memoir.
Freeman and Miller also were involved in an incident recounted in the book History of the Twelfth W.Va. Infantry, The Part It Took in the War of the Rebellion, 1861-1865. Miller wrote this in Hewitt's book (on page 119):
At Florence there was some clothing sent through the lines to us by our Sanitary Commission. It was given out to the most needy, and there wasn't much choice. I tore my only shirt (which I hadn't washed for three months) up into strips so that it barely hung together, in order that I might get a new one. The first day of the distribution I gave it to one of my companions -- I think it was Freeman Youkin [sic] -- and he went up to where the clothing was being distributed, and came back with a new shirt which he got on the strength of his (my) old one. The next day my detachment was called and when the distributing officers reached me he asked me if that was my only shirt. I replied that it was. "Well," he said, "you had better get a needle and thread and sew it up, for you can't get another new shirt on the strength of that one." So I got left.
The POWs were allowed the privilege of writing letters home, and Freeman's colleague Miller wrote this to a sister in Greene County: "Don't tell Mother where I am, if you think best not to. Write and direct to Commander Co. A, 12th Va., tell him Gamble, Younkin and W. Stine are here and well. I hope to be exchanged. We are treated pretty well. Get enough to eat." They remained in captivity for seven months. Miller's letter was not delivered for eight months, until after his return home. During that time Miller's family, and likely Freeman's as well, had no way of knowing their soldier-sons' fates, as they officially had been listed in public reports as "missing."
Osceola, Iowa, early 1900s
After his discharge from the army, Freeman returned home to Greene County. At the age of 21, on Jan. 18, 1866, Samuel wed 20-year-old Ellen Iams (1846-1910), also a native of Greene County, PA.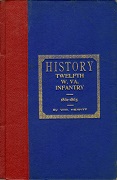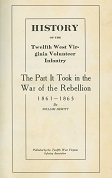 Hewitt's History of the 12th West Virginia
They had seven children, four of whom survived into adulthood: Ida Bell Boyles, Mary A. Calfee, Sarah E. "Sadie" Younkin and Clark L. Younkin.
In about 1867, Freeman and family relocated to Illinois. While there, daughter Ida was born. After two years, they moved again to Iowa, settling in Osceola, the county seat of Clarke County, about 50 miles south of Des Moines. They remained there for the rest of their lives, and produced more children.
After suffering from wartime ailments and injuries, Freeman petitioned the federal government for a pension as compensation. In June 1880, the pension was awarded. [Invalid App. #386.950, Cert. #312.634] A copy of the original pension file has been requested from the Department of Veterans Affairs under the Freedom of Information Act.
The federal census enumeration of Osceola in 1880 shows that Freeman made his living as a teamster. In 1895 and 1900, when federal census enumerations again were made, he had become a merchant. As shown the by 1895 Iowa census, the family belonged to the Church of Christ.
History of Marshall County

Freeman was a member of the E.R. Hutchins, Crocker Post of a Civil War veterans group known as the Grand Army of the Republic (GAR). In June 1893, he was appointed as an "aide de camp" for the GAR's 27th National Encampment, to be held on Sept. 5-7, 1893 in Indianapolis. Some of his former Civil War mates formed the "Twelfth West Virginia Infantry Association" and began holding reunions. One was held in Wheeling in 1886 and another at New Cumberland in 1889. William Hewitt completed the work in June 1892, and it was published under the title of History of the Twelfth W.Va. Infantry, The Part It Took in the War of the Rebellion, 1861-1865. Click for the full text via Google Books.

Freeman died on Sept. 24, 1909 in Osceola, at the age of 65 years, five months and 23 days. Burial was in Maple Hill Cemetery. [Find-A-Grave]

As Freeman's widow, Ellen was granted her husband's military pension in October 1909. [Widow App. #928.011, Cert. #693.700] She passed six months later, on March 30, 1910, at the age of 63.

In 1925, Freeman was named in a list of 12th West Virginia Infantry veterans in the book History of Marshall County From Forest to Field, authored by Scott Powell of Moundsville.

Today, Osceola has a population of just under 5,000.

~

Daughter Ida Bell (Younkin) Boyles

Daughter Ida Bell Younkin (1868- ? ) was born in September 1868, the only one of the children born in Illinois. She lived at home in 1895 and worked as a clerk, possibly in her father's mercantile store.

In March 1896, when she was 28 years of age, Ida was united in marriage with 40-year-old farmer Charles E. Boyles (1856- ? ), a native of West Virginia, and the son of Charles Edgar and Joanna (Felton) Boyles. They lived in Osceola.

They had at least three children -- Donald L. Boyles, Dorothy M. Boyles and Gerald Boyles.

By 1910, the Boyles migrated to Wichita, Sedgwick County, in south-central Kansas. The federal census of 1910 shows them living on Topeka Avenue, with Charles employed as a building contractor. That year, boarders Harold and Mattie Rummage lived in their home as servants.

Grandson Donald L. Boyles (1898- ? ) was born in February 1898.

Granddaughter Dorothy M. Boyles was born on Aug. 23, 1901, in Osceola.

~

Mary A. (Younkin) Calfee

Daughter Mary A. Younkin (1872- ? ) was born in 1872 in Osceola, Clarke County.

Circa 1895, she lived at home at age 23 and earned her living as a housekeeper.

At the age of 26, in July 1898, she married 49-year-old William H. Calfee in Osceola. He was the son of Henry and Sarah (Martin) Calfee.

~

Sarah E. "Sadie" Younkin

Daughter Sarah E. "Sadie" Younkin (1876- ? ) was born in June 1876 (or 1878) in Osceola, Clarke County. At the age of 21, in 1900, she lived at home with her parents and had no occupation.

She is named in her father's Civil War pension files and may have been a beneficiary after her mother's death, under what would have been unusual circumstances.

In September 1922, when she was 46 years of age, she began receiving pension benefits. [Minor App. #1194872, Cert. #923916, XC #961.283]

~

Son Clark L. Younkin

Son Clark L. Younkin (1878- ? ) was born in 1878 in Osceola, Clarke County. Sadly, he did not survive childhood.

He died on May 11, 1890, at the age of 12 years, five months and 11 days. His youthful remains were placed into eternal rest in Maple Hill Cemetery. The base of his grave marker was inscribed, "Asleep in Christ." [Find-A-Grave]

Copyright © 2013 Mark A. Miner

Research for this page graciously shared by the late Olive (Rowan) Duff and the late Donna (Younkin) Logan