Home
Susanna (Younkin) Schrock
(1814-1891)
Susan's grave, Kingwood
Church of God
Susanna (Younkin) Schrock was born in 1814 near Kingwood, Turkeyfoot Township, Somerset County, PA, the daughter of "Yankee John" and Nancy (Hartzell) Younkin,
On Dec. 12, 1841, when she would have been 27 years of age, Susanna married 34-year-old Andrew Schrock (1807-1889). The identity of his parents is not yet known.
The Schrocks are said to have had seven children, but tragically only two grew to adulthood, Perry Schrock and Ephraim Schrock. The others, who died young, may have included David Schrock, Sarah Schrock and Caroline Schrock, although this is not yet confirmed.
In 1850, they resided along what is now Hexie Road in Upper Turkeyfoot Township, That year, Susanís 56-year-old father, Yankee John Younkin, under their roof and working as a laborer, while her 16-year-old sister also was in the household. Two houses away lived Daniel and Elizabeth Williams, whose daughter Amanda married Martin Miner, and a few houses further away were cousins Charles and Adaline (Harbaugh) Minerd.

Andrew's name in his
nephew's Civil War diary
Susanna's sister and brother-in-law, Polly and Henry Minerd, left Kingwood in the mid-1850s and took their family to the northern panhandle of Virginia (today's Marshall County, WV). In doing so, they allowed their son Ephraim, a teenager, to remain behind in the care of the Schrocks.
The United States Census of 1860 shows the Schrocks in Upper Turkeyfoot, with Susanna's aged father John Younkin living under their roof in addition to 20-year-old spinster Elisabeth King.
During the Civil War, the Schrocks actively corresponded with their nephew Ephraim Miner, who had enlisted in the Union Army as a private with the 142nd Pennsylvania Volunteer Infantry, and was recovering from injuries suffered atthe Battle of Fredericksburg. In calendar year 1864, the Schrocks sent him at least five letters, which Ephraim noted with tick marks in the back of his diary. (The page is reproduced in the book Well At This Time: The Civil War Diaries of Ephraim Miner, authored by the founder of this website.)
Their farm was located to the west of Kingwood, along what today is the steep hills and valleys of Hexie Road.
Above, 1876 map of Andrew's farms (circled in green) and son Perry's farm (orange). Below: the Schrocks named in the 1906 History of Bedford and Somerset Counties.
Old Bethel Church, Hexebarger - enlarge
Sarah and Fred lived in Kingwood for their entire married lives and were farmers.
Fred is among a number of Younkin cousins mentioned by name as an early member of the Old Bethel Church of God in Hexebarger near Kingwood. In a history of the church penned in the 1880s or early 1890s, Harrison Grant King wrote that as a result of preaching, tent-meetings and evangelism by visiting preachers, a Christian spiritual interest "sprang up with the result that a Church of God was organized... We are sure that Elder Davis was pastor in 1859 and perhaps a part of 1860. His labours were blessed by the addition of between thirty and forty new members to the church and among them Andrew Schrock and Ephraim Minor."
The Schrocks' membership in the Old Bethel congregation also is mentioned in the 1906 book History of Bedford and Somerset Counties, Pennsylvania, Volume 2, authored by E. Howard Blackburn, William Henry Welfley and William H. Koontz,
In about 1879, the Schrocks relocated to Milford Township, Somerset County. They are said to have had a small burying ground on their farm which later was owned by Elmer Pletcher. They are reputed to have had a son David, who drowned in Laurel Hill Creek, and is buried here.
Andrew's badly faded grave
Andrew died on the Fourth of July 1889, at the age of 82 years, eight months. His remains were placed into eternal rest in the church yard of the Kingwood Church of God. No obituary for him has been found in the Meyersdale (PA) Commercial in Somerset County.
His grave marker is seen here, as photographed in August 2013, but it is fading badly.
Susanna lived for another two years as a widow. In 1887, her son Perry sold the family farm of 107 acres to cousins Samuel and Ann M. (Younkin) Phillippi. The Phillippis held the acreage for about three years before selling it to Ephraim Miner for $1,003.50. The farm bordered the properties of Ephraim Schrock and the Williams family and included stands of white oak and dogwood. During the mid-1890s, Ephraim Miner built a two-story frame house on the property that still stands today. It was passed down to Ephraim's daughter and son-in-law, Minnie and Jacob Gary, and today is owned by descendants. The founder of this website visited this house in the summer of 1978 and met the elderly Minnie Gary.
Susanna passed into eternity at the age of 76 on May 24, 1891. They are interred together in the Church of God Cemetery.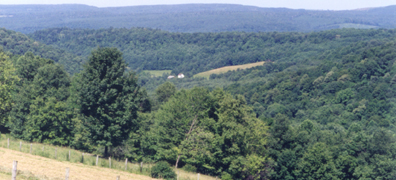 The Schrocks' mountainous farm in Hexebarger near Kingwood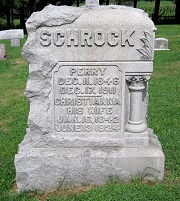 Perry and Christianna's grave
~ Son Perry Schrock ~
Son Perry Schrock (1846-1911) was born on Dec. 11, 1846.
He married a cousin, Christianna (Christina") Dumbauld (1842-1924), daughter of Jonathan and Elizabeth (Dull) Dumbauld and granddaughter of George and Christina (Younkin) Dumbauld of New Centerville, Somerset County.
They produced a dozen children -- George Newton Schrock, John Hudson Schrock, Susan E. Flanigan, Albert Andrew Schrock, Cora Sechler, Elizabeth Dull, Charles E. Schrock, Harry B. Schrock, Jennie Schrock, Dr. Edward Schrock, Erastus Schrock and Jane Savannah Schrock.
Christina Schrock
Their home in the early 1900s was in Milford Township, Somerset County.
Perry suffered a stroke in November 1911 and endured several weeks of suffering. He also was afflicted with uremic poisoning, possibly caused by an enlarge prostate.
He died on Dec. 17, 1911, at age 65. He was buried at the Kingwood Church of God Cemetery, following a funeral officiated by Rev. W.J. Umstead.
Christianna outlived him by 13 years but was "an invalid for some time," said the Meyersdale Republican, "and used a wheeled chair to get around." She was a "faithful member of the Church of God." While visiting at her daughter Susan Flanigan's home in Confluence on Mother's Day 1924, she was stricken with a stroke of paralysis, and never recovered consciousness. She passed away on June 13, 1924. Her obituary was printed in the Meyersdale Republican newspaper, and her funeral was held at the Kingwood Church of God, led by Rev. Shemp.
They are buried in the Kingwood Church of God Cemetery. Their grave marker inscriptions were recorded during the Great Depression by laborers of the Works Progress Administration (WPA). Today the impressive marker is still standing and the texts are very legible.
Meyersdale Republican, 1911
Daughter Susan E. Schrock (1863-1942) was born on Jan. 22, 1863 (or 1869). She married Charles N. Flanigan (1860-1933), son of John and Sophia (Butler) Flanigan. They lived on Oden Street in Confluence, and Charles earned a living as a lumberman. Their four known offspring were Erma Humbert, Alta Flanigan, Christine Hardman and Felicia Flanigan. The family resided in Confluence circa 1924, when Susan's mother died while staying at their home. Charles developed prostate cancer and died at age 72 on Jan. 7, 1933. Susan survived him by more than nine years. She was afflicted with a variety of heart ailments, and died on June 8, 1942 at the age of 73. She was laid to rest in Addison, Somerset County.
Son George "Newton" Schrock (1866-1937) was born on Feb. 9, 1866. He married Cora Weller ( ? - ? ) and Nellie Lucas ( ? - ? ). His children were John Schrock and Maude Hastie. Their home in 1911-1937 was in Somerset, at 220 West Patriot Street. Newton was a longtime furniture store merchant in Somerset. When his uncle George Dumbauld died in 1928, Newton was named in the news obituary in the Connellsville Daily Courier. Newton contracted cancer of the prostate and liver and quit working on July 2, 1936. Seven months later, he died on Jan. 31, 1937, just eight days shy of his 71st birthday. He was laid to rest in Somerset.
Son John Hudson Schrock ( ? - ? ) married Vinnie Newman ( ? - ? ). Their two sons were Dewey Schrock and George Schrock.
Son Albert Andrew Schrock (1874-1947) was born in 1874. He wed Alice Asdale (1880-1957) and lived in Pittsburgh in the 1911-1920s. Their daughter was Virginia Miller. Albert passed away on June 19, 1947 at the age of 73, with burial in Pittsburgh's large Allegheny Cemetery. Alice survived him by a decade and entered into eternity in 1957.
Daughter Cora Schrock ( ? - ? ) married Charles O. Sechler ( ? - ? ). They had three known children: Fleda Sechler, Althea Scott and Charles Sechler. Their residence in 1911-1924 was in Milford Township, Somerset County.
Daughter Elizabeth Schrock (1873-1935) married a cousin, George Brinton McClellan Dull ( ? - ? ) of the family of William and Margaret (Flick) Dull. See their entry for more.
Son Charles E. Schrock ( ? - ? ) married Cora (?). They had three children -- Clarence Schrock, Theodore Schrock and Ernest Schrock. He lived in Somerset in 1911 but is believed to have died sometime prior to 1924.
Son Harry B. Schrock ( ? - ? ) wed Lulu Hay ( ? - ? ). Their offspring were William Schrock, Ray Schrock and Anna Barclay. In 1911-1924, their home was in Jefferson Township, Somerset County.
Daughter Jennie Schrock ( ? - ? ) married Harry Wilhelm ( ? - ? ). They resided in Clearfield, PA in 1911 and Kingwood, Preston County, WV in 1924. They had one known daughter, Christine Jackson. Their fates are unknown.
Son Dr. Edward Schrock ( ? - ? ) married Virginia Range (?) ( ? - ? ). He established a medical practice in St. Louis and was there in 1911 when his father died. He later relocated his practice to Wisconsin and lived there in 1924.
Son Erastus Schrock (1877- ? ) was born in 1877.
Daughter Jane Savannah Schrock (1879- ? ) was born in 1879.
Odd Fellows Cemetery
~ Son Ephraim Schrock ~
Son Ephraim Schrock (1852-1920) was born on the Fourth of July 1852 near Kingwood.
When he was age 17, Ephraim attended the marriage of his first cousin Marcellus Andrews to Ruena Snyder. Justice of the peace Jacob Gerhard officiated the Sept. 26, 1869 ceremony held at Middlecreek Township, Somerset County.
In 1878, at age 25, Ephraim married a cousin, 20-year-old Eleanor Josephine "Ellen" Younkin (1858-1938), daughter of Jacob C. and Lucy A. (Weimer) Younkin of Kingwood. Ellen's date of birth was May 13, 1858. They were six years apart in age.
They had 10 children, of whom nine are known: Annie Melissa Cramer, Minnie Etta Schrock, George Reed Schrock, Ira Ephraim Schrock, Elva M. Sembower, Della Mae Schrock, Ida Marie Schrock, Glenn H. Schrock and Harold "Harry" Schrock.
They were longtime farmers and members of the Kingwood Church of God. In 1910, when the federal census was enumerated, they lived on a farm in Upper Turkeyfoot Township, with Ephraim's work listed as "truck farm." When his longtime friend and cousin Jacob Phillippi died in 1914, Ephraim and W.D. Younkin stepped forward to help the widow obtain her husband's Civil War pension payments.
Ephraim suffered a massive stroke on the first of July 1920. He lingered for 41 days but could not recover. He died in Kingwood on June 10, 1920, at the age of 67. His remains were interred in the Kingwood Odd Fellows Cemetery.
Ellen outlived him by 18 years, and moved into Connellsville, Fayette County. On May 13, 1934, she was guest of honor at a party for her birthday and Mother's Day in the home of her son Harold of Carson Street in Uniontown. Reported the Uniontown Daily News Standard, "A delicious chicken dinner was served and the color motif was prettily carried out in a pink scheme. Covers were laid for all children and grandchildren except one son who is living in the west. Words of greetings and best wishes from him made the day complete for Mrs. Schrock." Those attending included Mr. and Mrs. W.G. Snyder and their children Eleanor and Robert of Rockwood; Mr. and Mrs. Albert Fike and Anna Cramer of Somerset; George Schrock and his daughter Thelma, and Mr. and Mrs. Phillip Reese of Johnstown; Ruth Snyder and Wynn Critchfield of Rockwood; and Della Schrock of Connellsville.
The Schrocks' graves in the Kingwood Odd Fellows Cemetery
Ellen Schrock, 1938
Ellen died at her daughter Della's home of a heart attack at the age of 79 on Jan. 21, 1938. At her death, reported the Connellsville Daily Courier and the Daily News Standard, she was survived by 11 grandchildren and one great-grandchild. Her obituary was republished in the Younkin Family News Bulletin newspaper (April 30, 1938).
Daughter Annie Melissa Schrock (1879-1973) was born on Sept. 2, 1879. At the age of 26, on Nov. 5, 1905, she wed Lorenza D. Cramer ( ? -1929). The ceremony was held at the family home, led by Rev. S. Fulmer. They resided in Somerset. Lorenza passed away in July 1929, and among those attending the funeral were Annie's brother Harold and his wife and children. Later, Annie married Harvey Heiple ( ? - ? ) and remained in Somerset. She died at the age of 93 on Feb. 27, 1973.
Daughter Minnie Etta Schrock (1881-1966) was born on Sept. 11, 1881. On Sept. 27, 1903, when she was age 22, she was joined in matrimony with Wilson Grant Snyder ( ? - ? ). Their five children were Ruth Luella Critchfield, Florence Margaret May, Hazel Fern Fike, Robert Schrock Snyder and Eleanor J. Aust. The family made its home in Rockwood and Kingwood. The Somerset Daily American said she was a "life long member of Kingwood Church of God." Later, Minnie moved into the home of her married daughter Hazel Fike in Somerset. Minnie died May 15, 1966, with burial in the Kingwood IOOF Cemetery. Rev. Earl Show and Rev. Darrah officiated.
Son George Reed Schrock (1883-1969) was born on May 9, 1883. He married Ada De Lozier ( ? - ? ) and had three children, Leroy Perry Schrock, Ida Reese and Thelma Ellis. He lived in Johnstown, Cambria County, PA. In September 1951, they hosted a visit from George's brother Harold and family from Uniontown. George died in Johnstown on Nov. 12, 1969, with burial in the city's Westmont Cemetery.
Son Ira Ephraim Schrock (1885-1955) was born on Sept. 14, 1885. At the age of 22, in 1907, he and his brother George set out to make their fortune in California, and eventually secured employment there with the Arizona Copper Mines. After a year, Ira decided to stay, while George returned to Western Pennsylvania. Ira remained away for the next 47 years. He eventually took a job as conductor for the Union Pacific Railroad Company of California, in Sacramento, a position from which he retired in the early 1950s. In May 1953, he "decided it was time he visited his family and arrived in Johnstown May 10 in time to help celebrate George's 70th birthday anniversary," reported the Uniontown Morning Herald. "Harold Schrock was about 4-years old when his brother left for the Coast. He had no idea who Ira was when he appeared at his home. The reunion was a happy occasion and will be long remembered by the Schrock family." Also attending the gathering were his sisters Della Colflesh, Anna Heiple, Minnie Snyder and Ida Miller. He died in Sacramento two years later, on June 3, 1955, at the age of 70.
Daughter Elva M. Schrock (1889-1943) was born on July 8, 1889. She married Jacob Arthur Sembower (1884-1923) on July 5, 1912, in Pittsburgh, when she was 23 years of age and he 28. He was the son of Adam J. and Elizabeth (May) Sembower. They resided in Rockwood, where Jacob was employed as a telegraph operator, possibly for the Baltimore and Ohio Railroad. Sadly, Jacob contracted pneumonia and tonsillitis and died at the age of 39 on Oct. 31, 1923. Elva survived him by 19 years. Suffering from incurable cancer of the bowels, she was admitted to the Somerset State Hospital in about 1924. She remained there for the rest of her life, a span of 18 years, seven months and 11 days. She died on March 30, 1943, at the age of 53. Burial was in the IOOF Cemetery in Kingwood.
Bird's eye view of Confluence
Daughter Della Mae Schrock (1893-1984) was born on Feb. 8, 1893. She was a graduate of Indiana State Teachers College and Pennsylvania State College. She is mentioned by name in a list of Rockwood school teachers in the booklet Rockwood Centennial 1857-1957. Della lived in Brookvale in 1938. She married later in life, to a cousin, widower Dr. Joseph Herman Colflesh (1886-1969), son of John F. and Sarah Jane (Younkin) Colflesh of Ursina and grandson of Rev. Harmon and Susanna (Faidley) Younkin of Paddytown. Their wedding took place on Jan. 31, 1941 in Somerset, when she was age 48 and Joseph 55. Interestingly, the couple requested that news of their marriage license not be published in local newspapers. Della was a longtime history teacher, and retired from the Trotter School in Dunbar Township in June 1958, with her photograph gracing the front page of the Connellsville Daily Courier. Joseph was a veterinarian and "practiced in the Confluence and Somerset area for many years, and in Connellsville from 1953 until his retirement in 1967," said the Daily Courier. "His career spanned 53 years." He also was a member of the King Solomon Lodge of the Masons, Pittsburgh Consistory of the Syria Shrine and the Otterbein United Methodist Church. Their home was on 124 Wood Street in Connellsville. John died in Connellsville State General Hospital on Nov. 11, 1969, at the age of 83. He was buried in the Kingwood IOOF Cemetery, with Rev. Lester Crum and Dr. Elmer A.R. Schultz officiating. Della passed away in Connellsville in August 1984.
Daughter Ida Marie Schrock (1895- ? ) was born on March 19, 1895. At the age of 21, on Oct. 5, 1916, she married Harry Park Miller (1892-1962) in a ceremony held at Kingwood by Rev. F.O. Eakin. They had one son, Dean Leo Miller, and their home was in Kingwood in 1938-1960s. Park died in Kingwood in February 1962, and was laid to rest in the Kingwood Odd Fellows Cemetery. Motoring to attend the funeral were Ida's brother Harold Schrock and sister Della Colflesh and their families. Ida later moved into Connellsville as a widow.
Miller graves, Kingwood IOOF Cemetery
Glenn Schrock's grave, Kingwood
Son Glenn H. Schrock (1898-1901) was born on Aug. 8, 1898. He died at the age of three yeas, three months, in November 1900 (or 1901). He is buried next to his grandparents in the Kingwood Church of God Cemetery.
Son Harold "Harry" Schrock (1903- ? ) was born on Jan. 5, 1903. There was a 24-year age gap between him and his eldest sister. Harold married Ruth Ellen Romesburg ( ? - ? ). They resided in Uniontown, Fayette County circa 1934-1966, and had two children: Betty Jane Neville and Harold H. Schrock Jr. Their address was Carson Street, Uniontown. Beginning in February 1925, Harold was employed as a motorman with West Penn Railways in Uniontown. "For several years, he operated a trolley on the Brownsville-Uniontown route," said the Uniontown Morning Herald, "and later followed the conversion to bus operation." The family enjoyed traveling, and spent many weekends with family in Somerset County. They also enjoyed taking in Pittsburgh Pirates baseball games at Forbes Field and the Ice Capades at the Duquesne Garden. In July 1930 they took a six week's driving trip to the west, where they saw Yellowstone National Park, Pike's Peak "and many other places of interest," said the Daily News Standard. In 1932, they attended the Ohio State Fair in Columbus. In August 1934, Harold and Ruth, as well as his sisters Anna Cramer and Della Schrock, motored to Chicago to view the Century of Progress exposition. Their trip in 1936 was to Junction City, KS to visit Ruth Ellen's stepmother, Mrs. Edward Liston. Circa 1960, Harold worked for Hankins-Paulson Co. Many of their family activities were covered in the gossip columns of the Uniontown newspapers over the decades. Harold is believed to have died in Uniontown in October 1980, at the age of 77.
Grandson Harold Schrock Jr. ( ? - ? ), of the Hagan Dairy Company, wed Dorothy Jean Zema ( ? - ? ) of Uniontown, a construction clerk with Bell Telephone Co., in August 1949, with their wedding photo published in the Morning Herald.
Granddaughter Betty Jane Schrock ( ? - ? ) wed Jack Neville ( ? - ? ) and lived in Cumberland, Allegany County, MD in 1963.
Copyright © 2013-2014, 2017
Research for this page graciously shared by Olive (Rowan) Duff, Donna (Younkin) Logan and Linda Marker.