Online Quilt Museum
Pattern: Unknown
Quilter: Melda (Miner) Bittinger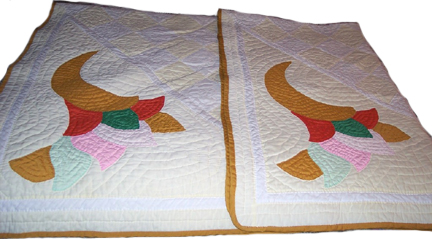 The late Melda (Miner) Bittinger of Grantsville, MD, created this quilt for her daughter Lois (Bittinger) Radcliff. When she sent this photograph to us, Lois wrote: "Mom made this quit and gave it to Jerry and me when we got married in 1982. I love it too much to use. She has a lot of detail in it in the stitching. Hope you can see from the photos."
Melda was our reunion treasurer for many years, dating back to its founding in 1986, and served until her untimely death in 2001. She was the daughter of the late Victor and Delphia (Platter) Miner and the granddaughter of the late John A. and Susie (Pletcher) Miner. Be sure to also view the special tribute to Melda on our website.
Click for next quilt
Return to quilt index page
Copyright © 2005 Mark A. Miner