John Andrew Miner
(1878-1955)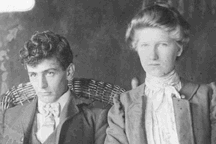 John and Susie's wedding photo
John Andrew Miner was born in 1878 near Metzler's Mill, Somerset County, PA, the son of Ephraim and Rosetta (Harbaugh) Miner. He is believed to have received his middle name as a namesake of an uncle, Andrew Jackson Miner.
At the age of 25, in about 1903, John married Susan M. Pletcher (1887-1985). She was just 16, and her parents felt he was a great catch because they thought he had a good income. John's parents considered Susie a great catch because she was such a nice person.
The Miners had seven children – Ethel G. Miner, Victor Clyde Miner, Edna "Evanell" Kimmel Nicklow, Ephraim Ray Miner, Harold B. Miner, John "Raymond" Miner and Kenneth Clinton Miner.
Old Bethel Cemetery, Kingwood
Sadly, daughter Ethel (1903) and son Harold (1911) died in infancy, and are buried at the Old Bethel Church of God cemetery near Kingwood.
A number of their children are pictured and mentioned as adults in the volume Down the Road of Our Past published by the Rockwood Area Historical & Genealogical Society.
John was a coal miner and timber cutter for many years. He suffered terribly from asthma and was sick a lot during his adult years, often coughing up black coal dust. He and his son Victor often worked together, and once survived a mine cave-in at Indian Head in nearby Fayette County.
In August 1924, John and Susie attended the Minerd-Miner reunion at Lincoln's grove, near the Western Maryland Railroad Station in Confluence. Among the 82 individuals present in the crowd were also John's mother, son Victor and daughter Evanell, and brother and sister in law Harry David and Amanda (Pletcher) Miner. In an article about the reunion, the Meyersdale Republican newspaper spelled the family name as "Minard" but reported the following: "A very successful and pleasant reunion of the Minard family was held in what is known locally as Lincoln's grove, near the Western Maryland Railroad Station.... The family is a numerous one in Western Pennsylvania, especially in Fayette, Somerset, Westmoreland and Huntingdon Counties. The gathering on Saturday was their twelfth annual reunion."
Famed "Connellsville Seam" of Fayette County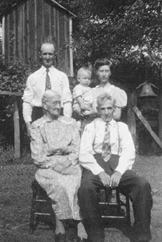 Five generations
John and his family also enjoyed the annual Harbaugh Reunions. They are known to have attended in 1947 and 1954 (when John and Susie received the "Longest Married Award") and 1951 (when they were acknowledged for having five generations present).
In the five-generation photo seen here, John sits beside his mother, while standing in the back are son Victor and granddaughter Melda Bittinger, who is holding her baby son Paul.
When the federal census was taken in 1930, the Miners made their home in Springfield Township, Fayette County. John's occupation was given as farmer, and son Ephraim and Raymond's as farm labor. John's 61-year-old half brother, Grant Miner -- who had significant mental disabilities -- made his home under their roof that year.
Among their near neighbors that year were their cousins Jacob and Laura Belle (Younkin) Shroyer, Oakey and Gertrude (Shroyer) Harbaugh and J. Frank and Ida (Burkholder) Younkin.
In late March 1933, their son Ephraim was sued by cousin Jacob Shroyer, alleging that Ephraim owed him $10.00 "for goods sold and delivered ... over and above all discounts which the said Ephraim Miner may have against him." Ephraim is said to have left the county with intent to defraud Jake, so Ephraim's employer, cousin Oakey Harbaugh, apparently was required to garnish his wages for repayment of the debt. The case was heard by cousin William Henry "Squire" Miner, a justice of the peace in Mill Run.
In 1952, the Miners suffered the loss of their grandson Edward Dale Kimmel, of Dunbar, Fayette County, who died of a brain tumor at the age of 20.
John and Susie, 1953, on their golden wedding anniversary
Old Bethel Cemetery
John died in 1955, at the age of 87, after much suffering with black lung disease. He was buried at the Old Bethel Church near Kingwood, a cemetery which holds many generations of Minerd-Miner-Minor cousins.
After six years as a widow, Susie married Lyman Trimpey on March 29, 1961. They enjoyed just a little over a year of marriage, when Lyman passed away on July 7, 1962.
In her later years, Susie enjoyed visiting and staying at the home of her former sister in law, Minnie Gary, in Hexebarter.
Susie died in 1985, at the age of 98. She was laid to rest beside her husband at the Old Bethel church cemetery, after a separation of three decades.
At Susie's funeral, her children and grandchildren agreed that they had grown tired of seeing each other only at funerals. They decided to form a reunion so that the family could gather at happier events. The first reunion was held the following year, in 1986, at the Kingwood Picnic Grove in Somerset County. Today it has evolved into the national Minerd- Minard- Miner- Minor Reunion.
John and Susie are pictured and mentioned in a lavishly illustrated, 2011 book about his father -- entitled Well At This Time: the Civil War Diaries and Army Convalescence Saga of Farmboy Ephraim Miner. The book, authored by the founder of this website, is seen here. [More]
~ Son Victor Clyde Miner ~
Victor Miner
Son Victor Clyde Miner (1904-1997) was born on Dec. 16, 1904, near Kingwood.
He married Delphia Platter (1901-1989), the daughter of Henry and Anna Jemima "Annie" (Handwerk) Platter Jr. of Jennings, Garrett County, MD.
They first made their home in Bakersville, Somerset County, and then moved to Grantsville, Garrett County, MD in 1940, where they remained for the rest of their lives.
The Miners had five children - Elmer Miner, Victor "Reed" Miner, John Henry Miner, Melda June Bittinger and Anna Jean Heston.
Victor enjoyed taking his family to the Harbaugh and Younkin Reunions of the 1930s and '40s, held at the Kingwood IOOF Grove. Later, he liked to recall racing in the 50-yard dash.
The Miners were members of the Bethesda Church of the Brethren in Grantsville. In the late 1980s and early '90s, Victor met with the founder of this website several times and provided important details about the history of the family. He enjoyed chewing tobacco and was able to speak fragments of the Pennsylvania German language passed down through the generations. One phrase he spoke, "Vets less," was an Americanized version of the German meaning "What is wrong?"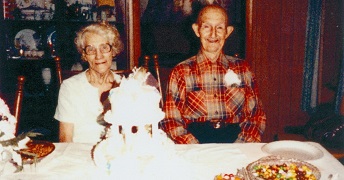 Delphia and Victor, 1985
Delphia died on Feb. 24, 1989, at the Sacred Heart Hospital in Cumberland, Allegany County, MD. Rev. Joseph Lewis led the funeral service at Grantsville Cemetery.
Book naming the family
Victor outlived his wife by eight years, living in the old farm house in Grantsville. On two separate occasions, he entertained visits from the founder of this website, including once in the company of the visitor's great-uncle, Edward John Miner.
He passed away at the Meyersdale Manor Nursing Home in Meyersdale, Somerset County on Feb. 2, 1997, at the age of 92. He was laid to rest beside his wife in the Grantsville Cemetery. At his passing, said the Somerset Daily American, he was survived by 16 grandchildren, 31 great-grandchildren and six great-great grandchildren.
Melda
Victor and Delphia are mentioned on page 448 of the book The Bittinger, Bittner, Biddinger, and Bidinger Families -- and Their Kin -- of Garrett County, Maryland, authored by Wayne Bittinger, and published in 1986 by McClain Printing Company in Parsons, WV.
Daughter Melda June Miner (1926-2001) was born in 1926. She married Paul Stewart Bittinger (1928-1966). They lived in Grantsville, where Paul was a farmer and brick plant worker, and Melda was a Dutch Maid supervisor. Sadly, Paul died in 1966 at the untimely age of 38. Melda remained his widow for the remaining 35 years of her life. She was co-founder, treasurer and constant supporter of our reunion from 1986 until her passing on Jan. 30, 2001, at the age of 74. Melda had perfect reunion attendance, and her hard work helped transform the event into one of significance for all cousins. Click to see a special tribute, a quilt she made for her daughter, and also to read her own account of the reunion's origins in the 1980s.
Great-granddaughter Lois Bittinger married Jerry Radcliff. Together, they have owned Jerry's Auto Center in Belpre, OH since 1986. The garage features 13 wreckers and several service trucks which respond to service calls.
Melda and Paul Bittinger and their family, prior to his untimely death in 1966.
Son Elmer Miner (1928-2013) was born on April 25, 1928 in Jennings. During the Korean War, Elmer chose not to join the U.S. Armed Forces, but rather registered as a conscientious objector, and was given a 1-W service designation. He moved to the Chicago suburb of Elgin, IL, where he found employment at Elgin State Hospital and lived at the Brethren Fellowship House. On Dec. 19, 1954, when he was 26, Elmer married Dorothy "Dot" Arehart. They had three sons -- Blaine Miner, James Miner and Ralph Miner. For more than six decades, Elmer was a member of the Highland Avenue Church of the Brethren, serving on the Parish Credit Union board, deacon cabinet and as head usher. He also was employed in the Shakeproof Division of Illinois Tool Works for 35 years. Another way he served the community was as president of the Elgin Garden Club. Elmer and Dot attended Minerd-Miner Reunions for many years, and he frequently said grace prior to the picnic meal. Sadly, Dot passed away in 2003, following 49 years of marriage. Elmer outlived her by 10 years. He died at the age of 85, in Elgin's Presence St. Joseph Hospital, on Aug. 6, 2013.
Son Victor Reed Miner married Rosella Resh in 1961, and they had six children-- Wayne D. Miner, Beverly Sue Sechler, Betty Lou Stanczyk, Ronnie Reed Miner, Randy Lee Miner and Richard Allan Miner. Reed and his sister Melda jointly owned a dairy farm near Grantsville, but he sold his half to her. The Miners moved to Odenton, MD, where Reed labored at the National Plastic Plant. In September 1967, after the untimely death of their brother in law Paul Stewart Bittinger, they returned to Grantsville and bought back the farm in its entirety. Rosella has served continuously as Secretary of our reunion committee since it was founded in 1986.
Grandson Wayne D. Miner (1963-2012) was born in 1963. He had two children, Karina D. Miner and Trevor W. Miner. He was a carpenter, and made his home in Leesburg, Loudoun County, VA. He died at the age of 49 on Sept. 17, 2012.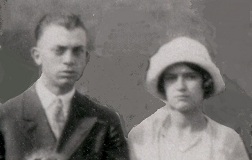 Lester and Evanell, 1926
~ Daughter Edna "Evanell" (Miner) Kimmel Nicklow ~
Daughter Edna "Evanell" Miner (1906-1998) was born on Nov. 21, 1906, near Kingwood.
Her first husband, Irvin L. Kimmel Sr. (1904-1978), was a crane operator for West Penn Railways. They married on April 26, 1926, when she was age 20 and he 22.
Later that same year, in August 1926, they attended a 94th birthday party for Evanell's great-grandmother, Mary Magdalene (Whipkey) Harbaugh at the old family homestead site near Clairton Lake, which became the first annual Harbaugh Reunion.
West Penn Railways car, early 1900s
They had three sons, Floyd " Dean" Kimmel, Edward "Dale" Kimmel and Irvin L. Kimmel Jr.
The Kimmels resided in Dunbar, Fayette County in the 1950s, where they operated "Smith's Store" and had a home on Railroad Street.
Heartache rocked the family in 1952. Son Dale, who was employed with Connellsville Manufacturing & Mine Supply Company, was riddled with cancerous tumors, including some within his brain. He died at home at the age of 20 on July 6, 1952. His remains were placed at rest in Green Ridge Cemetery near Connellsville, with Rev. H.M. Jenkins of the Dunbar Methodist Church officiating.
Later, they moved to Woodbury, NJ, where their son Dean had relocated to in 1954.
Irvin died in Wood bury in January 1978, at the age of 83.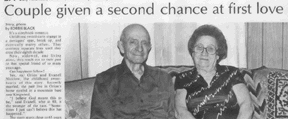 Somerset Daily American article about the late-in-life marriage of Evanell and Orion Nicklow.
Church bulletin
Evanell outlived her husband by many years. She married a teenage sweetheart, Orion Nicklow, and moved back to her native Kingwood. Evanell and Orion were featured in a 1987 issue of the Somerset Daily American, titled "Couple Given a Second Chance at First Love." She later helped found a reunion of her family which eventually became our national Minerd-Miner-Minor Reunion.

Evanell, 1989
She spent many hours visiting with the founder of this website, graciously opening her home and heart. She spoke of her beloved ancestors and extended family as if they had just visited yesterday, in language that brought their lives back again to the present. In 1992, they and other cousins took a driving tour of the Hexebarger area, the old Harbaugh farm at Clairton Lake, and to her brother's home in Grantsville, MD.
In 1959-1960, Orion was a member of the building committee that constructed a new, brick building to house the Old Bethel Church of God near Kingwood. Seven years later, he took part in a mortgage burning ceremony when the church completed repaying a $13,800 building loan. Said the dedication booklet, "Due to the goodness of our Heavenly Father, the faithfulness of members and friends by sacrificial giving, the indebtedness has been liquidated as of January 1, 1967, approximately four years ahead of schedule." A copy of the program booklet for the mortgage burning ceremony is in the archives of the Historical Society of the Churches of God in Findlay, OH.
Orion also served on the school boards of Upper Turkeyfoot Township, in 1951-1952 and of Rockwood Joint Schools in 1957-1958. He is pictured and mentioned in the October 1995 Hexie Gazette, published by the late Clyde Miller.
Evanell spent her final years at Siemon's Lakeview Manor in Somerset. She died there at the age of 91 on Aug. 21, 1998, and joined her husband in eternal repose at Green Ridge Memorial Park.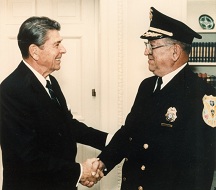 Dean Kimmel meets President Reagan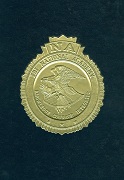 FBI Academy book
Son Floyd "Dean" Kimmel (1927-2008) was born on April 30, 1927 in Rockwood. He graduated from South Akron (Ohio) High School in 1945, and served in the United States Navy in World War II and in Korea. He married Audra Williamson. During a lengthy career in law enforcement in New Jersey, Dean spearheaded innovative professional development such as training programs, cadet initiatives, a K-9 corps, a mutual aid plan with other Gloucester County departments and deployment of foot patrols. He received many honors, including the J. Edgar Hoover Memorial Award, and was a 1964 graduate of the FBI National Academy, which Hoover himself called "the West Point of Law Enforcement." He served as president of the New Jersey Chapter of the FBI National Academy and the South Jersey Police Chief Association and founded the Gloucester County Police Chiefs Association. He also helped found a charity golf event, sponsored by the American Legion, that today bears his name -- the F. Dean Kimmel Memorial Golf Tournament. Some 350 VIPs attended Dean's retirement dinner in 1987, among them police chiefs, politicians and FBI officials, including former Philadelphia police commissioner Gregore Sambor, Philadelphia FBI officer Wayne Davis, Woodbury Mayor Richard L. Skinner and Woodbury Councilman Jack Scott. He is pictured and profiled in the book, FBI National Academy. In about 1987, he visited the White House and was photographed shaking hands with President Ronald Reagan. He died in Woodbury on April 3, 2008, at the age of 81.
Son Irvin Lester "I.L." Kimmel Jr. married Barbara.
~ Son Ephraim Ray Miner ~
Son Ephraim Ray Miner (1909-1974) was born on Feb. 17, 1909.

Daily Courier, 1961
He married Flossie Catherine Shroyer (1919-1966), the daughter of Amos A. and Ida (Bowers) Shroyer of Mill Run, Fayette County. They were 10 years apart in age.
They had eight children -- Ephraim "Leroy" Miner, Emerson Richard "Pete" Miner, Paul Andrew Miner, Clinton Miner, Betty Houze Wood, Catherine "Cathy" Ludwig and Anna May. Sadly, they lost an unnamed stillborn baby girl on July 19, 1959, with burial in Whetstone Cemetery near Fairmont, WV.
Ephraim held odd jobs and cut timber for customers. When the federal census count was made in 1940, the newlywed Miners made their home with Ephraim's parents along the Fayette/Somerset County line in Springfield Township. That year, Ephraim drove a truck for a public works project.
The family lived in Mill Run circa 1943; in Canton, Stark County, OH in 1953; and in Mannington and Manacle, Marion County, WV in 1959-1963.
Tragedy struck the family when son Leroy, age 18, drowned while swimming in Lime Klin Lake behind a fire station at Zoar near Mineral City, OH, on Sept. 11, 1961. His remains were returned to Mill Run for burial at the Indian Creek Baptist Church Cemetery. Reported the Dover (OH) Daily Reporter in a story also printed in the New Philadelphia Daily Times:
Sheriff deputies said Miner was trying to retrieve a water jug, which was sitting on top of a patch of weeds, about 150 feet from shore, when he became tangled in the weeds. Miner yelloed for help and Elmer Fleckinger, also of Canton, swam to the struggling youth. Fleckinger was forced to swim back to shore after a futile attempt to untangle Miner, whose thrashing nearly pulled Fleckinger under.... The drowning, which was ruled accidental by Coroner Dr. Philip Doughten, was the fifth in 6 years at the lake. It was placed off-limits to swimmers 3 years ago.
Flossie passed away first. She died in May 1966. Her remains were placed into quiet repose beside her son in Indian Creek Baptist Cemetery.
Ephraim outlived his wife by eight years. He died in Canton at the age of 64 on Jan. 6, 1974. He rests beside her for eternity.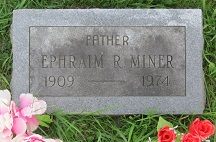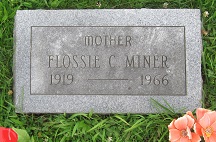 Indian Creek Baptist Church, Mill Run, PA
Son Emerson Richard "Pete" Miner (1945-2016) was born on April 23, 1945 in Springfield Township, Fayette County. As a boy, he moved with his parents to Canton, Ohio, where in 1961 he dwelled at the age of 16 even though his parents had relocated again to Mannington, WV. Emerson was wedded to Julie ( ? - ? ). In all, he had eight children -- Emerson A. Miner, Ronald "Ronnie" Miner, Emily Miner, Larry Miner, Kurt Miner, Daniel Miner, Amber Hall and Ricky Miner. Sadly, the Miners outlived three of their children. Emerson died at home in East Canton at the age of 71, on Aug. 20, 2016. Following funeral services at the Louisville Church of Christ, officiated by Elder Russ Glover, he was laid to rest in Mapleton Cemetery. An obituary was published in the Canton Repository.
Granddaughter Amber Hall (1994-2013) was born on March 23, 1994 in Canton, the daughter of Patricia A. Hall and granddaughter of Albert Hall. Upon graduation from high school, she resided in Magnolia, OH and was employed at McDonald's in Canton South. She had one son, Kayden C. Hall. Tragically, at the age of 18, on New Year's Day 2013, she died "from injuries she sustained in an automobile accident," reported a Canton newspaper. Funeral services were conducted in a local funeral home, with burial in Eden Church Cemetery. Her obituary noted that in addition to leaving behind her mother, father, step-father and step-mother Troy and Linda Misko, Amber was survived by six sisters, two brothers "and five additional brothers."
Grandson Ricky Miner played football for East Canton High School. He was a member of the "homecoming court" in October 2013, was pictured in the Southeastern Stark County Press-News. At the time, he was a member of his church youth group with plans to become an Army Ranger.
Daughter Catherine "Cathy" Miner grew up in Canton, OH. She wed (?) Ludwig.
Daughter Ann "Annie" Miner grew up in Mannington, WV. She married (?) May.
Daughter Betty Miner ( ? - ? ) was married twice. Her first husband Howard Houze ( ? - ? ). In 1961, the Houzes made their home in Canton. Her second spouse was (?) Wood. She was deceased by 2016.
Son Paul Miner grew up in Mannington, WV. He was united in wedlock with Diane (?).
~ Son Kenneth Clinton Miner ~
Son Kenneth Clinton Miner (1922-1953) was born on June 24, 1922 in Somerset County. He served as a private first class in World War II.
He married Dorothy L. McDonald (1924-2015) and had two children -- Harold Miner and Susan Fusko.
Old Bethel Church
As a young adult, Kenneth labored as a mechanic at the Yough Motor Company and the Bennett Motor Sales. Later, he accepted a position as a punch press operator with General Motors Company at its Brown-Lipe-Chapin Division in Elyria, Lorain County, OH. The family moved with him to Lorain, Lorain County, where they resided at 1975 East 29th Street.
In 1953, at the age of 31, Kenneth separated from his wife and was interested romantically in a co-worker at GM. Tragically, he died soonafter, on Dec. 7, 1953, while seated in his parked automobile in the parking lot of the GM plant, at the age of 31.
His remains were returned to Connellsville's Ansell Funeral Home, followed by the funeral and burial in the Old Bethel Church of God Cemetery. Rev. Earl Show oversaw the interment.
Dorothy married again to her husband's divorced brother, John "Raymond" Miner (1913-1979). See their bio below for more.
Son Harold Miner ( ? -living) married Mary. He served in the U.S. Armed Forces during the Vietnam War. In 2015, his home was in Massillon, OH.
Daughter Susan Miner ( ? -living) was wedded to Samuel Fusko. In 2015, their home was in Canton, Stark County, OH.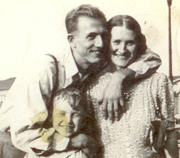 John, Stella and Eugene, 1940s
~ Son John "Raymond" Miner ~
Son John "Raymond" Miner (1913-1979) was born on Nov. 15, 1913.
He married twice. His first wife was a distant double cousin, Stella Basinger (1914-1996), the daughter of Alva P. and LuCartha (Showman) Basinger of near Normalville, Fayette County, of the family of Jane (Younkin) Showman. They were wed on Nov. 8, 1930, at Oakland, Garrett County, MD, when he was age 17, and she 16.
They had one known son, Clayton "Eugene" Miner.
Raymond and Stella lived in Normalville. They separated in 1934 after she admitted deceiving him into marriage, four years after the fact, according to an article in the Connellsville Daily Courier. He then went to live in Henry Clay Township, Fayette County, where he filed for divorce in August 1935.
John, Stella and Eugene, 1950s
During their separation, Raymond obtained work on the farm of Christopher and Anna Show near Confluence. Through this connection he met the Shows' relatives Bertram and Bessie (Frye) Show and their 19-year-old daughter Gertrude Pearl Show. Bessie admired Raymond and felt that he and Gertrude were "cooped up" on the farm and encouraged the two of them to spend time together. In fact they lent Raymond their automobile so he could drive Bessie around. Raymond's landlord, Anna Show, was thus not surprised when Bessie became pregnant with a son. To avoid the shame of an unwanted pregnancy, Bessie had her baby in Cleveland, OH.
Raymond eventually reconciled with his wife and they remained together until the mid-1940s. He served in the U.S. Army during World War II, and later resided in Canton, Stark County, OH. He built a successful small business selling washing machines and operating laundromats. But the marriage ultimately did not work out, and the couple divorced in the 1950s.
He married again, to his widowed sister in law Dorothy (McDonald) Miner, after the tragic 1953 death of her husband (and his brother) Kenneth. Living in Canton, Raymond and Dorothy went on to have three daughters of their own -- Bonnie Hudson, Donna Shank and Debra Covell. In the early 1990s, their daughter Debra served as president of the Miner Reunion, held at Kingwood, Somerset County, PA, which evolved into our annual national reunion.
Dorothy, Harold, Bonnie and Raymond, 1963
Raymond died in Canton at the age of 66 in January 1979.
Dorothy survived her husband by 36 years. She supported herself by owning and operating a health care business. In her final years she made her home with her daughter in Uniontown, Stark County. She passed away at her home in Uniontown at the age of 91 on Nov. 21, 2015. An obituary in the Canton (OH) Repository noted that she was survived by 21 grandchildren and 26 great-grandchildren. She was placed into rest in Sunset Hills Memory Gardens.

Clayton Miner
Raymond's former wife Stella also remarried, to Leslie Neel (1909-1967), son of Loren S. and Arvilla (Mountain) Neel of Connellsville. Leslie was known in the region as a former employee of the Wertheimer Motor Company and Liberty Baking Company. The Neels lived at 106 West Morton Avenue until Leslie's death at the age of 57 on Aug. 16, 1967. Stella spent her final years in Canal Fulton, Stark County, OH, most likely to be near her son. She died in Country Lawn Nursing Home in Navarre, Stark County, on Nov. 6, 1996, at the age of 82. Her remains were returned to Fayette County for burial in the Normalville Cemetery.
Son Clayton "Eugene" Miner (1934-1998) was born on Feb. 2, 1934 in or near Normalville, Fayette County. He married Thelma V. (?) and they had four children -- Geno Miner, Scott Miner, Rene Miner and Kim Miner. The family resided in Canal Fulton, Stark County. He died at the age of 64 on Feb. 24, 1998.
Daughter Bonnie Miner wed (?) Hudson and made her home in North Canton, OH.
Daughter Donna Miner was married to Ronald Shank of Uniontown, Stark County, OH.
Daughter Debra "Debbie" Miner wed Mark Covell and had a family.
Copyright © 2001-2013, 2015 Mark A. Miner