Johannes 'Jacob' Boßhaar Sr.
(1647-1719) and
Anna Christina Mauer ( ? - ? )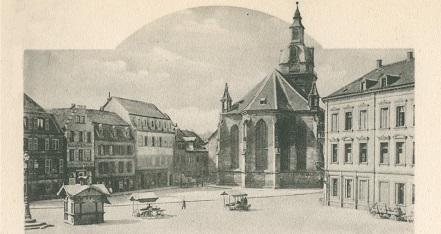 Zweibrücken's Maxplatz and Alexanderkirche (founded 1493)
Johannes "Jacob" Boßhaar Sr. (1647-1719) was born in 1647 in Zweibrücken in the Pfalz region of Germany, the son of Hans Albrecht and Anna Margaret Boßhaar, also spelled "Boöshaar" and "Bosshaar." He primarily used his middle name although he also went by the shortened version of his first name, "Hans."
Jacob's surname also has been spelled over the years by various sources as Boshar, Besharn, Boshair and Bosshaar.
He earned a living as a cooper, otherwise known as a barrel-maker.
Jacob was twice married. His first spouse, whom he wed on Jan. 20, 1661, was Anna Gertraudt Meier (1647-1693). The marriage took place in Breitenbach. She was the daughter of Hans Luz and Benigna Meyer, the father employed as a gardener for the court in Zweibrücken. Anna Gertraudt was christened on Oct. 17, 1647 when she would have been just a few weeks or months old.
The couple bore three children – Hans Jacob Boshaar Jr., Anna Margaretha "Margreit" Boshaar and an unnamed infant. But sadly, Anna Gertraudt passed away at the age of 45 years and four months on March 4, 1693 in Germany, leaving her husband with a number of young mouths to feed.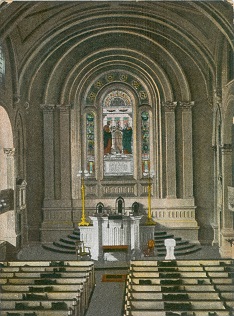 Old Dutch Reformed Church, Kingston, NY
After not more than five months as a widower, on July 30, 1693, Jacob was united in matrimony with his second wife, Anna Christina Mauer ( ? - ? ). The nuptials were held in Zweibrücken. She was the daughter of Samuel Mauer, a linen weaver by trade, and had been born in what is referred to as "Hoog-Duytsland."
The second marriage produced eight children, among them our Johan Joerg "George" Boshaar, born in 1694. The others were Johann Daniel Boshaar, Johann Bernard Boshaar, Anna Margaretha Koch, Johann Wilhelm Boshaar, Maria Catharina Boshaar and Magdalena Elisabetha DeGraaf.
After 16 years of marriage, the family made the monumental decision to migrate to the American colonies, where opportunities seemed to abound. They undoubtedly were lured by promises made by English agents traveling throughout Germany, spreading the gospel of unbounded prosperity abroad.
In 1709, in company with six of their offspring, the Boshaars traveled from Zweibrücken to Rotterdam to London and boarded a ship bound for New York. The dates of sailing and arrival, and name of the ship, may be lost to history, but on July 3, 1709, they are known to have been on the sixth party aboard a vessel commanded by Captain Johan Facit.
The 1975 book The Wenrich Family Revisited, by Oby J. Bonawit, may hold clues about the clan during this vital period of change.
Upon arriving in New York Harbor, the Boshaars learned that English politics had changed their prospects, and that they were no longer entitled to land. In fact, they were to be detained in a special camp on Nutten Island (Governor's Island) due to widespread disease being brought in by hundreds of families of German immigrants. They lived in a tent for perhaps year or more, with New York's Governor bestowing funds for their subsistence. The Governor – Robert Hunter – had a census made of these detainees, with their names listed on what today are known as the "Hunter Lists." Jacob appears on one of these lists dated July 4, 1710 and Oct. 4, 1710. The lists show that at that time, he and Anna Christina had a family of four children above age 10 and two under age 10.
Gov. Hunter eventually made thousands of acres of land available on the east and west sides of the Hudson River. A number of immigrant families quickly moved to these areas, beginning to clear land and construct huts. The communities on the west side of the Hudson – where the Boeshaars settled – were known at the time as Elizabeth Town, George Town and New Town.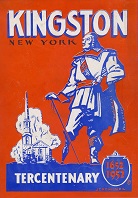 Kingston's 300th
anniversary, 1952
The section where the Boeshaars put down roots was near what today is Kingston, Ulster County, NY, near where Rondout Creek feeds into the Hudson. There, Johannes "Jacob" was naturalized on Jan. 31, 1715 (or 1716). He is named on a list of new citizens referred to as "Albany Nats." by researcher and author Henry Z. Jones Jr.
In 1718-1719, Jacob paid a tax of ₤5 in the town of Hurley.
Sadly, after just a few years in his new land and identity, patriarch Johannes "Jacob" died sometime in 1719 with burial presumably in Kingston.
Johannes Jacob's widow, Anna Christina, with many children still to be raised, married within a few months to Englishman William Bolk. Their wedding was held on Dec. 6, 1719 in the Old Dutch Reformed Church in Kingston. Nothing more is known.
Jacob's family is referenced in a manuscript in the holdings of the Albany State Library, entitled New York Colonial Manuscripts, Vol. 58, page 63 (a-d).
Much of what we know about this clan is from the exhaustively researched and well-presented book, Pasour, Paysour, Payseur, Paseur, Together … At Last, compiled by Thomas J. Marino (Birmingham, AL: Birmingham Publishing Company, 1992). Another volume is Henry Z. Jones' The Palatine Families of New York, Vol. I, with a third printing in 1995.
Copyright © 2018 Mark A. Miner